What you need to know about studying an MBA program in the US?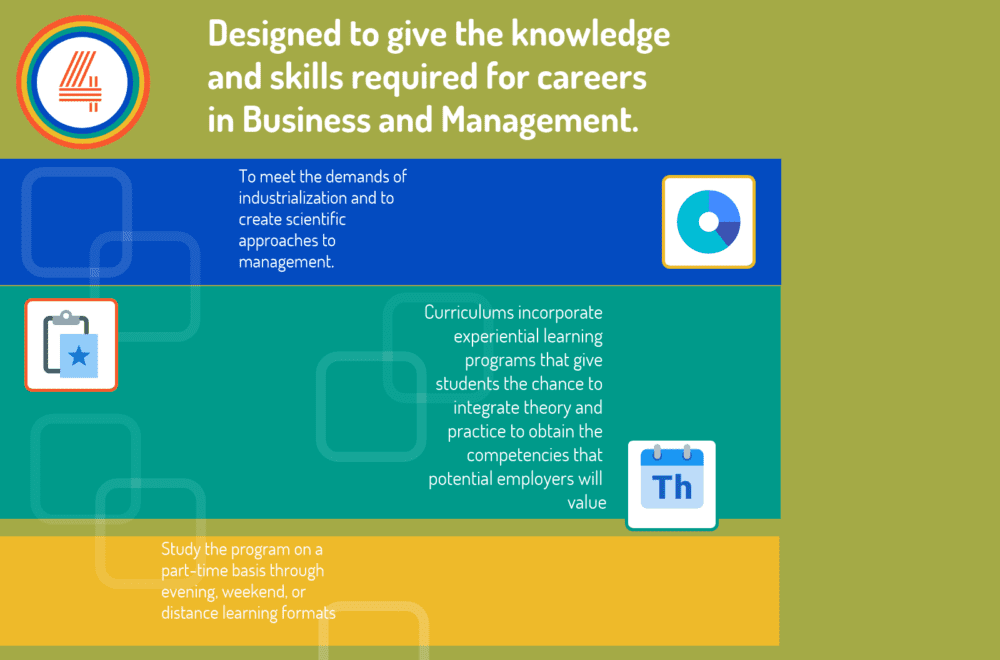 The Master of Business Administration (MBA) is an internationally-recognized degree designed to give graduates the knowledge and skills required for careers in business and management. The MBA degree was developed in the early 20th century to meet the demands of industrialization and to create scientific approaches to management. The majority of MBA curriculums incorporate experiential learning programs that give students the chance to integrate theory and practice to obtain the competencies that potential employers will value.
In the US a full-time MBA program typically takes one to two years to complete. You can also study the program on a part-time basis through evening, weekend, or distance learning formats. This works in favor of working professionals who can earn the degree while still in their current jobs. They are only required to commit at least 20 hours a week to studying. You can also complete the degree in even less time if you have several years of business experience. Some universities also accept transfer of credits earned in previous undergraduate or graduate courses, which can also work in reducing the time you spend studying the program.
MBA students get to study specializations in major areas of business including accounting, finance, marketing, and human resources, and several areas outside of business such as healthcare management and IT management.
You may also like to review Top MBA Full Time Programs in 2019 and Top Executive MBA Programs in 2019.
What are the Requirements for admission?
Each year, thousands of applicants from a wide range of cultural, personal, and professional backgrounds apply for MBA programs and selection is based on merit. To get enrolled to study an MBA, applicants must first meet several requirements. Most of these requirements are universal, though some universities may include additional requirements. Here is a list of some of these requirements.
i) Professional experience: MBAs are designed for professionals with a minimum of five to ten years of experience. You are required to highlight your employment history beginning with your most recent position and including any military and entrepreneurial experiences. You may also include any significant part-time or summer employment engagement.
ii) Academic Transcripts: Applicants are required to submit transcripts from each undergraduate and graduate institution attended. This means that you should present any academic work completed at the baccalaureate/undergraduate level and beyond.
iii) Taking an admission test: To get enrolled to most MBA programs, applicants are required to take the Graduate Management Admission Test (GMAT) or Graduate Record Exam (GRE). These tests are designed to test the applicant's academic aptitude for further management studies. Both GMAT and GRE test scores are valid for five years from the date the test was taken. Business schools worldwide ask applicants to take these tests but some schools do formulate their own entry exams.
iv) Admission Essay: Most universities require you to submit an admissions essay, which helps the Admissions Committee to know you more on both a professional and personal level. The essay will give you an opportunity to present yourself more frankly and to provide insight into your character and inspirations.
v) Letter of recommendation: Applicants may also be required to submit an optional letter(s) of recommendation written by individuals who are well acquainted with their performance in a work setting, especially from a current or former supervisor. These letters provide further insight into an applicant's personality, character, and potential for success in the MBA program and beyond.
vi) Resume: A resume provides a snapshot of your professional and academic career and also showcases your extracurricular and community engagements. The resume will let the admission committee to know the depth of your experience as well as leadership and management skills.
vii) English Language Tests: All non-native English speakers are required to sit for the Test of English as a Foreign Language (TOEFL) or the Pearson Test of English Academic (PTE). However, the test may be waived for those applicants who earned their bachelor's or master's degree from an institution at which English is the language of instruction.
viii) An in-person interview: This interview, which may be conducted on-campus and/or online enables the admissions committee to best evaluate whether you fit for the program. The on-campus interview will give applicants the opportunity to meet the admissions and career management teams, discuss financial aid, and tour the campus.
ix) Application fee: Almost all university will require you to pay a non-refundable application fee when submitting your application. This fee will cater for the admissions logistics and can be paid by credit card (Visa, MasterCard, or American Express).
It is important to note that most universities also organize information sessions where applicants in a particular program get to discover or enquire about information regarding any available course, requirements for admission, program of study, and even meet the faculty.
What are the Types of MBA Programs?
Before enrolling in an MBA program, it's important to get to know the different types of MBA programs available to select one that aligns with your requirements and goals.
Full-Time MBA: This MBA is ideal for non-working students or those who do not have demanding personal or work commitments. It takes one to two years to complete.
Part-Time MBA: Ideal for working professionals, the curriculum for this MBA is the same as that of the full-time MBA but students attend evening and/or weekend classes which allow them to keep working full-time. It takes about three to five years to complete.
Executive MBA: Executive MBA programs, or EMBAs, enable people working in executive and management positions to study mostly during weekends and earn their MBA in two years or less while continuing with their full-time employment.
Online MBA: Evening: In this MBA students learn and access all academic coursework and materials as full-time MBA students through the use of online tools and technologies. It takes about2 years to complete.
Accelerated MBA: For this MBA, students study a higher course load with an intensive class schedule. Summer breaks and time between semesters is a bit less, and it takes about one year to complete the program.
Distance learning MBA: This is the same as the online MBA but students attend on-campus classes from time to time.
Professional MBA: This MBA takes the format of an online MBA but offers more in terms of flexibility with both evening and weekend classes. It is ideal for professionals who are working full time and is completed in about one year.
Global EMBA: This MBA is ideal for middle- and upper-level executives from all over the world. Students usually study the program from different schools or campuses of the same school in different parts of the world. It takes one to two years to complete.
Joint or Dual MBA: This MBA allows you to combine your MBA with other professional degrees from other schools. Though there may be coursework that counts towards to both degrees, each degree contains separate coursework. A joint or dual degree will take about three years or longer to complete.
What are the Specializations available for MBA Programs?

MBA programs feature specializations or concentrations that allow you to customize your degree through a combination of career tracks and electives. Some of these specializations are highlighted below.
Finance: Most MBA students opt for this concentration while targeting careers in portfolio management, credit risk management, financial research analysis, personal financial advisors, and financial, securities, and investments analysis and Coursework helps students develop a blend of analytical and management skills related to finance, and which play a big role in the financial decisions that financial managers and leaders make on a daily basis.
Accounting: Accounting is another popular concentration and teaches students to analyze, track and communicate the financial information vital for planning business strategy and managing financial assets.
Supply Chain Management: This concentration was inspired by the growth that has been witnessed in the field of supply chain management in recent years. Modern-day businesses today are storming the job market to find and hire talent with the right knowledge in supply chain procurement, management, and strategy. Therefore, this concentration will give graduates a competitive edge in the job market.
Information Systems/Management: This concentration comprises courses that focus on the business side of technology and how technology can be exploited to make businesses function more effectively, efficiently, and competitively.
Management Consulting: This concentration is ideal for students who intend to pursue careers in management and consulting. Despite a couple of drawbacks to this field, the rewards are quite respectable.
Leadership and Organizational Behavior: This concentration is ideal for those students who want to become more effective leaders with expertise in leading and managing teams to effect organizational change and development to improve organizational performance.
Marketing: Courses in the marketing concentration provides essential tools and competencies for a career in marketing and sales management, brand management, marketing research, etc.
Business Analytics: This concentration is ideal for those interested in the field of analytics and prepares students for employment through foundations in computer science, business, statistics, and mathematics.
Other MBA concentrations include;
Project Management
Human Resources Management (HRM)
International Business
Healthcare Management
Sports Management
Agri-Business Management
Operations Management, etc.
What are the Factors to consider before enrolling in an MBA program?

Location: There's something about being positioned in major cities and more so studying an MBA program in business schools located in or close to these cities because you can access leaders across the industry as well as other numerous opportunities.
Cost: MBAs are somehow expensive compared to the average postgraduate qualification. For this reason, you might want to take into account the amount you can afford for the program and the availability of different forms of financial aid as they vary from one institution to another.
Schedule: This is not a problem if you're not working; however, if you're employed it's important you enroll for a course that aligns with your personal and work commitments. A working student can opt for the evening, weekend, or online MBA formats.
Prestige: To the eyes of an employer, not all MBA degrees are created equal. Therefore, reputation of a business school is a major factor when selecting MBA courses because employers will not just be looking at the MBA, but also where you studied it.
When is an MBA Program right for you?
MBAs are considered the ultimate qualification for a successful management career. An MBA degree will help you develop key business practices and skills in such areas as management, marketing, and accounting. Therefore, if you want to progress in your career or to bolster your chances of getting a promotion to a senior-level management role, studying for an MBA degree will be a good choice for you.
Additionally, if you intend to switch careers, attaining an MBA degree can play a big role. If all you need is a way to earn a higher salary, then an MBA degree will propel you towards that goal. Last but not least, an MBA is right for you when you want to expand your professional networking opportunities.
Executive MBA Programs

MBA Full Time Programs

MBA Full Time 1 Year

MBA Full Time 2 Year