Review
University of Illinois, Gies College of Business, Executive MBA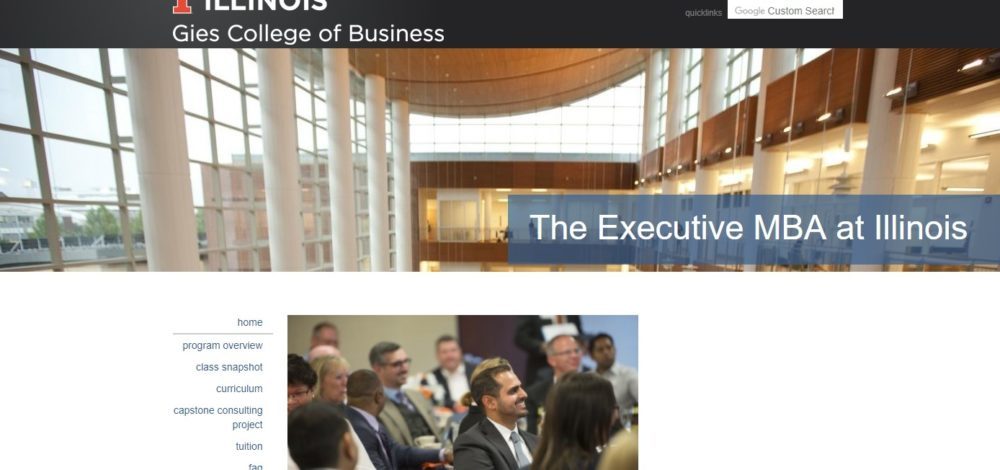 Overview
• Starts in October
• 19 courses totaling 72 credit hours
• Meets biweekly on Fridays and Saturdays
• Two residence weekends on the main campus in Urbana-Champaign
• International Capstone consulting project
• Minimum of 5 years of professional work experience
• Meals and course materials provided
Executive Master of Business Administration
What are the benefits?
• Executive Career Coach provided during the program ;
• Access to alumni networking events after graduation;
• Participate in a 7-10 day consulting project trip;
• Required residency weekends and international trip are catered for.
Every course in the Executive MBA program offered at University of Illinois will challenge you to think strategically and innovatively about a broad range of critical business issues that face executives. Courses are guided by principles of leadership, innovative thinking, and global sensitivity. Throughout your Illinois EMBA experience, you will study in teams that are carefully selected to maximize your learning opportunities. You will work together as a team, exchange innovative ideas, and share problem-solving methods with fellow classmates who share your drive and ambition. The program features highly tailored modules created specifically for the Illinois EMBA, and incorporates four essential levels of learning to build your knowledge. The first level focuses on Leadership and business strategy; helps you prepare you for your next leadership role by enabling you to understand the relation between strategy and innovative leadership and also to master key leadership concepts. The second level involves understanding the complexity of business; helps you develop the ability to lead by teaching you the diverse education critical to working across your organization: accounting, economics, finance, and marketing. The third level is all about solution creation; it focuses on cross-functional and enterprise-level problem solving and on shaping the strategic critical-thinking skills required for innovative leaders.
The fourth level is an International Capstone experience that takes place throughout your second year. It involves an international consulting project in which you work as a team to tackle real problems in a real company based overseas, and then travel to your client's location to make a formal presentation of your recommendations. Whatever the business issue, the Illinois MBA will have prepared you well enough so you can lead and make better decisions in a multicultural world.