Review
Temple University, Fox School of Business, Executive MBA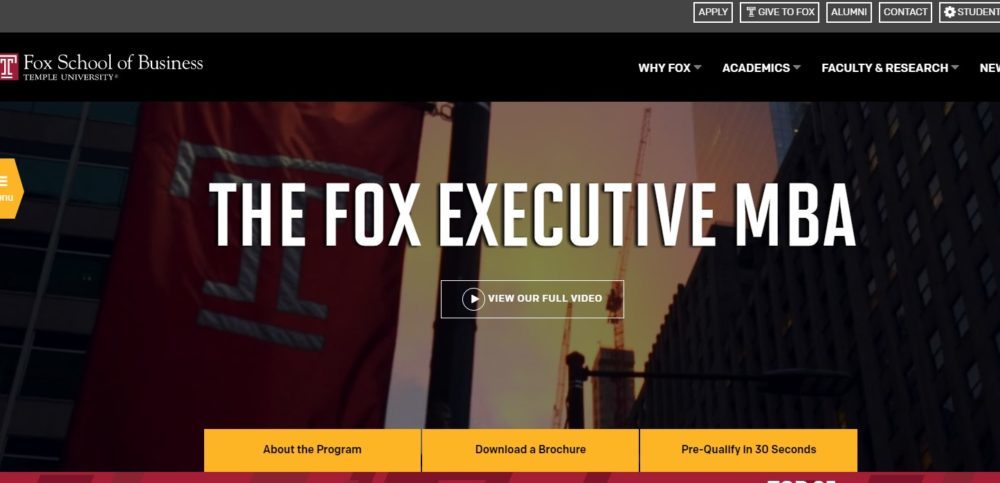 Overview
• 16-month program
• 48 credits
• Classes meet one weekend per month
• Overnight residency
• Global study tours
• Web conferencing sessions
Executive Master of Business Administration
16 months, part-time, on-campus
What are the benefits?
• Learn relevant courses and tools that reflect current business developments;
• Each course is updated annually with projects, experiences;
• Get an opportunity to build close-knit connections with your peers;
• Get exclusive networking opportunities and practical insights from the top executives;
• Spend just one weekend a month—for less than a year and a half—earning your MBA.
The Executive MBA offered by the Fox School of Business at Temple University features a variety of cutting edge courses that are updated annually to remain relevant and in accordance with the latest developments in the business world. The faculty integrates executive guest speakers, international experiences, or case studies as part of the program to give you the tools you need to place you at the forefront in terms of business knowledge. The School's new global C-Suite Speaker Series provides you with exclusive networking opportunities and practical insights directly from the region's top executives. The Fox Executive MBA program enhances your quantitative proficiency with optional post-courses into real-world perspective. Led by an expert in the field, these workshops provide additional context and experience. In this program you will increase your grasp of strategic management concepts as they relate to for profit, not for profit, and professional organizations. You will enhance your ability to analyze an industry and develop relevant enterprise level strategies. The Fox Executive MBA is designed to fit the schedule of a busy mid-senior-level professional. Classes meet one weekend per month, with additional web conferencing sessions with classmates and faculty, from your home or office. This programs kicks off in January where students take part in an overnight residency. The four nights stay offers incoming students the opportunity to interact with and get to interact with and get to know fellow classmates while also engaging in workshops and special events. The Fox Executive MBA boasts program locations across five continents—and offers an opportunity to take up to two of your classes at one of the school's global partner locations. All course material across program partner locations are the same, and are delivered by renowned faculties.