Review
University of Maryland, Robert H. Smith School of Business, Executive MBA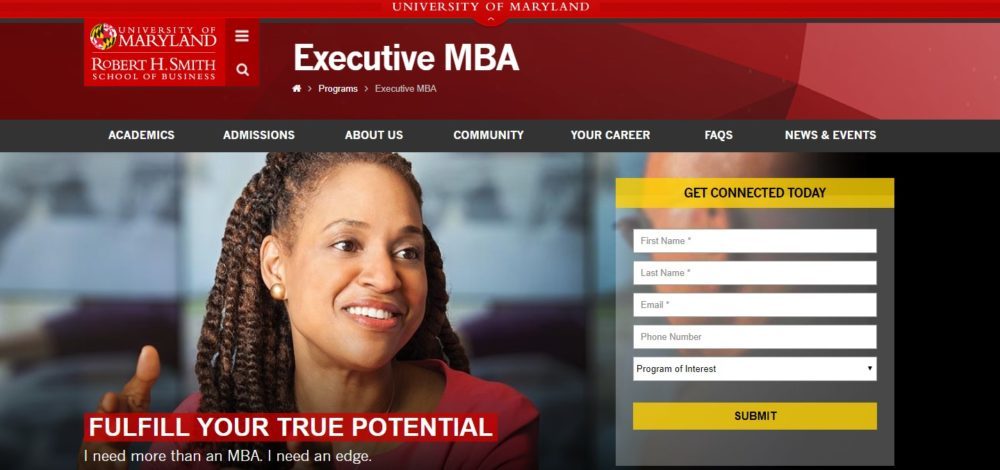 Overview
The Executive MBA offered at University of Maryland's Robert H. Smith School of Business prepares you to lead fearlessly. The Smith EMBA curriculum is based on a systems thinking approach which acts as the driving force behind the Smith executive education philosophy to solving and dissolving problems
• 19-month program
• 54 credits
• Classes begin in January
• Classes held all day Fridays and Saturdays, alternating weekends
• Two, one week-long residencies
• 10-day global studies course abroad.
• Action Learning Projects
• Business Simulation Capstone
Executive Master of Business Administration
What is best?
• Classes held all day Fridays and Saturdays, alternating weekends
• Two, one week-long residencies
• 10-day global studies course abroad.
• Action Learning Projects
• Business Simulation Capstone
What are the benefits?
• Get an opportunity to develop life-long relationships;
• Participate in a competitive business simulation capstone;
• Refine your skills and leadership style through executive coaching;
• Put your learned knowledge through Action Learning Projects;
• Participate in an optional 10-day International field study.
The Executive MBA offered at University of Maryland's Robert H. Smith School of Business prepares you to lead fearlessly. The Smith EMBA curriculum is based on a systems thinking approach which acts as the driving force behind the Smith executive education philosophy to solving and dissolving problems. This helps to develop business leaders who clearly understand that all parts of an organization are interconnected and interdependent. The Smith EMBA curriculum is designed to provide a breadth of knowledge across all business disciplines and an understanding of how they relate to various functions of the organization. As a Smith EMBA student, you will participate in three Action Learning Projects (ALPs) which give you an opportunity to develop the ability to think and lead across an organization by applying what you have learned in the classroom.
In the first ALP, you will team up with fellow students and, under the guidance start-up specialists and venture capitalists, develop a business plan, an engagement that will provide you with experience in teamwork, analysis, information processes and presentation skills needed to lead a business enterprise. The second ALP focuses on helping solve certain problems for an existing business which may involve assessing its mission and goals, improving processes, allocating resources and creating products. The final ALP focuses on leading change; with the support of your fellow students and the faculty at Smith, you will leverage the wisdom and leadership skills you've developed to drive change in your own organization. Students also take part in Mastery sessions which focus on developing certain skills executives need to become successful leaders. During the final week of the program, you will participate in a five-day, team-based business simulation capstone that allows you to put into practice all your learned knowledge in a highly competitive and realistic business setting. You will also be given an opportunity to earn academic credit by participating in an optional 10-day global studies course abroad.