Review
University of Texas at Austin, McCombs School of Business, Executive MBA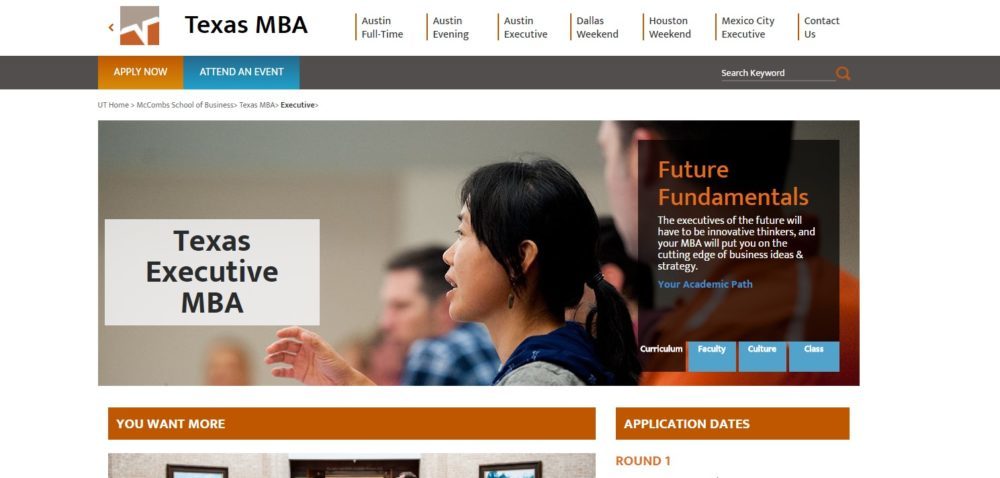 Overview
• Cohort-focused curriculum plus electives
• Broad business management knowledge and skills
• Alternating weekends (All day Friday and Saturday)
• Four Executive Seminars (Residency)
• Numerous electives
• International Field Study
Executive Master of Business Administration
What is best?
• Broad business management knowledge and skills
• Alternating weekends (All day Friday and Saturday)
• Four Executive Seminars (Residency)
• Numerous electives
• International Field Study
What are the benefits?
• Renowned, accessible faculty in every subject area;
• Cutting-edge research you can apply in real time;
• Cohort-based learning with your peers;
• Direct connections to the world's top employers;
• Career advancement and/or change without interruption;
• Access to exclusive events, panels, and other numerous opportunities.
The Texas Executive MBA Program is taught at an internationally-ranked business school and has been carefully designed to empower you with the business knowledge and modern research you'll need to transform yourself from an average professional into a competent business executive. The program allows you to continuing working full-time while attending classes on alternating weekends, all-day Friday and Saturday, on campus in Austin, Texas. You will be working in teams, collaborating with world-class professors, and gaining the insights you need to become a sought-after business leader. As a Texas MBA, you will have access to exclusive events, panels, speakers, and a multitude of other opportunities for gaining insight, honing expertise, and building your network. The Texas Executive MBA features a diverse, broad, and sophisticated curriculum that includes four Executive Seminars (one per semester) that build a strong sense of community among students. Before the start of your first semester courses, you'll spend a week in Austin at your first Executive Seminar. During this time, you'll be teamed with your cohorts, prepare for your first executive challenge, and be provided with a clear framework involving the rest of the program. Your first semester will introduce you to the first set of courses including Financial Accounting; Leading People & Organizations; Managerial Statistics. In the second semester you'll dig into advanced management studies and then end the semester with your second Executive Seminar that aims to turn your first year coursework into practical work in the form of examining specific business problems and generating solutions.
During summer, you can take three electives offered only to Executive MBA students—Advocacy, New Venture Creation, and Advanced Investment Theory—or any elective offered at UT Austin. You can also take a Global Study Tour with Texas Full-Time MBAs to gain global business experience. In your second year, you'll participate in your third Executive Seminar, take on advanced courses, and end the year with an International Seminar, where you will tour companies and meet with local business leaders as you experience the dynamic global business world firsthand.