Review
University of California, Davis Graduate School of Management MBA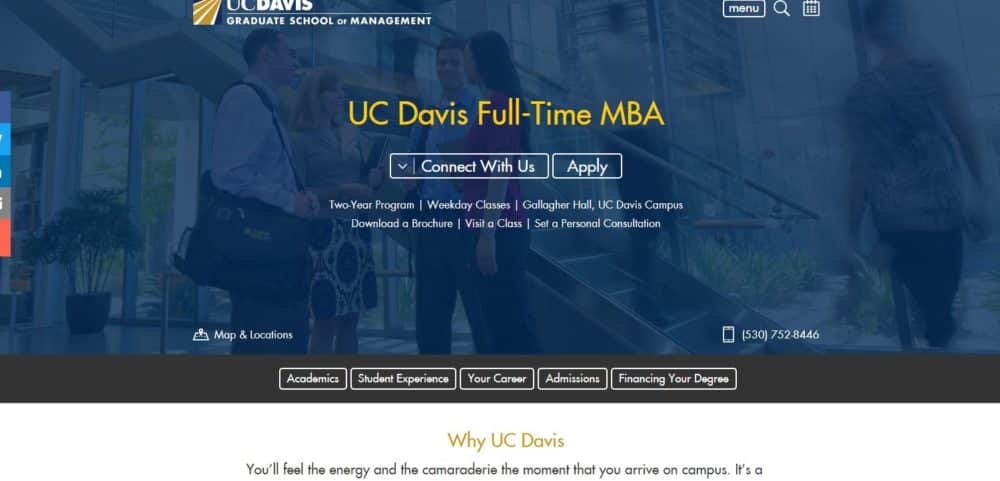 Overview
The University of California's Davis Graduate School of Management MBA program focuses on real-world practice, analytical skills, technical skills, and leadership training. The UC Davis MBA program has been ranked among the best programs in the country for 22 consecutive years by the U.S. News and World Report
• 2 year's program
• 10 week consulting team project in industry
• Capstone project
• Summer internship
• Leadership Fellows Program
• International study trips
• Experienced faculty
Master of Business Aministration
2 academic years, full time
About $120,000 to $130,000
What is best?
• Capstone project
• Summer internship
• Leadership Fellows Program
• International study trips
• Experienced faculty
What are the benefits?
• Developing industry-specific skills and knowledge
• Get a chance to solve real world problems through a Capstone project
• Sharpen your writing, speaking, and critical thinking skills
• Deepen your expertise in business analytics, finance, management, and marketing
• Work with an experienced faculty and develop lifelong connections
The University of California's Davis Graduate School of Management MBA program focuses on real-world practice, analytical skills, technical skills, and leadership training. The UC Davis MBA program has been ranked among the best programs in the country for 22 consecutive years by the U.S. News and World Report. According to Forbes, the program is among the courses with strong returns on investment. The program is taught by an experienced and knowledgeable faculty. There is a close bond between students and the faculty that helps both flourish in a collaborative learning environment. The UC Davis MBA program is designed to give students a broad foundation of business knowledge and skills. This program empowers students to solve real-world challenges and sharpen their writing, speaking, and critical-thinking abilities. It also helps deepen their expertise in business analytics, entrepreneurship, finance, management, marketing, organizational behavior, and strategy management. This program has a Capstone integrated management project course where students get placed in a 10-week consulting team project in any of the school's partner organizations, and which lets them apply the skills and knowledge learned in the classroom. The program features a career development team which works with students to identify companies where one is likely to get a job placement or internship opportunities. This facility also helps students get employment by directly promoting them to potential employers. The UC Davis MBA program imparts the skills and knowledge needed to gain a competitive professional edge. The UC Davis MBA program students also get a chance to be part of the board of directors in the school's partner organizations as non- voting members. It's a great opportunity for them to gain board room experience and learn from industry leaders. In addition, the school conducts international study trips which open up a window to global business experience.