How to Select the Best Human Resource Software for Your Business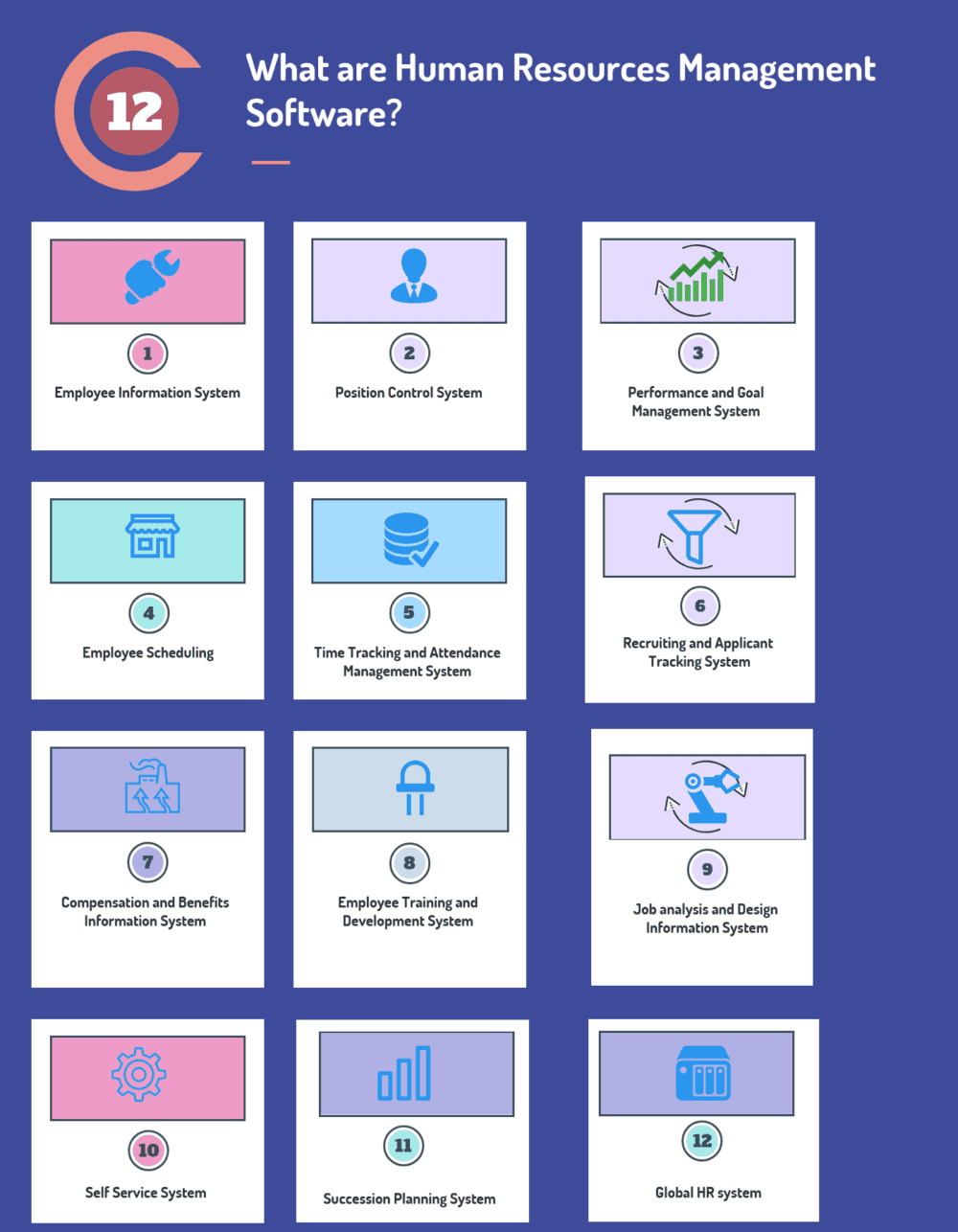 Human Resources Management software are tools used to automate the Human Resources process of a company. These software applications computerize and integrate several human resource processes like recruitment, training, payroll, administration of benefits, performance appraisal and analysis, etc., into one robust package.
Many organizations are rightly beginning to understand that their most important and valuable resource is their human capital. Without the human capital asset, a company is as good as dead. Human resource software helps manage and protect this human capital asset, all through the employee life cycle. These tools help merge Human resource management and Information technology into a seamless experience. The features of Human Resource management tools vary, depending on the type and level of software.
The variety of Human Resource Management tools means that it is often difficult selecting the best one for your business.  Another important feature is mobile support. We all know that mobile apps are everywhere these days, and it is important to have a human Resource Management software that can work on mobile phones. This will ensure ease and convenience in performing HR functions.
Another feature of many Human Resource Management tools is time and attendance tracking. This is important because it will help companies know how much time an employee works, especially if the pay is per hour. Time and attendance tracking feature also helps with employee performance evaluation and review. From live chat support, to applicant tracking systems, to job scheduling, the features of these tools are too numerous to mention. There is no doubt that human resource software make life better for HR professionals and companies at large.
What are Human Resources Management Software?
Human Resources Management software offer several benefits to your business. There are many reasons why you should start using them. Have you ever wondered how HRs will manage and keep track of every employee information without software?
Have you ever imagined how HR departments will appraise employees? How would HRs manage payroll of all their staff without software? Or how would HR manage the development of tens of thousands of staff without software? Honestly, without software the work of HR professionals will be near impossible. Human Resource Management Software helps in organizing employee information online. These tools also ensure that there is a channel of communication between employees and management, as employees can make complaints and grievances known.
Recruitment is another very important reason why you should use these software applications in your company. Let us face it, recruitment processes are far from straightforward. These processes are often very expensive, as research has shown that companies spend a good percentage of an average employee's salary when recruiting.
However, using a good Human Resource Management Software will allow you deal with recruitment needs easily, ensuring it is smooth sailing all the way. Management of staff data and the ability to scale as your needs increase are some other reasons to use these tools. These days, data is key, and securing them is essential to the success of your business. Using HRM software also allows you store and manage staff data as your company size scales from hundreds to tens of thousands. Employees' performance review and evaluation is another very important benefit of these software applications. Every business wants to know which staff are productive and which ones are not.
Human Resource Management tools help can help you achieve this easily. Essentially, these software help you save time and money. If you are one who is looking to improve your business processes, then you should definitely use Human Resource Management Software in your business.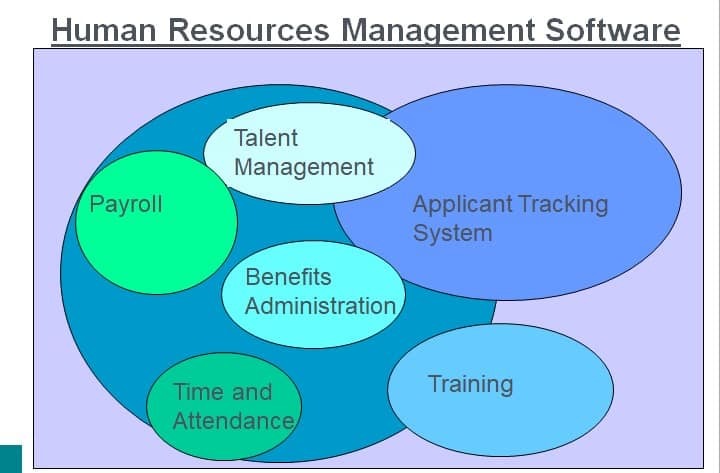 The HR Management module is a component covering many other HR aspects from application to retirement. The system records basic demographic and address data, selection, training and development, capabilities and skills management, compensation planning records and other related activities. HR Management Software provide the ability to "read" applications and enter relevant data to applicable database fields, notify employers and provide position management and position control. Human resource management function involves the recruitment, placement, evaluation, compensation, and development of the employees of an organization.
What are the types or modules of Human Resources Management Software?
HR Software provides a platform where different systems and processes are combined in order to ensure employees are easily accessible and data is well stored. How does the system work? Despite the system being diverse, all software packages have defined management goals. They normally cover recruitment module for managing the recruitment process, specific package that mainly deals with selection and short listing of potential candidates, easy mechanism for monitoring the overall performance of your workforce and the necessary and essential tools for monitoring and evaluation especially for big organizations.
An automated HR system helps business leverage in their operations. The business is able to cut on cost especially on recruitments. The system assists the recruiting team to identify and hire the right talent for the job. This, in turn, reduces employee's turnover which at times can be costly for an organization. Helps business save time by allocating manual resources to areas that really matter and also enables have accurate data free of human error.
An Integrated Human Resource Management Software offers multiple modules to support Human Resource Management in an organization such as Payroll module, Benefit Administration module, Time and Attendance module, Talent Management module, Self Service and Learning Management module.
The Payroll module automates the pay process by gathering data on employee time and attendance, calculating various deductions and taxes, and generating periodic pay cheques and employee tax reports. Data is generally fed from the human resources and timekeeping modules to calculate automatic deposit and manual cheque writing capabilities. The Benefits Administration module provides a system for organizations to administer and track employee participation in benefits programs such as insurance, compensation, profit sharing, and retirement. The Time and Attendance module gathers standardized time and work related efforts. The most advanced modules provide broad flexibility in data collection methods, labor distribution capabilities and data analysis features. Cost analysis and efficiency metrics are the primary functions. Talent management module provide analyzing personnel usage within an organization, identifying potential applicants, recruiting through company-facing listings and recruiting through online recruiting sites or publications that market to both recruiters and applicants. An Applicant tracking system (ATS) is a software application that enables the electronic handling of recruitment needs and are built to better assist management of resumes and applicant information.
The Training module provides a system for organizations to administer and track employee training and development efforts. The Learning Management System allows HR to track education, qualifications, and skills of the employees, as well as outlining what training courses, books, CDs, web-based learning or materials are available to develop which skills. The Employee self service module allows employees to query HR related data and perform some HR transactions over the system. Employees may query their attendance record from the system without asking the information from HR personnel. The Analytics module enables organizations to extend the value of an HRMS implementation by extracting HR related data for use with other business intelligence platforms. The Staff Training Module enables organizations the ability to enter, track and manage employee and staff training. Each type of activity can be recorded together with the additional data. The performance of each employee or staff member is then stored and can be accessed via the Analytics module.
HR Technology can also be grouped based on systems, where as each type of system has explicit capabilities and characteristics that may be best for different purpose relating to human resource department based on the organizational needs.
Employee Information System: This helps in tracking employee's personal and professional information. Details such as name, personal address, citizenship, educational background, past experiences and current performance are all stored here. This makes it easy in retrieving of personal data for decision making concerning the employee.
Position Control System: The system help in identifying the various positions in the organization, job title assigned to each position and the number of officers assigned a particular position. HR manager can refer to position control system to identify if there are any vacant positions and the skills needed to fill the positions.
Performance and Goal Management System: Businesses have to keep on reviewing their employee's performance. The system facilitates ease review of employee's performance from the peers, colleagues, and managers. This helps management in decision making concerning rewards and promotions. It is also possible to point out training needs for employees. This tool is very useful for professional development as it allows employees compile and store their personal review history.
Employee Scheduling: This feature allows HR to schedule shifts and attendance easily as well as keeping track of who is doing what at any given time. The system comes in handy for businesses that operate in shifts. It ensures there is a smooth flow of operations among departments and allows coordinated changes in the schedule.
Time Tracking and Attendance Management System: Businesses use this function to manage absence, late reporting, sick leaves, and off days. This helps the management to ensure the normal flow of work is not affected due to the absence of some employees. The information derived from this system can also be used while compiling payroll as it gives the exact days an employee needs to be compensated for.
Recruiting and Applicant Tracking System: Recruiting can be a tedious process especially if the right tools for the job are not in place. The module helps in compiling data for the potential candidates, evaluate, monitor, and perform accurate background checks for the candidates. The module also helps in generating tools for efficient on-boarding and access to materials.
Compensation and Benefits Information System: Payroll and benefits management system is a crucial tool in HR system. Processing payment dues is one of the most tedious functions of HR and is also prone to errors. Having a system in place helps to eliminate such errors as well as ensures right data is used while determining compensation package for each employee.
Employee Training and Development System: Since the system cannot offer actual training to employees, it can be used to set goals and track progress. Companies use it to direct staff to online training portals as well as providing key information on policies and procedure to both new recruits and existing employees. By developing learning modules, an organization is able to empower its staff as well as impact more skills. It's advisable to ensure the right and interested candidate benefits from the available training programs.
Job analysis and Design Information System: Supervisors and workers provide inputs on what should be included in a given position. Considering these people are involved in the day to day running of their particular departments, they are able to provide a comprehensive analysis and guidelines to be followed. The inputs are also obtained from external sources such as labor unions, competitors, and government agencies.
Self Service System: This system aims at offloading unnecessary workload from HR so that they can concentrate on more important tasks. Employees are able to apply for leaves as well as update personal data. It also allows managers to make informed decision whether to approve or deny the leave if the system is linked to staff rotas. Important staff notices can be communicated effectively to the intended recipient. The system can also be used by job applicants where they are able to register their details as well as edit them if need be. They are also able to keep track of the application process as the system is able to update on the status of their application.
Succession Planning System: The system helps in identifying the perfect talent to utilize in case the incumbent retires or resigns. By analyzing performance review and other data available, the management is able to identify the right candidate for the position. The employees can also use it to express an interest in working in a particular department and make a formal application. Once a vacancy arises the management can easily pick the candidate who had expressed interest.
Global HR system: There are some businesses which operate in the global arena. Such companies need cloud solutions to manage their HR functions. It allows the company consolidate all their HR functions into one system regardless of jurisdiction.
HR Reporting System: HR reporting system allows management to understand the breakdown of employee data quickly, clearly and efficiently. The company can sort out its workforce with any criteria be it by age, location, or seniority. This helps the company understand how the staff are constituted and promotes transparency while dealing with staff.
Management is also able to access other reports pertaining to payroll, leave management reports, sickness report or any other report they might be interested in.
How to Select the Best Human Resource Software for Your Business?
To reap maximum value from your investment, it is important to choose a solution that offers modern capability and intuitive access. Solutions vary from vendor to vendor, but they are some key features to consider before settling for one. The following are steps to consider while selecting HR system.
Does the software have a cloud platform?: Do you want your software to be installed and managed in-house by your IT team? Or do you want the software provider to install and handle all IT infrastructures for you?
If you are settling for cloud-based solutions, make sure you get to know who will be hosting your software since not all systems are developed for the cloud. Do you trust the hosting provider and are they protected by the relevant data regulation legislation?
Businesses are being shaped in the cloud nowadays. Going for desktop software will end up limiting your operation to an office. Settle for software that will adequately meet the needs and mode of operation of your business.
Look for self-service features: Self-service HR software allows employees to manage simple tasks such as leave management, requesting for day-offs thereby offloading most of the work from HR personnel. This allows HR to focus on more important tasks at hand.
Is the software scalable? Settle for a system that can be upgraded whenever there is a need for more features without interfering with normal processes. It would be a waste of time and resources investing in software that cannot accommodate your business in case of tremendous growth. Evaluate the system while vetting and ensure it can be modified to meet your business growth.
Evaluate your needs: You need to understand what your business needs for a smooth operation. You can easily identify the needs of your enterprise by answering the following questions;
Currently, how is your HR activity structured?
How many personnel are involved?
What is the cost of operating the system?
How much time does the team spend with the system?
Can you quantify the results you are getting from the system?
You need to use objective criteria to carry out the assessment for the exercise to be useful.
Check out what kind of software is available: Find out what is available in the market. You can check out from HR publications on what is being discussed and who is offering the products that sought out your needs. You can also benchmark with other companies with an aim of identifying the pros and cons of each software. Once you have identified the key features that you want to be captured in your system, it's time to contact prospective companies for a demo of their software.
Seek clarification: Ask questions from the references provided by the supplying company as well as from fellow HR professionals. Look for the persons who were involved with the implementation of the program. Find out their experience during the implementation process. This process helps one to discover some vital information that would have cost you time and energy to discover on your own.
Ask the technical support and salesperson about areas of potential concern such as possibilities of future enhancement or what problems you are likely to encounter during implementation. You should also ask about the pricing of the software. Companies have different needs as such they require different modules which comes at different prices. Avoid a system that is priced on employee counts since this means you will have to incur extra costs in future in case the number of employees goes up.
Bring your team on board: You have gathered all the information you would need and eventually identified a good match for your business. Before rushing to purchase the system, you need to bring your team on board. This is important especially if you are not the sole decision maker.
You need to sell the product and convince the other managers why this is a good fit for the business. Show them the importance of adopting the program and the benefits associated with the new system. Acquiring a new system comes at a cost. You have to convince the management that the benefits of the new software outweigh the cost.
Come up with a list of software vendors: You need to list a number of vendors and evaluate on whom to settle for. Try as much as possible to narrow down to at least five or fewer vendors. How do you go about this? Come up with a long list of products and then get rid of those systems that don't meet your specialist. Request for quotations of the ones left, this will help you eliminate the systems that are far out of your budget. Eventually, you will have a shorter list where you can go ahead to engage the vendors in the sales process.
Educate your vendors: Share with vendors your business needs and your software selection process to help them carry out their job. Explain to them what you want to be solved and the key features you expect in your software. Let them know the criteria that will be used to evaluate them. By educating salespeople on your needs, they will be able to understand your needs and how urgent your needs are. They will be in a better position to deliver as per your expectations.
Conduct a test drive: Test the various products you have identified to identify the most appropriate system. The key things that you should test for are; how easily the software can be integrated with the current system, is it easy to learn, the simplicity of data entry, its functionality, how flexible is it, and can it generate reports.
Try to spend some reasonable time with the system to assess if it conforms to your needs. Ensure you interact with the technical team to evaluate if the company is capable of delivering quality software. During the test drive, track your opinion with a 'demo scorecard' and compare with your colleagues afterward.
Score and rank the software system: After the tests, you should have a rough idea of which vendors offer the best software for your business.  Ensure you have ranked all the vendors before settling on the ones who best match your needs. Eliminate the vendors that don't have must-have capabilities. Rank the remaining vendors based on functional fit and then narrow down the ranking further based on perceived ease-of-use.
Settle for two or three vendors and call them back for a second deep-dive demo.
Ask for the quotations: Ask the remaining two or three vendors to provide you with a detailed quotation of their software inclusive of all cost associated with the system.  Ensure the quote captures software licenses, training, customization, and training. Compare all the quotes and don't forget to ask for the vendor's software agreement.
Check on vendor's viability and verify references: By now you have already identified the software that best suits your needs. You need to verify the credibility of the vendor. Ask them to give a reference to some of the clients they have served.
Ask the references some of the problems they have encountered with the system and how the vendor responded. Also, find out what they would want to be changed about the system.
Verify the company's financial and strategic viability as well.
Review the software license agreement: Review the software license agreement before making your payments. Ask for a discount in line with the industry standards. Ensure the licenses are for both full and partial users. Don't forget to have an out clause just in case the vendor does not meet his part of the bargain.
Top Human Resource Software for Small Business
You may like to review: Top Human Resource Software for Small Business.
Top Core Human Resource Management Software ( Core HR)
You may like to read: Top Core Human Resource Management Software (Core HR)
Top HR Service Delivery Software
You may like to read: Top HR Service Delivery Software
Top Workforce Management Software for Small Business
You may like to read: Top Workforce Management Software for Small Business
Top Open Source Human Resource ( HR) Software
You may like to read: Top Open Source Human Resource (HR) Software
Top Free Human Resource (HR) Software
You may like to read: Top Free Human Resource (HR) Software
Top Applicant Tracking Software Free
You may like to read: Top Free Applicant Tracking Software
Top Applicant Tracking Software
You may like to read: Top Applicant Tracking Software
Top Learning Management Software Open Source
You may like to read: Top Learning Management Software Open Source
Top Free & Premium Learning Management Software
You may like to read: Top Learning Management Software