Review
Hibob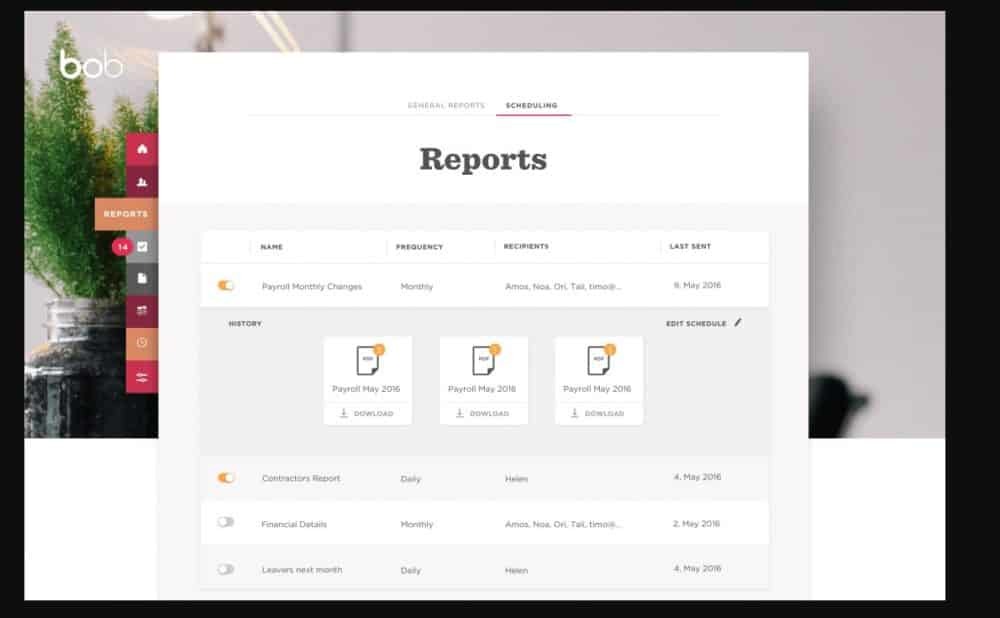 Overview
bob takes people management out of the back room and puts it at the heart of a business. Sorting HR & talent admin, benefits and culture in a way that drives huge efficiencies, provides invaluable management information, and, most importantly, greater engagement and retention of the businesses most valuable asset - it's employees
• Benefits
• Reports
• Auto Enrolment
• Docs
• Time Off
• Onboarding
• Free - 14 Days trial, all users
• Monthly plan – £ 5, per user
• Annual plan – £ 50+2 months free, per user
Small (<50 employees), Medium (50 to 1000 Enterprise (>1001 employees)
What is best?
• Benefits
• Reports
• Auto Enrolment
• Docs
• Time Off
• Onboarding
What are the benefits?
• One central place for all your absence data
•Easy and visible holiday planning
•Policies assigned and enforced by individual or group
•Pain-free, automatic approvals
•Track the team: absence status reports made easy
Hibob is a cloud-based HR and benefits platform that transforms the way modern businesses understand, interact and manage their talent and focuses on control, insight and engage. Hibob offers features such as engagement, onboarding, document management, automatic reporting, applicant tracking, absence and time management, company culture and workflows.
Hibob's employee holiday and absence tracking lets users manage all users' employee absence data in one central place, easy and visible holiday planning, policies assigned and enforced by individual or group, automatic approvals and track the team with absence status reports made easy. Hibob also offers a time log where employees check in and out for users to easily track total working hours, project hours and weekly average hours.
Hibob' onboarding lets new starters get a feel for the business before the first day and puts the organization into orientation while Hibob's automated tasks function lets users watch their new starter get orientated in the most efficient way.
Hibob also has a clubs feature which is informative, useful and very nicely designed for new starters to find out and get people from the company's clubs to email and introduce themselves before the newcomer arrives and where the new comers provide personal info, read policy docs and meet their colleagues. Hibob also lets the users attract and retain staff with its benefits platform which is matched to the users' culture and to meet their auto-enrolment obligations. Hibob also offers automated reports which is based on real-time data and smart filters for more analysis.
You may like to read: Free and Open Source Human Resource ( HR) Software, How to Select the Best Human Resource Software for Your Small Business and Human Resource Software for Small Business