Review
Qandidate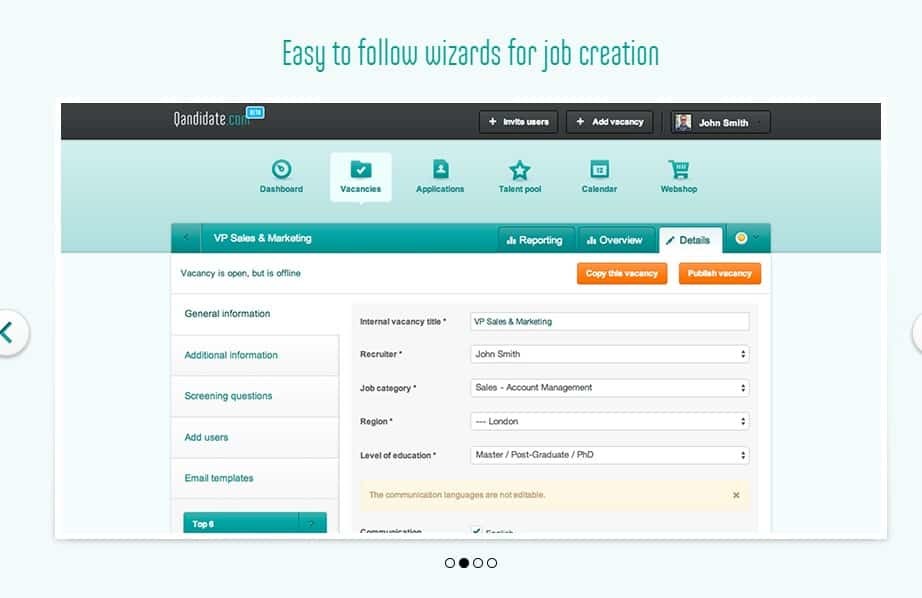 Overview
Qandidate.com provide companies all the information and tools to make the best hiring decision for their organization. Qandidate.com is build on the latest cloud technologies and offers an intelligent media web store app which provides you based on real-time benchmark data how to boost the visibility of your vacancies across a portfolio of more than 1000 online media channels.
Applicant Tracking Software Free
• Media webshop
• Organize your work
• Out-of-the-box career site
• Candidate management
• Talent pool
• Screening questions
Small (<50 employees), Medium (50 to 1000 Enterprise (>1001 employees)
What is best?
• Out-of-the-box career site
• Candidate management
• Talent pool
• Screening questions
What are the benefits?
•Surprisingly easy
•Free recruitment tool
•Clear overview of your recruitment progress
•Easy to follow wizards for job creation
Qandidate.com is free, with the option to buy services from partner vendors or recruitment campaign media from Qanddate.com.Qandidate's unique selling points include its free, hosted career site, the ability to publish job openings to job boards and social media sites, and a modern UI with all candidates viewable in one place at a glance. It's also optimized for the language and legal requirements of the European market.
Qandidate.com selects the most effective media channels for you at the best prices. Get a completely customized campaign within 24 hours online with just one click.Qandidate.com automatically adds all your recruitment faces such as application, invitation and rejection to your to-do list and appointments are neatly organized in your agenda. All these are easily accessible via your dashboard.Increase your talent pool with Qandidate.com. Save candidates to your talent pool for later and match them with future job openings.
Their is Out-of-the-box career site tool which gets your vacancies online in just a few clicks on your very own career site. This site can be branded to your company branding and is optimized for search engines.Qandidate .com has candidate management tool which controls all applications in one place, no matter where you're advertising. With filters, candidate reviews, notes and email templates available to you, you are able to create one complete candidate profile in one single place.
The qandidate.com has a customizing capability which allows you to create your own screening and filter questions which enhances your selection process.You can add screening questions to your application form to receive additional information from candidates for matching and filtering.
You may like to read: Free, Open Source and Top Applicant Tracking Software, How to Select the Best Applicant Tracking Software for Your Business and How to Select Cloud HR vs On-Premises HR Software for Your Business