35 Free and Top Payroll Software: The Best of the Payroll Software for Small Business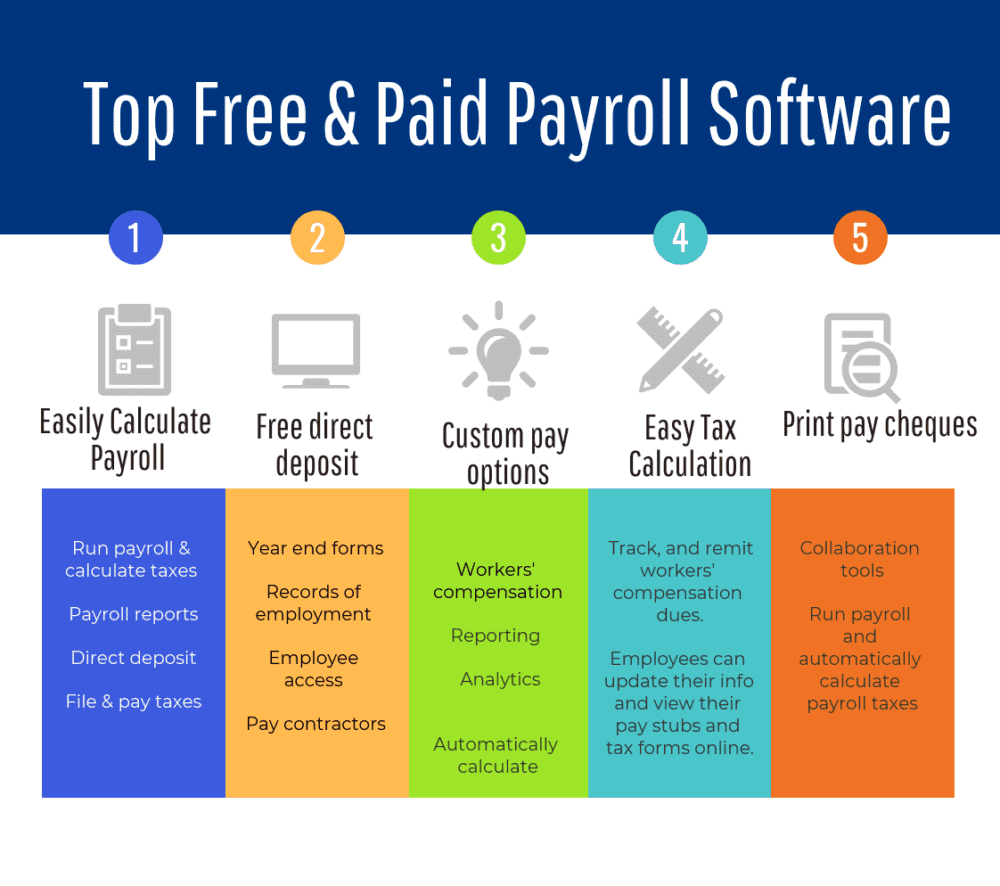 Payroll Software is a system that compensate employees for the time worked. A payroll software automates the process of paying salaries to the employees, whether hourly or overworked time. The payroll system provides a firm with an organized software that assist in keeping track of hours, calculating the total wages, calculating tax and printing the checks.
Whether a big or small company, every organization is required to compensate their employees. The payroll software mitigates errors and improve the compliance by saving time compared to paper-based systems. The software is designed with the functionality to accurately perform all the payroll functionality. This make sense as to why many company invests in the automated payroll software.
The software standardizes, automates, centralizes and streamlines the payroll process. Specifically, there are some features that you will find in a payroll system that helps achieve a myriad aspect such as calculating wages and managing employees' attendance.
What are the Best Free Payroll Software: Payroll4Free, Paycheck Manager, Rise Lite, IRIS Payroll Basics, Payroll by Wave, Xero Payroll, Collabrill, Talenox Payroll are some of the Top Free Payroll Software.
What are the Best Payroll Software: BambooHR, QuickBooks Online, Paylocity, Medlin Payroll, Pensoft Payroll, OnPay, StratEx, Justworks, Paychex Payroll, Datis Payroll, PayrollHero, Squareup Payroll, Wagepoint, EBS PaySuite, Intuit Payroll, CompensationXL, Patriot Payroll, TriNet, Inova Payroll, WorkforceONE Payroll, Namely, Paycom, APS Payroll, HRTrace, SurePayroll, Fuse Workforce Managementare some of the Top Payroll Software.
What are Payroll Software?
The standard function of a payroll software includes payroll management. It allows customization of functionality such as payment, and benefits. The administrator or the IT staff has the mandate to configure systems to print checks.
Payroll Software also includes self service capabilities that will also allow the employee to view and download the payroll check online. The employee can view or download the checks through the mobile devices and computers. Also, in most of the cases, the payroll software is also configurable by HR or the IT staff which help in monitoring the monitoring process. Other features include gross net income calculation, report production. In addition, some of the payroll software have data analytics modules that will help audit reports and track both local and national payroll trends.
Choosing a payroll software can be a daunting task. First, you must find a payroll software that offers adequate security to prevent tampering with information.
The Payroll Software must also be compatible and flexible and will function well with other business software that will help grow your business. The payroll process can be time-consuming and are error prone consuming if they are manually done. A simple mistake can havoc an organization finance.
A payroll software provides an automated system that is free of errors and saves times by automating the calculations. The software also allows automation of employees tax deductions. In most cases, the employees find it easy to use the software to manage tax payment and avoid late payment penalties. The payroll software also builds transparency and if any payment disputes arise, they are clearly settled.
The payroll system automates and centralizes the employment data such as CBAs, timesheets, conversation and employee performance records. The employer can easily access the employee data. Generation of recurring reports can also be standardized through payroll software.
Most of the organization can allow for the use of payroll cloud solution where users can manage the payroll process internally. In addition, the payroll software eliminates the third party in the handling of the salaries which may expose sensitive data.
Top Payroll Software
BambooHR, QuickBooks Online, Paylocity, Medlin Payroll, Pensoft Payroll, OnPay, StratEx, Justworks, Paychex Payroll, Datis Payroll, PayrollHero, Squareup Payroll, Wagepoint, EBS PaySuite, Intuit Payroll, CompensationXL, Patriot Payroll, TriNet, Inova Payroll, WorkforceONE Payroll, Namely, Paycom, APS Payroll, HRTrace, SurePayroll, Fuse Workforce Management are some of the Top Payroll Software.
Top Payroll Software
PAT Index™
1
BambooHR is an online human resources (HR) software service for small and mid-sized businesses which offers a single system to consolidate all employee and human resources related data, manages a number of human resources activity. BambooHRcan be used to build a centralized database of employee profiles that can be accessed by anyone in the company with the access permissions they define where each profile can store personal information and a photo, as well as details on benefits, salary, time off, documents and training where the users can also add custom fields to record important information unique to their company. BambooHR…
Overview
• Applicant Tracking System (ATS)
• Employee Self-Onboarding
• Time-Off Tracking
• Employee Database and Records
• Performance Management Software
• HR Reporting
• Custom Workflows
• Electronic Signatures
• Bamboo Payroll
2
QuickBooks Online
QuickBooks Online is ideal for nearly any type of small business. QuickBooks Online has the advanced accounting features, payroll, and user permissions to support mid-sized businesses as well. QuickBook's user interface is colorful, simple, and easy to understand, and its navigation tools are intuitive and well-placed. QuickBooks Online uses 128-bit SSL encryption and multi-factor authentication. As cloud-based software, QuickBooks Online operates with nearly all internet browsers. It also has desktop apps for Windows and Mac. QuickBooks Online also has mobile apps for Apple (iOS 9.3+) and Android (4.1+). There are five invoice templates. The invoice customization portal is among the…
Overview
• 24-hour Direct Deposit
•Calculate employee paychecks
•Calculate and file year-end forms
•Fast, unlimited payroll runs
•Payroll taxes done for you
•Self Service: $17 50 /mo Save 50% for 3 months* +$4/employee per month
•Full Service: $40 /mo Save 50% for 3 months* +$4/employee per month
3
Paylocity
Paylocity is a hybrid, web-based Payroll and HR service that is specifically developed and created for the lower end of the SMB market. It is highlighted by self-service features, advanced reporting tools, and seamless integration with the leading retirement plan, general ledger, and time and attendance applications. The platform provides businesses and online payroll software capable of taking users beyond payroll functions with its custom reports, compliance, pre-process register and other proactive features. The platform, which can be accessed 24/7, offers features like paycheck calculator, third-party direct deposit, and check-creation capabilities, Affordable Care Act compliance and more. It also comes…
Overview
• Payroll management
• Employee management
• Labor management
• Paycheck calculator
• Check-creation capabilities
• Pre-process register
• $2 - $4 / month per employee
4
Medlin Payroll
Medlin Payroll handles most requirements for small and micro businesses. It has Adjustments to Income, Deductions, Section 125, 401k, Auto Allowance, Cafeteria, PTO, and several types of Other Income. Import data from your time clock software, or from a template file. Medlin Payroll is cost effective for those who want to do their own payroll, for after-the-fact clients, and for those who may have sketchy Internet service but who still need to do payroll on a regular schedule. Those seeking simplicity will appreciate Medlin Payroll's easy-to-use interface, as well as its ability to provide payroll to many clients within your…
Overview
• Federal and state tax reporting
• Built-in calculations, Social Security, Medicare, federal and state withholding
• Issue checks on check forms
• Blank check stock
• MICR
• Email paystubs
5
Pensoft Payroll
PenSoft Payroll is built with the latest technology to make it powerful, yet easy-to-use. It makes payroll processing a simple job any company can accomplish in-house. It's enhanced and additional features make PenSoft Payroll the best value in payroll software to process your own payroll in-house. PenSoft is committed to providing the best value available in payroll software, backed by program support unsurpassed in the industry. Our sophisticated, comprehensive software packages make one of the most complex, time-consuming tasks employers face as simple as a few keystrokes. The federal government is using payroll software by PenSoft to test their electronic…
Overview
• Comprehensive Reports
• Automatic Tax Computations
• Prints on Federal Forms
• Quarterly Updates
• Electronic W-2s
• Calendar/List of Events
• Company Labels
• Invoicing
• Multiple Shift Differentials
• Certified Payroll
• Consolidated Reporting
• Lite - $269 / year
• Standard - $429 / year
• Pro -  $609 / year
• Enterprise - $849 / year
• Platinum - $1389 / year
• Preimum - $1939 / year
6
OnPay
OnPay's software lets the users schedule pay runs, pay employees, and create customized reports whenever it's convenient and where payroll taxes are all automated, and users can integrate with their favorite accounting software. Onpay's software offers features such as automated payroll, time-saving HR and direct deposit, check, or debit card. OnPay's top-rated online payroll services make it easy for small businesses to calculate paychecks, process taxes automatically, and free the users to do what users do best. Onpay's software calculates the user's state and federal payroll taxes then do the withholding, make the tax payments, and file all the user's…
Overview
• Report new hires to the government for you.
• Employees can access their paystubs and W-2 forms online, even if they are no longer with your team.
• Onboard employees like a pro. Your employees enter all their personal details online to save you time. Save key documents in our secure document vault.
• Employees can enter their own personal details, make changes, look up details, and pull their own paystubs and tax forms. You get to focus on what you do best.
• Pay contractors, salaried employees, hourly workers, tipped workers, or agricultural workers. We even handle special tax filings for clergy, and nonprofits.
• $36 /month base fee; $4 /month per person
7
StratEx
StratEx is an all-in-one HR solution that frees the users to focus on what the user's love to do. StratEx offers features such as HR support, payroll, certifications tracking and applicant tracking and recruiting. StratEx lets the users automate and eliminate mountains of HR paperwork. Stratex can help keep the users on the right side of the law (no matter how often the laws change sides). Stratex can handle every aspect of the employee lifecycle, from "Hire to Fire." HR service company that enables organizations to untether themselves from the highly manual aspects of the employee life cycle by providing…
Overview
• Payroll
• Certifications Tracking
• Applicant Tracking and Recruiting
• Labor / Sales
• Picture at Punch
• OnPay first month is free
• The base fee is at $36/month for the online payroll.
• Each user (employees and contractors) costs $4/month to be added to the base fee.
• Requesting for W-2s at the end of the year is at $5/each.
8
Justworks
Justworks is a HR based platform designed to ease the workload on managers and HR officers. Justworks offers payroll services and automation options for businesses. Whether it's about employee benefits, salaries, leaves or anything related to it, Justworks can give the user feasible and quickly implementable solutions. To give the employees maximum benefits, Justworks has partnered with top benefit providers. The benefits include medical, dental and vision health. The employees can manage their profiles online too. When it comes to making payments, Justworks makes sure that the users are a step ahead. Whether the users have part time workers or…
Overview
• Benefits Management & wage Garnishment
• Direct Deposit & compensation Management
• Expense Tracking
• Retirement plan Management
Basic Plan
• $79 to $39 per employee per month (billed annually) and
• $99 to $49 per employee per month (billed monthly) .
Plus Plan
• $79 to $59 per employee per month (billed annually) and
•$99 to $79 per employee per month (billed monthly)
9
Paychex Payroll
Paychex is a suite that offers payroll, HR and benefits management systems for small, medium as well large businesses and makes it easier for them to efficiently manage tasks. The system encompasses payroll and taxes, 401 (k) retirement services, insurance, HR, employee benefits, accounting and finance and PEO (Professional Employer Organization). The end-to-end and single-source HCM system puts the people and their needs at its core, while dedicated Care Act solutions allow taking action on otherwise complex health rules and regulations. The system automates applicant tracking and expense management, making recruiting and expense processes more efficient. A cloud-based solutions for…
Overview
• Payroll and taxes
• Small and large business payroll
• Online payroll management
• HR services & online hiring
• Time and attendance
• Analytics and reporting
• PEO & COBRA administration
• Paychex's SMB and enterprise pricing information is available only upon request. Contact the company for more details, and ask for a quote.
10
Datis Payroll
Datis HR and payroll software solution is an easy-to-use system that delivers robust results from complex labor distributions and secondary pay rates, to drill-down reporting that helps the users track every detail and handles it all with ease and efficiency so the users can process payroll in hours, not days. Datis HR and payroll software solution offers features such as complex shift differential and bonuses. Datis HR and payroll software solution's FLSA calculations for the Department of Labor's Wage and Hour overtime rules are always accurate and compliant. Datis HR and payroll software solution handles all tax calculations for employees…
Overview
• Calculation of complex shift differential, multiple jobs, bonuses, overtime, or any type of additional pay handled easily and automatically
• Automated wage garnishments, liens, and other routine payroll deductions
• Complete tax services including automatic filings and legislative updates
• Unique payroll preview mode allowing live analysis of the current payroll period compared to the past three historical periods
• $79 per employee per month
• $49 per employee per month
• $39 per employee per month
11
PayrollHero
PayrollHero can streamline the user's time, attendance and scheduling while providing insightful business intelligence and reports to make managing the user's payroll easier. PayrollHero offers features such as Selfie Clock In/Out, Schedules, Thresholds and Resolving Attendance. PayrollHero is a time, attendance, scheduling, HRIS, and analytics platform for businesses looking to eliminate unnecessary costs in their operations and HR departments. PayrollHero lets employees clock in or out by taking a selfie, using facial recognition technology to ensure the correct employee is at the right workplace at the right time. The users can create custom shift times, recurring shifts, block times, split…
Overview
• PayrollHero lets employees clock in or out by taking a selfie, using facial recognition technology
• Get a complete understanding of the hierarchy of your business by accessing the organizational chart
• PayrollHero allows you to export the attendance collected in the app from all your employees into a spreadsheet.
• Employees can use a form on their personal account to request time off for official business, vacation, sick leave, etc.
• Our platform allows you to easily create employee profiles, update their positions and tag them into different groups and teams of your preference.
• $3.50 per employee per month
• Add-on; leave management - $2.00 per employee per month; enterprise - $9.99 per employee per month
12
Squareup Payroll
Square Payroll is an online payroll service trusted by small businesses. Square Payroll offers features such as sick leave tracking, new-hire reports filed and paid time off tracking. Square Payroll lets the users pay employees, contractors, or both online in just a few clicks. Square Payroll is based in the U.S. and has an experienced team which helps the users make sure that the user's payroll is compliant. Square Payroll lets the user's team clock in and out from the Square Point of Sale app which seamlessly import their hours and even let payroll run automatically. Square Payroll lets the…
Overview
• Your team can clock in and out from the Square Point of Sale app.
• Seamlessly import employees' hours and even let payroll run automatically
• Your team members can set up online accounts where they can update their personal details and set up direct deposit.
• Square Payroll makes it easy to pay any combination of hourly and salaried employees, and contractors.
• We can help you pay all your independent contractors and automatically generate and file Form 1099-MISC online.
• Contractors only - $0 subscription per month + $5 per contractor per month
• Employees and contractors - $29 subscription per month + $5 per employee or contractor per month
13
Wagepoint
Managing payroll is important for small and mid-sized companies, and Wagepoint gets the work done quickly and easily. Wagepoint can manage government remittances/reporting, direct deposits, and all year-end reporting for both hourly and salaried employees. Wagepoint is an intuitive, easy to use, web-based payroll system, ideal for small businesses seeking to pay their employees or contractors while remaining compliant with IRS regulations. It is an ideal solution for companies in a wide range of industries including retail, healthcare, distribution, and banking. Wagepoint is used by hundreds of small businesses and it offers an easy-to-use interface that allows companies to set…
Overview
• Wage Detail Reports
• Workers' Compensation plans
• Company Income Codes
• Default Payroll Withholdings
• Government Remittances
• Paperless Paystubs
• 10 Employees - $40 per pay
• 40 Employees - $100 per pay
• 100 Employees - $220 per pay
14
EBS PaySuite
Employee Based Systems (EBS) is a full service software development and consulting firm specializing in the design, implementation, and support of Payroll, Human Resources, Time & Labor Management and Hiring/Onboarding software solutions. EBSPayroll allows companies to easily perform and track their payroll processes. EBSHR is a simple yet robust solution for organizations that struggle with managing the complex needs of their HR department. EBSHire allows the user to quickly transition the qualified candidates to new hires with tools that increase new hire productivity and engagement. EBSTime helps to manage the work force and track employees time an attendance with utmost…
Overview
• Payroll Management and Human Resource Management
• Hiring & Onboarding and workforce management
• Time and Labor Management
• Reports & Dashboards
• Consulting Services
• EBS pricing information is available only upon request. Contact the company for more details, and ask for a quote.
15
Intuit Payroll
Intuit Payroll offers an effortless and smarter payroll and tax tools. Intuit Payroll features online payroll, basic payroll, enhanced payroll, full service payroll and payroll for Quickbooks. Intuit Payroll has multiple, flexible pay types and deductions available so the user's paychecks can be as unique as the user's employees. The users can go ahead and set up hourly, salary, time off, healthcare, retirement and garnishments. Intuit Payroll experts are only a chat or call away. Intuit Payroll monitors and applies the latest federal, state and local tax rates, so the users will be sure payroll taxes are accurate. Intuit Payroll…
Overview
• Keep payroll and accounting data in the same place and your books update automatically, every time you run payroll.
• Seamless integration means you can easily share payroll and accounting info with your accountant.
• With 24-hour Direct Deposit, you can take more time to submit payroll and hold onto your money a little longer every payday.
• Basic - $24 /mo Save 20% for 6 months +$4/employee per month
• Enhanced - $36 /mo Save 20% for 6 months +$4/employee per month
• Full Service - $87.20 /mo Save 20% for 6 months +$4/employee per month
16
CompensationXL
CompensationXL is the only solution that will eliminate the tactical burden of administering the compensation cycle, and allow the users to leverage the user's current Excel compensation worksheets as the basis of configuration which will allow the users to continue to support and embrace the user's unique strategy for competitive compensation planning without re-training the user's managers. CompensationXL offers features such as focal planning, merit pay and incentives. CompensationXL provides the compensation team with a tool so configurable that it will truly automate and improve the user's current process without requiring a process overhaul. CompensationXL solution shrinks cycle time while…
Overview
• Administer, automate, and streamline your compensation planning process
• Align rewards with individual and organizational performance
• Manage all your plans in one place including bonus and equity
• Adjustment letters and/or total reward statements are just a click away
• Make recommendations online, Review recommendations offline.
17
Patriot Payroll
Patriot Payroll Software is an affordable, reliable, and robust online accounting and payroll solution. Both modules are designed to be user-friendly for all types of users. The software is so simple that there is no need for any formal training and users can operate the platforms right off the box. Plus, these software are run on servers in a safe and secure data center. Handling and managing invoices, organizing accounting data, and calculating salaries down the last penny are tasks that become less difficult. Patriot Payroll comes with a basic online payroll service. Patriot Payroll gives a guarantee that all…
Overview
• W-2s and Year-End Reports
• Money Account Tracking
• Payroll Portal
• Customer Invoices
• Direct Deposit
• 1099/1096 Summary Report
• Money Activity Reporting
• Basic Payroll - $10 / month
• Full Service Payroll - $25 month
18
TriNet
TriNet mitigates payroll and tax-related risks which gives the users more time to focus on the user's business. TriNet offers tax remitting and filing, real-time entry, payroll preview and direct deposit. TriNet offers paperless options for payroll administration, including e-pay stubs and electronic W-2 preparation and delivery. TriNet also lets the users view estimated invoices, updated in real time as the user's add employees or make other changes. TriNet's intuitive and self-service platform enables the user's employees to enroll in direct deposit, view pay stubs, change their status, view and print W-2s, and track paid time off. TriNet calculates and…
Overview
• The online payroll services include payroll processing with direct deposit and debiting.
• Calculate and withhold federal, state and local payroll taxes.
• Time off balances are updated in real time, making it easy for employees to manage time off.
• Predict operational needs with a flexible system that supports many work arrangements
• Access multiple reports to gain important insights into your HR
• Namely's SMB and enterprise pricing information is available only upon request. Contact the company for enterprise pricing information and other product details.
19
Inova Payroll
Inova is a payroll and HR solutions company serving small and medium-sized employers across the United States. Headquartered in Music City U.S.A., Inova Payroll has been recognized as one of the fastest growing companies in the United States, appearing on the Inc. 5000 list the past two years. Dedicated to the success of payroll and HR professionals, Inova Payroll provides a powerful end-to-end human capital management solution to better attract, hire, pay and engage employees. Features include a single database with one interface and one employee record for greater efficiency, accuracy, and visibility into employee data; real-time data for better…
Overview
Cloud-based payroll, accessible via desktop, tablet and mobile
Simple one-employee payrolls to complex multilocation, 1,000+ employee payrolls
Intuitive, colorful dashboard-based screens that are easy to navigate
Unlimited earnings, deductions, and distributions
Real-time calculations
• APS offers three quote-based enterprise pricing packages to meet the needs of different users. Select the most suitable plan for your business, and reach out to the vendor for a tailored quote.
20
WorkforceONE Payroll
WorkforceONE Payroll Solution empowers the user's team with the self-service functionality, performs calculations on the go and generates more than 60 exportable reports. WorkforceONE Payroll Solution offers features such as quick payroll, security profiles and robust reporting. WorkforceONE Payroll Solution is a robust tax engine which handles time-consuming tasks and offers automated multistate and reciprocity calculations while a local tax jurisdiction locator suggests applicable taxes. WorkforceONE Payroll Solution can process payroll on the user's own schedule and complete special check runs such as commissions or bonuses without worrying about extra charges. WorkforceONE Payroll Solution provides focused analytic reporting that integrates…
Overview
• Obtain information directly from local taxing authorities and use the precise geographic coordinates of an employee's residence and work address
• Provide statements and essential reports in real time, without the need to conduct traditional pre-pay processes.
• Easily manage and modify deduction and earning codes, direct deposits, tax jurisdictions, and other payroll elements
• Give employees on-demand access to payroll information, including pay stubs and earning histories, through an easy-to-use mobile app and online self-service tools.
• Accurately completes gross-to-net calculations and provides all the information you need to complete and file taxes.
• EBS pricing information is available only upon request. Contact the company for more details, and ask for a quote.
21
Namely
Namely is an HR Platform that consolidates various HR Processes and Employee management modules into a single software. It supports a paperless environment as it allows users to collect, maintain and update employee information into a centralized database. It has a mobile app for mobile access and better connectivity and is compatible with Android, iPhones, and iPads. Namely supports better visibility and communication within the company both through its newsfeed and network feature. Its interface is like a corporate social media outlet similar to Facebook, Linked-in or Twitter, and supports a transparent 3600 feedback environment. It also gives both employees…
Overview
• Modern HR:
• Payroll
• Timekeeping
• Simplified Employee Benefits
• Talent Management
• Managed Services
22
Paycom
Automate processes with Paycom's single software and eliminate the frustration of manually entering data and integrating multiple systems. Software-as-a-Service (SaaS), pay-as-you-go pricing and proprietary development have all been Paycom staples. Paycom ensures that payrolls are processed quickly and perfectly in order to attract, hire, engage and retain great employees. Because Paycom empowers businesses with one system of record for employees, any information affecting payroll is entered once, with changes taking effect system-wide. Online Payroll Processing with Paycom is seamless. The system updates automatically to changes in employee information and offers other time-saving functionality such as batch editing and effective dating. Audit…
Overview
• Expense Audit Report
• Payroll Tax Management
• Expense Dashboard
• Expense Classes Report
• GL maps
• Garnishment Management
• Transaction Reports
• Custom File Layouts
23
APS Payroll
APS is a system that brings innovation and scalability to modern human capital management. Core HR, payroll, time tracking, ACA compliance, recruiting, applicant tracking, and on boarding all come together creating human capital management harmony. APS intuitive interface allows for quick adoption, empowering users to get the job done from day one. By maintaining a vision of unified systems that make human capital management nearly effortless, they support clients in their growth and success. At the same time, APS boasts flexible technology and offers businesses guaranteed compliance. The system can also generate actionable reports and leverage seamless integrations. Created for…
Overview
• Payroll processing
• Unified solution for core HR, time and attendance, and ACA reporting
• Payroll reporting
• Data integrations for general ledger, 401k, and payroll-related exports
• Garnishment payments
• Direct deposit and paycards
• APS offers three quote-based enterprise pricing packages to meet the needs of different users. Select the most suitable plan for your business, and reach out to the vendor for a tailored quote.
24
HRTrace
HRTrace is a cloud-based payroll software.It automates real time employee monitoring golden feature with its powerful inbuilt features like payroll, payslip automation, core HR, attendance and leave management and reporting. HRTrace helps you to track the number of paid leaves, sick leaves, casual leaves and holidays that your employees are originally entitled to. This is done more accurately and securely than any other now available systems of employee activity management. HRTrace which tracks all employee work time and life-cycle activities and get deep insights with zero effort. This is due to it's automated screenshot capture ability. Which Effectively calculates working…
Overview
•Powerful Dashboard with Projects and Status, Today Activity, Members and details
•Activity Tacking to manage daily Employee Activity and Work time
•Employee Management- Powerful employee manage tools. Easily can manage all employee.
•Leave Process- All leave Transactions. Easily create and manage leave process
•Payroll Management- Payroll module very easy to create your employee payroll
•Salary Setup-Salary Structure Management and revision
•Report Generation-Effective tool to manage daily office reports
•Projects-Easy to manage all business projects
•Master Settings-Powerful managing tools easy to manage company structure.
•More cool features-HRTrace has lot of more cool features for your business
•Employee login-Powerful employee portal easy to manage all functions
•Client login-Powerful Client portal easy to manage all works
25
SurePayroll
SurePayroll is a comprehensive online payroll solution for every business. On top of that, SurePayroll has also created a management platform in its payroll software called One-Click Payroll, which simplifies all the processes related to payroll into just a few seconds without compromising accuracy and reliability, saving businesses countless hours that it will take to perform said tasks manually. It is a perfect payroll solution for small businesses, startups and sole proprietors. The software comes with an interactive, customizable dashboard. Another highlight of the system is that its supports multiple payroll types and calculates and delivers payroll taxes. With an…
Overview
• Accounting Integration
• Time Clock Integration
• Online reports
• SureAdvisor Federal & State Labor Law Compliance
• Alerts & Reminders
• Automatic payroll taxes
• Business and HR forms
• Mobile Payroll apps
• Interview checklists
26
Fuse Workforce Management
The Fuse Workforce Management platform unites time and attendance management, human resources management, and payroll into a complete Human Capital Management system which lets the users spend less time trying to manage different systems, and more time empowering the user's employees to do great work. The Fuse Workforce Management platform offers features such as payroll, core HR, time & labor management and analytics. Fuse Workforce Management lets the users get incredible customer service, with real people, real contact, and real attention to the user's needs. The users will also enjoy a 24/7 web access to the user's account and all…
Overview
• Automated tax table updates help you effortlessly meet your state and local tax requirements and ensure the accuracy of employee withholdings.
•Paycheck analysis report helps you you verify that your information is correct before submitting payroll for check processing.
•Easily outsource tax filing, garnishment processing, and check printing.
• Paychex's SMB and enterprise pricing information is available only upon request. Contact the company for more details, and ask for a quote.
Top Free Payroll Software
Payroll4Free, Paycheck Manager, Rise Lite, IRIS Payroll Basics, Payroll by Wave, Xero Payroll, Collabrill, Talenox Payroll are some of the Top Free Payroll Software.
Top Payroll Software Free
PAT Index™
1
Payroll4Free
Payroll4Free.com allows you to export your payroll data to many outside software products or companies, including accounting packages, banks, benefit companies and many more. You can also import employee hours from a time clock file. Get up and running with Payroll4Free.com quickly and easily with our guided step-by-step account setup tool. You have the ability to set up various options to calculate and keep track of employee vacation, sick, and PTO time. The system will then accrue the correct number of hours for each employee based on amount of time with the company, hours worked, etc. Give your employees the…
Overview
• Tax Calculations & Forms
• Detailed Reporting
• Direct Deposits or Paper Checks
• Employee Portal
• Quick & Easy Enrollment
• Free
• Optional Paid Services - $12.50 / month
2
Paycheck Manager
Free paycheck, payroll tax calculator, print paychecks & pay stubs. Innovative, flexible, patented online payroll management software designed specifically for small businesses. Paycheck Manager is the Easy Do-It-Yourself Payroll Tax Calculator Software. The goal is to facilitate a robust but yet easy to use environment for business owners to calculate and manage their payroll. Paycheck Manager provides a FREE Payroll Tax Calculator with a no hassle policy. Any user can simply access PaycheckManager.com and start using the paycheck calculator. No registration required. No private information is saved. It's a full-featured paycheck calculator that allows for hourly or salaried, bonus, 401k…
Overview
• Flexible, hourly, monthly or annual pay rates, bonus or other earning items
• Public employees, exempt employees paycheck calculation
• 'Year-to Previous Period' information 
•eFile of State forms
• Free for up to 3 calendar months
3
Rise Lite
Rise helps you pay employees faster, settle discrepancies swiftly, and create formulas to handle commissions, benefits deductions, bonuses, and RRSP matching. Save time by automating your T4s, remittances, and ROEs. Rise Payroll management software integrates seamlessly with the entire Rise platform—HR, Benefits, and Time and Attendance—so any change you make to employee data is reflected instantly everywhere, with no extra effort on your part. Forget paper time sheets and punch cards. Welcome to timekeeping software that helps you manage your workforce with confidence. Complete automation eliminates timekeeping errors, while real-time calculations help maintain compliance and payroll accuracy. Put your data…
Overview
• Robust reporting
• Automated & Online payroll
• Team hub
• Smart reminders
• History & auditing
• Custom workflows
• Free for businesses with 20 employees or less
4
IRIS Payroll Basics
IRIS Payroll Basics is FREE payroll software designed for businesses with less than 10 employees. The software helps your business to comply with auto enrolment and, run an efficient and accurate payroll. IRIS develops market-leading software for accountants, payroll and finance professionals. You can access our services from the cloud, on premise or a combination of the two. IRIS is the only payroll software provider that allows you to deliver your employees' payslips direct to their smartphone! The secure web based solution that enables your employees to access, and download their payslips via an online portal via PC, Mac, smartphone…
Overview
• Auto Enrolment
• Summary reports
• Full payroll history
• Month-end calculations
• Comprehensive online filing
5
Payroll by Wave
Wave Payroll is a service that allows small businesses to compute payroll for salaried workers, and handle local, state and federal taxes. Affordable payroll designed for small business. Backed by 100% accuracy guarantee, you can be confident in CRA tax remittances, issuing pay stubs, ROEs and T4s. Wave makes it easy to save time and get back your work day. The system is easy to set up and use. It comes with a simple and very navigable dashboard with everything you need is in view and easy to access. With Wave, accounting and invoicing processes are simplifies, enabling users to…
Overview
• Attendance Management
• Benefits Management
• Deductions Management
• Self Service Portal
• W-2 Preparation
• Direct CreditCard Payments
• Automatic Customer Statements
6
Xero Payroll
Xero payroll not only manages the tasks you have to do, it automatically updates your accounts too. Payroll provides tools for tracking working hours and approving leave with controlled access for employees. Pay employees instantly with direct deposit or print a check. Customize the layout of your checks with our check designer. Payroll filing and payments are calculated for you. You simply click to file and pay right from Xero. With timely notifications, you'll never miss a deadline again. Track and manage employee entitlements for leave and enable employees to request online or from their phone. Xero can automatically handle…
Overview
• Accounts Payable
• Bank Reconciliation
• Tax Forms & Support
• Electronic filing and payment
• Flexible pay calendars
• Detailed payroll reports
• Built-in timesheets
7
Collabrill
CollaBrill is an innovative cloud based HRMS solution. It has 360-degree Collaboration and Analytics for HR, Payroll, Recruitment, Sales & Invoice, Project Management and everything that you need to grow your business and make it successful. As a Cloud based solution, it provides an easy-to-use collaborative platform for the enterprise to help them manage their end-to-end process, take away their pain points and focus on growth, efficiency and higher productivity. Collaborate with all stakeholders who make you a success - Employees, Clients, Vendors. From initial overview to setup and then on-going support. We ensure that you have all the support…
Overview
• Employee Management
• Financial Management
• Vendor Management
• Time & Expense Tracking
• Document Comparison
• Bug Tracking
• Activity Management
• Project Budgeting
• Free up to five users
• Basic - $1 / month per user
• Standard - $2 / month per user
• Enterprise - $4 / month per user
8
Talenox Payroll
Talenox's payroll system is web-based and accessible anytime. Access a host of functions such as spreadsheet imports, one-click payment to banks, and automatic emailing of paychecks when a payroll batch is confirmed. Run individual or payroll batches based on your payment schedule. We cater to both monthly and weekly payments. Talenox and Xero are fully integrated, so you can send those pay entries to Xero with one click. Talenox advanced built-in calculation engine calculates for a wide variety of pay structures and groups, so you don't have to manually compute for every kind of scenario. HR apps will take care…
Overview
• Comprehensive integration
• Built-in calculation engine
• Web-based payroll
•  Pay Items
• Skills Development Levy
What to Choose: Proprietary or Open Source Payroll Software?
From a buying perspective there are two options based on the source code availability: Open Source Software and Proprietary Software.
Open Source Payroll Software: Open Source Payroll Software is ideal when you have a development team available in your company and when you want to try out the product or build new features and functionality on top of it.
Proprietary Payroll Software: Proprietary Payroll Software is a good choice when you are looking for an established product, when your requirement is for SAAS product or when you need full-fledged support and when open source standards doesn't matter in your line of business.
You may want to review How to Select Cloud HR vs On-Premises HR Software for Your Business
How about Cloud and on Premise Software
Based on the installation type there are cloud-based and on-premises software systems, with both the systems having equal share of benefits. The cloud software is hosted and managed and maintained on a remote server. It is also referred to as software as a service (SaaS). On-premises software is normally installed and implemented on your company's premises and which need your own IT team to manage and maintain the on- premises system.
Selection of the installation type depends on the needs of your organization. A small company may find the cloud system more appropriate since the cost of installation is lower as opposed to having on-premises system.
You will find free or limited free versions in both the Open Source Software and Proprietary Software.
We recommend determining how the software fits to your business in terms of features, functionality, and business process with a free trial.