How to Select the Best Human Resource Software for Your Small Business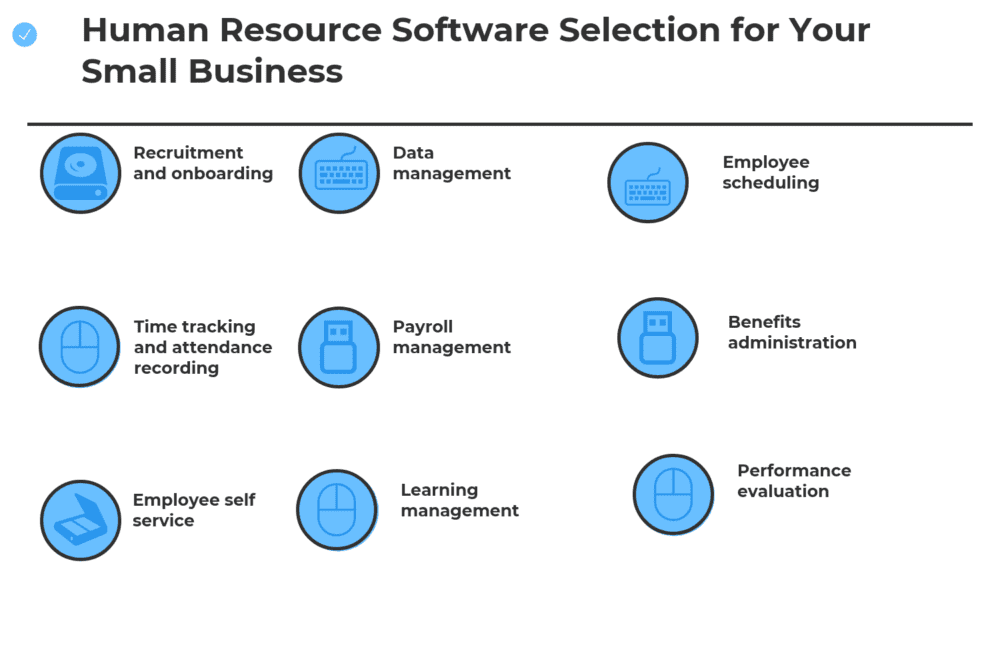 The success of small and medium business lies in their ability to realize high returns at the lowest costs possible. One strategic approach to achieve this goal is to maintain a competent and engaged workforce. Before the introduction of computers, human resource activities were manually performed and took significant time and effort. Consequently, more emphasis was placed on these operations than on looking after employees' well being. Manual processes and document creation also resulted in considerable delays and frequent human errors. The solution to these issues was the development of human resource software, which was created to encompass several administrative tasks.
Human resource software is a combination of recruitment and workforce management systems to improve the efficiency of a business. Most solutions are customizable and provide a user friendly interface that is easy for all employees to learn.
What are Human Resource Software for Small Business?
Small and medium businesses use human resource software to improve the management of employee data by streamlining and automating human resource and administrative processes through a centralized location. The software also allows human resource departments to focus on less time-consuming activities and more on staff retention, budgeting, and other strategic activities.
Businesses also use the software to record, update and access applicant data and employee records. Another reason for using human resource software is to manage workforce training and development. Managers in small and medium businesses can identify the skills required for a particular job and recommend training courses for employees. The software also allows businesses to monitor employee performance and reward top performers. Job boards, social media channels, and online application tools are incorporated to support a business' need to attract and recruit the right talent. Another reason why businesses use human resource software is to improve internal communication across departments via manager and employee portals, employee satisfaction surveys, and instant messaging.
What are the Types of Human Resource Software for Small Business?
Core HR: Combines the three traditional functions of employee management: personnel tracking, benefits administration, and payroll; and eliminates tedious exercises such as manual payroll processing.
Strategic HR: Focuses on attracting and developing top talent, as well as improving the overall management of the business' workforce; and streamlines applicant tracking and recruiting, learning management, and employee retention processes.
Workforce management: Comprises a range of software tools intended to track time, attendance, and expenses, and monitor labor law compliance.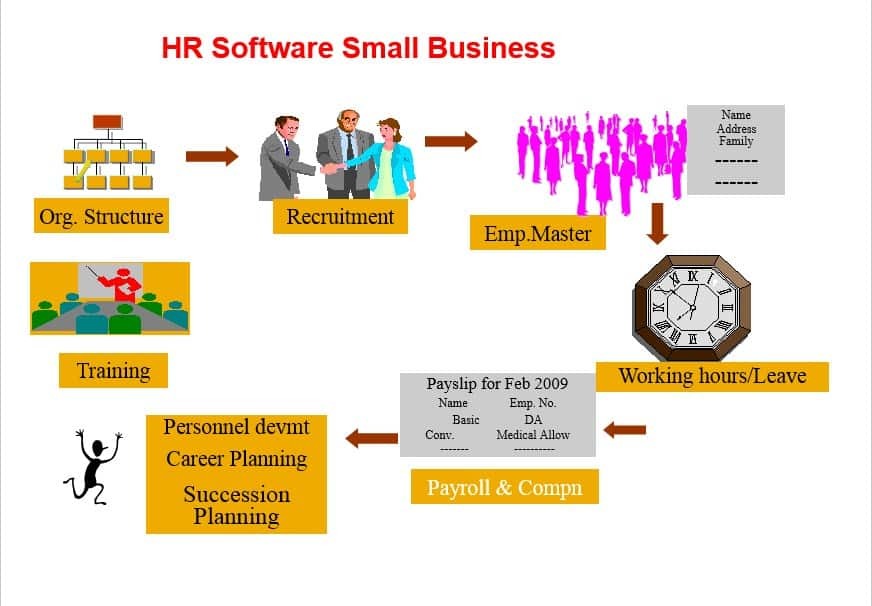 What are the Features of Human Resource Software for Small Business?

Human resource software offers a range of features such as Recruitment and onboarding, Data management, Employee scheduling, Time tracking and attendance recording, Payroll management, Employee self service, Learning management, Performance evaluation, and Analytics and reporting.
Recruitment and onboarding: Allows managers to advertise vacancies, store and review applications, screen candidates, and perform accurate background checks; and facilitates the onboarding process.
Data management: Maintains all applicant and employee information such as bio data, medical and tax information, resumes, and emergency contacts, which can easily be retrieved using filters.
Employee scheduling:Facilitates the preparation and assigning of work schedules; maintains accurate records of employees who work on each shift; and alerts employees when shifts change.
Time tracking and attendance recording:Allows managers to track hours worked, monitor absences such as personal and sick days, and receive alerts and notifications related to labor compliance.
Payroll management: Manages employee salaries, bonuses, 401k contributions, and health and other deductions; calculates taxes; and generates paychecks.
Benefits administration: Administers employee benefits including paid time off, medical or life insurance policies and 401k participation.
Employee self service: Allows employees to personally update personal information, view schedules and payroll, submit leave requests, and transact any other HR-related activities.
Learning management: Administers and monitors employees' academic qualifications and skills, and identifies training programs to develop or improve required skills.
Performance evaluation:Allows managers to supervise employees' productivity, monitor progress, and provide recommendations for promotions, bonuses, or training.
Analytics and reporting:Generates statistics and reports that help businesses review performance and identify trends and inconsistencies for proper planning.
Security: Provides built-in security measures such as access control, encrypted storage of data, and user authorizations to protect employee information from potential internal and external threats.
What are the Key Performance Indicators in Human Resource Software for Small Business?
Actual vs. budgeted hiring costs: Measures the variance between the amount of money allocated for hiring new talent and the amount actually incurred.
Annual retention rate: Focuses on the number of persons who joined the business within a specific year vs. the number of employees who stayed during the same year.
Average time to update employee records: Measures the time between accessing an employee's record and saving the updated information.
Average time taken to fill vacancies: Measures the time it takes to select a new hire after an employee submits a resignation letter.
Staffing efficiency: Measures the productivity of the workforce to determine how long it takes employees to accomplish tasks.
Average training costs per employee: Measures the amount of money a business invests in training for each employee and helps businesses to assess the return on investment (ROI) for training.
Percentage of overtime hours worked in a given period: Measures how much time is spent on overtime hours against total hours worked, which helps managers review scheduling, staffing, and competency of employees.
Employee satisfaction: Measures how satisfied employees are with their jobs, management, and the overall business through the execution of employee surveys.
What are the Benefits of Human Resource Software for Small Business?
A 360-degree overview:Provides managers with access to comprehensive information on employees and company-related events while employees get detailed profiles inclusive of personal information and assigned duties.
Optimized recruitment process: Facilitates recruitment of new employees by enabling businesses to advertise vacancies on job boards, evaluate applicants, and conduct interviews.
Workforce management: Combines all employee-related activities in one cost-effective package, which allows small and medium businesses to assign tasks, track progress, and reward employees.
Enhanced collaboration: Fosters real time communication within and between departments, facilitates file sharing, and provides an avenue for news feeds.
Improved performance evaluation:  Helps businesses develop the workforce through effective and unbiased performance appraisals and reward systems that will boost morale, improve productivity, and increase retention rates.
Payroll management: Reduces the possibilities of errors when calculating employees' compensation, benefits, deductions, etc. and ensures tax compliance.
What are the Latest trends in Human Resource Software for Small Business
 Software-as-a-service (SaaS): Also referred to as "web-based," this delivery method allows for easy implementation and updates, and is accessible by employees from any mobile device.
Gamification: Helps small and medium businesses to establish a reward system that recognizes and rewards exceptional performance.  Through this feature, employees can score points and earn badges upon completion of tasks, training courses and other exercises.
Video conferencing: Managers can use this feature to interview candidates online, or communicate with employees who work from home. This will help businesses realize massive savings of time and expenses.
Mobile HR management software: Most human resource systems are cloud-based and are accessible from mobile devices, which facilitate managers' ability to operate from any location.
 How to Select the Best Human Resource Software for Your Small Business?
Choosing the best human resource software can be an overwhelming process for any business since there are many available options and a multitude of features. Before checking the options, small and medium business owners should answer the questions: Why the software is needed? What are the expected outcomes and benefits? Which are the most reliable brands?  Additionally, some important factors businesses should consider include Labor law compliance, Flexibility, Ease of use, Cost, Availability of technical support, Integrations, Mode of delivery, and Mobile capability.
Labor law compliance: The software allows businesses to input labor standards and tax requirements that are applicable to a specific region. There may also be built-in alerts and notifications to warn businesses of possible violations.
Flexibility: The system is flexible enough to allow businesses to customize layouts, templates, reports, and organization-specific processes such as recruitment and performance evaluation.
Ease of use: The software is straightforward to implement and both front end and back end users should require minimal training.
Cost: While human resource software is beneficial to small and medium businesses, organizations should shop around for the option that gives maximum functionality at the most affordable cost.
Availability of technical support: The software provides reliable and available support during implementation, to answer technical questions and to troubleshoot when necessary.
Integrations: The new software can integrate well with apps that the business may already be using. An open application programming interface (API) system will allow businesses to connect the software with other applications, creating a more comprehensive system.
Mode of delivery: Human resource software can be delivered in-house or through a cloud-based solution. For small and medium businesses, a cloud-based solution is usually the more affordable option.
Mobile capability: The software has an iOS and Android app that allows users easy access from any location and at any time.
Here are the trending and the top rated Human Resource Software for Small Business for you to consider in your selection process:
Top Human Resource Software for Small Business
PAT Index™
Here are the trending and the top rated Workforce Management Software for Small Business for you to consider in your selection process:
Top Workforce Management Software for Small Business
PAT Index™
Is Free Human Resource Software for Your Small Business Worthwhile?
Human Resource Software has many features and can do a lot to help your business to succeed by efficient human resource process and management, but it can be expensive. There are plenty of free Human Resource Software available. There are two categories of Human Resource Software based on licensed model: Open Source Human Resource Software and Proprietary Human Resource Software.
Based on Installation type, there are On Premise Human Resource Software and Cloud based Human Resource Software and selection of the installation type depends on your business and organization requirements.
You can find limited free versions and full-fledged free trials in both the licensing models.
You could try Free Open Source Human Resource Software if you have a development team available in your company and time available to set it up and running. As these are mostly community supported, the support available also depends on the usage basis of the product.
You could try a limited version of Proprietary Human Resource Software to check how it fits to your business before making a big investment. These software comes with limitations and you need to buy the features using the up-selling vendors offers to make it useful. A free limited version from a proprietary product company will make it easier to upgrade in the long run and also help you determine if that company's solution is what you want.
There are also many drawbacks to Free Limited version of Proprietary Human Resource Software. These limited version do not have nearly as many features available in a fully functional paid version, and there are limits such as number of features and functionality, modules, storage limits, number of reports, limited data integration options, and also on the number of users you can have. The free versions also have limited support options.
Based on your functionality requirements and business fit, you can always choose a free trial and experience the system with your data before buying and migrating to a full-fledged solution.
Is there a one size fits all SMB HR Management Solution: Unfortunately there are no one size fits all solution as each of the products has its own core strengths in functionality, industry focus, integration capability and core features.
We recommend determining how the software fits to your business in terms of features, functionality, and business process with a free trial.