Review
Employee Navigator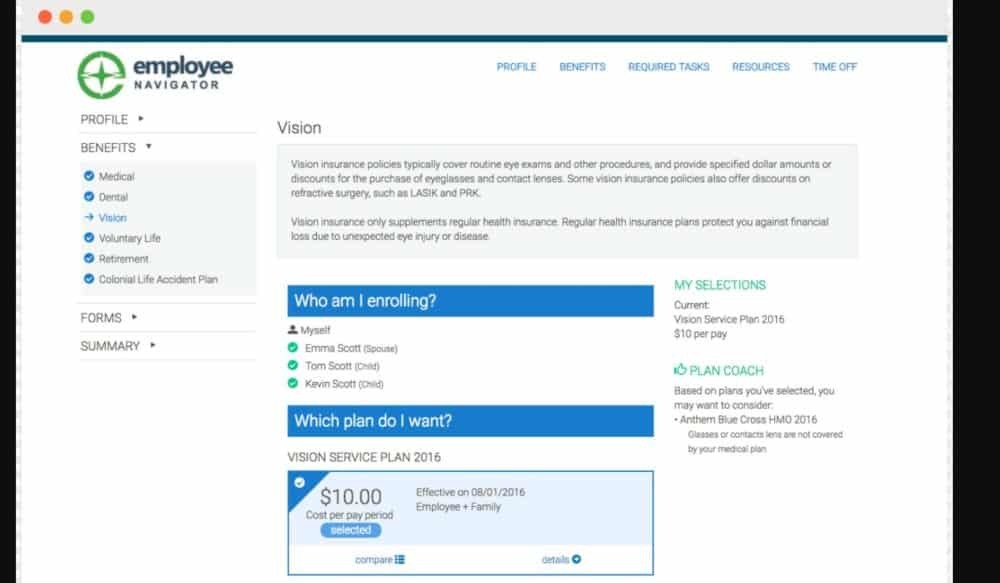 Overview
Employee Navigator simplifies benefits & HR for brokers and HR departments around the country. Employee Navigator built an all-in-one product that consolidates everything from benefits administration to compliance, onboarding and more into one place.
Workforce Management Software,Workforce Management Software SMB
•Benefits administration
•HR management
•ACA&COBRA
•Integrated payroll system
•Enhanced $4,450/yr OR $445/mo + $500/yr Support Enhanced Plus $5,450/yr OR $545/mo + $500/yr Support
•Elite $7,550/yr OR $755/mo + $750/yr Support Platinum $21,000/yr OR $2,100/mo + $750/yr Support
Small (<50 employees), Medium (50 to 1000 Enterprise (>1001 employees)
What is best?
•Benefits administration
•HR management
•ACA&COBRA
•Integrated payroll system
What are the benefits?
•Compare and select plans
•Review coverage status for all employees
•Monitor employee enrollment status and deadlines
•Manage contribution levels
•Store, review, and acknowledge important plan documents
Employee Navigator is an online HR management and a benefits administration software suitable for all business sizes. Benefits administration is a program that establishes, maintains and manages benefits for the organization's employees. Key features of the employee navigator tool include the benefits administration, HR management, ACA&COBRA and integrated payroll systems. Under the benefits administration module, the employees can enroll themselves in insurance coverage through the employee self-service portal.
Covers that can be enrolled include; medical plans, dental plans, and visual plans. During the enrollment, an employee has the option of adding or removing a beneficiary or a dependent. If the employee feels that he/she doesn't need a cover, he/she can cancel the plan at any time. Each worker is required to comply with the ACA(Affordable Care Act)&COBRA. COBRA is a health insurance cover which enables an employee to be covered by the former company's(employer) plan for a specified period under certain conditions.
To necessitate this, the employer navigator app through the ACA reporting tool determines a worker's eligibility and provides the 1094&1095 forms. The eligibility of an employee is determined by importing the worked hours from the payroll or the attendance system. Before importing them, measurement periods are first determined, and from that employee's eligibility is established and later given access to the 1094&1095 forms to fill in the insurance plan.
The employer navigator software allows the human resource management team to track the company's assets. It does this by enabling the creation of custom asset categories. Each asset can be distinguished from the other through a serial number. It could be a laptop or office keys. This enhances accountability of the firm's resources. Through the paid time off portal, the employee can request time off. The staff can as well view their leave calendars and time off policies.
You may like to read: Top Workforce Management Software and How to Select the Best Workforce Management Software for Your Business