Top 55 Workforce Management Software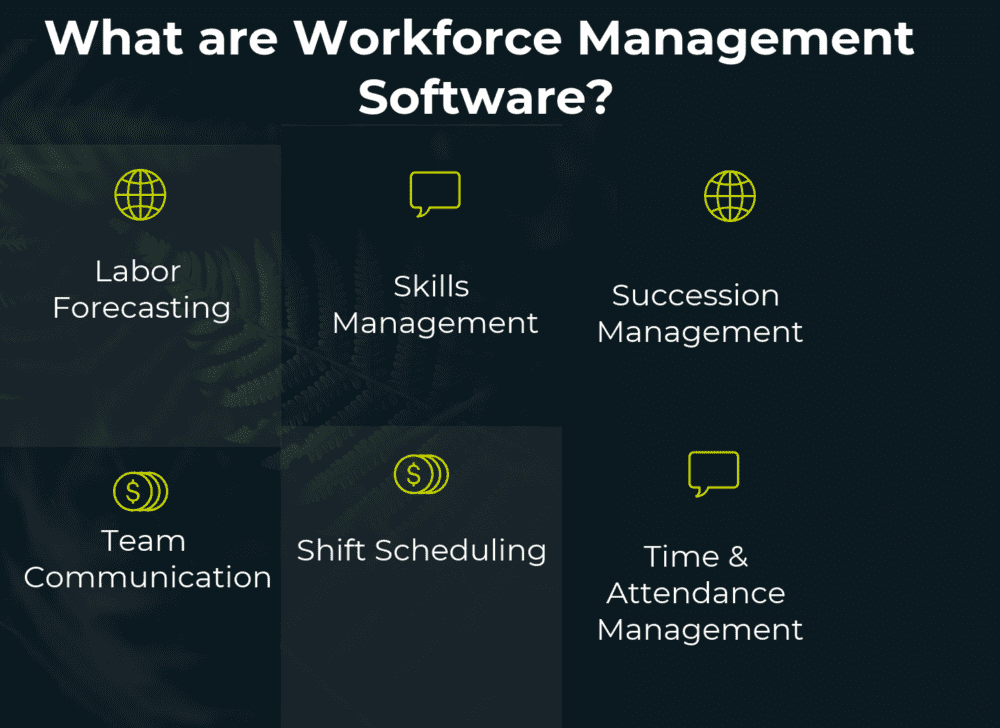 In today's business environment, it's vital for employers to gain visibility on business metrics of their staff to make informed decisions. If they track, monitor and evaluate business metrics, it helps them forecast labor demands and creates work schedules, a production unit, for example, need to know the fewest number of agents needed at a given the time of day to or the total amount of time it takes to produce a particular product. Employers require managing employees' skills compliance and labor requirements effectively.
Human resource (HR) department must also process paid time off requests or leave days, shift trades, track staff absence and ensure that they are complying with the staffing and the liability implications. They also need to manage tasks, track time and attendance of all the employees. It can be quite demanding and hectic for managers especially in large companies with a significant number of employees who work on an hourly or part-time basis to handle all these tasks manually.
What are the Best Workforce Management Software for Large Business: ADP Vantage HCM, SAP SuccessFactors, NICE IEX, Branch Messenger, Adrenalin HRMS, OpenHR-Advanced Business Solutions, NGA Preceda, iTrent HR, SutiHR, UltiPro, ADP Workforce Now, Dayforce HCM, NGA Resource Link, Oracle HCM Cloud, Aragon eHR, Kronos Workforce Central, Kronos Workforce Ready, Vibe HCM, High Line Human Resources, Sage People, Talentia HCM, Ramco HCM, Infor Human Capital Management, Epicor HCM, Sage HR Management, Ignite's NuView Human Capital Management, Replicon, Tempus Resource, FinancialForce HCM, Deputy, Aladtec, Community, Calamari, NOVAtime, TrackSmart, Celayix eTime Xpress, Ascentis, Ento, Planday, Aruti HRMS, People HR, Shiftboard, ATOSS, Employee Navigator, Sentric Workforce, ActionHRM, Capita, Humanity, Cognistix, PARiM, e-days, Humanefits, When I Work, BUILT, Datis, Cronforce, StarGarden HCM, Settle, FieldConnect are some of the best examples of Workforce Management Software for Large Business.
What are the Best Workforce Management Software for Small Business: BambooHR, CakeHR, NICE IEX, Branch Messenger, Replicon, Deputy, Aladtec, Calamari, Cronforce, NOVAtime, Shiftboard, TrackSmart, Celayix eTime Xpress, Ascentis, ATOSS, e-days, Employee Navigator, Ento, Humanefits, Sentric Workforce, StarGarden HCM, Planday, ActionHRM, Aruti HRMS, Capita, Humanity, When I Work, BUILT, People HR, Cognistix, PARiM, Datis, Community, Settle are some of the best examples of Workforce Management Software for Small Business.
What are Workforce Management Software for Small Business?
Workforce management is all about assigning the right employees with the right skills to the right job at the right time. Workforce management software functions include forecasting of workload and required staff, involvement of employees into the scheduling process, management of working times and accounts and analysis and monitoring of the entire process.
Activities of workforce management software includes, Payroll and benefits, HR administration, Employee self-services, Time and attendance, Data Collection including timeclocks, biometrics and GPS technology, Career and succession planning, Talent acquisition, Talent management, Applicant tracking, Learning management and/or training management, Performance management, Forecasting and scheduling, Labor budgeting, Workforce tracking and emergency assist, Absence and leave management, Adherence / conformance to schedule and Analytics of time and schedule activity.
Workforce Management Software is an integrated HR department suite or a standalone solution that helps HR departments to utilize and optimize staff or human capital efficiently and at the same time lower employee costs. The software automates data synchronization across different components and helps the user reduce manual administrative tasks.
It enhances core capabilities such as payroll, benefits, talent management, human resources management, compliance, time and labor management, analytics and benchmarking. Workforce management system helps HR managers plan, track and manage employee work such as employee schedules, labor requirements and paid time off (PTO). HR managers use workforce management software to forecast labor demand, track attendance, create and assign employee schedules, and report on workforce efficiency.
Labor forecasting : Help companies to forecast the number and types of employees necessary to meet anticipated demand and control labor costs.
Employees Management: Allows employers to organize, sort, and view employees based on skills and qualifications to make smarter scheduling decisions. Employers can identify high-performing employees that qualify for a promotion with minimal development. Also offer messaging solutions for team members or managers through built-in text or emailing functions, and it allows them to communicate scheduling or leave requests. An ideal workforce management tools should allow employers to communicate with employees inside the tool and even make changes to a schedule and notify an employee.
Shift scheduling: Companies can use Workforce Management System to plan employee work shifts according to availability and can also offer notifications to employees when they are scheduled.
Time & Attendance management: Allow employees to track the number of hours they have worked through built-in time tracking features or integrations with time tracking products. Employees can submit paid time off (PTO) or leave of absence requests that managers can approve or deny within the Workforce Management platform.
Workforce Management Analytics: Tools should help the user analyze employee data and develop a baseline for evaluating and optimizing workforce management. Workforce Management should have the ability to offer actionable workforce analytics about people in the workplace. It should collect information such as employee skills and time attendance, which can be used to discover and report on insights into workforce efficiencies. Employers are also able to identify the likelihood of employee success and predict the need for a particular set of skills.
Self-service capabilities: Provide employee self-service portals that can enable them to view their schedules, submit PTO requests, configure work availability and preferences, and self-schedule from available work times without interrupting the standard HR workflows.
Mobile shift scheduling: Tools integrate with mobile applications or offer mobile-optimized websites that provide mobile workforce management solutions. It facilitates communication between employees and managers around shift scheduling. Managers and employees can use Workforce Management solutions to create or claim available work shifts and receive notifications on their mobile devices. Leave management, as well as time, and attendance tracking features allow managers to approve or deny employee requests on the go.
Dashboards & Reporting: Solutions should offer an easy-to-read, often single-page, and real-time user interface. The dashboard should offer a graphical presentation of the current status and historical trends of an organization's key performance indicators (KPIs) to enable the user make instant and informed decisions. Enable data reporting within the system. It should contain standard reports as well as the ability to create ad-hoc reports.
Top Workforce Management Software for Small Business
BambooHR, CakeHR, NICE IEX, Branch Messenger, Replicon, Deputy, Aladtec, Calamari, Cronforce, NOVAtime, Shiftboard, TrackSmart, Celayix eTime Xpress, Ascentis, ATOSS, e-days, Employee Navigator, Ento, Humanefits, Sentric Workforce, StarGarden HCM, Planday, ActionHRM, Aruti HRMS, Capita, Humanity, When I Work, BUILT, People HR, Cognistix, PARiM, Datis, Community, Settle are some of the Top Workforce Management Software for Small Business.
Top Workforce Management Software for Small Business
PAT Index™
1
BambooHR is an online human resources (HR) software service for small and mid-sized businesses which offers a single system to consolidate all employee and human resources related data, manages a number of human resources activity. BambooHRcan be used to build a centralized database of employee profiles that can be accessed by anyone in the company with the access permissions they define where each profile can store personal information and a photo, as well as details on benefits, salary, time off, documents and training where the users can also add custom fields to record important information unique to their company. BambooHR…
Overview
• Applicant Tracking System (ATS)
• Employee Self-Onboarding
• Time-Off Tracking
• Employee Database and Records
• Performance Management Software
• HR Reporting
• Custom Workflows
• Electronic Signatures
• Bamboo Payroll
2
CakeHR
CakeHR is a complete HR solution that solves modern HR challenges. CakeHR handles requests and approvals digitally, then tracks them in shared calendars & reports. Keep everyone in the loop by using a shared company calendar.Multiple users can access the same calendar data from any device to schedule their team meetings, manage project and resource planning. Ideal application for offices who rely on a shared calendar. Every employee can access their account to see their balances, request time off, see who is away & quickly access important company information. Control who approves time off requests or even set up replacement…
Overview
• Timesheets: A fast, easy way for employees to track overtime
• Leave management: Handle time off approvals digitally
• Shift scheduling: Flexible & functional shift planning module
• Expenses: Submit & manage company expenses from mobile app
• Full employee, manager and HR self-service: roles-based security and robust online access 24/7 for everyone
• Single sign-on in addition to CakeHR''s own secure password capabilities
• Starter - $4 / month / user
3
NICE IEX
NICE IEX is a Workforce Management solution which delivers highly tuned forecasts and schedules, and automates processes to free users to focus on higher value activities with its simple end user interfaces making it easy for every employee to 'own' their schedule and their performance. NICE IEX offer features such as factor multiple methodologies, contact channels, departments and skills types into forecasts and schedules, real-time visibility into service queues and employee, simple end user interfaces, requesting time-off, trading shifts and sharing ideas and availability on-premise or via the cloud. NICE IEX offers a Performance Manager Module which lets users report…
Overview
• Performance Manager Module
• Time Off Manager
• Webstation
• Availability Points
• Interaction Analytics
• Back Office WFM
4
Branch Messenger
Branch Messenger is a human resource messaging application that allows communication among the employees, the manager, and the enterprise. The goal of any workforce management software is to gain an insight into the business metrics. The main managerial features include on-demand shift coverage, Require Approval for a shift or Time off coverage, Manager Read Receipts, Make Scheduling changes on the fly, Control employee directory, Web dashboard access and regional workplace groups. These features aid the managerial team in scheduling the employees in their right places at the right time. The managers can know and approve or disapprove when employees make…
Overview
•On-Demand Shift Coverage
•Require Approval for Shift or Time Off Coverage
•Manager Read Receipts
•Make Scheduling Changes on the Fly
•Control Employee Directory
•Web dashboard access
•Regional Workplace Groups
•Paper schedules turn into digital calendars
•Get shifts filled instantly
•Message without texts or email
•FREE- Unlimited amount of employees and Managers
•ENTERPRISE-•per location per month billed annually
5
Replicon
Replicon is a time asset management solution formulated to increase productivity, improve project visibility, eliminate revenue leakage and maintain labor compliance. The platform features project estimates, visibility and insight into project progression, with a real-time oversight of resource allocations and availability. The mobile and desktop applications enable users to track and approve time across multiple devices in real-time on labor costs. With Replicon's time and attendance software subscribers can automatically manage wage compliance with contextual visibility on a single screen view. Replicon software provides a centralized view of client, project, and time information with the capability to accurately plan for…
Overview
•Employee Absences
•Remote Workforce
•Resource Efficiently
•Budgeting & Labor Costs
•Grant Management
•Shared Services Management
•Compliance Management
•Labor Cost Capitalization
•Streamlining Payroll
6
Deputy
Deputy is a staff rota software supporting time and attendance solutions whilst optimizing employee communication. The programme offers a complete scheduling app with a drag-and-drop interface integrating POS data, a live weather feed and sales patterns to create schedules accordingly. The scheduling solution can sync employee's pay rates straight from the payroll software. Users can run multiple locations of their business from one account whist structuring different areas, roles and activities. The Time & Attendance function allows users to review and approve timesheets and to start and end shifts using various integrated apps and SMS services. Deputy software also integrates…
Overview
•Employee Scheduling
•Time & Attendance
•Communication
•Tasking
•Scheduling App
• Starter - £1 per user per month
•Premium - £2 per user per month
•Enterprise - £3 per user per month
7
Aladtec
Aladtec is a sophisticated online application which runs on a secure and dedicated web servers and can be accessed by users' administrator(s) and employees from any web browser on any computer, smartphone or other mobile device. Aladtec offers features such as availability submission, shift trading, shift sign-ups, time off requests, library, and the discussions forum as well as employee rotations (such as the Berkley, Modified Detroit, Modified Kelly, California, Chicago, 24/48, ABC, 10s and 14s, 48/96. Each system in Aladtec has a unique URL and each employee has a unique login and password to access users' system so with assignable…
Overview
• Online Employee Scheduling
• Records Management
• Time & Attendance
• Absence Management
• Communication Tools
• Extreme Flexibility
8
Calamari
Calamari is a people management solution which helps in time off tracking and attendance management and contains two modules such as leave management and clock in / clock out. Calamari leave management offers features such as absence calendars, automated entitlement, approval flows, any kind of absence, attachments, conversations, remote team, requests history, roles and privileges and integrations with G Suite, Office 365, Slack, Asana, Jira, Tempo Planner, Toggl, Basecamp and API. Calamari clock in / clock out offers features such as time and attendance with iBeacons, convenient timesheet tracker, worktime and breaks, automated time tracking, manual timesheet correction, approval flows,…
Overview
• Multilingual
• Labour law compliance
• Multi-country
• Cloud-based HR
• Secure and available
• Continuously improved
• Mobile app
• leave management
• clock in / clock out
• Calamari Leave – from $10/ mo for 1-10 employees to $130/ mo for 76-100 employees, 101+ contact us
• Calamari Clockin - from $20/ mo for 1-10 employees to $150/ mo for 76-100 employees, 101+ contact us
9
Cronforce
Cronforce is a unique cloud-based blend of business critical tools for small and medium sized businesses with powerful analytics which offers one of a kind fusion of dashboards and business modules and provides users and their clients with real-time overview and reports of business and project developments. Cronforce offers features such as instant project creation, easy time capture, dashboard, built-in time clock, flexible approval workflows, auto approval of timesheets, subprojects, phases & tasks, role based access, smart email notifications, advanced reporting system, support for report formats - CSV, Excel, PDF and GDrive, employee self-service interface, HR and vacations/absences KPIs, fast…
Overview
• Timesheets
• TimeOffs
• Finance
• Workforce
• Integrations
• Small Teams – free for up to 2 users
• Time - € 6 per user/month billed annually
• Time & Finance - € 12 per user/month billed annually
10
NOVAtime
NOVAtime is a scalable Time and Attendance software for small businesses or a worldwide enterprise operation which delivers robust solutions that still offer convenience and affordability, offers an extensive line of timekeeping systems and provides a dynamic, scalable, and high-quality time management systems that adapt to the growth of users' business without requiring system upgrades or retraining of users' staff. NOVAtime is fully equipped with badge time clocks, biometric time clocks, proximity time clocks, and web-based kiosk devices, as well as integration capabilities with virtually any human resource or payroll application and with its innovative "push technology", it is transparent…
Overview
• Time and Attendance
• Leave Management
• Employee Scheduling
• Compliance
• Third-party Integration
• Add-on Modules
• Advanced Schedule Manager
• Payroll Interfaces
• Data Centers
11
Shiftboard
Shiftboard is a scheduling and workforce management software for shift-based work environments where employee scheduling is at the core of day-to-day operations which creates the best schedules, simplifies tracking and reporting and handles the unexpected with scheduling automation, workforce management and real-time communication to optimize schedules and lower costs. Shiftboard offers features such as texting/email alerts, announcements, news board, site branding, scheduling workflow, mobile apps, teams, profile types, custom profiles, member rating, member documents, time off requests, standby lists, trade board (shift-trading), premium (two-way) texting, asset scheduling, multi-site, basic reporting, advanced reporting, compliance alerts, custom reports, time & attendance, vouchers,…
Overview
• Applicant Tracking
• Scheduling
• Time & Attendance
• Communication
• Reporting
• Integrations
• Basic - $1 Per User
• Professional - $3 Per User
• Enterprise - $6 Per User
12
TrackSmart
TrackSmart is an online time and attendance software which helps manage time-off requests, approve timesheets, run detailed reports and store employee records and generate schedules based on staff availability and skills. TrackSmart offers features such as calendar view, time-off summary, time-off requests, personal & emergency contact info, employee mobile app, multiple time-off banks with carryover, time-off bank adjustments, detailed attendance reports, personnel reports, time-off bank transaction reports, daily, weekly or monthly calendar view, automatic & manual scheduling, time-off requests and approvals, easy shift swapping, labor law compliant break rules, detailed schedule & payroll reporting, labor cost tracking, mobile and tablet…
Overview
• Attendance
• Scheduling
• TimeClock
• Attendance
• PowerTrack - $369 billed annually or $41.95 monthly
• FlexTrack - $269 billed annually or $31.95 monthly
• CoreTrack - $169 billed annually or $21.95 monthly
• Scheduling
• Basic - $22/mo billed annually or $24 monthly
• Plus - $44/mo billed annually or $49 monthly
• Premium - $64/mo billed annually or $69 monthly
• Enterprise - $89/mo billed annually or $99 monthly
• Timeclock
• Basic - $22/mo billed annually or $24 monthly
• Plus - $44/mo billed annually or $49 monthly
• Premium - $64/mo billed annually or $69 monthly
• Enterprise - $89/mo billed annually or $99 monthly
13
Celayix eTime Xpress
Celayix Time Xpress provides supervisors with a suite of powerful tools to collect and review time, monitor attendance, and communicate with team members, all in real-time and on the go. Time Xpress automates and streamlines employee time collection from a variety of devices including mobile, web, tablet, or physical clocks, all in real time for up to date monitoring and payroll information. Time Xpress reduces time theft by ensuring employees not only clock into the correct shift, but clock-in on time and at the right location where real time alerts display a visual tracking of all sites, allowing supervisors to…
Overview
• Time Collection
• Monitor Attendance
• Find Replacements
• Messaging
14
Ascentis
Ascentis is a powerful integrated HCM Solutions for the Mid-Market which automates and streamlines core business processes that save time and money. Ascentis HRIS offers features such as increase employee engagement, capture and track what matters to users, ACA (Affordable Care Act) compliance, comprehensive benefits administration, meaningful insights and trends, innovative employee communications, powerful reporting capability and fast and easy implementation. Ascentis Talent Management System offers features such as ascentis learning management, ascentis performance management, ascentis compensation planning, ascentis succession planning and ascentis 360 degree assessment software. Ascentis Payroll Software offers features such as process payroll in real-time, secure online…
Overview
• HRIS
• ACA Compliance
• Talent Management
• Payroll
• Self-Service
• Applicant Tracking
• Time and Attendance
• Benchmarking
15
ATOSS
Atoss is a Workforce Management software which addresses costs, improves productivity, service quality and staff satisfaction at the same time. Atoss offers features such as ATOSS call center solution, ATOSS self-service feature and automatic scheduling feature. ATOSS Time and Attendance processes record data into a form that allows working time organization to be planned in advance. ATOSS Time and Attendance and ATOSS Workforce Scheduling are fully integrated with one another which makes Workforce Management constantly optimized. ATOSS Time and Attendance automatically records and manages working times and absences, calculates and forwards bonuses to Payroll Services and Manages long and short-term…
Overview
• Workforce Management
• Time and Attendance
• Time Recording
• Time Management
• Workforce Forecasting
• Workforce Scheduling
• Solutions for SAP
• Business Analytics
• Self Service
• Mobile Apps
• Cloud
16
e-days
e-days Absence Management system allows your organisation to book time off in just a few clicks. e-days self-service nature makes the process of holiday management simple. Your team can fill out their holiday booking form, view holiday entitlement and check in on shared team calendars. All of which save valuable time and money when planning and managing annual leave.e-days allows HR teams to easily record, track and report on when a member of staff is off sick, saving time on sickness management.With e-days you can track holidays and sickness, as well as time off in lieu and overtime. Our sophisticated…
Overview
•Overtime & TOIL tracking
•Shared calendars
•Entitlement tracking
•Email notifications
•Online holiday booking
•Anytime access
• Starts from £ 8.50 annually
17
Employee Navigator
Employee Navigator is an online HR management and a benefits administration software suitable for all business sizes. Benefits administration is a program that establishes, maintains and manages benefits for the organization's employees. Key features of the employee navigator tool include the benefits administration, HR management, ACA&COBRA and integrated payroll systems. Under the benefits administration module, the employees can enroll themselves in insurance coverage through the employee self-service portal. Covers that can be enrolled include; medical plans, dental plans, and visual plans. During the enrollment, an employee has the option of adding or removing a beneficiary or a dependent. If the…
Overview
•Benefits administration
•HR management
•ACA&COBRA
•Integrated payroll system
•Enhanced $4,450/yr OR $445/mo + $500/yr Support Enhanced Plus $5,450/yr OR $545/mo + $500/yr Support
•Elite $7,550/yr OR $755/mo + $750/yr Support Platinum $21,000/yr OR $2,100/mo + $750/yr Support
18
Ento
Ento is a software that integrates other software such as rostering, time and attendance, payroll and leave and the onboarding and workflows.For on boarding and workflows, new hires have the Ento application installed in their devices to make their familiarization with the work environment easier. These employees sign their employment contract and policies, digitally eliminating errors arising from the manual sign up. Ento allows managers to interact with new hires which ensure that they get sufficient guidance and support through the on boarding process. Every step of onboarding process is overseen by the right people, and the new team is…
Overview
•Core HR
•Payroll and leave
•Onboarding and workflows
•Rostering software
•Tme and attendance
•Recruit and Hire
19
Humanefits
Humanefits is a workforce management tool that caters for the needs of the organization as well as the employees. It integrates accounting tools, Recruit and hire, tax generation, time tracking and payroll as well as benefits administration. Under the regulatory compliance feature, Humanefits ensures that the organization complies with the Affordable care act (ACA), the Fair Labor Standards Act (FLSA), and the Equal Pay Act (EPA). All these regulations are mandatory for the smooth running of the business. FLSA, for instance, establishes minimum wage and EPA ensures that the staff is paid without bias. The employees that feel taken care…
Overview
•ACA compliance
•Tax credits
•Workforce Mnagement
•Applicant tracking
•Payroll and attendance
•$39 per month for a 1 -year contract.
20
Sentric Workforce
Sentric workforce management tool is a software that integrates CoreHR, Benefits administration, payroll, and attendance. The key features of this application include; HRIS (Human Resource Information system), Employee self-service, on boarding, recruitment, benefits administration, payroll, attendance, reporting, talent, and ACA compliance. Sentric brings together all of your workforce management needs. There are a lot of activities involved with payroll such as filing of taxes. Sentric files taxes within the jurisdiction of all 50 states. It enables a firm to review payroll details before submission to make changes if any. The employees get to decide whether to get their salaries as…
Overview
•Employee self service
•Payroll and taxes
•Time and attendance
•HRIS
•Starter $2 / EMPLOYEE / MONTH
•Pro $6 / EMPLOYEE / MONTH
•Premium $12 / EMPLOYEE / MONTH
21
StarGarden HCM
Stargarden is a workforce management application that combines five software: Authority Management, Federated Authority Management, Identity and provisioning, and business process management that work together to manage and enhance workflow efficiency. The authority management tool in the stargarden software is formulated for the effective administration of the council's workforce in an organization. This tool ensures that information within the Human Resource management is shared accurately and consistently across all the corporate management system. It provides a complete employee profiling from the recruitment stage, career development to termination. This tool prevents the duplication of information once a user has access to…
Overview
•HR automation
•Authority Manager
•Federated Authority Management
•Business process management
•Identity and provisioning.
•Payroll
22
Planday
Planday workforce Management app, integrates scheduling, communication, punch clock, reports and worker shift applications for efficient business management. Planday offers a staff management tool which has the employee availability tool, compliance, and employee groups and departments. The employee availability tool allows employees request their time off and fill in the hours that they have for work. This way, the system automatically denies any schedule entries to employees on leave. The compliance feature allows employers to comply with employee work allocation regulations, to avoid cases of overworking. The employee groups and departments feature allows independent scheduling for different job categories. If…
Overview
•Staff management
•Scheduling
•Communication
•Punch clock
•Reports
•A shift worker app
•STARTER $2 Per user / monthBasic scheduling and communication PLUS $4 Per user / month
23
ActionHRM
ActionHRM is a cloud based software that automates all human resource processes from recruitment and training to payroll preparation. The human resource features included in this software include; core HR & self-service, recruitment, payroll integration, workflows, alerts & organization management, talent & performance management, training and development, workplace safety &compliance, time & attendance, reporting &business intelligence and on boarding & off boarding. These features allow the automation of workflow and the user-friendly interface allows employee self-service, manager self-service and the complete oversight of the business by the management. With payroll integration feature, complex processes of tax filing are taken care…
Overview
•Core HR & Self service
•Recruitment
•Payroll integration
•workflows
•Alerts &organization management
•Talent & performance management
•Training & development
•workplace safety &compliance
•Time and attendance
•Reporting & business intelligence
•Onboarding & Offboarding
24
Aruti HRMS
Aruti is a payroll and human resources management software. It is accepted globally, and its features include; Aruti payroll, loan and savings management handles the payroll and taxation process. It records salaries, deductions, and benefits associated with employees and reports them to the relevant authorities. These files are necessary for documents like 1094&1095, the COBRA, the Affordable Care Act and any other compliance and regulatory requirements. It is enhanced by the Aruti Medical Claims and Bills Management which allows the management enter into contracts with the employee's medical service providers to offer medical cover according to the medical bills. The…
Overview
• Payroll and Human Resources Management
• Performance and Assessment Management
• Employee Biodata Management
• Leave and Absence Mana
• Recruitment Management
• Time and Attendance Management
• Payroll, Loan and Savings Management
• Employee Biodata Management
25
Capita
Capita is an intuitive workforce management software, incorporating solutions that integrate together via a centralised platform. Features include various apps including Time & Attendance, Scheduling, HR, Access Control, Collect and Job Costing. Intelligent Time (iTime) is configured to provide the user with live time and attendance information providing varied options for data capture. iTime is available with all major payroll services such as Earnie and Sage. The iSchedule app allows users to create adaptive schedules, with customisable dashboards providing users with an overview of holidays, illnesses, absences, overtime and anomalies which are displayed and highlighted. Viewing options of the dashboards…
Overview
•Centralised platform
•Time & Attendance
•Scheduling
•Human Resources
•Access Control
•Job Costing
26
Humanity
Humanity is an Employee Scheduling Software designed to support workforces in organizing and communicating through one platform. The platform can be accessed in multiple locations and departments with an effective and easy-to-use schedule maker. Users can create conflict-free schedules, copy shifts, import schedules and have the option to select rosters with multiple views. Timelines are available in a visual list or graphical formats with daily, weekly, and monthly schedules available. Humanity can process staff payroll online, create time sheets, pull reports in real time to print and export easily. Employees can set availability and handle trade management using a schedule…
Overview
•Online & Mobile Time Clocking
•GPS tracking
•Employee Vacation Scheduling
•Shift Trading
•Shift Reminders via e-mail & SMS
•Centralized platform
•iPad Time Clock
•STARTER - $2/per user ($40/minimum)
•CLASSIC - $3/per user ($40/minimum)
•ENTERPRISE - $6/per user
27
When I Work
When I Work is an employee scheduling app that is designed to improve communication and to serve the employee scheduling. Features include a drag & drop interface, payroll forecasts, online access, data reports and employee availability. With When I Work, users can fill shifts, approve requests, and clock employees in from an iPhone and Android mobile. The software enables managers to approve holiday requests, moderate swap and drop requests as well as edit schedules. Employees have access to the platform through the app service to request shift trades, communicate availability, request time off and contact team members via WorkChat. The…
Overview
•Employee Scheduling
•Drag & Drop Interface
•Online Access
•Email Notifications
•Text alerts
•Time Clock
•Premium plans start at $1/user per month
28
BUILT
Built for Teams is applicant tracking technology created to manage employee data, human resources and organizational socialization. The software features a centralized platform with built-in org charts to enable workforce insights using data-driven tools. The cloud-based system provides access to current data to create and share charts. The charts are customizable with display fields which include contact information including office, and work location with the option to color code each employee by title, department, group, and more. Charts are designed to be easily published and shared with your business or publicly, with the option to print and can be exported…
Overview
•Centralized Platform
•HR Interface
•Visual organization charts
•Customizable fields
•Color coding
•Drag & drop interface
•Customizable reporting
•$1 per employee / month
•$ 3per employee / month
•$ 5per employee / month
29
People HR
People HR is an interactive system designed to manage human resources administration. Features include a centralised control platform, employee database, performance management system, recruitment pipeline and insightful reports. The software allows users to search and edit employee records, review and authorize holiday requests and track absences with unlimited document storage. The performance management structure can measure skills, monitor staff progress with league tables, peer reviews and year-on-year performance metrics. Within custom groups users can use traditional segments such as team, location, department, or a customised framework on a real-time dashboard. Alerts and notifications automatically inform employees and managers when performance…
Overview
•Centralised Control
•Employee Database
•Performance Management
•Performance Metrics
•Custom Groups
•Real-time dashboard
•Alerts & Notifications
• £1 per employee / per mth
• £1.50 per employee / per mth
• £2.50 per employee / per mth
• £3.50 per employee / per mth
• £5 per employee / per mth
30
Cognistix
Cognistix is a workforce management software designed for the retail industry to automate labor scheduling, improve retail execution and enhance field data collection for merchandising and experiential marketing. Features include scheduling, reporting, field management, technology and human resources. The scheduling model is configured according to the specific needs with multiple tools each with different strengths, depending on the type of work being implemented. The Cognistix Automated uses algorithm to schedule staff based upon location, availability and skills depending on the requirements for a set of assignments with minimal effort. The software is adaptable in that integrations can be easily developed…
Overview
•Workforce Management
Scheduling
•Reporting
•Field management
Technology
•Human resources
•Scheduling Tools
•Customer Dashboard
31
PARiM
PARiM is a workforce management software designed for businesses who provide HR as a service to different clients in various industries including security, building and event management. The platform provides various solutions for shift planning, staff planning, client management, employee self service as well as remote Clock in and out applications. The easy drag & drop tool offers a compact calendar view for staff rotas, with the ability to assign shifts and send group email or text notifications. There is also the option for staff to access a portal to check timesheets online and mobile 24/7. PARiM has customizable absence…
Overview
•Scheduling/rostering
•Client Management
•Drag and drop shift planning
•Time tracking
•Remote clocking in & out
•Timesheet production
32
Datis
DATIS is a cloud-based workforce solution specialising in Human Capital Management, designed to manage an entire employee lifecycle. Key benefits include a single database, analytics across departments, position control, streamlined communication and robust analytics for executives. The HR software is built on a foundation of Position Control ensuring that organizations have no unbudgeted employees. Users can track credentials and licenses of all employees automatically with regular status updates and automatic notifications. DATIS entails a workflow driven onboarding process with a New Hire Wizard tool, which gathers and stores all required employment documents and credentials before an employee starts work. A…
Overview
•Human Capital Management
•Automated Credential Management
•Position Control
•Organizational Chart
•New Hire Wizard Tool
•Streamlined Communication
33
Community
Community was designed from its inception to serve as a unifying communications platform not just an optimization application and enables the entire contact center, including schedulers, supervisors and agents to participate in unique workforce management strategy with a speed and dexterity that has never previously been available to the users of workforce management technologies. Community offers advanced reporting features such as agent daily adherence report, agent state transactions report, agent adherence violation conversion, real-time adherence alerts, agent cross-training clusters report, agent cross-training report, daily contact volume report, daily contact volume report - pie chart, intraday performance report - contact volume,…
Overview
• Forecasting agent requirements
• Schedule optimization wizard
• Intraday Management
• Adherence reporting
• Agent Portal
• Mobile App
34
Settle
Settle is a browser-based workforce management suite, providing such functions as time, expense, and leave management, workflow, reporting and integration to enterprise systems, within a robust security model. Settle is ideally suited for small to medium sized professional services organizations, such as accounting firms, law firms, engineering firms, information technology service providers, and high tech products companies. Settle was originally designed to serve as the workforce management suite for SwiftRadius, an information technology services provider. Settle offers time entry and tracking, for both projects and internal leave codes, tracked by employee, date, and project/leave code (or costing code), with mandatory…
Overview
• Time Entry and Tracking
• Missing Time Algorithm
• Time Entry Reporting
• Easy application Administration
• Administration screens for Employees, Users, Costing Codes and User/Role Mappings
• Robust, built-in authentication and authorization scheme, with flexible roles
What to Choose: Proprietary or Open Source Workforce Management Software?
From a buying perspective there are two options based on the source code availability: Open Source Software and Proprietary Software.
Open Source Workforce Management Software: Open Source Workforce Management Software is ideal when you have a development team available in your company and when you want to try out the product or build new features and functionality on top of it.
Proprietary Workforce Management Software: Proprietary Workforce Management Software is a good choice when you are looking for an established product, when your requirement is for SAAS product or when you need full-fledged support and when open source standards doesn't matter in your line of business.
You may want to review How to Select Cloud HR vs On-Premises HR Software for Your Business
How about Cloud and on Premise Software
Based on the installation type there are cloud-based and on-premises software systems, with both the systems having equal share of benefits. The cloud software is hosted and managed and maintained on a remote server. It is also referred to as software as a service (SaaS). On-premises software is normally installed and implemented on your company's premises and which need your own IT team to manage and maintain the on- premises system.
Selection of the installation type depends on the needs of your organization. A small company may find the cloud system more appropriate since the cost of installation is lower as opposed to having on-premises system.
You will find free or limited free versions in both the Open Source Software and Proprietary Software.
We recommend determining how the software fits to your business in terms of features, functionality, and business process with a free trial.