Top 34 Core Human Resource Management Software (Core HR)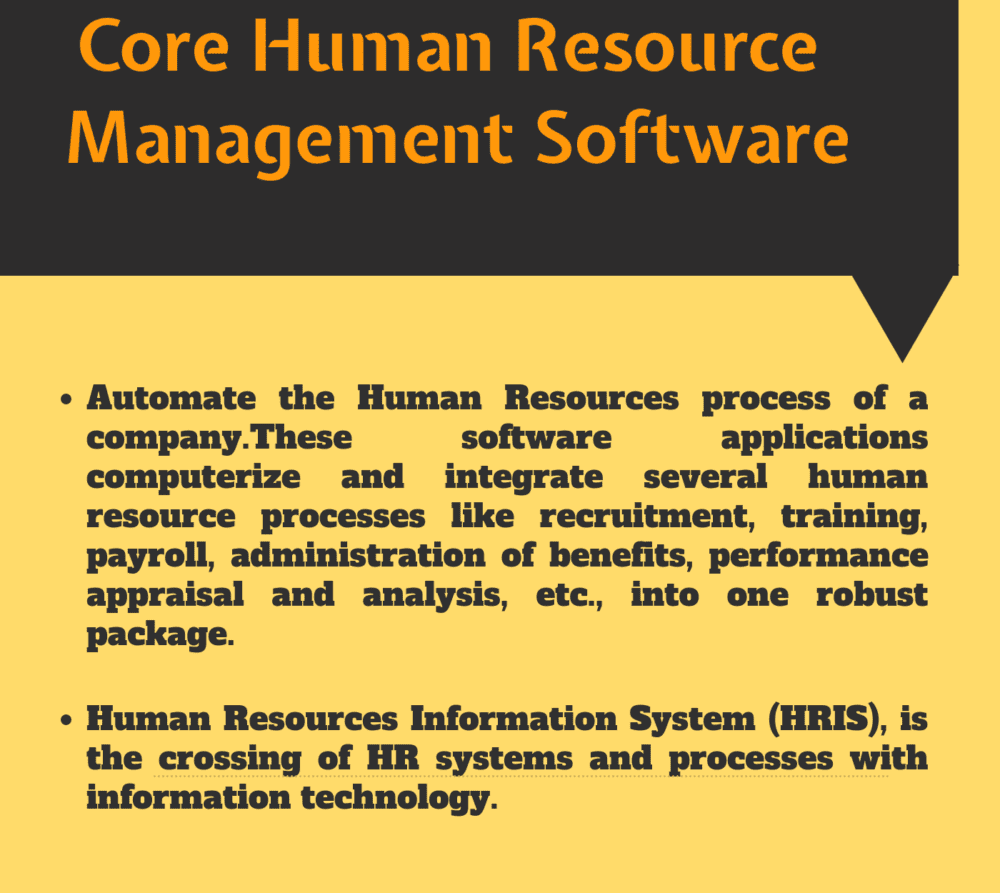 Every organization needs to manage its human resources because humans are responsible for virtually everything that happens within an organization.
The best way to have a great team of employees is to have an effective HR department with the right people and software products to collect and manage information about the organization's human resources. It's every human resource manager's goal to have every piece of information about employees in a centralized database. With this type of database, HR managers and teams can view all of their employee data. They can also manage and report data on individual employees.
Companies can effectively manage their human resources if they use the appropriate core HR software products. With the right core HR software or information system, companies can easily perform the key functions of the HR department, capture basic data about employees, manage employee data, and generate valuable reports.
Human Capital Management Solution, Human Resources Management System (HRMS), or Human Resources Information System (HRIS), is the crossing of HR systems and processes with information technology.
Human Resources Management software are tools used to automate the Human Resources process of a company. These software applications computerize and integrate several human resource processes like recruitment, training, payroll, administration of benefits, performance appraisal and analysis, etc., into one robust package. Many organizations are rightly beginning to understand that their most important and valuable resource is their human capital.
What are the Best Core Human Resource Management Software (Core HR): BambooHR, CakeHR, ADP Vantage HCM, Adrenalin HRMS, NGA Preceda, OpenHR-Advanced Business Solutions, SAP SuccessFactors, SutiHR, iTrent HR, UltiPro, ADP Workforce Now, NGA Resource Link, Dayforce HCM, Oracle HCM Cloud, Workday HCM, Aragon eHR, Kronos Workforce Ready, Vibe HCM, High Line Human Resources, Infinity HR, Ramco HCM, Infor Human Capital Management, Deltek Maconomy, Talentia HCM, Costpoint HR Solution Suite, SAP ERP Core HR, Epicor HCM, Microsoft Dynamics GP HR, Microsoft Dynamics AX HR, Ignite's NuView Human Capital Management, CGI Advantage Human Resource, Unit4 Business World, People-Trak, FinancialForce HCM are some of the examples of best Core Human Resource Management Software (Core HR).
You may like to read How to Select the Best Human Resource Software for Your Business
What are Core Human Resource Management Software (Core HR)?
Core HR software is a type of software used by companies to manage their core HR information. It's basically an employee record management system or master record that allows organizations to manage key administrative human resource tasks. Although the functions of specific HR software products vary depending on the vendor, all core HR software products store information about a company's employees in one central database.
Companies use core HR systems to store personal details such as employee names, addresses, national ID numbers, date of birth, Social Security numbers, job titles, job descriptions, salary, payroll information, vacation days, sick days, promotions, pay rises, employment history, work hours, work permits, benefits information, employment eligibility forms, and qualifications. It's all about combining HR systems with information technology to manage human resources.
Human Capital Management Solution, Human Resources Management System (HRMS), or Human Resources Information System (HRIS), is the crossing of HR systems and processes with information technology.
These systems cover the full spectrum of tasks associated with Human Resources departments, including tracking and improving process efficiency, managing organizational hierarchy, and simplifying financial transactions of all types Human resource management systems encompass Payroll, Time and attendance, Performance appraisal, Benefits administration, HR management information system, Recruiting/Learning management, Performance record, Employee self-service, Scheduling, Absence management, Analytics, Employee Re-assign module and Grievance handling by following precedents.
Database: Core HR systems come with a central database that stores and manages records for every employee. The database contains data on employee personal details, job profiles, promotions, salaries, and other types of data we've already mentioned.
Self-Service Portal: The best core HR software products have a self-service system that allows managers and employees to access information with minimal or no human input.
Dashboard and Reporting: Since all of the company's data is stored in a centralized database, users of the software can access accurate real-time reports via dashboards at the click of a button. Some applications have a company dashboard with a message board, social media links, important calendar dates, and featured employees.
Payroll Management: Payroll management capabilities allow organizations to calculate employee pay and benefits, manage direct deposits, revise salaries, and track payroll.
Leave and Attendance Management: This feature makes it possible to streamline communication between the HR department and employees to ensure effective management of employee attendance and leave. Some systems can automatically calculate leaves, identify trends, and trigger alerts.
You may like to read Top Best Practices in Core HR Implementation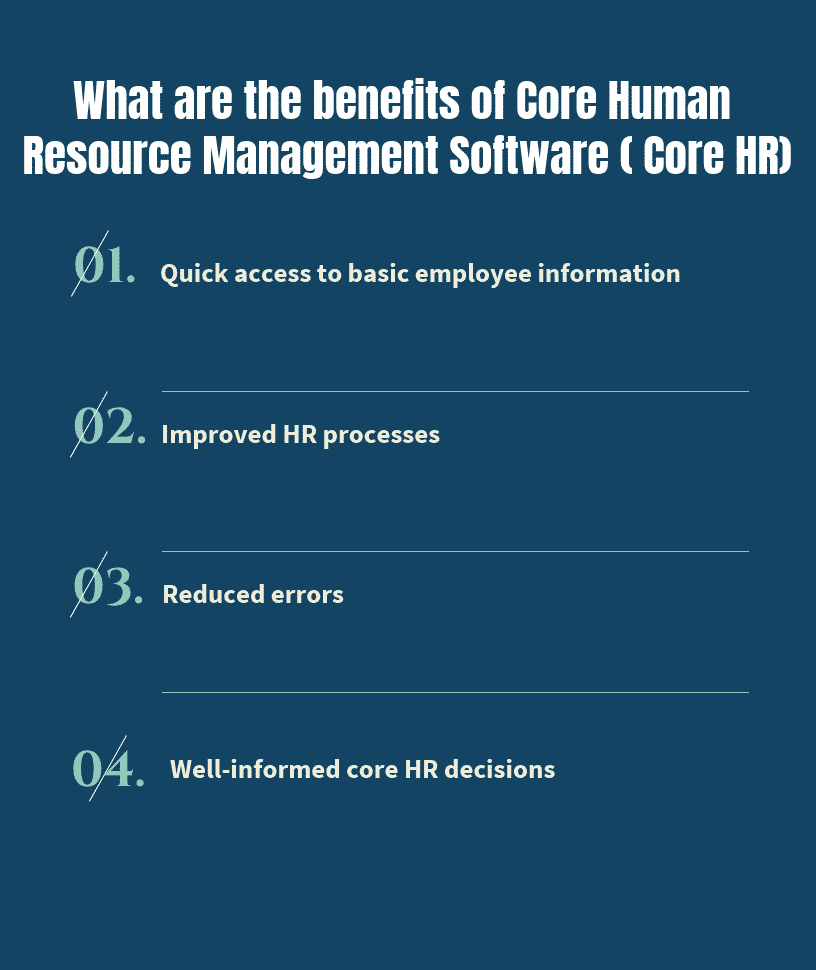 Some of the benefits include:
Quick access to basic employee information.
Improved HR processes.
Reduced errors.
Well-informed core HR decisions.
Top Core Human Resource Management Software (Core HR)
BambooHR, CakeHR, ADP Vantage HCM, Adrenalin HRMS, NGA Preceda, OpenHR-Advanced Business Solutions, SAP SuccessFactors, SutiHR, iTrent HR, UltiPro, ADP Workforce Now, NGA Resource Link, Dayforce HCM, Oracle HCM Cloud, Workday HCM, Aragon eHR, Kronos Workforce Ready, Vibe HCM, High Line Human Resources, Infinity HR, Ramco HCM, Infor Human Capital Management, Deltek Maconomy, Talentia HCM, Costpoint HR Solution Suite, SAP ERP Core HR, Epicor HCM, Microsoft Dynamics GP HR, Microsoft Dynamics AX HR, Ignite's NuView Human Capital Management, CGI Advantage Human Resource, Unit4 Business World, People-Trak, FinancialForce HCM are some of the top Core Human Resource Management Software ( Core HR).
Core Human Resource Software
PAT Index™
1
BambooHR is an online human resources (HR) software service for small and mid-sized businesses which offers a single system to consolidate all employee and human resources related data, manages a number of human resources activity. BambooHRcan be used to build a centralized database of employee profiles that can be accessed by anyone in the company with the access permissions they define where each profile can store personal information and a photo, as well as details on benefits, salary, time off, documents and training where the users can also add custom fields to record important information unique to their company. BambooHR…
Overview
• Applicant Tracking System (ATS)
• Employee Self-Onboarding
• Time-Off Tracking
• Employee Database and Records
• Performance Management Software
• HR Reporting
• Custom Workflows
• Electronic Signatures
• Bamboo Payroll
2
CakeHR
CakeHR is a complete HR solution that solves modern HR challenges. CakeHR handles requests and approvals digitally, then tracks them in shared calendars & reports. Keep everyone in the loop by using a shared company calendar.Multiple users can access the same calendar data from any device to schedule their team meetings, manage project and resource planning. Ideal application for offices who rely on a shared calendar. Every employee can access their account to see their balances, request time off, see who is away & quickly access important company information. Control who approves time off requests or even set up replacement…
Overview
• Timesheets: A fast, easy way for employees to track overtime
• Leave management: Handle time off approvals digitally
• Shift scheduling: Flexible & functional shift planning module
• Expenses: Submit & manage company expenses from mobile app
• Full employee, manager and HR self-service: roles-based security and robust online access 24/7 for everyone
• Single sign-on in addition to CakeHR''s own secure password capabilities
• Starter - $4 / month / user
3
ADP Vantage HCM
ADP Vantage HCM is a strategically focused, globally scalable HR system that delivers unmatched expertise and service, comprehensive unified services, innovative and intuitive technology, and valuable insights to help unlock your workforce's maximum potential. ADP Vantage HCM delivers innovative technology combined with actionable "business intelligence" to help to make better business decisions. It provides A single view of critical analytics across the organization for actionable, real-time decision-making, easy-to-use dashboards that let to customize views and parse data in ways that are most meaningful to specific role and organization, out-of-the-box metrics that can be sliced and diced in multiple ways. ADP…
Overview
• Recruiting
• Talent
• ACA and Benefits
• Time and Labor
• Payroll
• Analytics
• Service
4
Adrenalin HRMS
Adrenalin HRMS: Adrenalin eSystems Limited is a global product and software solutions company in the field of HR automation. Adrenalin offers complete suite of solutions that span the entire HR Processes spectrum. Adrenalin HRMS makes the workforce a Mobile enabled workforce. Stay connected to business from anywhere, everywhere & on any device. It provides easy access to relevant personalized HR capabilities to employees and enables them to quickly act on items requiring their attention. Enables to Plan time off, mark presence at work simply & swiftly. Adrenalin helps to track travel expenses as they happen and conveniently access information to…
Overview
•Workforce Administration
•Recruitment
•Performance Management
•Talent Development
•Payroll
•HR Analytics
•Enterprise Collaboration and Mobile
5
NGA Preceda
NGA Preceda is a cloud-based software platform that manages all of your organization's Payroll and HR needs. Whether you have 100 employees or 200,000, Preceda offers a user-friendly, scalable solution that your staff will love. As the trusted choice for some of Australia and New Zealand's largest organizations since 2001, Preceda's proven experience in the field of Payroll and HR SaaS is second to none. NGA helps a business to transform its workforce administration into harmonized, automated and highly efficient processes that support key management decisions. NGA's assists organizations to deploy an agile HR IT strategy which is flexible and…
Overview
• Cloud
• Payroll
• Talent Management
• Workforce Management
6
OpenHR-Advanced Business Solutions
OpenHR - Advanced Business Solutions: Advanced Business Solutions is a leading provider of integrated business applications and services for the public, private and third sectors. Advanced Business Solutions software is flexible, scalable and built on the latest proven network technologies. And everything we design is simple to integrate with other systems – whether those from Advanced Business Solutions, or from other providers – so there's no need to rip and replace. OpenHR gives the HR department the tools it needs to manage workforce effectively and efficiently. It covers all aspects of HR, including talent management and workforce optimisation processes such…
Overview
• Human resources
• Payroll
• Talent Management
OpenHR-Advanced Business Solutions
7
SAP SuccessFactors
Sap SucessFactors HR solutions are flexible and extensible, and it supports local and global compliance needs. These solutions must be able to work based not on a solution provider's rigid requirements, but on the users organization's business drivers. Often, organizations have to replace their entire solution in order to implement a new core HR system. But SuccessFactors is different is a complete, cloud technology-based core HR system of record that combines HR transactions, processes and data with social collaboration features and mobile functionality. It is standards-based, flexible technology, so you can deploy it in your organization at your pace. It…
Overview
• Core Human Resources and Payroll
• Learning and Development
• Performance and Compensation
• Recruiting and Onboarding
• Applicant tracking software
• Time and Attendance management
• Workforce planning and Analytics
8
SutiHR
SutiHR is an online human resource management software solution that automates and accelerates the personnel management, payroll, talent management, time, and attendance tracking processes from a unified platform. It helps organizations retain, manage, and reward valuable talent. This powerful online HR management software streamlines the complete HR cycle from employee recruitment to retirement. With built-in dashboards and advanced analytics, SutiHR makes the HR decision making process simple and intuitive. SutiHR also works seamlessly with SutiDMS, our online document management system, to allow management of documents from the same interface. Sutisoft is a leading provider of integrated business management solutions. The…
9
iTrent HR
iTrent HR software delivers end to end HR management modules that deliver automation where it is needed and enable HR teams to streamline HR management and administration processes.Minimize costs and reduce HR's administrative workload with automated correspondence for tasks such as contract generation, diversity & establishment monitoring, key date tracking, disciplinary & grievance management, and automated starter, transfer and leaver processing. Reduce employee absence costs and achieve greater accuracy by automating many of the traditionally manual processes associated with absence. Access to powerful performance indicators and analytics supports identification and proactive prevention of common causes of absence. Plot organization units,…
Overview
• Recruiting
• Payroll
• Analytics
• Service
10
UltiPro
Ultipro's solution features include HR, Payroll, Benefits Administration, Open Enrollment and Life Events, Time, Attendance, and Scheduling, Payroll Administration, and Tax Management. Other strategic tools include Global HCM, Reporting, Workforce Analytics, and Business Intelligence. There is also talent management functionality, which includes Recruiting, Onboarding, Career Development, Performance Management and Succession Management. Utilize the UltiPro portal as a central place for communicating important company information and where the user's employees can instantly access all the HR-related tools and information they need such as pay info, time off requests, performance reviews, and more Utilize the UltiPro portal as a central place for…
Overview
• HR
• Payroll
• Benefits Administration
• Open Enrollment and Life Events
• Time, Attendance, and Scheduling
• Payroll Administration
• Tax Management
11
ADP Workforce Now
ADP Workforce Now a simple, Human Capital Management suite built to help clients reduce their administrative chores, be compliant and connect with their employees. ADP Workforce Now lets to focus on people, not paperwork, when attracting, developing and managing talent. The benefits include Simplify the review process for managers with an intuitive online solution, align employee goals with those of the organization, tap into job boards and social networking sites to find job seekers. ADP Workforce Now helps the user do more, know more, grow more — all without boosting your headcount or budget. The features include Configure wizards to…
Overview
• Payroll
• Human Resources
• Mobile
• Benefits Administration
• Time & Attendance
• Talent Management
• Cloud-Based Document Storage
• Analytics
• Enhanced Time
12
NGA Resource Link
NGA Resource Link helps organizations reduce their costs, save time and improve effectiveness. It enables the costumer to manage the entire employee lifecycle from recruitment to staff development and succession planning. This is all done with a modern and familiar user experience and powerful reporting capability. NGA HR has worked in partnership with HR and payroll professionals from around the world to develop Resource Link. This has led to a highly configurable solution that recognizes how different people often require a different user experience to get their job done effectively. Included within the main Resource Link product is NGA's self-service…
Overview
•Talent Management
•Reporting and Analytics
•Time and Attendance
•Payroll
13
Dayforce HCM
Ceridian establishes goals and standards to measure our success against them. Ceridian focuses on repeatability and reliability. Optimism is planned behavior that leads to success. It begins with preparation. Preparation leads to knowledge, knowledge leads to confidence and confidence creates success. Transform the HR department into a strategic resource. With Dayforce Human Resources can forward to increased savings, consolidated HR records and faster, more accurate processes. Dayforce Human Resources takes the stress out of HR record entry, reduces tedious approval processes and provides a business with intuitive tools to-Communicate across the enterprise, access and manage key HR details, empower employees…
Overview
•Payroll
•Time & Attendance
•Benefits
•Workforce Management
•Human Resources
•Dashboards
•Recruiting
•Onboarding
•Performance Management
•Compensation
•Predictive Analytics
•Mobile App
14
Oracle HCM Cloud
HCM cloud differentiates the business with a talent centric and consumer based strategy that leverages technology to provide a collaborative, insightful, engaging and mobile HR, employee and executive experience. Oracle HCM Cloud enables modern human resources to find and retain the best talent and increase global agility. Oracles HCM Cloud system allows the user to manage employment for organizations large and small, it easily access information and analyze workers' skills, using workforce directory it allows you to get complete view of your organization and a place to connect with people. Oracle's Cloud lets the user support and maintains local operations…
Overview
•Global Human Resources Cloud
•Talent Management Cloud
•Workforce Rewards Cloud
•Global Human Resources Cloud
•Work Life Solutions Cloud
•HCM Analytics
•Workforce Management Cloud
15
Workday HCM
Workday Human Capital Management answers all people-related questions so a company can grow its global workforce. Getting an accurate headcount should not be one of a business's most difficult tasks. Workday Organization Management enables the user too easily and accurately model and analyze a company's workforce by multiple business dimensions. Workday Compensation Management enables the user to design, manage, and adjust compensation programs to meet a company's complex global rewards requirements. Workday Absence Management allows the user to manage your organization's global time-off and absence policies through automation, visibility, and intuitive self-service. Align and assess talent, pay for performance, and…
Overview
•Human Resource Management
•Workforce Planning
•Audit and Internal Controls
•Recruiting
•Talent Management
•Learning
•Compensation Benefits
•Payroll Management
16
Aragon eHR
Aragon solution which covers 100% of your HR needs-Administrative management of staff expenses, timesheets, leave, schedules, steering and management of candidates recruitment, evaluations, SWP, training, implementation of a company social network, simplification of all Human Resources procedures, integrate with the market's leading payroll software, share a single data repository. HRMS is in SaaS (Software as a Service) mode, directly accessible via the internet and so is easy to set up and requires no investment in infrastructure. Each of the 37 features are integrated into a single software platform and can be easily activated upon individual demand. All the features have…
Overview
•Core HR
•Talent management
•Workforce management
•Interface paie
17
Kronos Workforce Ready
Workforce Ready is the cloud-based solution that allows today's small to midsize businesses to gain a competitive advantage with consistent, real-time employee data. Giving you the single-source access you need to make better, more informed decisions. Control labor costs. Minimize compliance risk. And improve workforce productivity. Fully Integrated. HR. Timekeeping. Scheduling. And more. All with a common user interface, database, and workflow.Modular. Need only one app — like time and attendance? No problem. Buy what you require today. Then add more when you're ready. Real-time Information. This is dynamic, real-time information — not legacy-latent data. With deep-dive analysis you can…
Overview
• Core HR
• Talent Management
• Workforce Management
• HR Service Delivery
• Performance Management
• Compensation Management
• Leave Management
18
Vibe HCM
cfactor's Vibe HCM is easy-to-use and highly personalized. C-factor understands transactions, record keeping and the back-office. But it is about much more than that. It is about connecting people, creating excitement, effective communications, efficiency, job satisfaction, world-class hr service delivery through technology. C-factor's specialty is creating easy-to-use HR technology that is meant to be used and valued by all employees. C-factor has been doing this for over 14 years. This relentless pursuit has led C-factor to work with some of the most innovative, recognized brands on the planet while creating a highly acclaimed HRIS, Talent and Employee Collaboration suite in…
Overview
•Recruit
•Onboard
•Engage
•Pay
•HR
•Talent Management
19
High Line Human Resources
High Line Human Resources is an intuitive human capital/employee resource management system that will help a business to track and manage employees, retirees, and candidates. Here are some of the features-Comprehensive position control, multiple positions per person and people per position, Union contract administration, Accurate forecasting of labor-related costs, and "what if" analysis, Graphical, web-based organization charts, Robust business intelligence/analytics, and configurable reporting, Performance Management including Employee/Manager goal-setting and review, including integration with Pay-for-Performance, Competency tracking and skills inventories, with gap analysis, Legislated reporting requirements in standard system, Easy integration/interface options with external systems and benefits administration automation. The benefits…
Overview
•Human Resources
•Payroll
•Applicant Tracking
•Time & Attendance
20
Infinity HR
Infinity's Applicant Tracking module provides for a simple yet powerful mechanism for managing and automating the entire applicant and talent acquisition process. The InfinityHR Benefits Management module provides administrators the ability to oversee benefits and apply deductions to employee records along with the capability to allow employee input on these elections. Employees can compare, analyze and check plan costs prior to enrollment, gives employees a greater appreciation of the value of using benefits packages, employees can print consolidated benefit statements at any time, rules-based eligibility engine, reconcile premium bills, provides state-of-the-art security for your data, allows for easy approval and…
Overview
•Referral source tracking
•Customizable email templates to communicate with the applicant throughout the hiring process
•Workflow integration
•EEO Reporting
21
Ramco HCM
Ramco HCM on Cloud is a global HR & talent management solution that covers an organization's human capital management needs from hire to retire. Businesses are subject to economic cycles. In a down swing, businesses are forced to cut costs, work with reduced support staff . Topline growth through existing and new avenues remains a challenge at all times. Among the many levers that businesses would want to utilize to achieve its goals, Workforce Management is a critical component. Ramco's tracking time and attendance of the employees are very important, as it forms the basis for many HR activities like…
Overview
• Core HR
• Payroll
• Time and Labor
22
Infor Human Capital Management
Infor comprehensive industry suites don't require customization because they already deliver industry-specific functionality and support processes that are critical to micro-verticals. Infor lets to accelerate the business with a strategic HCM solution that turns the costumer's human capital investment into a competitive advantage. Infor lets you access all employee information in one place to dynamically track HR business processes and compliance activities using detailed reporting features. Infor offers a wide variety of services , including- Talent Management -Find engage, and develop the right people while making smart organizational and workforce decisions to support strategic business goals. HR Service Delivery- Provide…
Overview
• Cloudsuite HCM
• Global HR
• Talent Management
• Workforce Management
• HR Service Delivery
• Learning Management
Infor Human Capital Management
23
Deltek Maconomy
Deltek Maconomy Human Resources (HR) provides the basis for your HR department to attract and develop employees, so that your company can get the most out of its most valued resource. Using our human capital management solution also ensures that you retain high performers, by providing them with the right mix of compensation, benefits and career opportunities that maximizes their continued contribution to the financial success of your business. Deltek Maconomy Business Performance Management is a business intelligence solution that provides current, reliable business data that's available to users when and how the users want it. Unlike complicated analytical tools…
Overview
•Core HR
•Training
•Talent Management
24
Talentia HCM
Talentia's HCM software leads the way in helping organizations to better manage, engage, motivate, develop and retain their people. Talentia offers modular HR and talent management software systems that reflect the input of hundreds of organizations and thousands of users worldwide. It provides practical, cost effective and scalable solutions designed to fit individual company needs. Single, consistent source of HR information from fragmented HR software systems, databases and spreadsheets.And, since all of the user's data is in one place, there's no need to e-mail documents containing sensitive information around the business. Talentia makes it easier to standardize company-wide data and…
Overview
• HR
• Talent Management
• Workforce Management
25
Costpoint HR Solution Suite
Costpoint HR enables firms to track and maintain critical employee information including employee name and address, salary information and history, leave statuses, life events, payroll, Flexible Spending Accounts, performance reviews and more. Fast, easy and compliant, the Deltek Employee Self Service module allows employees to make changes to personal information. Such as address, phone numbers, marital status, dependencies, benefit elections and more. Costpoint Payroll automatically computes the appropriate payroll amounts for each employee, so the users HR resources don't have to. Taken from salary, deductions, tax tables, garnishments and hours-worked information, Costpoint Payroll allows companies to compute, edit, process and…
Overview
•Compensation Planning
•Personnel Tracking
•Reporting
•Benefits Administration: FMLA compliance
•Core HR
26
SAP ERP Core HR
Core Human Resources in SAP ERP software covers workforce management, time and attendance, recruiting, payroll, and more to fully leverage your employees' skills and drive growth. Support organizational growth and employee engagement with a single, centralized system for global and local workforce management and payroll processes including consolidate all workforce-related processes and data onto a single platform, depict and analyze your organizational and reporting structures, create and manage tailor-made benefits packages and run payroll software that complies with legal regulations in 49 countries. Give your workforce more ways to access the data, applications, and analytics tools they need to perform…
Overview
• Core HR
•Time and Attendance Management
27
Epicor HCM
Epicor now offers embedded global HR with a best-in-class HCM solution. Epicor HCM is the most intuitive, functional, and adaptive HCM solution on the market. Epicor defined the next-generation of HCM solutions, with a full range of deployment models, and backed it with the best service in the industry to provide an unparalleled Human Resource Management System (HRMS). Epicor HCM is available both as an integral part of Epicor ERP or Epicor Retail solutions, and as a cutting-edge standalone HRMS solution. With the recent acquisition of Spectrum Human Resource Systems Corporation (Spectrum), Epicor now offers embedded global HR with a…
Overview
•HR
•Recruitment Management
•Benefits
•Absence tracking tools
28
Microsoft Dynamics GP HR
Microsoft Dynamics GP helps businesses gain greater control over their financials, better manage their inventory and operations, and make informed decisions that help drive business success. It's quick to implement and easy to use, with the power to support your growth ambition. A business solution from Microsoft uniquely brings together business applications, data, documents, and devices, with your people at the center, helping them make the most of their time. From server to cloud—desktop to mobile—get one familiar user experience to automate your business, increase sales, enhance collaboration, and amaze your customers. Dynamics GP works like (and with) your favorite…
Overview
• Human resources and payroll
• Payroll (US) Unlimited
• Employees Payroll (Canada) Unlimited
• Employees Payroll Direct Deposit
• Profile Human Resources Time and Expense Management
29
Microsoft Dynamics AX HR
Microsoft Dynamics AX Human Resources helps revolutionize HR in the same way technology has changed the capacity and capability of departments all across your organization.Share information about employees and contractors, applicants, departments, teams, jobs, positions and competencies throughout and across your business—eliminating duplicate data and saving time. Maintain hierarchical, matrix and team-based organizational structures over time, and get a more accurate picture of historical, current and future changes. Microsoft Dynamics AX Human Resources gives you one simple solution for HR. A single, unified HR system that helps take the administrative complexities out of your day and your department, freeing you…
Overview
• Core HR
•Recruitment
•Workspaces
•Workflow Approvals
•Performance Management
30
Ignite's NuView Human Capital Management
Ignite's NuView Human Capital Management : Ignite tech's solutions implement best practices, automate key processes, provide advanced workflows, and allow for fact-based strategic decision-making. Stellar reporting and analysis which is available through a single global HR system makes it easy to report on your global enterprise, eliminating the need to separate systems within each country. Flexibility is the guiding principle behind Ignite's NuView software, because it allows a business to select the functional modules that meet your needs. At any time the clients are able to pick solutions they need, knowing they will be able to implement additional strategic modules…
Overview
•Core HR
•Talent Management
•Payroll
Ignite's NuView Human Capital Management
31
CGI Advantage Human Resource
CGI Advantage Human Resource Management Human resource departments in state and local government serve many different stakeholders, each with their own needs. Day-to-day tasks for employees include timekeeping, payroll, benefits and training. Management has tools for data gathering, analysis and forecasting. There is also a growing need from executives for greater efficiency. Yet many HR and payroll solutions are labor-intensive and lack required business functions, resulting in delayed payrolls, incorrect paycheck calculations, retroactive adjustments and inflexible benefit plans. CGI Advantage delivers a web-based human resource and payroll management solution that helps organizations focus on the strategic demands of increasing efficiency,…
Overview
•Position Control
•Recruiting and Staffing
•Human Resources
•Payroll
•Benefits Administration
•Labor Distribution
•Time and Leave
•Manager Self Service
•Employee Self Service
32
Unit4 Business World
Unit4 Business World (formerly Agresso) ERP suite, provide comprehensive support for all aspects of the organization's hire-to-retire cycle and payroll processes, with a fully integrated range of functions.Unit4 Business World enables organizations to ensure that their people are prepared to meet business demands as efficiently as possible, while nurturing and developing their employees as their organization evolves. Employee management: fully covering employee records management, including applicant administration and the management of employee contract details, as well as document management and compliance management. Talent management: including the identification and administration of employees' competences and skills, employee development and learning, recording of…
Overview
•Core HR
•Performance Management
•Travel Management
•Time Management
33
People-Trak
People-Trak HR software helps the business manage all its employee information in one centralized, secure system. The Personnel Management module takes employee information out of the filing cabinets, spreadsheets, or an outdated HRIS, and puts it at the business's fingertips. Now the user can respond immediately to management, employee, and government requests, making HR visible and valuable to an entire organization. Time & Attendance provides a powerful, accurate, and easy way to manage employee time off within People-Trak HR software. By providing an unlimited number of user-defined attendance accounts with multiple accrual levels, Time & Attendance enables HR professionals to…
Overview
•Human Resources Information System (HRIS),
•Personnel Management,
•Time-Off Management,
•Benefits Administration,
•Applicant Management,
•Position Control,
•Safety Management,
•Training Administration
34
FinancialForce HCM
FinancialForce.com delivers a complete, unified Human Capital Management (HCM) solution on the cloud supporting the entire HR spectrum – a business's human resource system of record; Financial Force Recruiting, Onboarding, Talent Management, Benefits, and Time & Attendance. The many benefits of Financial Force are-Manage all a business HCM needs on an enterprise class, trusted, secure, certified, scalable platform, Share workflows and approval processes and break down the walls between departments, Use common reporting and analytics tools across an entire business, Get browser, tablet and mobile access for anytime/anywhere access to data, Use social tools like Chatter to exchange information across…
Overview
• Human Resource Management
• Workforce Management
• Benefits
• Employee Engagement
• Talent Acquisition
• Talent Management
• Workforce Reporting & Analytics
What to Choose: Proprietary or Open Source Core HR Software?

From a buying perspective there are two options based on the source code availability: Open Source Software and Proprietary Software.
Open Source Core HR Software: Open Source Core HR Software for SMB is ideal when you have a development team available in your company and when you want to try out the product or build new features and functionality on top of it.
Proprietary Core HR Software: Proprietary Core HR Software is a good choice when you are looking for an established product, when your requirement is for SAAS product or when you need full-fledged support and when open source standards doesn't matter in your line of business.
You may want to review How to Select Cloud HR vs On-Premises HR Software for Your Business
How about Cloud and on Premise Software
Based on the installation type there are cloud-based and on-premises software systems, with both the systems having equal share of benefits. The cloud software is hosted and managed and maintained on a remote server. It is also referred to as software as a service (SaaS). On-premises software is normally installed and implemented on your company's premises and which need your own IT team to manage and maintain the on- premises system.
Selection of the installation type depends on the needs of your organization. A small company may find the cloud system more appropriate since the cost of installation is lower as opposed to having on-premises system.
You will find free or limited free versions in both the Open Source Software and Proprietary Software.
We recommend determining how the software fits to your business in terms of features, functionality, and business process with a free trial.