Review
Aragon eHR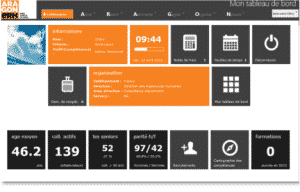 Overview
Aragon solution which covers 100% of your HR needs-Administrative management of staff expenses, timesheets, leave, schedules, steering and management of candidates recruitment, evaluations, SWP, training, implementation of a company social network, simplification of all Human Resources procedures, integrate with the market's leading payroll software, share a single data repository
Core HR Software, HR Service Delivery Software, HR Software Review, Talent Management Software, Workforce Management Software
•Core HR
•Talent management
•Workforce management
•Interface paie
Small (<50 employees), Medium (50 to 1000 Enterprise (>1001 employees)
What is best?
•Core HR
•Talent management
•Workforce management
•Interface paie
What are the benefits?
•Reduce costs of managing attendance and absences
•Optimise operational costs
•Select the best scheduling option
Aragon solution which covers 100% of your HR needs-Administrative management of staff expenses, timesheets, leave, schedules, steering and management of candidates recruitment, evaluations, SWP, training, implementation of a company social network, simplification of all Human Resources procedures, integrate with the market's leading payroll software, share a single data repository.
HRMS is in SaaS (Software as a Service) mode, directly accessible via the internet and so is easy to set up and requires no investment in infrastructure. Each of the 37 features are integrated into a single software platform and can be easily activated upon individual demand.
All the features have an advanced reporting feature mapping the skills and progress of each employee, HR indicators attendance, evaluations, compensation, recruitment, expenses and legal and managerial reports social balance sheets.
The features are- Monitoring and History of Payroll contractual already paid, scale model of payroll for an upcoming period, management workflow of annual pay raises (MAN), management of mass payroll (ETPs and/or Salaries), organize HR management of unfilled positions and comparison to benchmarks (internal/external).
You may like to read: Top Core Human Resource Management Software (Core HR) and How to Select the Best Human Resource Software for Your Business