Review
Workday HCM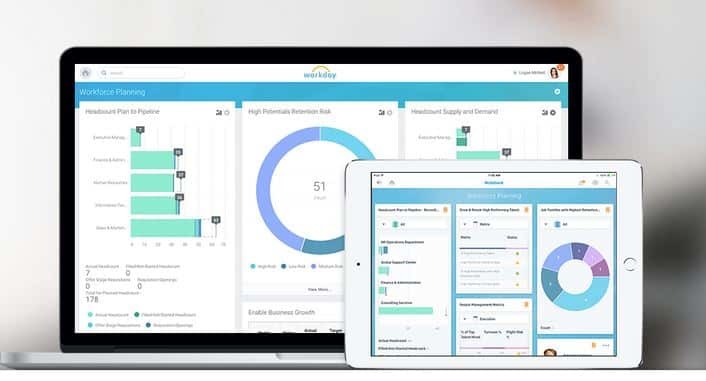 Overview
Workday HCM software provides complete visibility into your global workforce and a better user experience, so you can keep your people engaged and help them grow.
•Human Resource Management
•Workforce Planning
•Audit and Internal Controls
•Recruiting
•Talent Management
•Learning
•Compensation Benefits
•Payroll Management
Small (<50 employees), Medium (50 to 1000 Enterprise (>1001 employees)
What is best?
•Human Resource Management
•Workforce Planning
•Audit and Internal Controls
•Recruiting
•Talent Management
•Learning
•Compensation Benefits
•Payroll Management
What are the benefits?
•Engage your people on their preferred device.
•Take action and respond to changes on the fly.
•Use one version of a single system across your entire organization.
•Make better business decisions based on contextual insight
Workday Human Capital Management answers all people-related questions so a company can grow its global workforce. Getting an accurate headcount should not be one of a business's most difficult tasks. Workday Organization Management enables the user too easily and accurately model and analyze a company's workforce by multiple business dimensions. Workday Compensation Management enables the user to design, manage, and adjust compensation programs to meet a company's complex global rewards requirements. Workday Absence Management allows the user to manage your organization's global time-off and absence policies through automation, visibility, and intuitive self-service.
Align and assess talent, pay for performance, and plan a leadership succession. Workday Talent Management works seamlessly with Workday Human Resource Management to lets the user do all of this from a single, unified application. Workday Onboarding gives the user, the tools to extend to new and pre-hires, increase first-day productivity, and streamline administration.
Workday Goal Management helps the user to establish goals for an entire team or organization, cascade goals, and assess the completion of goals for maximum alignment, improved visibility, and increased engagement throughout a business. Workday Succession Planning provides simple and visual tools to help the costumer to build, manage, and evaluate succession plans for any essential jobs in an organization. Workday Career and Development Planning empowers a company's workers with the tools the users need to grow careers. With recruiting, talent management, and workforce planning all part of a single system, Workday Recruiting provides visibility into your entire talent pool, including current employees, external candidates, and prospects.
Workday offers choice and flexibility for companies with varying multi-country payroll requirements. Workday Payroll is a single global payroll application that works seamlessly with Workday HCM, Time Tracking, and Financial Management, analyzes a business's global labor costs, and helps you maintain compliance around the world.
Workday allows the user to view journal entry lines in your general ledger, make changes before completing payroll, and run payroll calculations as many times as you need to for specific groups or individual employees .Workday Payroll gives the user the ability to adapt to rapid organizational change and control when and how workforce is paid. Create and manage an unlimited number of pay groups, earnings and deductions, and costing allocations. Set up and own audit alerts to proactively flag errors. Workday allows the user to manage an approval process and security rules.
You may like to read: Top Core Human Resource Management Software (Core HR) and How to Select the Best Human Resource Software for Your Business