Review
Epicor HCM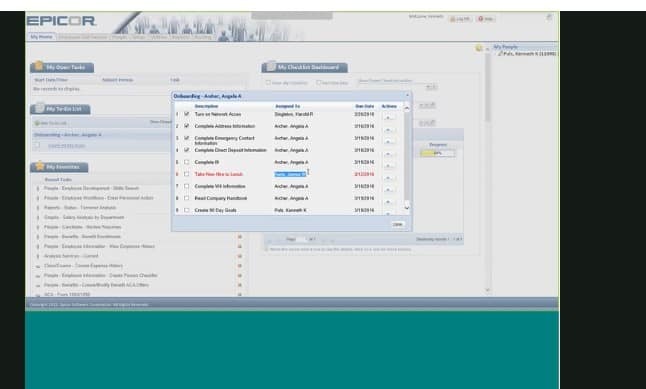 Overview
Epicor HCM automates your HR processes, enabling you to track, manage, and analyze all your employee data from application to retirement
Core HR Software, HR Service Delivery Software, Talent Management Software, Workforce Management Software
•HR
•Recruitment Management
•Benefits
•Absence tracking tools
Small (<50 employees), Medium (50 to 1000 Enterprise (>1001 employees)
What is best?
•HR
•Recruitment Management
•Benefits
•Absence tracking tools
What are the benefits?
•Increase ROI of HR with actionable visibility into the skills your organization needs
•Drive out costs by digitizing processes to align, recruit, onboard, train, plan, set goals, and measure performance
•Leverage powerful analytics to quickly make informed decisions based on accurate workforce insights
Epicor now offers embedded global HR with a best-in-class HCM solution. Epicor HCM is the most intuitive, functional, and adaptive HCM solution on the market. Epicor defined the next-generation of HCM solutions, with a full range of deployment models, and backed it with the best service in the industry to provide an unparalleled Human Resource Management System (HRMS).
Epicor HCM is available both as an integral part of Epicor ERP or Epicor Retail solutions, and as a cutting-edge standalone HRMS solution. With the recent acquisition of Spectrum Human Resource Systems Corporation (Spectrum), Epicor now offers embedded global HR with a best-in-class HCM solution. Furthermore, Epicor HCM solutions provide the broadest flexibility, enabling the customer to implement and finance your HCM solution in the most appropriate way for your business.
Available as on-demand SaaS , hosted, or on premise license, Epicor HCM can be deployed according to the requirements without compromising functionality.
Available as a hosted, on premise, or on-demand HCM SaaS solution, Epicor HCM can be deployed to meet your organizational requirements without compromising functionality or data integrity. To serve a business International HR needs, Epicor HCM's web-based solution configures data fields to reflect the appropriate format based on employee location, as well as provides location-specific home pages to deliver relevant communication and corporate standards.
Epicor is ready to help organizations take advantage of new market opportunities and manage growth with its latest Enterprise Resource Planning suite. Guided by the needs of today's users, Epicor ERP delivers the choice, flexibility, and agility needed to support strategic initiatives and lean out wasted processes.
Epicor minimizes the complexities of traditional enterprise resource planning by delivering a software that emphasizes ease of use, collaboration, and responsiveness. With the flexibility to be run on-premise or in the cloud, Epicor ERP provides a comprehensive set of global functionalities, enabling you to drive profitability, inspire innovation, and respond quickly to an evolving business environment.
Epicor ERP software offers a modular approach with robust capabilities focused on reducing costs, streamlining processes, and improving customer responsiveness across the enterprise—all top priorities toward achieving continued growth and profitability.
You may like to read: Top Core Human Resource Management Software (Core HR) and How to Select the Best Human Resource Software for Your Business