Top 6 Employee Engagement Platforms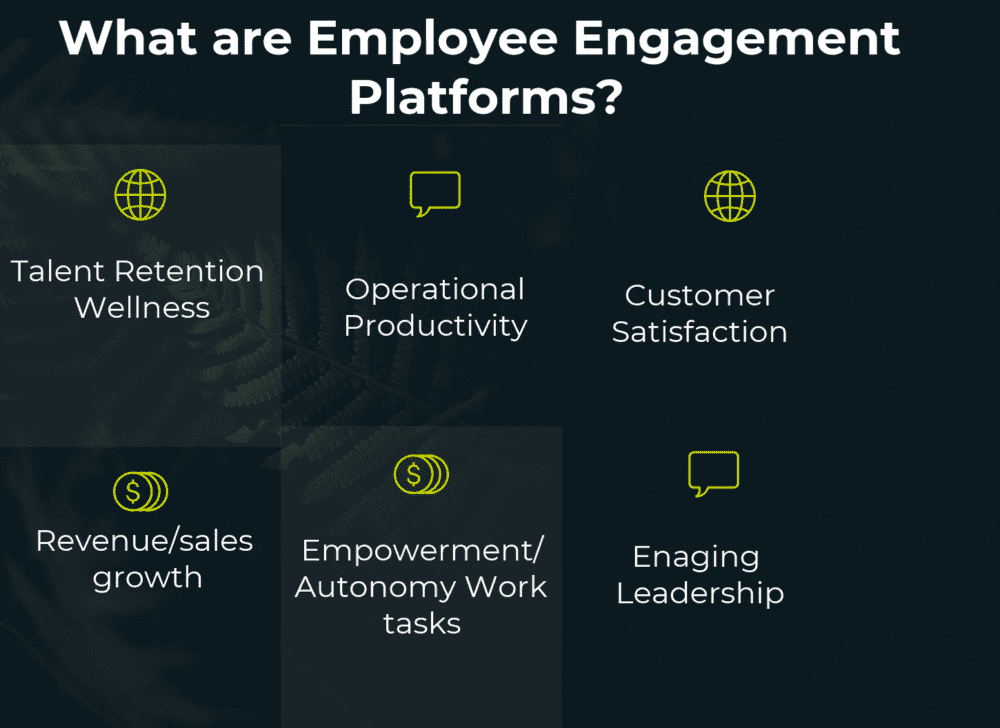 Employee Engagement is a critical part of any human resources management success. Employee Engagement is the emotional commitment the employee has to the organization and its goals. Engagement enables businesses to reach their full potential by helping to create open communication channels, improve productivity, and retain talented staff.
Organisations of today needs engagement programs such as work-life effectiveness, recognition, and reward systems to manage the diverse workforces with the competition to hire and retain qualified employees as managing core HR functions of compensation, benefits, performance management and talent development are not enough.
The Employee Engagement Platforms give you access to flexibility, integration, and data security, the ability to deliver on any additional features, future adaptations and compliance requirements for services for deploying and adapting the solution to your organization's unique HR employee engagement program needs and requirements.
What are the Best Employee Engagement Platforms: BambooHR, PeopleSpheres, Branch Messenger, Simpplr, QuestBack, Saba are some of the best examples of Employee Engagement Platforms.
You may like to read:  How to Select the Best Human Resource Software for Your Business and Why Small Business Need Human Resource Software
Top Employee Engagement Platforms
BambooHR, PeopleSpheres, Branch Messenger, Simpplr, QuestBack, Saba are some of the Top Employee Engagement Platforms.
Top Employee Engagement Platforms
PAT Index™
1
BambooHR
BambooHR is an online human resources (HR) software service for small and mid-sized businesses which offers a single system to consolidate all employee and human resources related data, manages a number of human resources activity. BambooHRcan be used to build a centralized database of employee profiles that can be accessed by anyone in the company with the access permissions they define where each profile can store personal information and a photo, as well as details on benefits, salary, time off, documents and training where the users can also add custom fields to record important information unique to their company. BambooHR…
Overview
• Applicant Tracking System (ATS)
• Employee Self-Onboarding
• Time-Off Tracking
• Employee Database and Records
• Performance Management Software
• HR Reporting
• Custom Workflows
• Electronic Signatures
• Bamboo Payroll
2
PeopleSpheres
PeopleSpheres is an innovative 3-in-1 platform that addresses today's HR issues. HR services plug their various software into the integration platform to create a centralized database of all employee HR data and a unique experience for better employee engagement. PeopleSpheres was created in response to several observations: The overabundance of HR software within companies. A typical HR service uses up to 9 different software to cover its HR needs. This excessive number of software impacts HR services negatively. Employees can sometimes feel disconnected and detached from their HR service when they need to deal with different software to carry out…
Overview
•Core HR
•Employee engagement platform
•Cross platform reporting
•Synchronized data
•Notification and action center
•Unique user profile
•Digest notification e-mail
•Processing tools
•Document and report generation
3
Branch Messenger
Branch Messenger is a human resource messaging application that allows communication among the employees, the manager, and the enterprise. The goal of any workforce management software is to gain an insight into the business metrics. The main managerial features include on-demand shift coverage, Require Approval for a shift or Time off coverage, Manager Read Receipts, Make Scheduling changes on the fly, Control employee directory, Web dashboard access and regional workplace groups. These features aid the managerial team in scheduling the employees in their right places at the right time. The managers can know and approve or disapprove when employees make…
Overview
•On-Demand Shift Coverage
•Require Approval for Shift or Time Off Coverage
•Manager Read Receipts
•Make Scheduling Changes on the Fly
•Control Employee Directory
•Web dashboard access
•Regional Workplace Groups
•Paper schedules turn into digital calendars
•Get shifts filled instantly
•Message without texts or email
•FREE- Unlimited amount of employees and Managers
•ENTERPRISE-•per location per month billed annually
4
Simpplr
Simpplr is a built-on-Salesforce, delightful social intranet app that boosts internal communication, knowledge management and awesome culture inside enterprises. It is pre-integrated with Workday, Okta, Box, Onelogin, and Viduard, ensuring enterprise-grade security and reliability. It has four main objectives: connect, communicate, organize and manage. Regarding the first objective, it includes an employee directory that makes it simple to find people quickly by name, expertise, department, location or reporting structure; an activity feed, which keeps track of everyone's current projects, files, topics, or activities; and personal profile pages that display the areas of expertise, biographies, activities and social connections of each…
Overview
•Pre-integrated with Salesforce, Workday, Okta, Box, Onelogin, and Viduard
•Employee Dorectory
•Personal Profiles
•Activity Feed
•Analytic Dashboard
5
QuestBack
Questback is a person-based feedback platform that helps companies understand customers, engage employees and outperform markets. From DIY customer and employee surveys, to a full service feedback solutions, Questback software is transforming the way businesses manage enterprise feedback. QuestBack Enterprise Feedback Suite is a full-featured social CRM platform that includes a comprehensive array of options in enterprise feedback management, customer experience management, social CRM, and market-based solutions. The QuestBack platform is unique for the reason that it collects data from social media websites and other marketing locations and converts it into useable, actionable data. QuestBack sets itself apart by acknowledging that…
Overview
•Customer Experience & Insights
•Employee Engagement
•Market Research
•Professional Services
•Enterprise Feedback Products
•Basic, Essentials, Enterprise and Academic.
6
Saba
Saba talent management brings development, collaboration, performance and engagement in one platform. Key features have been incorporated to aid in learning, performance, engagement, succession, planning, recruiting and compensation to ensure smooth workflow for better performance of the organization. The recruitment software features saba applicant tracking technology which allows you to tap social networks to find top talent. The private, collaborative workspace gives hiring team the ability to track applicants, discuss and review candidates through rating and commenting. High definition multi- point video interviewing is available to be used in any location and on any device. Align, appraise and accelerate performance…
Overview
• E-signatures, audit trails and time stamps
• Saba learning tools
• Saba network performance score
• Talent pools
• Private workspace
• Budget planning tools
• Recruitment software
• N-box grid
• Multi-point video interviewing
• Social impressions
You may like to read Best Practices for Digital HR Transformation
You may like to read How to Select the Best Human Resource Software for Your Small Business