33 Free, Open Source and Top Applicant Tracking Software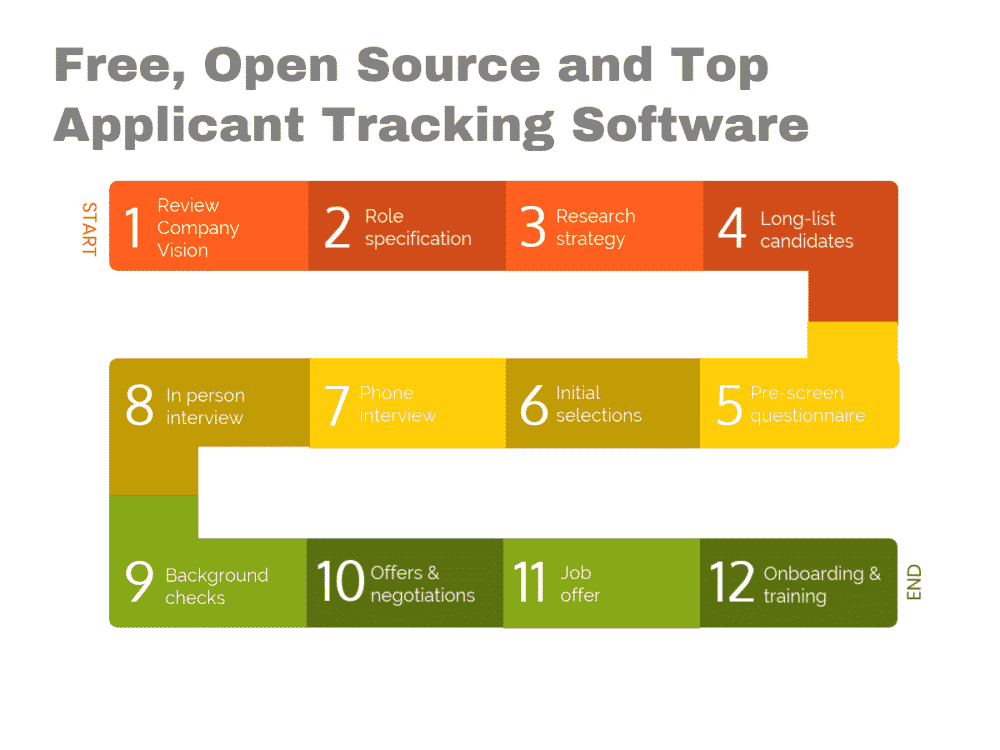 Applicant Tracking Software is an application that enables the electronic handling of recruitment needs. Applicant Tracking Software can be accessed online on an enterprise or small business level, depending on the needs of the company.
Applicant Tracking Software is very similar to customer relationship management systems, but are designed for recruitment tracking purposes. In many cases they filter applications automatically based on given criteria such as keywords, skills, former employers, years of experience and schools attended.
Applicant Tracking Software provide a central location and database for a company's recruitment efforts. These are built to better assist management of resumes and applicant information. Data is either collected from internal applications via the Applicant Tracking Software front-end, located on the company website or is extracted from applicants on job boards. The majority of job and resume boards have partnerships with Applicant Tracking Software software providers to provide parsing support and ease of data migration from one system to another.
What are the Best Free Applicant Tracking Software:Freshteam, OpenCATS, CandidATS, iKrut, SmartRecruiters, Qandidate, Jobsoid are some of the examples for best Free Applicant Tracking Software.
What are the Best Applicant Tracking Software:Freshteam, BambooHR ATS, Recruitee, IBM Kenexa BrassRing on Cloud, Avature ATS, Cornerstone Recruiting, Jobvite, JobDiva, Recruiterbox, Bullhorn, AppliView, Fitzii, ATS OnDemand, HiringThing, Newton, JobScore, ClearCompany, CivicHR, Empxtrack ATS, Advorto, RECRUITview, ApplicantPRO, Workable, The Applicant Manager, Deltek Talent Acquisition, StartDate, Rakuna are some of the examples of best Applicant Tracking Software.
What are Applicant Tracking Software?
Applicant Tracking Software helps businesses to handle the recruitment process electronically. Applicant Tracking Software helps to streamline and automate the entire staffing process via a defined workflow.
It handles the hiring process electronically from posting positions to job boards, collecting job applications, parsing resumes, identifying the best prospective candidates, sending interview reminders emails to the successful candidates, to assigning records to specific recruits among others.
Applicant Tracking Software helps the employers to manage every stage of the recruitment process and provides a central database that gives access to tools that lets them to categorize, rank and communicate with the candidates. The system searches and picks the relevant keywords for the particular opening and then ranks the search results based on what the employer wants.
The software helps to sort out the applications automatically based on certain criteria such as the achievements, milestones, skills, and years of experience, schools attended and grades scored among others. The software helps measure the candidates' engagement and responsiveness with the application. The system also allows custom workflow and collaboration with the team which can lead to improved hiring results and productivity. The system allows the employers to track the entire recruitment process and places every participant on the same page by giving status and visual responses on the hiring process.
Applicant Tracking Software is an additional module to the human resource system and helps the employer to source the best talent and human capital on the enterprise level. The module may be provided to first offer opportunities from the internal applications before extending further the recruitment effort to the external candidates. Preexisting data or data that is stored and can easily be retrieved may be used or information may be garnered from other external sources.
The Applicant Tracking Software was first used by large corporations but now can be used depending on the specific needs of the company even in small and medium enterprises via open source or Software as a Service (SaaS). Applicant Tracking Software solutions help to simplify the application process and create effective job posting and applications. It makes resumes outlines and comparisons more efficient by matching the candidates' talent, skills, and experience against requirements and thus prevents prejudice when making the choice.
Applicant Tracking Software also helps cut the hiring cycles and the employers reduce time spent on the administrative work.
The software integrates with the third-party applications such as the companies HR data and files, healthcare records, mental, criminal, and voting records to verify information about the qualifications of the candidates. It also integrates with the social media platforms and job boards such as Indeed, Monster, HotJobs, CareerBuilder, Facebook, and Twitter among others that help the recruitment team to access profiles of potential candidates. The data can be stored online because the system is cloud-based and is accessible on tablet, Smartphones among other devices. This helps the employer to proceed with the hiring process at any time and from anywhere.
Applicant Tracking Software enables the company to be compliant with the Federal requirements and labor laws. Applicant Tracking Software also enables them to give the candidates equal employment opportunity as the system doesn't exclude candidates based on race, religion, nationality, marital status, and gender. Applicant Tracking Software is controlled by the data protection legislation to protect the personal data from being held offshore.
Top Applicant Tracking Software
Freshteam, BambooHR ATS, Recruitee, IBM Kenexa BrassRing on Cloud, Avature ATS, Cornerstone Recruiting, Jobvite, JobDiva, Recruiterbox, Bullhorn, AppliView, Fitzii, ATS OnDemand, HiringThing, Newton, JobScore, ClearCompany, CivicHR, Empxtrack ATS, Advorto, RECRUITview, ApplicantPRO, Workable, The Applicant Manager, Deltek Talent Acquisition, StartDate, Rakuna are some of the Top Applicant Tracking Software.
1
Freshteam applicant tracking system is designed to help companies organize talent acquisition function, align the human resources organization to the company's goals, and engage with candidates. The product also provides flexible hiring workflows and recruiters can manage all the recruitment process using one platform.They can collaborate with the hiring teams, use social media channels, relate with the candidates directly from the tracking system, make use of the mobile-friendly version for on the go connection, build candidate database by organizing the candidate profile archive. Manage the referrals of your employee by keeping track of their status through the hiring platform that…
2
BambooHR applicant tracking is a simple way to reach qualified candidates and share, track, and evaluate the applicant information. The ATS modules can also be combined with HR software so that you can enter data immediately you are done. The application is easy to use even for a newbie, and you can comfortably post job openings and make hiring managers collaborate with candidates.You can control the visibility of sensitive data while the hiring team can rate candidates, comment, and review the answers to application questions. The BambooHR tracking system allows you to move while staying organized through the process of…
3
Recruitee is the easiest way for teams to organize their hiring process and grow faster. With pipelines in job management you can customize your hiring workflow for every job. You can also move candidates from one stage to another, while maintaining an overview of your pipeline. Recruitee has ability to filter all candidates in a Job based on tags, screening questions, sources, ratings, and more as you keep track of all your team's activities within a Job. With just one click you can share your job openings in social media. You can also store all notes and files relevant to…
4
IBM Kenexa BrassRing on Cloud is a leader in applicant tracking systems, and the solution is used by several large and successful companies around the world to engage, attract, and hire talent. The IBM global recruiting application offers extensive and flexible language support while providing an exceptional user interface which can help to enhance your reputation as an Employer. The solution supports 25 of the Fortune 500 companies, and millions of recruiters use it in more than 150 countries, and it provides flexibility to hire in almost any locale. The cutting-edge social and mobile capabilities help you quickly find the…
5
Avature ATS provides powerful back-end automation for hiring managers and recruiters, while also delivering a reliable and socially integrated front-end platform. It enables the global company to combine powerful customization, modern web technology with advanced analytics to make strategic human resources possible. The highly configurable applicant tracking system allows you to map your recruitment processes, lines of business, segmented by geographic and more without worrying about the technological restrictions. You can configure the tracking system to handle hourly recruiting, professional recruiting, executive recruiting, or all the form of recruiting. When you combine applicant tracking system with candidate relationship management, both…
6
Cornerstone recruiting software suite is newfangled software with assortment of features that are configurable to meet the needs of the recruiting process. The software is adept at identifying fit candidates for hire, helping lessen the time you spend while doing so as well as making candidate experience worthwhile and free of struggle hence increasing productivity. Cornerstone recruiting suite focuses on all the dimensions of recruiting process: applicant tracking, onboarding and campus and events recruiting-leaving no stone unturned. The feasible applications streamline the recruiting process while improving cross collaboration. Referral programs and powerful social sourcing tools helps to augment your reach…
7
Jobvite is a recruiting software which normally automates the boring stuff so as the user can mainly focus on whats really important. This tool helps the user to hire top talent faster and in a more flexible way. Jobvite Hire makes recruiting more efficient and cost-effective since the Jobvite's Applicant Tracking System is the top best-of-breed recruiting platform available. Built on knowledge gleaned from 10 years of development, and working with thousands of customers. Whether you are just starting out or are already a finely-tuned sourcing and nurturing machine, Jobvite Engage boosts ROI for recruiters and sources of any level…
8
JobDiva is a complete SAAS solution that delivers ATS/CRM/VMS synchronization and more. Integrating with your job board subscriptions and vendor management systems, JobDiva is the ultimate solution that streamlines all your recruitment and staffing needs. By placing recruitment, sales, back office and management into one workflow, JobDiva lifts your entire organization to a higher level of productivity. The unique, patented "skills by years of experience" search technology makes JobDiva the ultimate staffing solution. JobDiva constantly delivers new capabilities and enhancements to keep clients in sync with the most cutting-edge technology. JobDiva provides training to new and current users, live technical…
9
Recruiterbox is an Intuitive software, combined with outstanding service for Growing Businesses .It can attract, evaluate & hire amazing talent for your company. With Recruiterbox there is an automated Sourcing from career sites and recruiting agencies. This effective sourcing leads to Customizable career sites, fully-integrated workflows with external recruiting agencies and auto-created candidate profiles from emails & uploads. This also leads to one-click posting to multiple free and paid job boards as well as source reports to identify the best ways to acquire good candidates. Recruiterbox has been designed for collaboration for recruiting productivity in that you can manage access…
10
Bullhorn is a platform which provides cloud-based CRM and operations solutions for the staffing industry. Its automated data capture and customer insight technology help companies engage candidates and win customers. Bullhorn has been leading the staffing software industry for over a decade with a variety of product offerings. Committed to being a leader in all that the tool does, Bullhorn partners with several non-profit organizations and participates in several different community service events throughout the year. Bullhorn's commitment to innovation-driven design and development has been at the forefront of its products and service offerings since inception. This platform helps Unlock…
11
AppliView is a sophisticated and advanced applicant tracking system which can take your organization recruitment process to the next level. With the tracking software, Employment agencies, staffing agencies HR Managers, recruiting departments Professionals, and Recruiters can change the way they handle recruitment. Take advantage of the software superior workflow management recruitment software to access and coordinate information which provides your company with an edge in the industry. It helps to increase revenues and maximize productivity either offline or online. AppliView provides web-based recruiting software application with contact management (CRM), online applicant tracking system (ATS), and recruitment management systems (RMS). It…
12
Fitzii is the all-in-one hiring partner for small to medium businesses which combine access to expert hiring advisors with smart recruitment tools and software to help companies hire better, faster, and more affordably than using recruitment agencies. When smaller organizations hire someone, the stakes are high. A great new employee can make all the difference – a bad hire can lead to disaster.Fitzii levels the playing field by giving smaller organizations on-demand access to the same recruitment best practices, tools, and discounts that larger organizations enjoy, at per-hire prices a small business can afford. Fitzii delivers a flexible combination of…
13
ATS on demand is a tool which enables the user to pay as you grow. This platform is the premier applicant tracking system for small to mid-size businesses. ATS On demand has provided small to medium-sized businesses with an industry leading and cost-efficient ATS for over fifteen years. From background check, skill assessment, and tax credit providers to integrations with payroll and HRIS solutions, this tool has leveraged the best of breed technologies to deliver the most reliable, scalable, and affordable ATS on the market. Some of the features of this tool include; job Post Distribution. Post your job and…
14
Hiring thing is a tool which maximizes the users time by simplifying the hiring process. Some of the features of this tool are: source and screen top candidates in a fast and intuitive manner since it provides you with; Online Job Posting where you get your openings seen on the sites that active seekers visit regularly. Social Media Integration which lets social media support your hiring efforts through our easy integration system. Enhanced Search where you tap into the power of your network with our powerful search and find exactly what you want quickly and easily. Referral Programs where good…
15
Newton is an Applicant Tracking System that has everything you need to streamline and organize your entire recruiting process from top to bottom. It helps your team manage each one as efficiently and effectively as possible. With its track and engage capability you can broadcast your jobs with just one click, accept job applicants online through a branded careers page, and build trust by providing an ideal candidate experience with personalized automated emails. Newton makes it easy to have a fully-branded careers site that matches your website. You can use any device including your phone to access the system without…
16
Jobscore is a cooperative recruiting database that is used to make high quality private connections between people and jobs. It leverages on matching technology to recommend qualified and interested candidates to job openings,and can be used on mobile phone, a tablet or the web. Jobscore helps in impressing candidates with a fabulous look, asking the right questions and being polite and responsive. With Jobscore it is possible to post job ads automatically to free job boards, and easily save teams up to 1-hour data entry per job per month. The job postings on Jobscore stay open as long as the…
17
ClearCompany provides an easy way to use talent acquisition and management software. With this software it helps clients achieve their own missions by hiring, retaining and engaging more top talent. With ClearCompany you can keep track of the applicant through; passive candidate sourcing where the user will Reach more top talent and import social contact data directly into the ClearCompany Applicant Tracking System, job board management and discounted posting. Also, you can have onboard new hires since; it is mobile friendly and new employees can fill paperwork at any time and anywhere, there are intelligent forms which carry information from…
18
CivicHR applicant tracking software solution aids local government human resource managers to efficiently receive, track, hire, and screen job candidates, while collaborating and communicating with hiring departments. It automates aspects of the application routing, documentation, candidate communication, the process of job posting, and the units of human resource of any size can quickly fill open positions with highly qualified candidates. The application allows you to attract qualified candidates for every open position by integrating it with multiple third-party employment websites and social media. The integrated solution will enable you to post every open position to several channels in a single…
19
Empxtrack applicant tracking software is more than just a recruitment database management because it also allows you to automate recruitment process by making use of a defined workflow. The managers in charge of hiring can review, accept, and manage a significant volume of job postings and resumes in a single location. It also helps you to track your social media recruiting process to find the ideal candidates. The software allows you to publish job postings on job search sites, internal career portal, third party job boards, social media, and in an instant inform staffing partners. Its recruitment module is also…
20
Advorto's applicant tracking system is a software application that enables a company to control its recruitment process more efficiently. It typically allows companies to collect, save candidate data, and track the process of candidates through a defined recruitment process. It can be used to post vacancies on third party websites or job board. And you can also use it to screen candidates and send them an invitation for interview. Advorto's applicant tracking system offers sturdy reporting using the online database system which tracks all information relating to candidates and vacancies. You also use it to view cost to hire and…
21
RECRUITview is cloud-based strategic recruiting software that optimizes, automates, and centralizes all of the recruitment efforts while promoting your company brand resulting in higher quality candidates with a lower cost per hire. It takes recruiting to the whole new level by providing hiring managers powerful and easy-to-use software which can help them to the source, score, screen and select the best-qualified candidates. The cloud-based recruiting system allows you to automate time-consuming job posting and administrative projects while optimizing your recruitment management and employer branding to create a smarter and faster way to hire top talent. Your hiring manager can get…
22
Applicantpro is a hiring platform that makes management convenient and improves your hiring process. It has a variety of features which include; Sourcing which has never been easy but with applicantpro it has been made easy through job boards, social media where you attract candidates which bring about smart recruiting, search engines which attracts candidates, employee referrals where you give your employees an easy way to get the word out about your open positions with ApplicantPro's employee referral portal. With applicantpro you can also apply since you have a career site that looks like your company website which helps applicants…
23
Workable is everything you need to improve your recruiting process; advertise jobs, source candidates and track applicants through the hiring pipeline. It is a powerful online tools to source and manage candidates, wrapped up in an interface that is user friendly and teams will find it easy to use. With its intuitive interface, Workable helps hiring teams through every step of the process. Being a sourcing solution, you can transform your candidate sourcing by the help of a Chrome extension called People Search which will accelerate talent sourcing. Find rich candidate profiles and reach out to prospects directly with a…
24
The applicant manager (TAM) is a tool which usually streamlines your recruitment processes by simply replacing manual spreadsheets, paper resumes and inefficient technology. TAM integrates seamlessly with your brand and your recruiting practices. You can create custom workflows, email templates, and prescreening questions, as well as add custom fields to track any data you want. TAM also scales easily as you grow your business. You can choose to use as much or as little of TAM as you need in a matter of minutes. TAM is designed to be intuitive and easy to use so that you can concentrate on…
25
Deltek talent acquisition is a tool which enables the user to source talent faster and smarter thus enabling a team to hire more people with the resources available. With Talent Acquisition, set up a compelling career site, have potential candidates apply to your list jobs from any devices they prefer, and on the back end manage employment requisitions you have, active candidates, and offers to qualified candidates. Talent Acquisition helps you design an efficient employee recruiting processes, making it easier to assess qualified candidates and fill positions faster. Highly configurable workflow management helps guarantee that you are providing hiring managers…
26
StartDate fill human resources needs through innovative software solutions, and it focuses on applicant tracking systems to consolidate the hiring process. The ATS is fast to implement and mobile friendly, whether it is making decisions, posting jobs with a questionnaire or comparing candidates. The application let recruiters do their job straightforwardly and simply. The StartDate technologies allow ATS to be implemented in no time. And the configurations can be made within the system and depend on delivery of the necessary material; installations take around three to four business days from start to finish. The StartDate hosted careers page with your…
27
Rakuna offers a complete suite of services for campus recruiters to streamline their operations and boost efficiency. The solution suites include a Recruit Mobile App, Recruit Web dashboard, Event Management, Recruiting CRM, and Interview Management. Rakuna App: The mobile app, available on iOS and Android, allows for Instant Candidate Resume Capture and recruiters to be 100% engaged with candidates while collecting required information at fingertips. The app also features round-the-clock online and offline support. Rakuna Dashboard: With Recruit Dashboard, recruiters and talent acquisition leaders can dive deep into metrics reports, design evaluation forms, collaborate with hiring managers and recruiting team,…
Top Free Applicant Tracking Software
Freshteam, OpenCATS, CandidATS, iKrut, SmartRecruiters, Qandidate, Jobsoid are some of the Top Free Applicant Tracking Software
1
Freshteam applicant tracking system is designed to help companies organize talent acquisition function, align the human resources organization to the company's goals, and engage with candidates. The product also provides flexible hiring workflows and recruiters can manage all the recruitment process using one platform.They can collaborate with the hiring teams, use social media channels, relate with the candidates directly from the tracking system, make use of the mobile-friendly version for on the go connection, build candidate database by organizing the candidate profile archive. Manage the referrals of your employee by keeping track of their status through the hiring platform that…
2
OpenCATS is a free and open source applicant tracking system (ATS) with full features. OpenCATS is created by a community of developers designed for people who do recruiting, including recruiting firms and HR departments within organizations. Its main task is to organize and track the entire recruiting process for the organization. OpenCATS can be used by recruiters to manage their work, customize and extend it. There are no charges for installing or using OpenCATS, the original software CATS is a commercial product which is highly polished but OpenCATS which is free has less functionality. OpenCATS is installed for free on…
3
CandidATS is free and open source Applicant Tracking System for Recruiters. It helps from getting the order from company to placing the candidate. Tracking the interview process can be efficiently managed. Created by a company called Auieo, this open source ATS seems to be a fork of the OpenCATS software. CandidATS is a leading free open source applicant tracking system. CandidATS has candidate management tool which controls all applications in one place, no matter where you're advertising. With boolean search for the contents of every resume in your database, candidate reviews, notes and email templates available to you, you are…
4
iKrut is a candidate attraction system that helps small and medium sized companies attract, manage and hire the best talent. Ikrut takes a short time to hire, up to 50% less the normal time it would take other recruiters, and cuts hiring costs by up to 40%. Ikrut provides some codes to corporates so that any jobs that are add on their Ikrut account instantly appears on their cooperate website. With Ikrut, it is easy to get real time lists of jobs on different careers, this helps to achieve the goal of coordinating all applications in one place. Video profiles…
5
SmartRecruiters Talent Acquisition Platform is recruiting software that puts all your recruiting solutions, people, and vendors at your finger tips. This enables you to run your talent acquisition program like a high-powered marketing and sales machine.Just tracking applicants doesn't meet the needs of modern talent acquisition. Replacing your legacy applicant tracking system with modern recruiting software is easier than you think. SmartRecruiters has a free version that makes money off of third party partners (like Monster and LinkedIn). The free version is limited to 50 resumes per month, and then you can purchase credits (starting at $95 for 750 resumes)…
6
Qandidate.com is free, with the option to buy services from partner vendors or recruitment campaign media from Qanddate.com.Qandidate's unique selling points include its free, hosted career site, the ability to publish job openings to job boards and social media sites, and a modern UI with all candidates viewable in one place at a glance. It's also optimized for the language and legal requirements of the European market. Qandidate.com selects the most effective media channels for you at the best prices. Get a completely customized campaign within 24 hours online with just one click.Qandidate.com automatically adds all your recruitment faces such…
7
Jobsoid is a recruiting software for the modern recruiter with powerful online tools, intuitively designed to simplify hiring for Startups, Growing Businesses & Recruiting agencies.It has all the tools you would ever need to simplify and optimize your talent acquisition efforts. The first step to any recruitment process is getting the word out about vacancies and openings in your organizations and Jobsoid gives you a platform to do this by providing a branded Careers Site,customized Application Form,Facebook Careers Tab,Website Integration Plugin to keep your careers site up-to-date as it will automatically updates your careers page every time a new job…
What to Choose: Proprietary or Open Source Applicant Tracking Software? How about Cloud?
From a buying perspective there are two options based on the source code availability: Open Source Software and Proprietary Software.
Open Source Applicant Tracking Software: Open Source Applicant Tracking Software is ideal when you have a development team available in your company and when you want to try out the product or build new features and functionality on top of it.
Proprietary Applicant Tracking Software: Proprietary Applicant Tracking Software is a good choice when you are looking for an established product, when your requirement is for SAAS product or when you need full-fledged support and when open source standards doesn't matter in your line of business.
You may like to read How to Select the Best Applicant Tracking Software for Your Business
You may want to review How to Select Cloud HR vs On-Premises HR Software for Your Business
How about Cloud and On Premise Software?
Based on the installation type there are cloud-based and on-premises software systems, with both the systems having equal share of benefits. The cloud software is hosted and managed and maintained on a remote server. It is also referred to as software as a service (SaaS). On-premises software is normally installed and implemented on your company's premises and which need your own IT team to manage and maintain the on- premises system.
Selection of the installation type depends on the needs of your organization. A small company may find the cloud system more appropriate since the cost of installation is lower as opposed to having on-premises system.
You will find free or limited free versions in both the Open Source Software and Proprietary Software.
We recommend determining how the software fits to your business in terms of features, functionality, and business process with a free trial.
You may want to review How to Select the Best Cloud HR Software for Your Business