28 Free, Open Source and Top Learning Management Software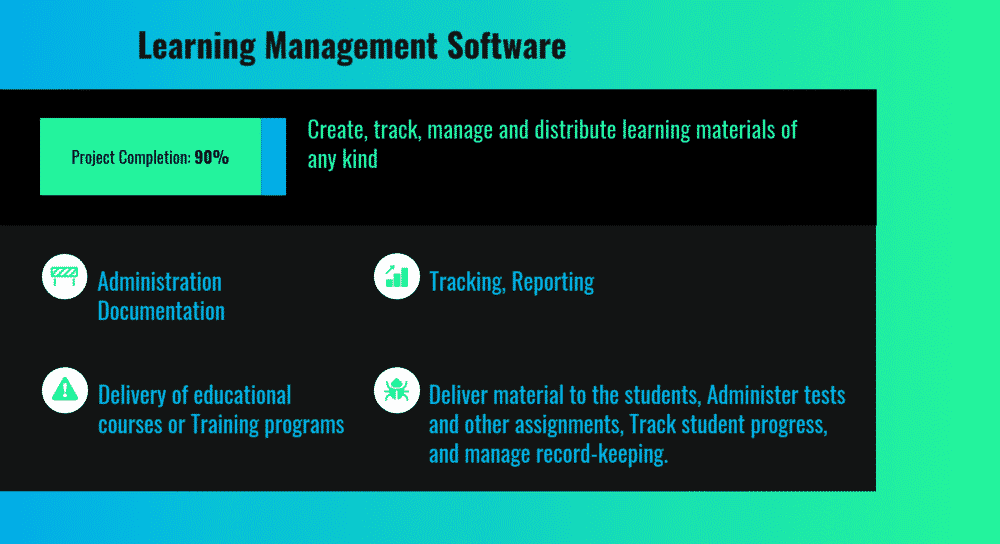 Modern training needs to be easy and accessible. Learning Management System software are platforms for instructors to manage and organize educational courses online and provide students a single location for all course material.
Learning Management software allows anyone to create, track, manage and distribute learning materials of any kind. It also allows any organization to develop electronic coursework, deliver it with unprecedented reach and flexibility and manage its continued use over time.
Learning Management Software provides features and functionalities for administration, documentation, tracking, reporting and delivery of educational courses or training programs. Learning Management Software help the instructor deliver material to the students, administer tests and other assignments, track student progress, and manage record-keeping.
Learning Management Software delivers and manages instructional content, and handles student registration, online course administration, and tracking, and assessment of student work. Most of these are web-based, and some of the providers also include a performance management systems, which provides functionality for employee appraisals, competency management, skills-gap analysis, succession planning, and multi-rater assessments.
What are the Best Open Source Learning Management Software: Eliademy, Opigno, Forma.LMS, ILIAS are some of the examples of best open source Learning Management Software.
What are the Best Learning Management Software: Adobe Captivate Prime, Google Classroom, Docebo LMS, The Academy LMS, Agylia, Absorb LMS, NEO LMS, D2L Brightspace LMS, Instructure Canvas LMS, Schoology LMS, Talent LMS, Edmodo LMS, iSpring Learn LMS, Moodle, GnosisConnect, Dokeos, LearnUpon, Litmos LMS, Administrate, Axis LMS, SmarterU LMS, Thinking Cap, Grovo LMS, ExpertusONE are some of the examples of best Learning Management Software.
What are Learning Management Software?
In the early days, Learning Management System software was largely used in learning institutions but has become a powerful tool for consulting companies that specialize in staffing and training, extension schools and any corporation looking to get a better grasp on the continuing education of its workforce.
Learning Management System software are used to help in streamlining information between educational institutions and students over the internet allowing for increased learning capabilities that are more accessible to the general public.
Learning Management System software is one of the relatively few affordable types of software that make blended learning possible allowing you at the same time to prepare remote teams and to monetize your efforts regardless of where you are located.
You may like to read: How to Select the Best Learning Management Software for Your Business
Learning management software comprises a document management component and communication capability allowing teachers to upload course files such us rubrics, assignments, calendars and grade books.  In addition, Learning Management System software works together with other educational platforms such us Student Information systems (SISS) to deliver e-learning solutions.
Quality Learning Management System software contains self-registration portals to facilitate access for all interested learners where you are able to understand their background and their interests, online lectures, workshops and live courses are made possible for remote attendees where they can make contributions and efficiently rewarded for their performance.
Other Learning Management System software components include rosters, document management, assessment and testing, grading and scoring etc. The main idea of developing learning management system was to bring training materials together in a single library and users are provided with the unlimited possibility to access them.
Learning Management System software benefits include organizing and securely stores big data that allows you to gather all big data in one location making it easier to maintain and update your learning materials. It also monitors learner progress and performance, most of Learning Management System software platforms features built-in reporting and analytics program meaning you can identify patterns and trends since many of these tools provide data visualizations, such as graphs and charts.
Learning Management Software improves resource allocation that you can identify aspects of your online training program that aren't meeting expectations. Poor learner engagement is usually an indicator that you need to re-evaluate an online training module or activity.
Top Free & Premium Learning Management Software
Adobe Captivate Prime, Google Classroom, Docebo LMS, The Academy LMS, Agylia, Absorb LMS, NEO LMS, D2L Brightspace LMS, Instructure Canvas LMS, Schoology LMS, Talent LMS, Edmodo LMS, iSpring Learn LMS, Moodle, GnosisConnect, Dokeos, LearnUpon, Litmos LMS, Administrate, Axis LMS, SmarterU LMS, Thinking Cap, Grovo LMS, ExpertusONE are some of the Top Learning Management Software.
1
Adobe Captivate Prime is a next-gen Learning Management System (LMS) that delivers personalized learning experiences across multiple devices. Align all online and offline enterprise-wide learning initiatives to skill, upskill and reskill your employees. Track all training activities — offline and online — using a single platform. Get visibility into organization-wide learning programs, including eLearning courses, video- and mobile-based learning, instructor-led sessions, virtual classrooms, and activity-based learning. Enable your instructors to manage their sessions themselves. Allow them to schedule and reschedule sessions, manage waitlists, mark attendance, accept assignment submissions and score sessions. Use the segregated view to manage internal and external…
2
Google classroom is a tool that streamlines assignments, boosts collaboration and also fosters seamless communication to make teaching more productive and meaningful. With Google Classroom, educators can create classes, distribute assignments, send feedback, and see everything in one place. Instant. Paperless. Educators can set up Classroom in minutes. With Classroom, they can manage assignments and communicate with students and their guardians in one convenient place. Also, Educators can provide instant feedback and track a student's progress to improve performance. Classroom also helps free up educator time so they can focus on what they do best teaching. Teachers and students can…
3
Docebo LMS is an online learning system that incorporates formal and informal learning through three platforms which include Docebo APIs, coach & share and Perform. Docebo system helps to train employees, partners, and customers worldwide. API incorporates gamification, white labeling & customization, languages & localization, automated admin tasks, scalability, certifications, and retraining. The Learning management system helps to organize, track and distribute online courses for formal learning and also supports multiple formats like xAPI, SCORM, and AICC. The coach and share platform incorporates offering mobility, notifications, content marketplace, importing and creating courses, ILT Classrooms, and Extensions. The coach and share…
4
The Academy LMS is a Growth engineering learning technology solution offered by learning technology specialists founded in 2004 and based in Windsor UK. Growth engineering is an online learning technology system that provides solutions through 3 platforms which include: The Academy LMS, Genie, and The Knowledge Arcade. Growth engineering technology aims at eradicating dull online learning and creates fun and creative learning. The Academy LMS provides a system for gamification, social learning, performance centre, reporting, integrations, fully responsive programs and a reward centre. The Genie is a game-based authoring tool and customer e-learning platform. The Knowledge Arcade provides mobile learning…
5
Agylia is a modern learning management system that is mobile, flexible, and global platform. Agylia provides all the advantages needed in offering the very latest technology. Agylia also provides solutions that offer an excellent platform for achieving current and future needs. Agylia provides a good platform for digital learning. Employees are provided with micro learning, eLearning, mobile learning, and support tools all in one fully and powerful branded learner portal. The mobile feature enables learners and students access their digital learning content and the performance support resources they need. The mobile feature provides an excellent platform for offline tracking with…
6
Absorb LMS is a learning management system that uses a HTML5-based and intuitive user interface which adapts and responds to different hardware platforms. Absorb LMS uses a technology that enables students access content such as educational events and courses on traditional phones, computers, and tablets. Absorb LMS provides detailed lessons that contain tasks, quizzes, surveys, videos, documents, and assessments. The learner interface provides learners with an intuitive and accessible experience that will make them want to come back for more training. The learner interface enables flexible configuration that reflect the user's organization brand and emphasizing the training and communication priorities.…
7
NEO LMS is a cloud hosted learning management system for universities, colleges, and other educational institutions that boosts student engagement and makes teaching easier. NEO LMS provides solutions for learning management applications through its user-friendly interface and a complete set of capabilities. NEO LMS is highly customizable, therefore providing a good platform for schools to configure their logo, URL, color schemes, fonts, shortcuts, and terminologies. NEO LMS is provides an excellent platform for students and teachers to share their knowledge by use of the collaboration tools. The collaboration tools also aid communication functionalities and enable better interaction and encourage accountability…
8
D2L Brightspace LMS is an integrated learning management system that integrates education and learning resources with analytics and assessments features to make an integrated e-learning environment. D2L Brightspace LMS simply focuses on accessibility and usability by fusing social tools that create a mobile ready and collaborative experience. The ePortfolio feature provides an excellent platform for managing and following learner development while monitoring progress of the learner. The ePortfolio feature also provides encouragement and facilitation of peer collaboration and sharing of knowledge in every organization. The analytics feature is built in the D2L Brightspace LMS system, therefore enables analyzing the performance…
9
Canvas is the LMS tool that makes teaching and learning easier. This platform is considered as the 21st Century LMS. Adaptable. Reliable. Customizable. Easy to use. Mobile. Time-saving. And, perhaps most importantly, it gets used. That's because it's designed to get out of your way, to let you do your thing. Every last feature, every last interface is crafted to save you time and effort and to make teaching and learning easier. That's why Canvas is adopted faster and deeper than any other LMS. On this tool, Announcements are listed in reverse chronological order with the newest appearing first and…
10
Schoology LMS is a social networking tool and learning management system that enables easy production and sharing of academic content. Schoology LMS provides a collaborative integrated learning experience that makes the traditional LMS more effectual by providing an excellent product that offers a flexible learning platform that streamlines management of content. Schoology LMS uses easy to use and student centric features that engage learners and enables them to share best practices, training content and more on a local and global scale. Schoology LMS platform provides an excellent platform for improving the systematic processes of creation and management of content, recording…
11
Talent LMS is an online learning management system that delivers educational courses or training programs to employees, customers, and partners. Talent LMS helps you to customize your needs, offers an enterprise-friendly LMS, builds eLearning courses in minutes, is always available on the cloud and offers reports that are sensible without hassle. Talent LMS is mobile ready and can work with modern mobile devices and mobile apps for IOS and Android. Talent LMS is complete and powerful with support for SCORM and Tin Can xAPI, notification, course selling, video-conferencing, gamification, an extensible user profile. Talent LMS is easy to maintain and…
12
Edmodo is a platform that lets the user teach more and also learn more. Many teachers use Edmodo to engage students, connect with other teachers and finally involve parents. This tool has quite some useful features which assists the user in different ways. This tool helps you focus on teaching and somehow ignore the paperwork involved. With intuitive features and unlimited storage, quickly create groups, assign homework, schedule quizzes, manage progress, and more. With everything on one platform, Edmodo is designed to give you complete control over your digital classroom. You can seamlessly use google apps for education and Microsoft…
13
iSpring Learn LMS is a cloud-based learning management system (LMS) for employee training. The system is straightforward and user-friendly so you can easily start online learning in one day! The platform is fully integrated with iSpring's authoring tool and delivers an overall solution for creating, delivering and tracking eLearning courses. With iSpring Suite, you can start developing e-courses fast and easy because the software is perfectly integrated with PowerPoint. Just upload your training content, quizzes, video lectures and dialog simulations, invite learners, and keep track of their progress. You can also develop a specific learning path for each department. Detailed…
14
Moodle is a platform which is normally used for learning and designed to provide educators, learners and administrators with a single robust and integrated system to create personalized learning environments. Moodle provides the most flexible tool-set to support both blended learning and 100% online courses. Configure Moodle by enabling or disabling core features, and easily integrate everything needed for a course using its complete range of built-in features, including external collaborative tools such as forums, wikis, chats and blogs. Moodle is usually Committed to safeguarding data security and user privacy, security controls are constantly being updated and implemented in Moodle…
15
GnosisConnect is a learning management system that enables users to access multiple types of learning modalities by using a simple and intuitive interface. GnosisConnect simply provides the best-in-class features for learning management and administration. GnosisConnect provides an excellent platform for onboarding and induction, organizational development, sales enablement, customer and product, leadership and management, and compliance and regulatory. GnosisConnect enables users access video, E-learning, Simulation, PDF, webpage, webinar, podcast, and slide deck anytime and anywhere through any device. GnosisConnect provides an excellent platform for bringing the advantage of cloud technology by allowing users to host unlimited courses and distribute their learning…
16
Dokeos is an effective learning management system designed for high rated companies which adapts to the challenges in the industry like banking & insurance, healthcare, life sciences, manufacturing and training centres. Dokeos has so many features which include training management, progress tracking, progress reports, course catalog, course authoring, skills assessment, skills tracking, group training, game building and competency management. Progress tracking allows you to follow the progress of your course participants through developing and organizing online evaluation. Progress reports includes; data visualization, activity dashboards, scheduled reports, messaging, report Expiry, activity tracking, data Import / export, real-time reporting, skills tracking. Dokeos…
17
LearnUpon is an online learning management system that provides features required to meet the needs of a broad range of institutions and business. LearnUpon enables managers and administrators create and deliver online courses to their employees, partners, and clients. LearnUpon simply provides a powerful learning management system that instantly simplifies online learning. The features provided by LearnUpon provide an excellent platform for achieving eLearning success through engagement with your audience from any device and at any time. LearnUpon provides the course content feature that enables quick and easy creation of courses. The course content feature enables uploading of existing course…
18
Litmos LMS is an excellent, simple, and easy to use learning management system that does not require dedicated training or expensive installations. Litmos LMS provides an excellent platform for enhancing learning productivity as it is hassle-free and less cluttered. Litmos LMS enables creation of interactive courses and implementation of badges, leaderboards, gamification, and other point's features that motivate your team. Litmos LMS provides a customization sensitive system that provides an excellent platform for tailoring learning paths end to end, tailoring employees' curricula along the course sequence, and reporting on any module, separate task, or even module. Litmos LMS also provides…
19
Administrate is an online system that focuses on making your training administration easier and delivering outstanding elearning.Administrate is also software that provides a platform for training providers and their students. It helps companies to manage their business by training the company and their departments. Administrate assists you in keeping your website upto date. The major features of administrate are document management, marketing engine, powerful reporting engine, website integration, event management,activity tracking, widgets, history tracking and team collaboration. With event management, events can be delivered online hence you can book and register your students onto the events and invoice them using…
20
Axis LMS is a powerful and affordable learning management system that provides solutions for companies of any size. Axis LMS is unique as it provides branding capabilities, granular topologies and access rights, social components, configurable events from user actions, and user interface creation. The branding feature provides unlimited branding operations that easily brand the user's courses, content, and portal based on the user's preferences. The branding options also provide users with a complete control over colors, banners and colors. The social feature provided by Axis LMS provides an excellent platform for engaging learners with social learning techniques. The social feature…
21
Smarteru is a platform that provides you with both a learning management system LMS and online training course design. This platform has quite some useful features like: User Management. Manage tens of thousands of users, plus single sign on and user-sync options. There is also Executive Dashboards. Drill down from our real-time dashboards to find the data you need, quick. Reporting: Design custom reports easily with the SmarterU drag-and-drop reporting designer.Training automation: Customize automated notifications to learners, supervisors, and group managers. Ecommerce: Sell your courses and subscriptions online through our ecommerce integration with Shopify, 1ShoppingCart, and Magento. using SmarterU.com as…
22
The Thinking Cap Learning Management System (LMS) targets all the user's training needs across all the user's training devices. The Thinking Cap LMS offers features such as unparalleled branding and segmentation, blended learning, learning paths, superior security and data protection, easy integration and single sign-on and rich reporting. Thinking Cap is an LMS for customers that want to deliver complex learning material, but also want to provide that learning in an easy-to-use system for both learners and administrators. Thinking Cap is easy to use and to set up, but is robust enough to meet all the user's needs when the…
23
Grovo is a platform that makes it fast and easy to get your people the knowledge they need; the moment they need it. You can experience grovo either as a learner, creator or admin. A personalized learner home, available on any device, makes it easy to immediately start learning right where you left off. You can also Engage with bite-sized bursts of rich, interactive content delivered in an immersive lesson player. Also Browse by tag or use our powerful search bar to instantly find the lessons you need, the moment you need them. As a creator, the simple, powerful card…
24
ExpertusONE is a modern and connected enterprise learning management system which leaves far behind the complexities of legacy learning management systems. ExpertusONE applies the simplicity power on all its' platform such that one can deliver a learning experience which is as engaging as Facebook, Twitter and Google. The main features are innovative connections, mobile reporting dashboards, meetings, commerce, gamification, salesforce and reporting inerface and wizard. ExpertusONE provides innovative connections whereby learners can access coursesand videos anywhere anytime with true sync. ExpertusONE also gives a meeting platform which provides excellent state of art meeting and classroom environment including ; both public…
Top Learning Management Software Open Source
Eliademy, Opigno, Forma.LMS, ILIAS are some of the Top Learning Management Software Open Source
1
Eliademy is a platform that allows you to Instantly create and edit online courses, forums and quizzes, share documents and embed any multimedia content straight into your course. Eliademy offers an educational calendar where each student will find all assigned courses, quizzes and deadlines. And to ensure that your class will never miss an important update, the platform offers a news feed and e-mail notification system that everybody can personalize according to their own learning schedule. This platform has quite some useful and efficient features that help you Create a course with all the editing tools you need. What you…
2
Opigno is an an open source e-learning platform based on Drupal that allows the user to manage his or her online trainings and to also efficiently ensure that the employee, student and partner skills remain up to date. Opigno has been acquiring very fast a large number of clients. More than 8000 entities all around the world are trusting Opigno, ranging from small businesses to large multinational corporations and public administrations. Opigno is used by clients in every sector: services, medical, luxury goods, industry, administration. Provides seamlessly embeddable collaboration layers that provide messaging, documents and screen sharing with video conferencing…
3
Forma LMS is an open-source, web-based eLearning platform (Learning Management System - LMS), used to manage and deliver online training courses. used to manage and deliver online training courses. The program was originally developed by Docebo Srl and released under a GPL V. 2.0 license with no licensing costs. Since February 2012 Docebo switched his business model to a commercial cloud distribution, pointing to a different market sector. The original open source version and its community were left abandoned, and so hundreds of companies that adopted this software all over the world. Some of the features of this tool is…
4
ILIAS is a tool that offers flexible online working and learning environment with integrated tools. ILIAS is versatile: Course management, learning modules, test & assessment, portfolios, surveys, wikis and blogs are all built into the core, making ILIAS a "one-stop solution" for your e-learning needs. ILIAS is open source: No licensing fees, ever. Any special requirements can be implemented by our service providers. A voluntary membership to the ILIAS Society is inexpensive and grants you direct influence on the long-term development process. ILIAS is yours: Change its look, implement your preferred learning scenarios, integrate it with your website or intranet,…
What to Choose: Proprietary or Open Source Learning Management Software?
From a buying perspective there are two options based on the source code availability: Open Source Software and Proprietary Software.
Open Source Learning Management Software: Open Source Learning Management Software is ideal when you have a development team available in your company and when you want to try out the product or build new features and functionality on top of it.
Proprietary Learning Management Software: Proprietary Learning Management Software is a good choice when you are looking for an established product, when your requirement is for SAAS product or when you need full-fledged support and when open source standards doesn't matter in your line of business.
You may want to review How to Select Cloud HR vs On-Premises HR Software for Your Business
How about Cloud and on Premise Software
Based on the installation type there are cloud-based and on-premises software systems, with both the systems having equal share of benefits. The cloud software is hosted and managed and maintained on a remote server. It is also referred to as software as a service (SaaS). On-premises software is normally installed and implemented on your company's premises and which need your own IT team to manage and maintain the on- premises system.
Selection of the installation type depends on the needs of your organization. A small company may find the cloud system more appropriate since the cost of installation is lower as opposed to having on-premises system.
You will find free or limited free versions in both the Open Source Software and Proprietary Software.
We recommend determining how the software fits to your business in terms of features, functionality, and business process with a free trial.