Review
iSpring Learn LMS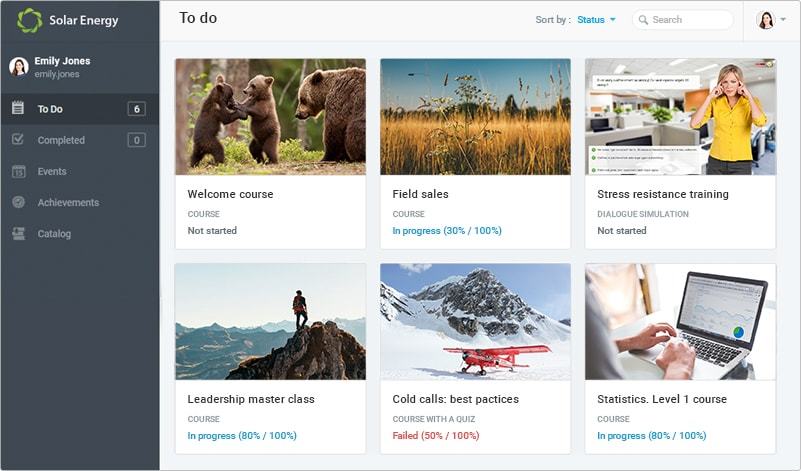 Overview
iSpring Learn LMS is a cloud-based learning management system (LMS) for employee training.
Learning Management System
Corporate Learning Management System
•Unlimited storage space
•Intuitive design
•SCORM-compliant
•Academic Learning
•Corporate Learning
•Learning paths
•Single sign-on
•Scheduling LIVE events
•Asynchronous Learning
•Blended Learning
•Mobile Learning
•Social Learning
•LIVE Videoconferencing / Webinar
•Starter - 14 days free trial
•50 active users - $167 / mo or $1,670 / year
•100 active users - $327 / mo or $3,270 / year
•250 active users - $677 / mo or $6,770 / year
•Small (<50 employees) •Medium (50 to 1000 employees) •Enterprise (>1000 employees)
•Banking, Education, Management, Hospital & Health Care, Human Resources, Manufacturing, Retail
•Business Hours, Email, FAQ, Online Community, Knowledge Base, Live Online, Phone
Desktop, Tablet, Smartphone
What is best?
Fully integrated authoring tool
Handy user management
SCORM-compliant
Intuitive design
Learning paths
Online assessments
Advanced reporting
Certificates
E-commerce
What are the benefits?
Unlimited storage space
REST/ SOAP API Integration
White-labeling
Learning offline with mobile app
Gamification
Variety of supported formats
Email notifications
iSpring Learn LMS is a cloud-based learning management system (LMS) for employee training. The system is straightforward and user-friendly so you can easily start online learning in one day!
The platform is fully integrated with iSpring's authoring tool and delivers an overall solution for creating, delivering and tracking eLearning courses. With iSpring Suite, you can start developing e-courses fast and easy because the software is perfectly integrated with PowerPoint. Just upload your training content, quizzes, video lectures and dialog simulations, invite learners, and keep track of their progress. You can also develop a specific learning path for each department. Detailed statistics allow you to evaluate the effectiveness of your training programs, and keep an eye on the individual performance of each learner.
With iSpring, it is easy to manage your learning activities on your training calendar: live trainings, workshops and webinars. All is organized in one place. Also with the Calendar, you can invite learners to training sessions, remind about upcoming events, and send notification about schedule changes.The iSpring Learn portal is customizable, which means you are able to change the colors and logo and set a custom URL with a few clicks on the dashboard.
iSpring Learn supports SCORM packages (1.2 and 2004), Flash, audio and video content, reference documents, and more. Plus, the system provides unlimited storage so you can upload as many courses as you like.
iSpring provides a mobile learning app for learners who are frequently offline, travel a lot, or have to learn on the go. With the iSpring Learn app, your students can learn whenever and wherever they want from all devices: laptops, tablets, and smartphones. The iSpring mobile app is especially attractive because your learners are able to study offline without losing their statistics.
You may like to read: Free, Open Source and Top Learning Management Software, How to Select the Best Learning Management Software for Your Business and How to Select Cloud HR vs On-Premises HR Software for Your Business
iSpring Learn LMS Features
Unlimited storage space
Intuitive design
SCORM-compliant
Learning paths
Event Calendar
Certificates
E-commerce
Webinars
Gamification
Online assessments
Advanced reporting
Email notifications
iSpring Learn LMS Pricing
50 active users - $167 / mo or $1,670 / year
100 active users - $327 / mo or $3,270 / year
250 active users - $677 / mo or $6,770 / year
iSpring Learn LMS ScreenShots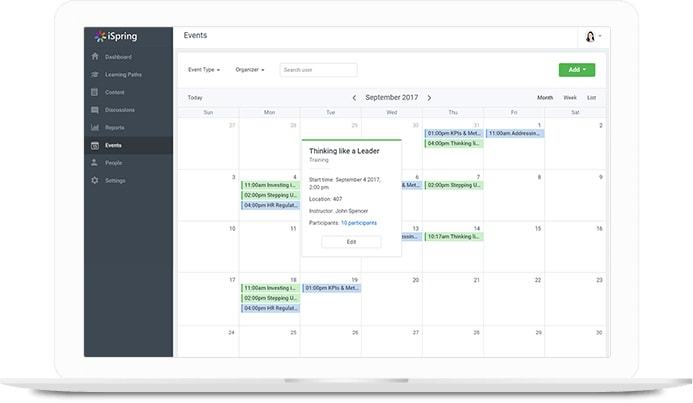 iSpring Learn LMS Videos