Review
The Academy LMS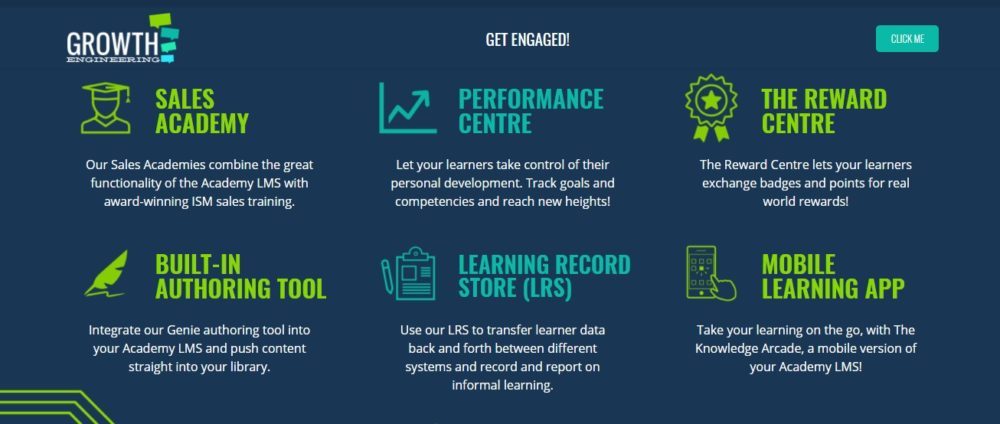 Overview
The Academy LMS is powered by an Engagement Engine! It does everything a regular learning management system does (like host eLearning and videos, assessments, reporting and more), but it also offers so much more.
Learning Management Software
• Assessment Functionality
• Classroom Management
• Mobile learning
• Supported learning
• Epic meaning
Small (<50 employees), Medium (50 to 1000 Enterprise (>1001 employees)
What is best?
• Assessment Functionality
• Classroom Management
• Mobile learning
• Supported learning
What are the benefits?
• Eradicates dull learning
• Creates fun Learning through gamification
• Provides social learning
• Creates epic meaning
• Provides mobile learning
• Has a built in authoring tool
• Can upload courses
• Can change course using the default settings
• Can reuse PPTs, PDFs and videos
• Tests, survey, assignments engine
• Course backup options
• Scheduling live events and learning paths (curriculums)
The Academy LMS is a Growth engineering learning technology solution offered by learning technology specialists founded in 2004 and based in Windsor UK.
Growth engineering is an online learning technology system that provides solutions through 3 platforms which include: The Academy LMS, Genie, and The Knowledge Arcade. Growth engineering technology aims at eradicating dull online learning and creates fun and creative learning.
The Academy LMS provides a system for gamification, social learning, performance centre, reporting, integrations, fully responsive programs and a reward centre. The Genie is a game-based authoring tool and customer e-learning platform.
The Knowledge Arcade provides mobile learning and learning games. The knowledge Arcade is an interesting and effective learning unit which features, mobile first design, learning campaigns, game templates, PVP learning battles, Bite size challenges, among others. Growth Engineering has been developed by a team of superhero hall of fame to make learning fun and enjoyable and helps eradicate dull learning.
Growth Engineering engages it learners through social learning and epic meaning. Social learning incorporates the use of social streams, expert rating and ranking and live charts to build a community and create a learning culture.
Growth engineering epic learning incorporates putting your brand, mission, and values at the forefront of your training initiatives using the systems that have 100 percent customizable solutions. This ensures that the learners feel like they are part of something bigger than themselves and thus generating bucket-loads of epic meaning. Growth engineering helps learners to unleash their inners superheroes. Growth engineering has helped companies like EE, Flight Centre and Hard Rock to change behavior and to drive return on investment.
You may like to read: Free, Open Source and Top Learning Management Software, How to Select the Best Learning Management Software for Your Business and How to Select Cloud HR vs On-Premises HR Software for Your Business