Review
GroSum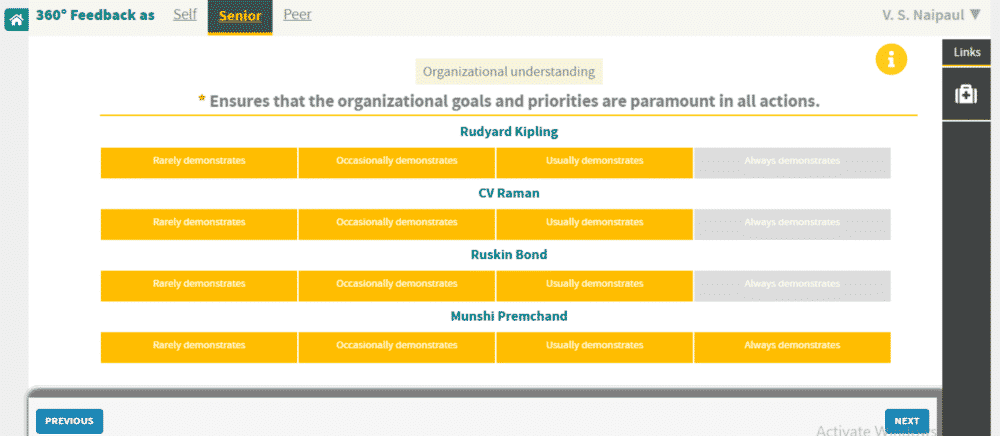 Overview
GroSum helps you manage employee performance through Reviews, 360 degree feedback & planning compensation - pay raise, bonus payouts etc.
HR Performance Management Software
•Instant Feedback
•Check-ins
•Flexible Review Process
•360 Degree Feedback
•Automated Review Letters
•Compensation and Rewards
•Automated Email
Small (<50 employees), Medium (50 to 1000 Enterprise (>1001 employees)
Multichannel support - Ticket Tracking System, End User Reference Guides, Product handholding
Interface in English. Supports multiple language inputs.
India, Middle East, SE Asia, North America
Compatible with Web and Mobile Browsers
What is best?
•GroSum supports any framework for setting employee work goals
•Real-time engagement with employees, colleagues & Managers through checkins & instant feedback.
•Design review forms, flexible workflows, conduct multi-rater appraisals, review acceptance, and access control
•Conduct 360 Degree Feedback programs with detailed personalized analysis for employees
What are the benefits?
•Better engagement with continuous feedback
•A customized Review process for personalization
•Reduced paperwork and time with automated emails, review letters
GroSum is a cloud-based Employee Performance Management solution. GroSum's Employee Performance Management software provides the best tools for Employee Appraisals, Feedback, and Compensation. GroSum helps you manage employee performance through Reviews, 360-Degree Feedback & Planning compensation - pay raise, bonus payouts etc.
Whatever be the performance management process in your company, GroSum has the flexibility to support you. If your culture supports a continuous performance review process based on feedback, GroSum will help you make the process more efficient.
With GroSum Performance Reviews, you can
1) configure Review process with timelines, automated alerts & reminders
2) set employee-wise review parameters with weights
3) choose from Industry standard Goal Libraries
4) set multi-level review & moderation
5) normalize ratings & grade employees
6) based on performance buckets
With GroSum 360 degree feedback, you can
1) let employees choose their 360-degree Feedback reviewers.
2) set feedback forms by departments & reviewer profile
3) seek feedback from Internal-Seniors, Juniors, Peers & External Customers-Vendors & Partners
4) combine with a Performance review process or conduct Feedback independently
With GroSum Compensation Management, you can
1) set Pay Raise & Incentive budgets
2) get an automatic recommendation of increment & payouts based on linear optimization
3) issue Increment/Promotion/Incentive letters as per configurable templates.
4) maintain employee wise compensation
5) structure with Incentive components
GroSum Features
Goals
Checkins
Appraisals
360 Degree Feedback
Grade & Score
Review Letters
Compensation
Analytics
Instant Feedback
GroSum FAQ
What is GroSum?
GroSum is a new age employee engagement platform which automates the Performance Management process. It enables continuous feedbacks on goals, set up flexible review cycles and do compensation planning. GroSum builds comprehensive performance review data for every single employee using Instant Feedback, check-ins, comments on performance measure, inputs on training and development needs. For the HR, GroSum can create personalize Performance Reviews at scale, save time on manual tasks, and focus on training-development plans, compensation planning and succession planning. GroSum is available on mobile too.
How is GroSum different from conventional performance management module in HRMS?
Standard Performance Management module has 'one shoe fits all' approach. Our experience says Performance Management is unique to every organization. So why not create a product that suits everyone's needs? GroSum is flexible to configure any Performance Management process in minutes, be it Balance Scorecard, OKRs, KRAs etc. This coupled with a focus on feedback helps companies to have Performance Management process customized to your needs. You can integrate existing HRMS or ERP system with GroSum for input-output of data.
What is Check-ins?
Check-ins are a continuous conversation between employee and manager on Performance Measures. They can be accessed at any time in a review cycle. Every conversation in check-ins are on employee's objectives, and it can be associated with tag – plan, achievement, challenge, or a red flag. With Check-ins managers and employees can create notes for themselves on performance measures. These conversations, notes are helpful at the quarterly/half yearly./annual review meetings.
What is Instant Feedback?
Giving feedback or getting feedback on the go is done with Instant Feedback. When employees are giving feedback, they can give it to anyone within the organization, tag their Performance Measures. People can request feedback about themselves or on someone else from people. Feedback generated in GroSum is related to goals and competencies. Every employee has their own repository with all feedback from all respondents. At end of every review cycles, feedbacks get automatically attached to employee's review forms, to every performance measure. This helps to have a complete view of an employee's performance in the past months, removing any biases.
How flexible is the Performance Review?
Performance Review in GroSum is flexible to meet the need of every organization. As a Performance Management Manager, you can: Create Balance Scorecard/OKR/KRAs or your own performance metric to set up in the system. Monthly/Quarterly/Half-Yearly/Annual Review Cycle Customized Review Flow: Want to have multiple managers in a review? Or a Business Unit head reviewing the final scores? GroSum supports Performance Reviews Configuration up to 30 different combinations.
Can I run multiple reviews?
Yes! Absolutely. We understand that you might want to run different reviews for different departments, or for different group of companies. You can run multiple reviews, with their own unique configuration, email preferences, reporting.
What is Plan & Schedule?
You can plan and schedule review tasks. For example Set timeline for Goal Setting Set timeline for Self Review, Manager Review, Moderator Review Set time for increment and bonus recommendations by managers
What is One Touch Goal Template?
In GroSum, you can group a combination of Performance Measures (Goals/Competencies/OKR/KRA) specific to employee role in a one-click template. During Objective Setting exercise, with the help of one click, all performance measure related to an employee's role is visible. This helps to save time during objective setting exercise, and also helps the employee and manager to understand expectations related to the employee's role.
Do you have any tool to generate Review Letters?
Review Letters is an inbuilt tool in GroSum, which helps you to create review letters for Performance Review, Performance Review + Increment, Increment etc. Once the Review Letter content (like Mail Merge) is created, you can put employees in different groups. Dynamically all data related to employees will be generated and personalized review letters will be created. With one click, all review letters will automatically go everyone's email.
Does the product offer compensation management?
GroSum's compensation module lets you set a budget for different locations, teams. You can set managers to recommend increment and bonus. Once the workflow is decided, managers/business unit heads can recommend increments within the allocated budget. It comes to the compensation controller to approve increments. Grosum also shows real-time budget use, employee performance, mid-market salary, and an auto recommendation to make the process easier, hassle-free for you.
What kind of reports I can generate from the system?
You can download reports related to Employee's Overall performance, individual goals, development plans, promotion recommendation.
Does GroSum provide Analytics?
GroSum analytics help you to do succession planning, plan training development program, find out hidden strengths, blind spots for employees. Analytics is available at manager level, Business Unit head level.
Do you offer a 360 Degree Feedback Platform?
Yes, we do have a 360 Degree Feedback platform. The platform is customized for the type of questions that can be set, type of rating scales, email notifications and a personalized report for every employee. The platform can be used independently and is perfect for mid and senior level management.
I want to run a quarterly review. Is that possible?
Yes, with GroSum you can configure to run monthly, quarterly, half-yearly reviews.
My organization's culture is new to the concept of continuous feedback. How can GroSum help us here?
People in GroSum can use Instant Feedback to give feedback to anyone in the organization or get feedback from anyone. Instant Feedback can be accessed at any time and is not dependent on any review process. Employees also do have the option of giving feedback as anonymous.
I want my employees to continuously engage with their managers. How will you help?
Check-ins can be used by employees to engage with their managers. The engagement will be on their goals. These conversations can be about achievement, plans, challenge or a red flag. The conversation can be initiated by the employee or the manager and can be done at any time.
But will the data from continuous feedback visible in Review forms?
Instant Feedback, check-ins all get, file uploads, comments get attached to Performance Review forms. All the data helps to make the formal review more interactive and not a form filling exercise. Employee Development plans can be formed based on interaction over the past 3/6 months.
Apart from feedback, can manager and employees have a real-time update on Performance Measures?
Yes! GroSum's task management, helps employees update their goal progress on regular basis. The updates are available to managers on a real-time basis. For every goal, people can ask for feedback, from their colleagues. Managers can also create a goal for a team to achieve and see the progress in real time.
What about email notifications? Are they automatic?
For every task in GroSum, there are automatic email notifications. The body of these emails can be edited by the tool administrator. You can also days for reminder alerts: how many days before you want the mail to go and how frequently the mail should go.
Can Managers recommend Training and Development Programs?
Every review form has a training and development section. Managers can recommend training and development program to be carried out during the objective setting or manager evaluation stage. The training program recommendation can be tagged to a Performance Measure.
How reliable is GroSum Support?
Multichannel support ensuring high quality customer service & satisfaction – We are your business partner in the truest sense. Ticket Tracking System – Dedicated Support Portal to raise support tickets & track for timely resolution. End User Reference Guides & Take a Tours – Reference Guides & On Screen Take a Tours help users quickly understand the workflow & the capabilities of the solution.
How secure is customer data?
Application security compliant with OWASP 2015 Security Risks. 2-way Advanced Encryption Standard (AES) 256-bit encryption to secure your confidential Data. HTTPS protocol enabled for secure data exchange Data Centers in Europe, physically protected from unauthorized access, damage, and interference.