Review
Cezanne HR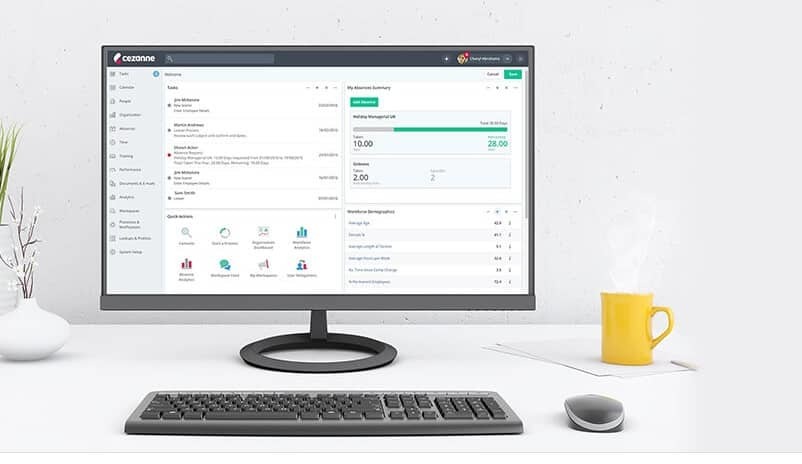 Overview
Cezanne HR is a comprehensive, configurable and cost-effective HR software system for mid-sized and growing UK and international companies.
• People Management
• Absence Management
• Performance Management
• Career and Succession Planning
• Time Tracking
• Desktop and Mobile Access
Small (<50 employees), Medium (50 to 1000 Enterprise (>1001 employees)
What is best?
• People Management
• Absence Management
• Performance Management
• Career and Succession Planning
• Time Tracking
What are the benefits?
•Comprehensive, configurable, cost-effective and GDPR-compliant human resources software
•Takes the pain out of HR management, and helps everyone to work smarter
• Desktop and Mobile Access
Cezanne is anHR Solutions software that supports various HR functions for medium and large businesses. The core component of this HR platform is its people management module that allows HR to have a centralized employee database. It also ensures legislative requirements are met and kept to date with its provided templates, forms and calendar reminder function.
Data is organized and allows users to access and update employee information, keep historical data and align the HR data management structure to the company organization chart. This module also allows HR to work through multiple deployments according to defined privileges, cost centers, work patterns and other factors. It also provides a module for managing various working shifts and other scheduling needs.
Cezanne also has an integrated absence management module with an included calculator for entitlements, customizable rules and approval workflows and visibility of absences at different levels. Together with its timekeeping module, Cezanne allows for more efficient and accurate processing of approvals and payroll.
As Cezanne supports centralized data management, it also includes a module for keeping performance data and reviews. It has customizable forms, supports a 360 degree or multi-rater feedback system and provides a simplified view of performance trends, appraisals and as well as documented commitments. This is then aligned to its Career and Succession Planning which also maps out important positions in the company, potential successors, recorded employee preferences for career paths. It is able to track then employees who are due for promotion or are due to be moved based on performance tracked and tenure as well as mitigate risks for unfilled posts that are key to the organizations function.
You may like to read: Free and Open Source Human Resource ( HR) Software, How to Select the Best Human Resource Software for Your Small Business and Human Resource Software for Small Business