Review
Talent LMS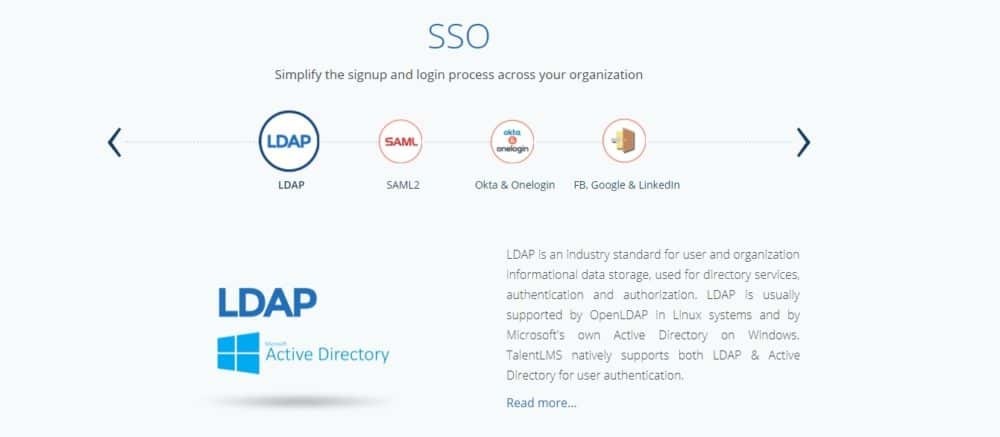 Overview
TalentLMS has the necessary inbuilt tools that help everyone involved. Ranging from yourself, your students as well as the IT department, all users can access the portal with ease and convenience.
Learning Management Software
• Standard documents support
• Re-purposing content support
• Reporting
• Tests & surveys
• Certifications
• Gamification
• Discussions
• Sub-portals
• Branding,
• Integration
• Scorm & Tin Can xAPIs
• Rest API
• mobile App
• Free
• Upgrade to Small $29/month
• Basic $99/month
• Plus $199/month
• Premium $349/month
Small (<50 employees), Medium (50 to 1000 Enterprise (>1001 employees)
What is best?
• Standard documents support
• Re-purposing content support
• Reporting
• Tests & surveys
• Certifications
• Gamification
• Discussions
• Sub-portals
What are the benefits?
• Builds reports and analytics
• Builds e-learning courses faster
• Customizable to your needs like your domain, logo and theme needs
Talent LMS is an online learning management system that delivers educational courses or training programs to employees, customers, and partners. Talent LMS helps you to customize your needs, offers an enterprise-friendly LMS, builds eLearning courses in minutes, is always available on the cloud and offers reports that are sensible without hassle.
Talent LMS is mobile ready and can work with modern mobile devices and mobile apps for IOS and Android. Talent LMS is complete and powerful with support for SCORM and Tin Can xAPI, notification, course selling, video-conferencing, gamification, an extensible user profile.
Talent LMS is easy to maintain and is built with a preference for conventions over configurations which means you get more time to deliver online training with less time to configure. Talent LMS is an intuitive platform and quick to set-up platform which allows the teams around the world to access up-to-date online courses seamlessly without the need to install a software.
Talent LMS offers the best training solutions for all industries including Telecommunications, Aviation, Franchise, Call Centres, Information Technology, Education, Retail, Food & Beverage, Healthcare, NGOs, Automotive, supply chain defense, Real-estate, Hospitality among others. Talent LMS helps in course management through programs like learning paths, content friendly, assessment engines, surveys engine, Scorm, and Tin Can (Xapi) and files repository.
Talent LMS helps in learning delivery which is done through blended learning, gamification, E-commerce, Rich communication tools, certifications, Video conference support. Talent LMS helps to produce enterprise-ready products through reporting, branching, user types, Mass action, courses marketplace, single sign on, API, extensible profiles, intergrations and security. Talent LMS white-labeling is customizable, themeable and has a homepage builder. Talent LMS system has a user interface, is accessible, mobile, has perfect web standards, is multilingual and has an impeccable infrastructure.
You may like to read: Free, Open Source and Top Learning Management Software, How to Select the Best Learning Management Software for Your Business and How to Select Cloud HR vs On-Premises HR Software for Your Business