34 Free, Open Source and Top Enterprise Resource Planning (ERP) Software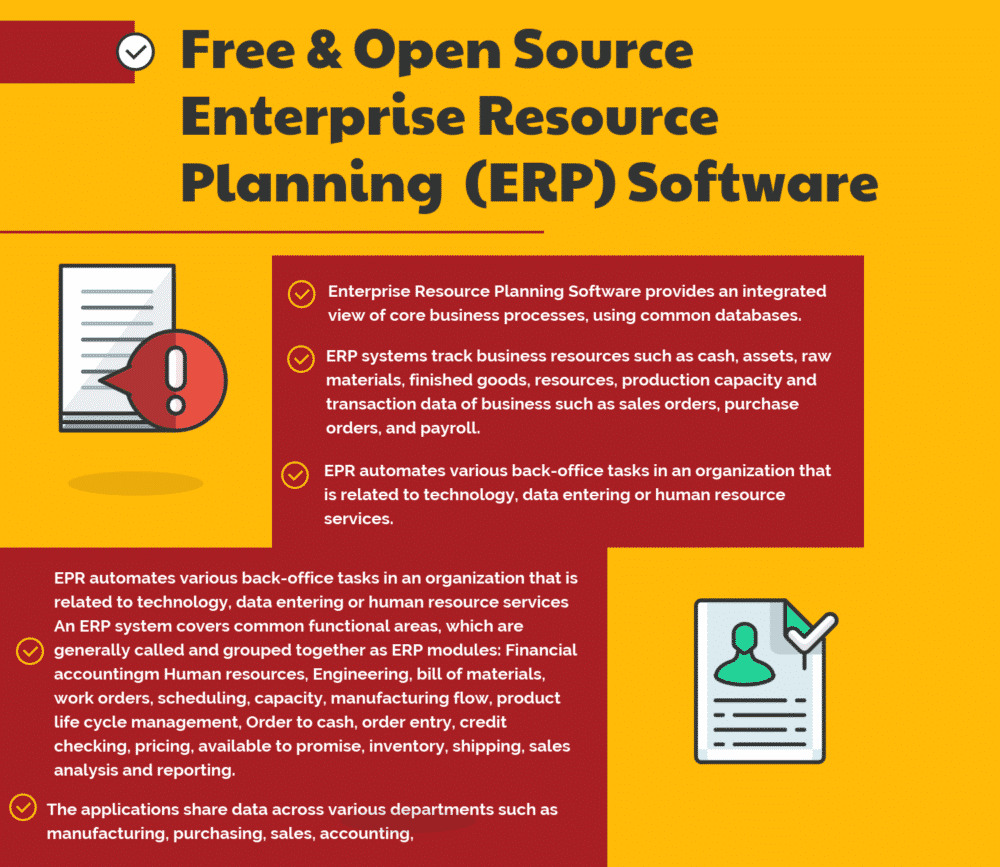 As a business grows, the workload on the managers continues to grow. In a small enterprise, the administrators can function with spreadsheets and emails but as the business expands, they eventually become tedious. Sometimes as different personnel focuses on the processes, they may be unable to keep up with customers' demands, which may derail the business growth.
That is where and ERP system is effective. An ERP software assists with processes such as planning, purchasing, sales, accounting, and marketing. It does so by integrating these processes into one platform thus helping the organization maintain its competitive edge.
In addition, an ERP system makes it easy for different department in an organization to cross-share information and communicate with the rest of the company. Investing in an Enterprise Resource Planning (ERP) is very important as it will bring all the different processes in an organization into one single software.
Enterprise Resource Planning Software provides an integrated view of core business processes, using common databases. ERP systems track business resources such as cash, assets, raw materials, finished goods, resources, production capacity and transaction data of business such as sales orders, purchase orders, and payroll.
The applications share data across various departments such as manufacturing, purchasing, sales, accounting, etc. ERP systems include the characteristics such as an integrated system, operates in (or near) real time with a common database that supports all the applications and a consistent look and feel across modules.
What are the Top Open Source Enterprise Resource Planning (ERP) Software: Odoo, iDempiere, Dolibarr ERP/CRM, Apache OFBiz, Open Source ERP, ADempiere ERP, EasyERP, BlueSeer, Compiere, webERP, Metasfresh, FrontAccounting, SQL-Ledger, ERPNext, inoERP, Tryton, Opentaps, Axelor, Adaxa Suite, OpenZ, ERP5, Kuali, JFire, Scipio ERP, LedgerSMB, OpenEMIS, VIENNA Advantage, Openbravo, PhreeBooks, Moqui, xTuple PostBooks, IntarS some of the best examples of Open Source ERP Software.
What are the Top Free Enterprise Resource Planning (ERP) Software: Herschel ERP, Helium ERP are some of the best examples of Free ERP Software.
What are Enterprise Resource Planning (ERP) Software?
ERP, or Enterprise Resource Planning, integrates all the processes in an organization such as accounting, human resource, sales, support, inventory and customer support. It unifies all these processes into a single system.
ERP provides a centralized database for all the processes and makes administration of processes easy. It collects, stores and manages different data from the various business unit. Likewise, ERP automates various back-office tasks in an organization that is related to technology, data entering or human resource services.
ERP software is made up of core modules which helps the system focus on various business processes such CRM and supply chain management. The main purpose of an ERP in an organization is to enhance efficiency, improve collaboration across various business units and streamline processes.
You may like to read: Top ERP Software,  Top ERP Software for SMB, Top Cloud ERP Software, ERP Software for Large Business.
ERP is a software that can be easily integrated into any business, whether large or small. It can be customized to meet any business processes. However, some of the features that are common in most of ERP systems are:
Top Open Source Enterprise Resource Planning (ERP) Software
Odoo, iDempiere, Dolibarr ERP/CRM, Apache OFBiz, Open Source ERP, ADempiere ERP, EasyERP, BlueSeer, Compiere, webERP, Metasfresh, FrontAccounting, SQL-Ledger, ERPNext, inoERP, Tryton, Opentaps, Axelor, Adaxa Suite, OpenZ, ERP5, Kuali, JFire, Scipio ERP, LedgerSMB, OpenEMIS, VIENNA Advantage, Openbravo, PhreeBooks, Moqui, xTuple PostBooks, IntarS are some of the Top Open Source ERP Software.
How to Select the Best ERP Software for Your Small Medium Business   How to Select the Best Enterprise Resource Planning (ERP) Software for Your Business
1
Odoo is a complete open-source integrated business-apps suite that covers all your business needs. Odoo main apps includes Website Builder, e-Commerce, CRM, Accounting, Project Management, Warehouse Management, Manufacturing, Human Resources and Marketing. It offers a unique value proposition giving you all you need within a top notch user experience. Its open source structure has enabled so many developers to build hundreds of apps in a few years. Odoo's framework is founded on a strong technical structure that provides top of the range usability that scales across all apps. With the enterprise website builder, you can build your website in a…
2
iDempiere Business Suite, also known as OSGi + ADempiere, is a mid-tier open source Enterprise Resource Planning (ERP) software. It also features a Customer Relationship Management (CRM) and Supply Chain Management (SCM) system. It is licensed under GPL version 2 and was developed from iDempiere which was created from Compiere. iDempiere is a community driven open source project. It heavily depends on community of developers, implementors and end-users for its architectural design, financial donations, code contributions, documentation, testing, and support. It's free to download, develop and put into production. It is written in Java and runs on a PostgreSQL database.…
3
Dolibarr ERP & CRM is a modern open source software package, licensed under the GNU General Purpose License 2.0, and helps manage your business activities and projects effectively and efficiently. It is written in PHP and uses MySQL database for data storage. It works with all PHP configurations and does not require any additional PHP module. Dolibarr's aim is to create an application that is easy to develop, easy to install, and easy to use. With Dolibarr, you are able to set up the application to your needs by enabling only your preferred business management features. The features and modules…
4
Apache OFBiz is an open source product that is purposefully designed for the automation of enterprise processes that includes framework components and business applications for ERP (Enterprise Resource Planning), CRM (Customer Relationship Management), E-Business / E-Commerce, SCM (Supply Chain Management), MRP (Manufacturing Resource Planning), MMS/EAM (Maintenance Management System/Enterprise Asset Management). The Apache OFBiz project is part of The Apache Software Foundation and it is licensed under the Apache License Version 2.0. The initials OFBiz stand for "Open For Business." Apache OFBiz provides a foundation and starting point for reliable, secure and scalable enterprise solutions. Companies can use it out-of-the-box, customize…
5
The Open Source ERP is a web based ERP which contains a web interface for administration of the system and an active directory based on Samba resp., a groupware based on Sogo. The Open Source ERP offers features such as active directory, groupware Sogo, system administration, customer management (CRM), order management, delivery management, warehouse management, inventory management, personnel management, work time recording, work time planning, document repository with version control, webdav, webcal, webcard, mail archiving, customizable and HOAI. The Open Source ERP can be used as SBS for sharing data via Webdav and SMB and administrate website based on Apache.…
6
ADempiere is an open source business solution with a high-quality application suite which is community developed. The program combines ERP, CRM and SCM support for business processes and is well tested and referenced by a growing number of users with a maximised adoption rate to its setup and howto guides. The software is a globally acknowledged package which offers up-market value and is licensed under the GNU (General Public License). The License was created in September 2006 after a long running disagreement between the developers of Compiere, the community and sponsors that formed the project. The disagreement created a fork…
7
EasyERP was formed in 2014 as open source. It contains CRM, HRM, Purchases, Inventory, Expenses, Reports, Accounting. EasyERP is open-souce software for small and medium business that helps you grow up. EasyERP application contains all necessary functionality required for CRM and allows you keep the finger on the pulse of sales in your company, view the most important information on dashboards, check information about all incoming leads, track how leads are converting into opportunities. EasyERP is easy customizable, user friendly, intuitive interface, fast, flexible and configurable, scalable and extandable. EasyERP web application is connected with popular eCommerce platforms: Magento, Shopify…
8
BlueSeer is an Enterprise Resource Planning or ERP package that is typically used in the area of manufacturing, both small and medium size businesses. It does not come with any cost 100- no trial fee, no registration fee, and truly free from any charge. This gives manufacturers a good alternative to the costly commercial ERPs on the market today. BlueSeer was primarily developed for companies specializing in manufacturing. Its goal is to give these manufacturing companies the basic elements that are necessary for default installation for them to operate without any issues. It allows them to customize and manage their…
9
Compiere is a cloud-based ERP software and Customer Relationship Management (CRM) system that provides a low-cost and functional solution for businesses, government agencies, and non-profit organizations. It is provided by Aptean and licensed under the Gnu General Public License (GPL) Version 2.0 and has an enterprise edition under a commercial license. Compiere solution has been modeled to be easy to acquire, easy to implement, and Easy to adapt and customize. Compiere's innovative design allows you to easily extend its core functionality to fit your specific needs avoiding expensive and tedious upgrades. Its Automated Upgrade Technology enables seamless migration to new…
10
webERP is an open-source ERP system providing best practice for multi-user business administration and accounting tools over the web. All processing is done on a web-server with no installation required and so requires only a web browser and a PDF reader to use. It is available as a free download to use with any web-server that can run PHP modules and it's easily accessible for code development. WebERP has been designed and developed with specific goals since its inception. These goals include; fast, web-based, integrated business administration software that is fast and efficient, a platform independent of proprietary technologies, and…
11
Metasfresh brings with it all the features and benefits of an open source software package. It has been enhanced consistently to meet the demands of the market. Currently, it offers services in the areas of quality assurance, warranties, training, and planning. It has become truly powerful that it had been recognized as one of the best open source software solutions in 2016. The said innovation recognition was given by Initiative Mittelstand. It initially qualified as finalist, and then later got the award for its continuous commitment to innovate and offer the best service and features to its clients. Metasfresh promotes…
12
FrontAccounting ERP is a free, downloadable web-based accounting system designed for small and medium businesses. The software allows users to manage their accounts online whether it be for purchase orders, accounts payable, sales orders, deposits, customer invoices or credit notes. FrontAccounting ERP can be accessed from anywhere in the World and different companies can be set-up simultaneously. The software is a multi-user system, supports various languages and can handle a number of currencies, and subscription for remote accessibility is low-cost for open source accounting. FrontAccounting ERP comes with flexible tax configuration tools and works with all banking and general ledger…
13
SQL Ledger is a web based ERP system that runs on any NIX, Mac, or Windows platform. Data is stored in SQL database server so that the displayed of any text or GUI browser can be uses. It is freely available an written in an easy readable perl code. There is intuitive interface so that the learning curve is kept to a minimum. It support foreign languages and no special programs is required make changes or add a new language. Installation takes only a few minute bit it is easy to do. It has a lot of features which makes…
14
ERPNext is a web based accounting tool which can be used on a wide range of platforms and devices including Linux, Mac and Windows. It has the ability to manage operations related to sales, purchases, stocks and accounting, whilst tracking business operations in one place. ERPNext gives the user the ability to bill customers and record supplier's invoices in multi-currency with multi-country support. The system uses a variation of powerful tools to track payments, manage tax calculations, budget purchases and distribute funds and cost centers with a built-in mechanism for bank and payment reconciliation. The software includes a number of…
15
inoERP is an open source online based enterprise management system built by using open source technologies and it wide range features makes it special and suitable for running various kind of businesses. This project software can be used by finance, for billing and coating their products an services, sales distributors, manufacturers for managing cost, service contractors and human resource employees to structure their works. It special features comprises of it dynamic pull based system, which is an advanced version of pull system that encompasses the best characteristics of traditional pull system and MRR. This product also include an inbuilt drag…
16
Tryton is a 3-tier application platform licensed under GPL-3, written in Python, hosted on a PostgreSQL database engine, and owned by Tryton Foundation, a private foundation registered under Belgian law. It is a high-level open-source Enterprise Resource Planning (ERP) application platform for small and medium-sized enterprises (SMEs) and other organizations to maintain and to optimize business processes. Tryton's major benefits, as the core base of a complete business solution, are its capability of providing modularity, scalability and security. Tryton Kernel, the core of Tryton, delivers all the essential functionalities of a secure application framework like users management i.e. authenticaction, control…
17
opentaps is another type of open source or free ERP and CRM software. It is an application suite that is fully integrated to let you experience a high-quality open source software that will help you handle you your business more efficiently. Currently, opentaps provides support in the fields of Customer Relationship Management or CRM, ecommerce, Financial Management, Supply Chain Management, and Warehouse and Inventory Management. Because of this wide coverage, this software can be used regardless of what business you are in. Whether you are a distributor, manufacturer, retailer, e-tailer or whatever your profile is, you can use opentaps in…
18
Over the years, Axelor suite has turned into a reliable and powerful open source ERP solution. It can be modified to make it suitable for your business and meet its requirements. Its flexibility to respond to the ever-changing demands of your business has made Axelor stay in the game despite the stiff competition on the market. Businesses can be very predictable as the customer expectations and needs can change all the time. The ability of a business to cope to these changes will define its stability and Axelor can play an important role in it. Axelor is free and open…
19
Adaxa Suite is an ERP open source software that masters the core functions of a business regardless of its business or charter. The program is organized to map into the typical business processes and provides a complete, integrated unitary system. Features of the software cover planning supply chain management, customer relationship management, financial performance analysis, integrated point-of-sale integrated and webstore asset management. The quotation system can be operated for sales order management, requisition to pay for processing invoices and received purchase orders. Adaxa Suite has an automated system which provides functions to allow for reconciliations. Another functionality covers costing and…
20
Open source ERP system OpenZ offers with its range of functions and modules everything for a professional and cross-sectoral use in companies of all sizes. The open source ERP system OpenZ offers a range of functions and modules everything for a professional and cross-sectoral use in companies of all sizes. The customers use OpenZ to efficiently manage your entire enterprise. OpenZ contains modules for merchandise management, materials management, production, projects, finance and online trading. The system is completely web-based and allows a location-dependent deployment.The Standard modules include Financial accounting, asset accounting, payment transactions, Warehousing, warehouse management, material planning, Purchase, goods…
21
ERP5 is an open-source software solution who provide an accounting and finance framework. Some of the key functions are a document management system, multiple business templates, web publication system, ingestion system and a SyncML tool to synchronizes data. The business templates are a convenient way to exchange and distribute applications within the ERP5 framework, the collection of ERP5/Zope objects are ZPT templates including, formulator forms, portal types and Python scripts. The trade business template used to create and manage customer and supplier orders and can be designed from scratch. The software includes a document management system which is useful for…
22
Kuali is a set of open source modular components used to build Kuali applications. It is created for institution use, to quickly build powerful applications with online forms and interface. It is used for group management, file uploading, forms creation, sharing settings, workflows and receiving notifications. This Software is easy to use. It is designed to manage amazing complex projects. Kuali is flexible and is used by most Colleges and Universities. Kuali delivers administrative software using modern software as a service technologies which are built specifically for higher education to streamline process and significantly decrease administrative cost. It helps in…
23
JFire is a trading platform including ERP, CRM, accounting (full double-entry) and cross-organisation-trading written in Java based on J2EE, JDO and the Eclipse RCP. Since November 2009, there is a stable JFire release containing many modules, e.g. for user and access rights control, accounting, store management, direct online trade with other companies or end-customers (e.g. via a web shop), an editor for interactive 2-dimensional graphics and other useful plugins. A reporting module which is based on BIRT allows for the editing and rendering of reports, statistics and similar documents (e.g. invoices). JFire consists of two parts - the server and…
24
SCIPIO ERP is a full business solution based on Apache OFBiz, a wide range of business applications is readily available – free of cost.SCIPIO ERP offers: an advanced eCommerce Solution, a product & catalog management application, promotion & price management, order management, customer management, warehouse & facility management, fulfillment, accounting, manufacturing management. With its great features, Scipio can be considered as a great foundation for all businesses out there. It can be effective in addressing numerous business needs and in achieving great results in the end. Scipio ERP is a cost-efficient software because of the way it has made development…
25
Ledger SMB is an open source ERP software program that gives businesses opportunity to manage their operations, track invoices and payments, inventory and lots more from a single application in a simpler way. the major important of using this program is that; it provides short ramp-up times due to a simple powerful user interface. It easily integrates with other businesses applications through open architecture, It customizability and supporting completion builds the software around your business and not the other way round, and it also opens community of consultants and service providers. There are series of built-in modules which make it…
26
OpenEMIS Core is a sector wide Open Source Education Management Information System (EMIS) that facilitates the collection, processing and management of education information. OpenEMIS Core is a customizable web application that supports the day-to-day activities involved in managing a sector wide education system. OpenEMIS initially developed by UNESCO, is an Open Source information system devised to collect data on schools, students, teachers and staff. The key features are a royalty-free program with open source, customizable system to meet specific education needs and requirements with multiple language support. The software runs offline on a desktop computer, on a local network, or…
27
VIENNA Advantage Industry-specific application designed to realize strategic goals to suit a range of businesses. The application has a number of ready-made industry templates created to reduce implementation costs and time. The HTML5 User Interface runs on all mobile devices with the option to choose from either a private cloud or share within a secure cloud environment. VIENNA Advantage has a self-configurable management dashboard tailored for business figures. The workflow management tool is easy-to-use without the complexities of coding allowing component development, and utilizes a data dictionary. The ERP functionality securely integrates a Document Management System, components are administrated by…
28
Openbravo is a global retail management solution provider. It helps midsize and large retailers around the globe to successfully execute and manage their business strategies. Its major values are collaboration, passion and diversity. Openbravo is committed to providing; the greatest choice for its paying customers, the most freedom for its open source community, and the most opportunity to its partners. It aims to achieve this through its two primary complementary software licenses which comprise one open-source license and one commercial license. Openbravo's community includes thousands of open source developers, ERP consultants, and business partners, all who collaborate with its development…
29
PhreeBook, which is formerly known as PhreeDom, is a modular ERP web application for small businesses that can track inventory, accounting, contracts, check writing, bank account reconciliation, and more. The purpose of this application is to provide the small-business community with a free multi-language end-to-end enterprise management tool. This appliances includes; Base Operating System ( Detrian GNU/Linux 8, Jessie), Building formats, which deploys on bare metal, virtual machines like Openstack, VMWare, VirtualBox, OpenVz, KVM, and in the cloud. It has ISO images, general installable live CD which can be installed anywhere. It has virtual machine images which is used to…
30
Moqui is a seamless and integrated enterprise-ready framework that has been designed to build automation systems and applications that are based on Java. It has numerous tools that are necessary to perform database interaction, scripts, file/resource access, localization, security, caching, multi-tenancy, searching, business rules, logging, workflow, templates, and integration. Moqui helps a user build applications fast and scale them, especially the complicated ones. Its efficient tools make using various applications easy to use and fast to develop. This framework also allows users to control data using a universal data model or the Mantel UDM, which make it easier to look…
31
xTuple Postbook is an open source ERP program designed for sales, accounting, operations and CRM, all these in a single system. It is a fully featured, fully integrated business management system. It was built to run in the cloud or on a local server and provides the ultimate in power and flexibility for a range of business and industries of any size. It helps organization gets started with xTuple business management software to run the entire business which include; accounting, customer relationship management, manufacturing, inventory purchasing, distribution and delivery, and more. It main features comprises of Accounting, which includes general…
32
IntarS is a free and fully operational business software that has been designed for small and medium size businesses that are in the sectors of trade, service, and production. It was derived from a technology that was developed by IntarS Unternehmenssoftware GmbH, which started in 1999. Since then, this software has helped several companies in many areas such as merchandise management, enterprise resource planning or ERP, customer relationship management or CRM, and production planning and execution. All these solutions are available in one software package offered by IntarS. This is proof as to how powerful IntarS software is. But the…
Top Free Enterprise Resource Planning (ERP) Software
Herschel ERP, Helium ERP are some of the Top Free ERP Software.
1
Herschel ERP is an open source software that gives you a way to easily control your business and every aspect of it such as inventory, purchasing, warehouse, sales, manufacturing, kitting, and many others. Unlike other software packages, Herschel ERP is very easy to install. It presents a quick and simple set up guide that shows a detailed step that you should follow during installation. This installation process is certainly stress-free and a lot of consumers find this beneficial. As such, Herschel has already attracted more than 1,000 users to date and it is still counting. Herschel ERP also offers business…
2
HELIUM V combines the requirements of SMEs with ERP, CRM, BI, DMS solutions in one system. HELIUM V has been developed from the needs of purchasing and manufacturing, is familiar with the everyday challenges of manufacturing SMEs and provides tailor-made solutions for all business processes. HELIUM V is the tailor-made software for enterprise resource planning (ERP) in SMEs. With our optimized toothed module system you can manage all business areas with only one complete solution. From purchasing to sales through the production, production and time recording as well as financial accounting, HELIUM V networks your entire company. HELIUM V fulfills…
You may like to read: Top ERP Software,  Top ERP Software for SMB, Top Cloud ERP Software, ERP Software for Large Business.