Review
Recruiterbox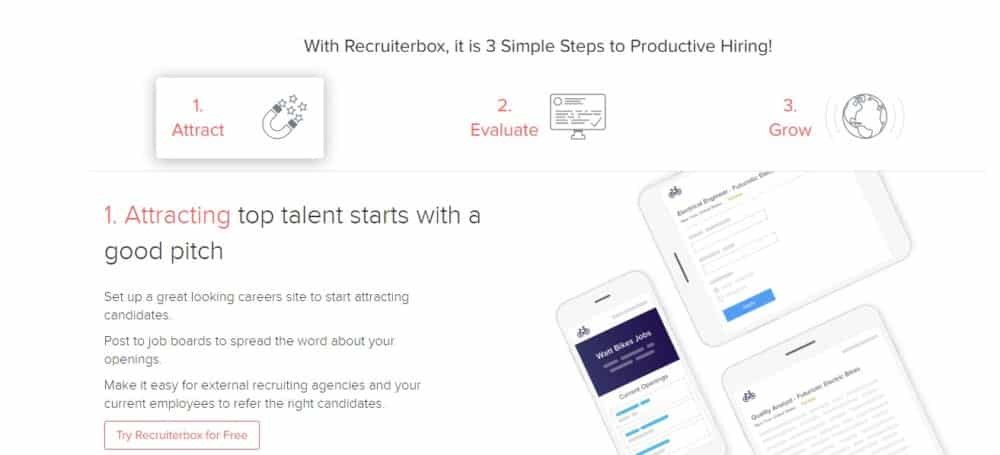 Overview
Recruiterbox is the easiest way to receive and manage the hiring and applicant process. It is more efficient than email and excel documents, simpler than any other recruitment software.
Applicant Tracking Software
• Effective sourcing
• Designed for collaboration
• Productive interviews
• APIs & Integration
• Candidate Experience
• Sourcing Candidates
Small (<50 employees), Medium (50 to 1000 Enterprise (>1001 employees)
What are the benefits?
•Create jobs once. Update everywhere
•Structure your recruitment process
•Assign responsibilities to your team
•Customized questionnaire for applicants
•One stop for candidates from all sources
•All recruitment information in one place
Recruiterbox is an Intuitive software, combined with outstanding service for Growing Businesses .It can attract, evaluate & hire amazing talent for your company. With Recruiterbox there is an automated Sourcing from career sites and recruiting agencies.
This effective sourcing leads to Customizable career sites, fully-integrated workflows with external recruiting agencies and auto-created candidate profiles from emails & uploads. This also leads to one-click posting to multiple free and paid job boards as well as source reports to identify the best ways to acquire good candidates.
Recruiterbox has been designed for collaboration for recruiting productivity in that you can manage access for users with recruiter and super admin accounts, share internal notes and assign task and interviews to colleagues, receive email notifications to stay on track and recruiting productivity reports to identify bottlenecks. Recruiterbox is the most flexible recruiting software in the industry with Calendar integrations and reminders, structured evaluation templates for consistent feedback and email templates for candidate messaging.
This leads to productive interviews. Best-in-class REST APIs in Recruiterbox extends recruiting workflows. Other than the APIs there are also job widget for easy website integration, Bamboo HR, Namely and Slack Integrations and Custom integration with onboarding software available.
All these aim at recruiter's smooth workflow. Recruiterbox allows recruiters to reach deeper into online sites for candidates with ease due to its very intuitive and easy to use interface. With Recruiterbox you can create a customizable set of steps according to your recruitment process and track candidates as they flow through the stages of your hiring funnel. Other than customized steps you can also customize application form to collect richer information from applicants beyond the resume.
You may like to read: Free, Open Source and Top Applicant Tracking Software, How to Select the Best Applicant Tracking Software for Your Business and How to Select Cloud HR vs On-Premises HR Software for Your Business