How to Select the Best Applicant Tracking Software for Your Business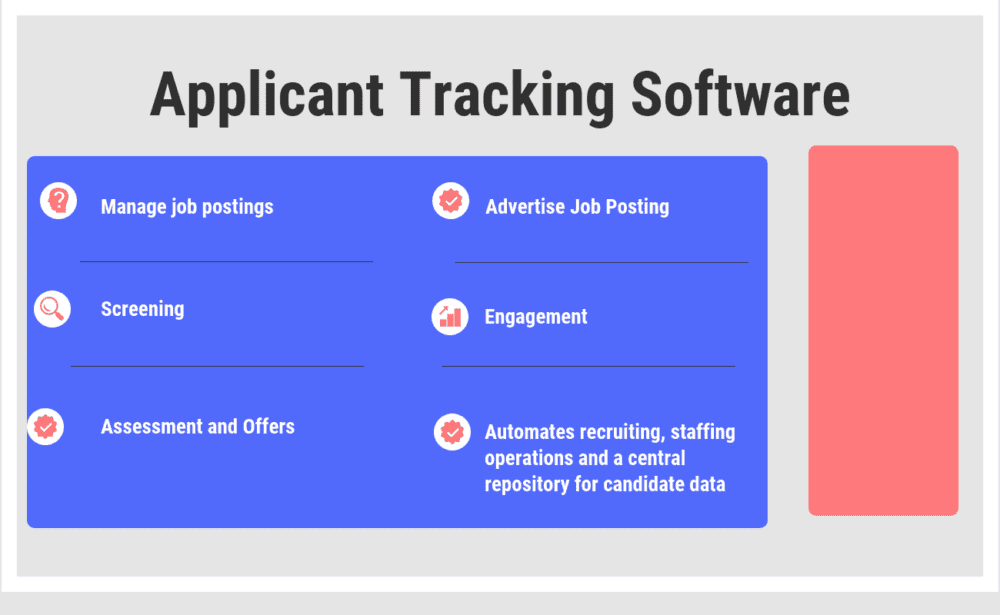 Applicant tracking software is a tool for managing the candidate resume, evaluation, and hiring process from start to finish. This software handles the recruitment process, just by sorting through thousands of applications, to determine, which ones are the best fit for the jobs for which they were submitted.
Applicant tracking software can be used to post openings jobs on a corporate website or job board and create interview requests to likely candidates through email. The systems work by scanning resumes for key phrases and contextual keywords, mathematically scoring candidates for relevance, and sending only the qualified ones for human review. This applicant tracking software allows a company to collect and store candidate job-related data, monitor and track the process of candidates through all stages of the hiring process.
The Applicant tracking software enables the hiring company to schedule interviews with applicants and send information about the qualified candidates to hiring managers, retain the data for the future purpose, and perform other functions that can make the hiring function faster and smoother. This software can also reduce the cost per hire and your time to hire while lessening your paperwork and equipping your organization with a branded career portal. Other features include source tracking, pre-screening questions, resume process tools and source effectiveness reports.
Applicant tracking software may score candidates and rank more qualified applicants based on the employer's standards; a resume that contains more preferred keywords will be ranked higher. The problem with ATS is that if a job seeker's resume doesn't include the right keywords and phrases or isn't formatted the right way, the applicant tracking system will misinterpret it and regard the resume as a bad fit with the job opening, regardless of the applicant's qualifications. There is no risk of the hiring company mistaken deleting the email of the candidate they want to hire or misplacing a file with applicant tracking systems.
You may like to review Free, Open Source and Top Applicant Tracking Software
Applicant tracking software automates organizations recruiting, staffing operations and provides a central repository for candidate data including applications and resumes to find the best person for the opening job.
The Applicant tracking software is designed to help you better manage every stage of the hiring process, from application to hire, while presenting higher overall efficiency. Large corporations that receive thousands of applications first use this software, but smaller businesses now use it.
The Applicant tracking software operates by tracking who apply for the job, what steps of the hiring process each applicant have gone through and still need to go through and keeping all the information about the candidate in a single place. The Applicant tracking software can filter through the applications and help hiring companies identify, which applicants may be best for a given position based on standards set by the employer.
Applicant tracking software is excellent for HR professionals and recruiters. Applicant profiles are stored in a secure online database with all information including resumes, interviews, comments, and reviews, which are available at your fingertips from your laptop, desktop, tablet or mobile devices.
The Applicant tracking software makes it easy for hiring company to get updated on the hiring process and to interact with applicants directly. This software dramatically helps recruiters reduce the size of the talent pool without wasting time and energy not to mention money. They increase recruiter productivity; provide organization, save time and structure for your staffing operations with proper implementation.
Other features of Applicant tracking software may include individual applicant tracking, automated resume ranking, requisition tracking, pre-screening questions, response tracking, customized input forms, and multilingual capabilities. The employer uses the keywords/phrases associated with the position by inputting specific keywords into the ATS for each job opening. If applicant resume doesn't include these keywords, it will possibly be filtered out the resume and placed in the "rejection pile."
Features of Applicant Tracking Software

Manage job postings: Create, publish job postings, from your recruitment software to different job boards
Advertise Job Posting: Post jobs at different boards to source candidates.
Screening: Screening process to sort through applications
Engagement: Engage with candidates even as they progress through the hiring process.
Assessment and Offers: Assess the candidates, schedule interviews, and make offers to candidates.
Top Applicant Tracking Software
You may like to review Free, Open Source and Top Applicant Tracking Software
Top Applicant Tracking Software
PAT Index™
Top Applicant Tracking Software Free
You may like to review Free, Open Source and Top Applicant Tracking Software
Top Applicant Tracking Software Free
PAT Index™
Is Free Applicant Tracking Software Worthwhile?
Applicant Tracking Software has many features and can do a lot to help your business to succeed tracking your recruitment process and workforce, but it can be expensive. There are plenty of free Applicant Tracking Software available. There are two categories of Applicant Tracking Software based on licensed model: Open Source Applicant Tracking Software and Proprietary Applicant Tracking Software.
Based on Installation type, there are On Premise Applicant Tracking Software and Cloud based Applicant Tracking Software and selection of the installation type depends on your business and organization requirements.
You can find limited free versions and full-fledged free trials in both the licensing models.
You could try Free Open Source Applicant Tracking Software if you have a development team available in your company and time available to set it up and running. As these are mostly community supported, the support available also depends on the usage basis of the product.
You could try a limited version of Proprietary Applicant Tracking Software to check how it fits to your business before making a big investment. These software comes with limitations and you need to buy the features using the up-selling vendors offers to make it useful. A free limited version from a proprietary product company will make it easier to upgrade in the long run and also help you determine if that company's solution is what you want.
There are also many drawbacks to Free Limited version of Proprietary Applicant Tracking Software. These limited version do not have nearly as many features available in a fully functional paid version, and there are limits such as number of features and functionality, modules, storage limits, number of reports, limited data integration options, and also on the number of users you can have. The free versions also have limited support options.
Based on your functionality requirements and business fit, you can always choose a free trial and experience the system with your data before buying and migrating to a full-fledged solution.
Is there a one size fits all Applicant Tracking Software: Unfortunately there are no one size fits all solution as each of the products has its own core strengths in functionality, industry focus, integration capability and core features.
We recommend determining how the software fits to your business in terms of features, functionality, and business process with a free trial.