Why Small Business Need Human Resource Software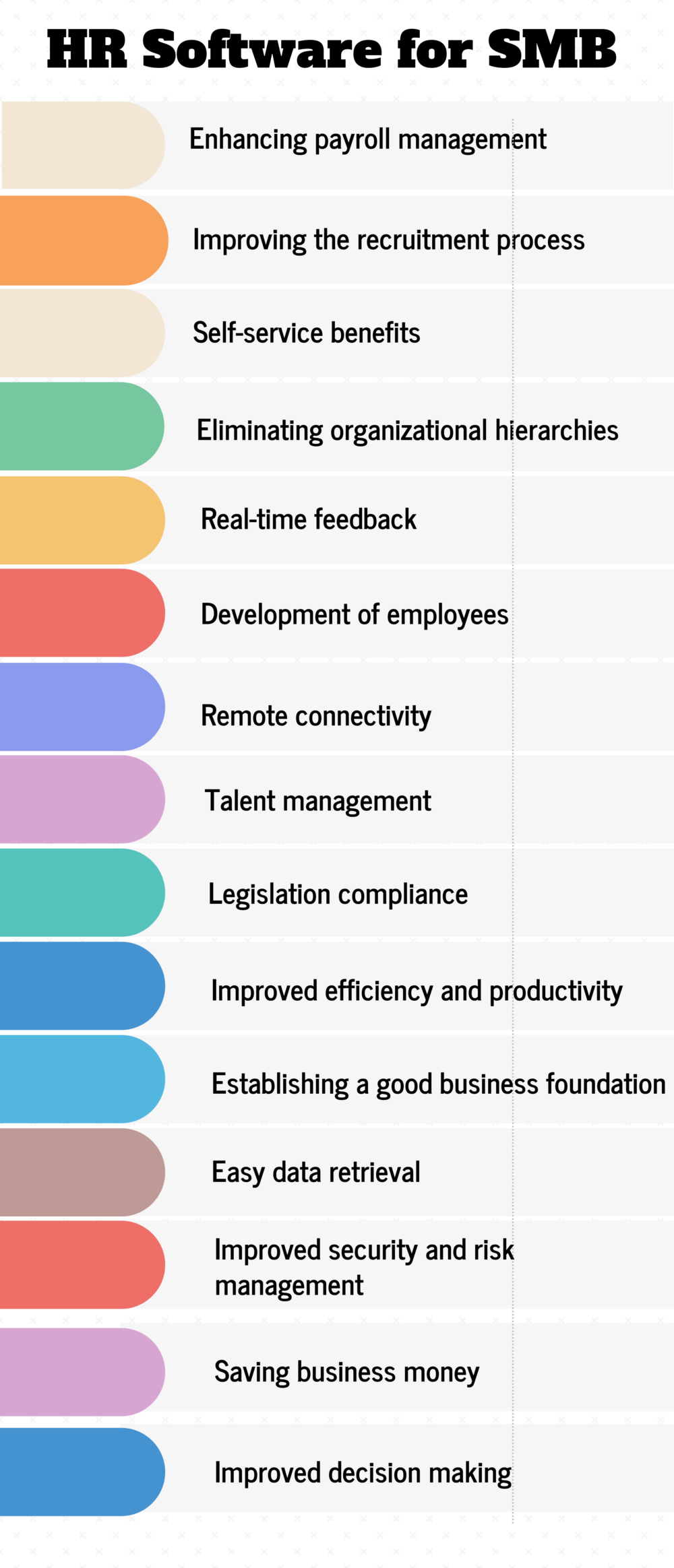 Human Resource Software is also known as Human Resources Management Systems (HRMS) or Human Resources Information System (HRIS) and helps in the employee management. HR software optimizes and simplifies human resource management in many ways. The software helps in managing employees, keeping employee information in order and automation of tasks, which naturally saves time and labor for HR managers and staff. It also promotes better control of resources, decision-making, and budget management.
HR software enables managers to know the proportion of staff who will be required at particular times through data analysis. Such information makes the recruitment process smooth and streamlines the allocation and mobilization of human resources. Businesses that implement HR software can benefit from automation and thereby avoid losses that are associated with faulty paper records.
HR software is available in different versions and can be used to perform diverse HR tasks. Some of the software is comprehensive and incorporate the majority or all HR functions. Others offer specialized assistance to specific or only town HR task. Selecting the best HR software that matches business operations can promote better talent management and increase productivity.
There is flexible HR software offering the primary HR administrative duties such as database management with an option of adding modules capable of assisting in attendance and time tracking and any other desired service.
A small business can opt to use the on-premise HR software that operates on a small network within the company as it is installed on personal computers. Its access is limited to the machines that the software has been installed on. It is secure with a lower cost compared to crowd-based software. The other option is the crowd-based HR software. It can be accessed on any device connected to the internet using logins offering mobility and greater flexibility.
HR software features include time and attendance, employee tracking, learning management, applicant tracking, payroll, performance review, employee self-service, and benefits administration. Here are benefits that small businesses reap from installing the HR software.
You may like to read: Top Core Human Resource Management Software (Core HR) and How to Select the Best Human Resource Software for Your Business
Why Small Business Need Human Resource Software
Enhancing payroll management: Payroll management is one of the main challenges for small businesses. HR software assists in payroll management, thereby saving time and eradicating errors that employees make. Integrating attendance with payroll functions can help businesses in controlling compliance issues, overtime and labor costs, and in making sound decisions without delay.
A small business may want to contract workers for a specific project or period of time. HR software makes it easier to manage and calculate the compensation of contract workers and to maintain communication with them beyond the office location or hours.
Improving the recruitment process: HR software digitalizes recruitment and makes it employee-centric, thereby helping to attract the best talent for the business. It can be integrated with social media sites and top job boards where top job candidates are likely to view job posts. It also assists in the screening, interviewing and onboarding processes, thereby streamlining the hiring process.
It can also help in realizing a data-driven recruitment process. By relying on certain data, it is possible for businesses to narrow down the pool of applicants to the most ideal candidate for a particular job, as well as shortening the hiring process.
Self-service benefits: Manager and employee self-service functionality available on HR software help in developing communication in the business while improving autonomy within the firm. Employees can access data and schedules, manage their training and development, time off requests and submit changes in improving their satisfaction and productivity as well as save management time. With employees leading their tasks, managers have an opportunity to take care of other functions and handle the time-off request while improving operations and making timely actions.
Eliminating organizational hierarchies: HR software eliminates the hierarchies that involve top management passing down targets to the lower management levels until the targets are divided into individual tasks for the front-line employees. Small businesses can use the software to flatten these hierarchies by giving the workers greater freedom to set their targets without the interruptions of intermediaries. Management can either revise or approve goals and employees are able to present reports on their progress easily.
Real-time feedback: The yearly appraisal is becoming obsolete and continuous feedback is a necessity for a workforce operating under a rapidly changing culture. Employees need to be recognized or coached quickly and efficiently to keep up with the set targets. HR solutions offer implementation management tools that make it easier for management offer the continuous feedback. The tools include messaging options that enable managers to connect with their employees fast, 360-degree reviews that give customers and peers an opportunity to submit feedbacks and alerts that inform managers on tasks completion by employees.
Development of employees: E-learning applications and self-service portals offer workers the capability to take charge of their development. Employers, through these tools, also empower their employees to enhance their skills and acquire new ones, thereby making the business better. Information retention is improved through the replacement of classroom-style lecturers with interactive learning tools. In addition, employees will feel responsible for their learning and become even more engaged than during compulsory training.
Remote connectivity: HR software can facilitate remote connectivity of employees working from different locations. A small business will benefit from this aspect as employees will be able to collaborate on projects from remote locations as well as instantly communicating with each other. This type of connectivity helps to track time spent on the projects, thereby ensuring that employees are adequately compensated per the labor laws.
Talent management: For a small business to ensure sustainable growth, the management must ensure that workers are skilled enough for their jobs. Employees who have the expertise and experience in their positions can adequately handle the responsibilities and challenges that come their way. This brings about an efficient team, and the consistent provision of high-quality service earns clients' loyalty and trust. HR software makes this possible by enhancing communication and building harmonious work relationships between employees and management. There is a clear outline of expectations between employees and their employers: building a healthy corporate culture that is key to meeting business targets, enhancing the brand identity, and attracting and retaining top talent.
Legislation compliance: Small businesses are exempted from some of the legal requirements; however, there are mandatory ones that they must comply with. HRIS enable small business owners to comply with employment legislation laws set by the government by helping them to put in order the required documents, which include insurance, taxation, labor laws and healthcare-related documents. It also enables business owners to quickly respond to changes in the organizational structure and legal framework.
Improved efficiency and productivity: HR solutions and tools can automate redundant and time-consuming tasks such as reconciliation of employee's payroll, copying and entering information on a spreadsheet, handling tax remittances and approving and scheduling of employees' time-off requests. It also eliminates the use of error-prone manual systems for handling administrative duties through the use of files, folders, and spreadsheets. For instance, through self-service tools, employees with a wide range of permission can be proactive in updating their records and scheduling shifts, and can be more productive as well.
Establishing a good business foundation: A small business may not encounter huge problems in respect to management of leave and absenteeism, but it is still better to avoid such hitches at any cost. HR software establishes a good foundation for the business, which will still remain effective as the business grows. One way it can do this is ensuring that the company has developed and communicated its practices and policies from the onset so to avoid future conflicts.
Easy data retrieval: HR information systems can store information related to all business departments. This makes the recovery of such information easy by using simple queries. It can show employee turnover rates complete with specific details, as well as who is in charge of certain departments. It also makes it easy to retrieve data related to individual employees, which can help in the evaluation of their performance. This information is essential for making critical decisions such as promotion, demotion, and salary increment.
Improved security and risk management: A small business needs HR software that can help in avoiding liabilities and risks. A HR system that stores electronic records of information relating to workers compensation claims, employees' safety training, employee discipline notices, accidents logs, etc., which can help minimize potential liabilities and risks. By manual storage of HR information, HR software can reduce paperwork and other security risks.
Saving business money: A small business using HR software is able to reduce the ratio of HR work to the number of employees. Implementing the solutions means fewer workers are needed as work is made easy and fast and allow for savings in employee salaries. Engaging employees can make them feel like they are a part and parcel of the business, which can reduce turnover rates and save on costs incurred in the recruitment process.
Improved decision making: Accurate insights are important while making informed business decisions. The data collected by HR software can enable business owners to make fact-based decisions on employees' training and tracking of the turnover rate.
You may like to read: Top Core Human Resource Management Software (Core HR) and How to Select the Best Human Resource Software for Your Business
Conclusion
For a small business to benefit from the implementation of HR solutions, it is important to adopt the best resolutions depending on the type of business you are running. It is equally important to consider the cost of the software by comparing the prices of different software companies and the tools that come with it. After that, its implementation is guaranteed to translate to profitability and growth of the business.
What is HR Software?

HR software optimizes and simplifies human resource management in many ways. The software helps in managing employees, keeping employee information in order and automation of tasks, which naturally saves time and labor for HR managers and staff. It also promotes better control of resources, decision-making, and budget management.

Why Small Business Need Human Resource Software?

Small Business Need Human Resource Software for Enhancing payroll management, Improving the recruitment process, Self-service benefits, Eliminating organizational hierarchies, Real-time feedback, Development of employees, Remote connectivity and many more.