Qlik Sense Advanced Intuitive Analytics, Smart Vizualizations and Geoanalytics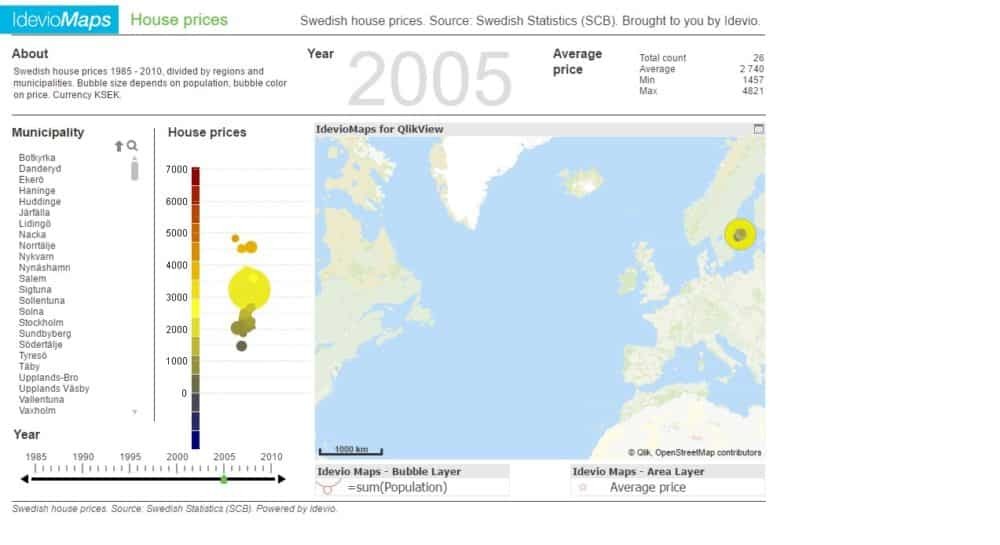 Qlik Sense is built on a fully integrated, cloud-ready platform, and powered by the patented QIX Associative Indexing Engine, combines enterprise readiness and governance with intuitive visualization and exploration, advanced analytics, and self-service data preparation capabilities. This breadth and depth allows organizations to meet the broadest range of BI use cases from a single platform leading to consistent, data-driven decision making. Qlik now offers several new client options for use with Qlik Sense Enterprise and Qlik Sense Cloud. Qlik Sense Mobile is a new, native app for Apple iOS, which supports the full associative model when offline, with the QIX engine running locally on the device, and integrates with EMM products such as AirWatch, MobileIron, and Blackberry. In addition, Qlik Sense Desktop is now offered as a supported client when used in Qlik Sense Enterprise environments. These options provide more flexibility for customers and help bring visual analytics directly to the point of decision. Because people do not make decisions alone, value-added services like Qlik Connectors will always be an important part of the Qlik Cloud strategy. As such, Qlik is including Qlik Connectors in Qlik Sense Cloud Business for seamless access to REST sources, Google Analytics, Facebook and Twitter, with enhanced support for tabular sources such as CSVs and Excel files and connectivity and automated refresh capabilities. Additional connectivity is rapidly being added, including SQL Server via ODBC for on-premise data, followed by cloud-based file storage services such as Dropbox and Box.com.
Qlik Sense now includes several new visualization types, including a Box Plot, Distribution Chart, and Histogram that will empower users to make better sense of their data. Users will also be able to apply custom coloring to particular data values within master dimensions, providing consistency across an entire application. In addition, search history now makes it easier than ever to go back to previous analyses. Qlik Sense also offers improved smart data preparation capabilities for business users to load, transform, and enrich their data without the need for complex scripting.
• Visual data profiling assists users in understanding their data as they load it into Qlik Sense, including auto-generated visual representations of the data through histograms and other visualizations. This greatly speeds up the ability for users to get to the point of analysis with new information.
• Data binning enables users to easily create data 'bins' or groups of numeric data, allows for easier analysis with granular numeric data. For example, users can now easily bin data into groups such as small, medium, and large.
• Table concatenation allows users to easily concatenate tables even if they do not have the same fields and field names. Now customers and partners can bring tables from two companies together even if they do not store data the same way.
Qlik's big data capabilities have been enhanced to include On Demand App Generation templates built directly into Qlik Sense, enabling users to navigate big data sources using associative search to discover areas for detailed analysis. On Demand App Generation empowers the user to automatically generate a purpose-built analysis app every time they select a slice of a very large data source. Now, self-service users can get up and running with big data easier and faster.
Through its open APIs, Qlik now offers integration with best-in-class natural language generation and processing, advanced predictive analytics, and an immersive experience including augmented intelligence. New advanced predictive analytics integration capability allows for direct data exchange between the QIX engine and third-party calculation engines. Qlik has released integrations using this interface for R and Python. This allows for advanced calculations from external tools to be visualized within Qlik Sense, in real-time as the user explores. With this capability, users can combine the power of Qlik's Associative Model with advanced analytics to better support use cases such as fraud detection, sales forecasting, and inventory management.
With the newest edition to the Qlik portfolio – Qlik GeoAnalytics-- both Qlik Sense and QlikView users can easily add maps to their apps with automatic geo-data lookup to reveal crucial spatial information and then overlay them with different visualizations to see the whole story in their data. Users can not only seamlessly drill down into information dense maps that contain millions of points, but also use Qlik GeoAnalytics cloud-based service to analyze geo-data in combination with non-geo data for use cases such as determining potential store locations or calculating supply chain delivery times. Several geospatial and mapping improvements have been made, such as supporting shapes, drill down, multi-layer maps, and increased data density.