Review
Deputy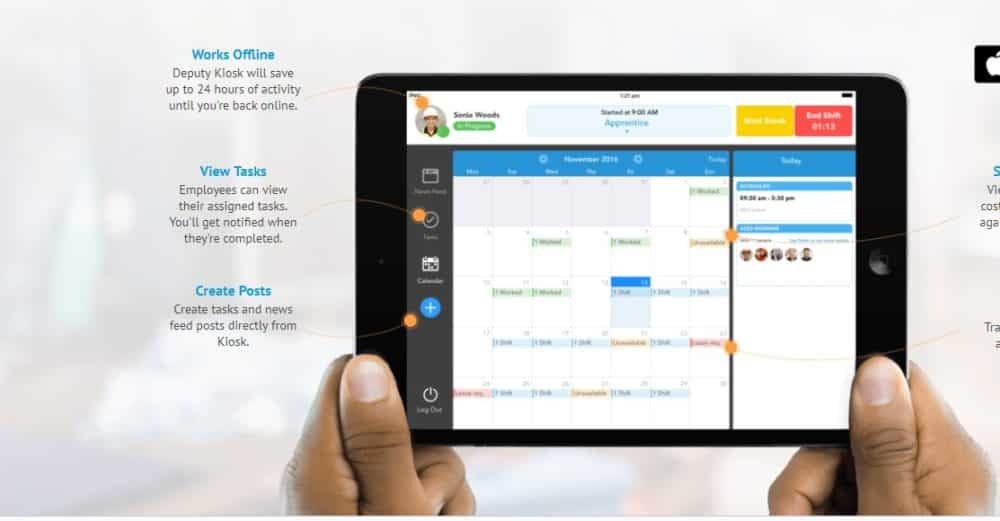 Overview
Deputy is the ultimate cloud-based workforce management solution that makes it easy to schedule employees, manage time and attendance, track performance, and improve workplace communication. With dedicated apps, Deputy empowers a world of mobility, integrates beautifully with leading business software, and transforms the way businesses operate, saving time and optimizing resources.
Workforce Management Software SMB, Workforce Management Software
•Employee Scheduling
•Time & Attendance
•Communication
•Tasking
•Scheduling App
• Starter - £1 per user per month
•Premium - £2 per user per month
•Enterprise - £3 per user per month
Small (<50 employees), Medium (50 to 1000 Enterprise (>1001 employees)
What is best?
•Employee Scheduling
•Time & Attendance
•Communication
•Tasking
•Scheduling App
What are the benefits?
•Drag and Drop Interface
•POS Data Integration
•Integrates With Prominent Payroll Packages
•Individual and Group Messaging
•Notification Services
•PDF and Image Attachments
•Multi Application Integration
Deputy is a staff rota software supporting time and attendance solutions whilst optimizing employee communication. The programme offers a complete scheduling app with a drag-and-drop interface integrating POS data, a live weather feed and sales patterns to create schedules accordingly. The scheduling solution can sync employee's pay rates straight from the payroll software. Users can run multiple locations of their business from one account whist structuring different areas, roles and activities.
The Time & Attendance function allows users to review and approve timesheets and to start and end shifts using various integrated apps and SMS services. Deputy software also integrates with the most prominent payroll packages including ADP, Xero, Gusto, WageEasy and MYOB. The communication element provides a facility to share important messages, manage communication across multiple locations message colleagues as a group or individual message. Users can also request confirmation to ensure team members have read attachments or confirmed attendance. PDF and image attachments can be added to messages with a notification service available via email or push notification.
The Tasking and Performance feature allows users to create and assign tasks, journal employee performance and schedule employees in various locations. Users can self-manage their leave and unavailability with a view to estimate shift costs and graph wages against expected sales. There is dynamic reports option where users can track scheduled budgets, time-sheet costs and sales transactions. Deputy's offers full integration with a multitude of applications compatible with Android, iPad, iPhone and Apple Watch. Deputy facilitates businesses with hourly paid staff from small to large corporations.