Review
Aruti HRMS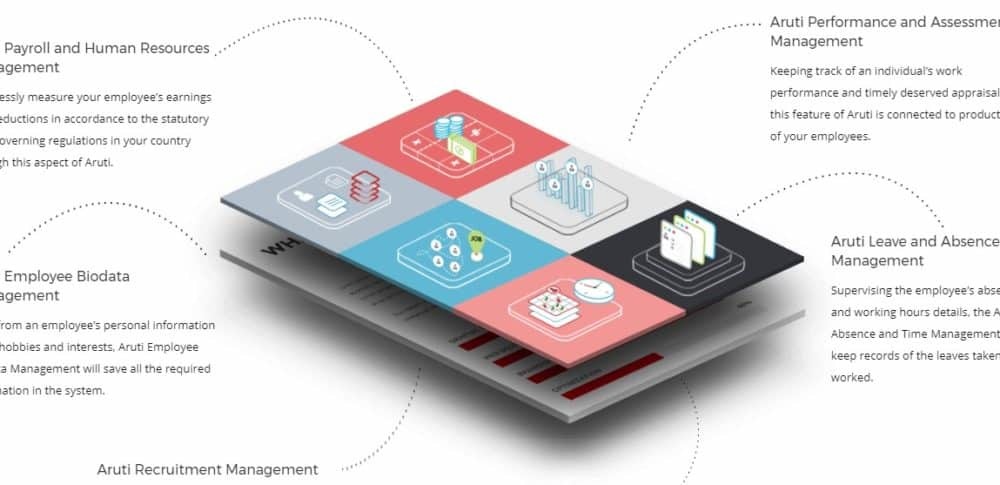 Overview
Aruti HRMS is an integrated, compliant and cost-effective Human Resources and Payroll Management System, Aruti is a apt for managing your organization's Human Capital assets efficiently.
Workforce Management Software,Workforce Management Software SMB
• Payroll and Human Resources Management
• Performance and Assessment Management
• Employee Biodata Management
• Leave and Absence Mana
• Recruitment Management
• Time and Attendance Management
• Payroll, Loan and Savings Management
• Employee Biodata Management
Small (<50 employees), Medium (50 to 1000 Enterprise (>1001 employees)
What is best?
• Training Needs Analysis
• Leave and Absence Management
• Employee Disciplinary Cases Management
• Medical Claims and Bills Management
• Time and Attendance Management
• Employee and Manager Self Service
What are the benefits?
•Effortlessly measure your employee's earnings and deductions
•Generate customized and mandatory statutory reports
•Records information like present and past addresses, medical details, important dates as well as the employee's pictures
Aruti is a payroll and human resources management software. It is accepted globally, and its features include; Aruti payroll, loan and savings management handles the payroll and taxation process. It records salaries, deductions, and benefits associated with employees and reports them to the relevant authorities. These files are necessary for documents like 1094&1095, the COBRA, the Affordable Care Act and any other compliance and regulatory requirements.
It is enhanced by the Aruti Medical Claims and Bills Management which allows the management enter into contracts with the employee's medical service providers to offer medical cover according to the medical bills. The Aruti Employee Biodata Management saves employees personal details such as home addresses, medical details, beneficiaries and dependents, blood groups, and pictures as well. This feature allows the organization to monitor the employee from the training and recruitment stage to career advancement as well as off boarding.This monitoring allows the organization to group the employees with their relevant skills and expertise.
Associated with this, is the Aruti Recruitment Management which allows job applications to be made through the firm's job boards instead of application letters and emails. The Aruti Performance and Assessment Management assess the productivity of the employees. This tool further allows the management to formulate strategies to increase productivity from performance evaluation.
The Aruti Training Needs Analysis enables employees to be equipped with the relevant work skills. This tool has the 'up to the mark' module which is measured according to an individual's performance. The Aruti Leave and Absence Management keeps track of work attendance and absenteeism. What makes it functional is the Aruti Time and Attendance Management which records schedules of all the employees. Every organization has work policies which need to be adhered to. Aruti offers Employee Disciplinary Cases Management which manages cases of employee defiance. Aruti offers everything that a business needs to utilize its resources entirely.
You may like to read: Top Workforce Management Software and How to Select the Best Workforce Management Software for Your Business