Review
Sentric Workforce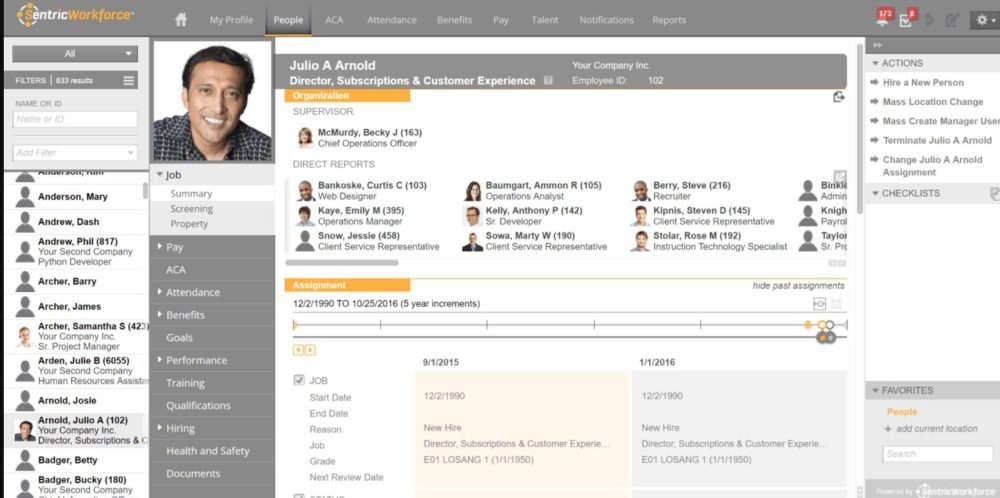 Overview
Sentric Workforce centralize your most important processes and data; you'll save time, printing costs, storage space, and best of all: your sanity. Find a package that meets your needs, or use our API to integrate your favorite applications. Or both.
Workforce Management Software,Workforce Management Software SMB
•Employee self service
•Payroll and taxes
•Time and attendance
•HRIS
•Starter $2 / EMPLOYEE / MONTH
•Pro $6 / EMPLOYEE / MONTH
•Premium $12 / EMPLOYEE / MONTH
Small (<50 employees), Medium (50 to 1000 Enterprise (>1001 employees)
What is best?
•Employee self service
•Payroll and taxes
•Time and attendance
•HRIS
What are the benefits?
•Centralizes all of your important documents, processes, and employee information.
•Save time, printing costs, storage space, and your sanity
•Easily manage one employee or your entire organization.
•Spend less time managing data and more time acting on it.
•Keep the right people in the know with configurable notifications.
Sentric workforce management tool is a software that integrates CoreHR, Benefits administration, payroll, and attendance. The key features of this application include; HRIS (Human Resource Information system), Employee self-service, on boarding, recruitment, benefits administration, payroll, attendance, reporting, talent, and ACA compliance. Sentric brings together all of your workforce management needs.
There are a lot of activities involved with payroll such as filing of taxes. Sentric files taxes within the jurisdiction of all 50 states. It enables a firm to review payroll details before submission to make changes if any. The employees get to decide whether to get their salaries as a direct deposit or as a pay card. Affordable healthcare act compliance is made easier for your workforce as well.
All you need to do is determine the eligibility of the employees and give them access to 1094 & 1095 forms for them to fill up their details. Sentric goes further to make benefits administration even easier. With the employee self-service tool, the staff can access their information, and fill up their insurance coverage. They can access their attendance schedules and their leave calendars so that they know what to do at the right time.
New hires management is made easier with the onboarding tool under sentric software. New employees are updated and familiarized with their work environment. They can sign their employment contracts and the onboarding process approved by the right people.
All the information of both the new hires and all the employees is kept in a database making HR management of employees easier. Sentric has got all business covered with their workforce management needs.
You may like to read: Top Workforce Management Software and How to Select the Best Workforce Management Software for Your Business