How to Select the Best Gamification Software for Your Business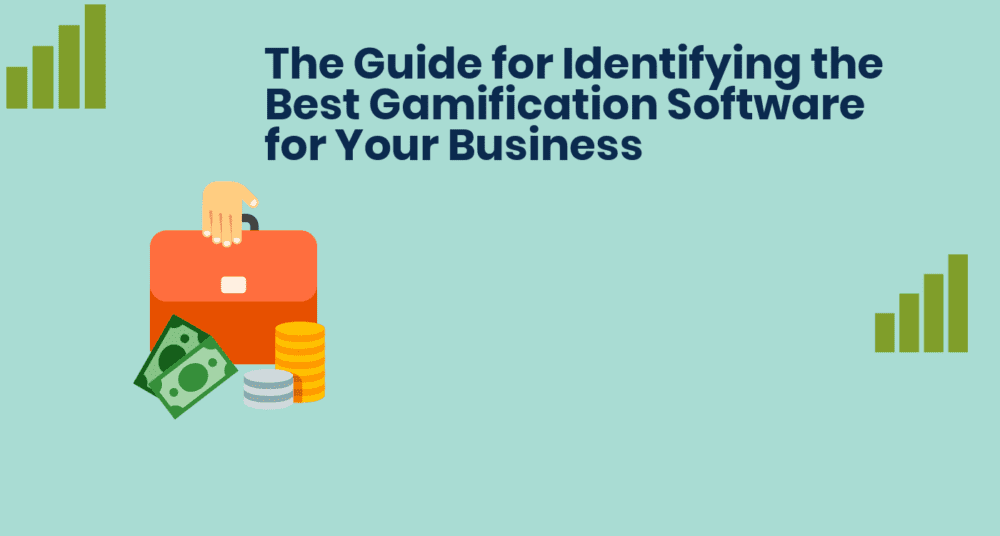 Gamification refers to the application of gaming elements and principles to certain activities with the aim of spurring interest in that activity. Gamification is often used in academia to encourage learning and also to recognize competencies in educational processes.
It has also found its use in business to provide solutions to problems, improve employee productivity, reduce onboarding time, conduct recruitment and promotional exercises.
The areas of business that gamification can be applied include internet marketing, customer relations, search engine optimization, several daily operations and lots more. It is important to note that gamification however, cannot be regarded as the creation of business game applications.
You may like to read: Top Gamification Software
What are Gamification Software

The Gamification software integrates gaming design elements into non-gaming systems in order to make them more engaging and user friendly. This software uses gaming components such as competitions, milestones, achievements, scores, self-expression, onboarding, live notification, communities, goals, patterns, principles of play or merit badges to increase user interactions through immediate positive feedback.
Depending on your needs, these mechanics can be combined severally to accomplish the desired goal. There are open source gamification tools with game mechanics designed to engage and increase user interaction on websites, it also provides analytics to help monitor user interaction. With functionalities such as lead management, operations management and project monitoring, a gamification software can pass for a customer relationship management tool.
Another interesting thing about the gamification software is that it can be combined with third party tools such as mind mapping software, social media management software, CRM, content systems, web analytics tool amongst others.
A Gamification software uses gameplay functionalities to bring about improved mobile and PC customer interaction, client loyalty and involvement with a business.  Other areas where the gamification software is used extensively include marketing, brainstorming sessions, health care, workplace, Crowdsourcing, Educational sector, military, Political campaigns, fight terrorism, Aesthetics and Design.
You may like to read: Top Gamification Software
Identifying Which Type of Gamification Software is right for your business

Reviews have shown that though, there might be various types of gamification tools, the most common ones are product gamification, Marketing Gamification and Work-environment gamification.
Product Gamification: A product gamification software is a powerful tool that various businesses employ to improve their product strategies. This tool combines several gaming mechanics to engage users and obtain feedback used to create a winning product.
Work Environment Gamification: This type of gamification software is often employed in the workplace to train employees, conduct recruitment and promotion exercises and also to motivate employees through productive communication and reward mechanism.
Marketing Gamification: Marketing gamification is employed in digital marketing to promote brands in an exciting and interactive manner. This particular software helps an internet marketer to create winning campaigns and also provides an analytics tool that helps you measure web performance.
Depending on company`s needs, business requirements and future goals, there are several types of Gamification Software available based on licensing model:
Open Source Gamification Software : These are Open Source Software where the source code is available.
Free Proprietary Gamification Software : These are limited versions of a fully functional propriety Gamification Software.
Proprietary Gamification Software : Full paid version of Gamification Software.
What are the Features of Gamification Software
Gamification offer several features in a business environment and some of them are leaderboards & ranking, customization, social media integration, CRM integration, sharing capabilities, result dashboard, flexible reporting, detailed analytics, functional reward features, gamified learning platform, collaborative features, Web integration, Mobile Access, Application Programing Interface, Lead Management Integration, badge editor, satisfaction surveys and lots more. These features are discussed extensively below.
User Leaderboards and Ranking: One of the important features of a gamification software is the leaderboard and ranking system, it allows you monitor your teams progress and also allows a user to measure their activity relative to others.
Customization: Gamification tools are not a one size fits all solution, it enables you to tailor the interface and functionality of the software to suit your target audience.
Social media integration: Your gamification solution can be integrated with your social media accounts to improve user interaction on those platforms.
CRM integration: An important feature of gamification tools is that they can be integrated with third-party software such as CRMs. improving your CRM tool with gamification automatically improves your customer management system.
Sharing capabilities: Gamification software are built with sharing capabilities that allow users share their performance scores on social media platforms which in turn contributes to brand awareness.
Result dashboard: Gamification dashboards allow users to view their current status, results and performances.
Flexible reporting: Gamification tools are able to manage, measure campaign metrics & results and also generate correct reports on user satisfaction.
Detailed analytics: a gamification software provides you features that provide you with detailed statistics on how your business website is performing
Functional reward features: gamification help to motivate and engage employees and users with functional reward and recognition features.
Gamified learning platform: With game inspired features, employers can engage their staff in productive exercises where there would be rewards for knowledge and contribution.
Collaborative features: With collaborative features, you can teach your employees to work better in groups to reach a specified target.
Mobile Access: This is a flexibility feature that allows you to access the gamification platform on mobile devices.
Satisfaction surveys: With this feature, you can get information on user engagement and satisfaction; feedbacks provide you with information on which areas of your business you need to develop.
You may like to read: Top Gamification Software
What are the Benefits of Gamification Software

Gamification of business tools is fast becoming a trend. As a customer engagement tools, gamification has been implemented successfully across various sectors for different purposes. It provides a firm the edge required to thrive in a competitive business environment.
Gamification adopts a different approach to driving employee passion and motivation in the workplace. It leverages employee natural desire for mastery, learning and achievement to motivate employees which in turn increases productive competition in a working environment. These are some of the advantages of gamifying workplace tools;
Improved Brainstorming: Gamification is constantly being used in brainstorming sessions to provide an immersive platform that drives creativity. Applying game components in business scenarios can improve organizational creativity and innovation.
Driving Innovations: By simulating real life business scenarios with gamification during brainstorming, employees can proffer innovative solutions to business problems faster.
Increased Productivity: Applying gamification in a business environment help to motivate your staff which in turn drives productivity. Using the dynamics of a simulated environment to increase your employee skill set automatically drives productivity
Employee Training: Adopting gamification in employee training situations often provide supercharged results. During training sessions, gamification keeps an employee focused and motivated as they are often striving to reach a particular goal.
Improved Learning process: It boosts knowledge retention and absorption during on the job learning process.
Increased Business performance: Business tools like sales gamification software, CRM gamification software and a Forecasting gamification can provide business results such as improved customer management, better sales performance and produce accurate business forecast.
Improved Customer Service: Companies can ensure customer engagement, transparency, feedback when interacting with users with gamification.
Automatic Feedback: With gaming Components such as benchmarks and leaderboards, gamification is a good way to ensure that employees receive constant, accurate, real time and automatic feedback from customers
Improved marketing: Gamification Improves a company's internet marketing campaign by building on key performance indicators, identifying demographics and customer buying habits.

What are the Latest trends in Gamification Software

It is becoming increasingly difficult to keep track with the latest developments with the gamification software, but some trends are more prominent that others. Here are a few of the latest trends:
Gamification will be recognized as a competitive differentiator: It is believed that gamification is the future of business intelligence. As pointed out earlier, the core of gamification is to leverage on human competitive nature to engage employees into constructive learning processes to proffer business solutions.
Employee Engagement will be more credible than big data: It is difficult to envisage this given how productive big data has been over the last few years, but a gamified platform is the greatest measure of team productivity as well as the customer feedback that follows.
Improve Employee Training: A lot of companies adopt traditional methods of training that treats all employees the same but gamification provides a platform where training can be conducted progressively. It is predicted that in the next few years, more employers will adopt gamification I training their employees.
Is a Free Gamification Software Worthwhile?
Gamification Software has many features and can do a lot to help your business to succeed by connecting with your customers, but it can be expensive. There are plenty of free Gamification Software available. There are two category of Free Gamification Software : Free Open Source Gamification Software and Limited version of a Proprietary Gamification Software.
Free Open Source Gamification Software is a good choice, when you have a development team available in your company and when you want to try out the product or build new features and functionality on top of it. You need to spend time to set it up and running.
The limited version of a Proprietary Gamification Software is a good way to see if it will be useful to your business before making a big investment but these software comes with limitations.  A free limited version from a proprietary product company will make it easier to upgrade in the long run and also help you determine if that company's solution is what you want.
There are also drawbacks to Free Limited version of a Proprietary Gamification Software. These limited version do not have nearly as many features available in a fully functional paid version, and there are limits such as storage limits, number of reports, and white labeling. The free versions also have limited support options.
You may like to read: Top Gamification Software
 How to choose the right Gamification Software

Here are some of the important factors to consider when deciding which gamification software to buy.
Features: It is necessary that you consider the features of a gamification software before you make a choice. Some of these features are built to target users or customers while others have features that built for use in a business environment.
Budget: Another important factor to consider when choosing a gamification tool is the cost. It is necessary to set a budget before choosing a software so you do not exceed your spending limits. With a budget in place, you can be sure to purchase a software that satisfies all your needs.
Scalability: It is important to know the scale of your program when selecting a gamification software. Consumer gamification programs usually have a larger scale compared to employee gamification.
Find industry specialized vendors: When you have decided on your target, the problem your looking to solve and the amount of money you are willing to spend, it is important to find a vendor that specializes in developing gamification tools for your industry.
Here are the trending and the top rated Gamification Software for you to consider in your selection process:
Top Gamification Software
PAT Index™
You may like to read: Top Gamification Software