Review
Solaforce HR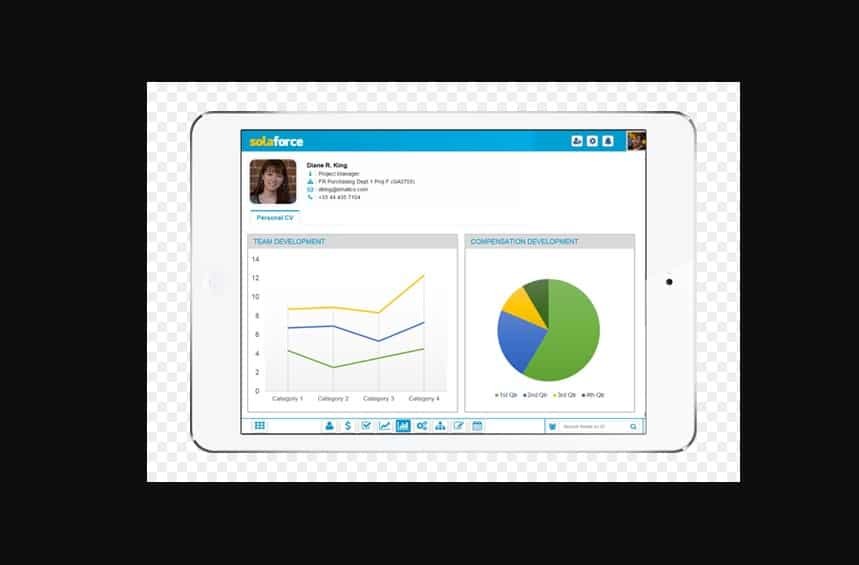 Overview
Solaforce HCM solution combines employment, development and performance management together with analysis, planning and reporting to provide an all-in-one next generation HR management solution
• Performance Management
• Recruiting
• Collaboration
• Rewarding
• Analytics
• Planning
• Personnel development
• Admin
• Cloud platform
Small (<50 employees), Medium (50 to 1000 Enterprise (>1001 employees)
What is best?
• Performance Management
• Recruiting
• Collaboration
• Rewarding
• Analytics
• Planning
• Personnel development
What are the benefits?
•Manage personal information in one central place. Update employees information, education history and development plans
•Create reports to develop and support business decisions
•Make the recruiting process easier by integrating multiple channels including social networks
Solaforce HCM solution is a multipurpose tool for many different departments to use in supporting the company's development. It empowers your employees to achieve better results through advanced planning, organization, talent, and compensation management.
Salesforce HCM provides a set of modules that combine employment, development and performance management together with analysis, planning and reporting to an all-in-one next generation human resource management solution. Salesforce helps you to manage and store employees' personal information in one place. With it, you can update any information regarding employees, be it education history, work reviews, current assignments etc. It allows you to track your employees' performance by saving their personal goals and development targets to a place where both the employee and the manager can see and update.
It also helps in managing personnel development and education management by creating a centralized database to support the whole organization's development planning. This lets you set up training programs and seminars, and promptly communicate the scheduling to the entire organization. Solaforce HCM analytics enables you to generate reports that assist in making informed business decisions. You can generate attendance reports, compensation reports, or work completion reports, all in a single platform.
Solaforce HCM enables both the manager and employees to access and track information about salaries, incentives and any other rewarding information. Solaforce HCM makes the recruitment process to be more flexible and convenient by integrating multiple social networks. The recruitment team can access all information regarding the candidates and make it easy to spot the potential employees.
Solaforce HCM makes project planning easier by helping you create project teams based on people's skills and know-how, and manage project workflows making sure everything is running on smoothly. It also assists you collaborate with other departments in planning and managing organization-level activities. Solaforce HCM administration tool allows you to assign permission and access rights to admin-level users enabling integration, management and handling of information flows between various functions in a company.
You may like to read: Free and Open Source Human Resource ( HR) Software, How to Select the Best Human Resource Software for Your Small Business and Human Resource Software for Small Business