Review
Fingercheck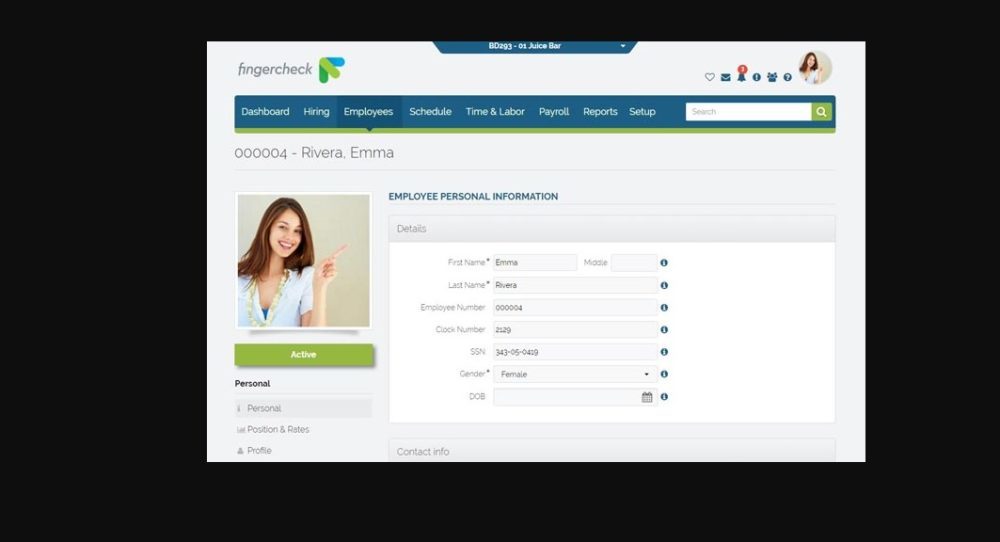 Overview
Fingercheck is the modern workforce solution that's transforming the way small businesses work. Within one powerful HR platform, businesses can easily review and manage applicant tracking, employee onboarding, time tracking, payroll, HR, and benefits. Fingercheck delivers the tools to simplify and streamline workflow for employees, employers, and everyone in-between
• Hiring
• Onboarding
• Time Tracking
• HR Management
• Payroll
• Benefits & Insurance
• Mobile
• Employee Time Clock Software Fingercheck - $2/mo Per Employee + $20 Subscription fee
• All-in-one HR Platform Fingercheck 360 - $6/mo Per Employee + $35 Subscription fee
Small (<50 employees), Medium (50 to 1000 Enterprise (>1001 employees)
What is best?
• Hiring
• Onboarding
• Time Tracking
• HR Management
• Payroll
• Benefits & Insurance
• Mobile
What are the benefits?
•Simplify the entire hiring process on a single platform
•Gather time records in real-time & auto-calculate pay totals
•Handle PTO, assets, training, birthdays & expense reporting
•Eliminate data entry & efficiently automate payday
Fingercheck is a vibrant, cohesive, intuitive, human and approachable human resources platform which provides users ease of use, cloud-based solution and helps users look after their employees without strict managerial oversight.
Users can avail of the Employee Time Clock Software, Fingercheck and the All-in-one HR Platform, Fingercheck 360. Fingercheck offers features such as fingerprint time clocks, facial recognition time clocks, mobile app (IOS & android), tablet app (IOS & android), web browser, text message, twitter, unlimited 7-level job costing, GPS tagging, geographic & job fencing by location, capture photograph at clock-in and clock-out, eliminate buddy punching, restrict IP address for web punches, restrict mobile device id for mobile punches, restrict punches based on employee schedule, custom overtime rules, customize exception categories, multiple pay rates by job, rounding, pay differentials & premiums, restrict minimum or maximum hours, automatic holiday pay, automatic break rules, absence requests, multi-level approval, custom accruals, view available balances, comp time, 50+ canned reports, custom reports builder, live status view powered by google maps, who's in/out real time view, multi-level timesheet approvals, automate reports to email, labor allocation cost reporting, employee scheduling, alerts & notifications, role-based security, cost center level views, 256 bit SSL encryption, online open enrolment, two-factor authentication, payroll export integrations and audit trail change tracking.
Fingercheck 360 offers features like create job postings, assign different hiring leads, customize required fields, embed application forms, direct URL to job boards, email notifications, rate applicants, team comments, run background checks, easily switch to onboarding, hire employees completely online, 100% paperless onboarding, employees self-onboard, auto-generates signed i-9s and w-4s, generate custom contracts, electronic signature, onboard on mobile, pay method selection, new hire reporting, generates compliance documents, agreement copies shared with employees and geographical tax engine.
You may like to read: Free and Open Source Human Resource ( HR) Software, How to Select the Best Human Resource Software for Your Small Business and Human Resource Software for Small Business