Review
Kinhr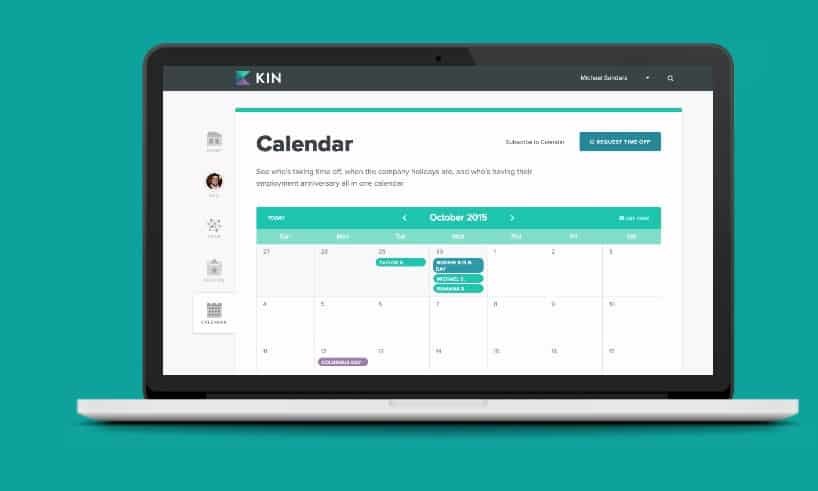 Overview
Kin manages onboarding, employee data and files, and time off in a web-based exchange that your entire team will enjoy using. That means less paper, less wasted time, and happier people
• Onboarding for New Hires
• Time-Off Policy Management and Request Tracking
• Company Directory and Calendar
• HR Task Management and Reminders
• Customized employee data tracking
• Company Job Descriptions & Employee Bios
• Employee Self-Service
• Employee Document Storage and Signature Tracking
• Compensation and Salary Tracking
• International currency and locations
• Quick & personalized support from the Kin team
• SSL data encryption and fully encrypted databases
• Daily data backups
• 99.9% uptime & 24/7 monitoring
• $ 5 per person per month
Small (<50 employees), Medium (50 to 1000 Enterprise (>1001 employees)
What is best?
• Onboarding for New Hires
• Time-Off Policy Management and Request Tracking
• Company Directory and Calendar
• HR Task Management and Reminders
• Customized employee data tracking
• Company Job Descriptions & Employee Bios
• Employee Self-Service
What are the benefits?
• International currency and locations
• Quick & personalized support from the Kin team
• SSL data encryption and fully encrypted databases
• Daily data backups
• 99.9% uptime & 24/7 monitoring
Kin HR software is the smart way to manage HR for the users small business which manages onboarding, employee data and files, time off, employee reviews and objectives in a web-based exchange that the users' entire team will enjoy using, with nothing to install, and which the users can start using immediately.
Kin HR offers features such as document management, employee self-service, management knowledge management, performance management, recruitment management, task management, employee data base, workflow management, reporting, people management, attendance management, email integration, expense management, payroll management, project management, reimbursement management, time and attendance management, leave management, API, MIS reports, appraisal management and benefits management.
Users can tell Kin HR how their company handles time off, vacation, and sick days then Kin creates a simple request and approval process for the user's team, along with a beautiful calendar showing all the time off across the company. Kin HR also lets users create a fantastic onboarding experience for every new hire with a personalized onboarding page that details the tasks, tips, contact info, and files which every new hire will need before starting work at their company. Kin HR also has an employee reviews feature which helps users schedule, delegate, and manage performance reviews together with its employee objectives.
In Kin HR the HR Manager has access to everyone's info and can manage all employees while employees can see their personal information and then limited information about their peers like: job descriptions, bios, and contact information. Kin HR can run in a modern web browser like Internet Explorer (10 or above), Safari, Chrome or Firefox and an internet connection where nothing else is required.
You may like to read: Free and Open Source Human Resource ( HR) Software, How to Select the Best Human Resource Software for Your Small Business and Human Resource Software for Small Business