Review
Swingvy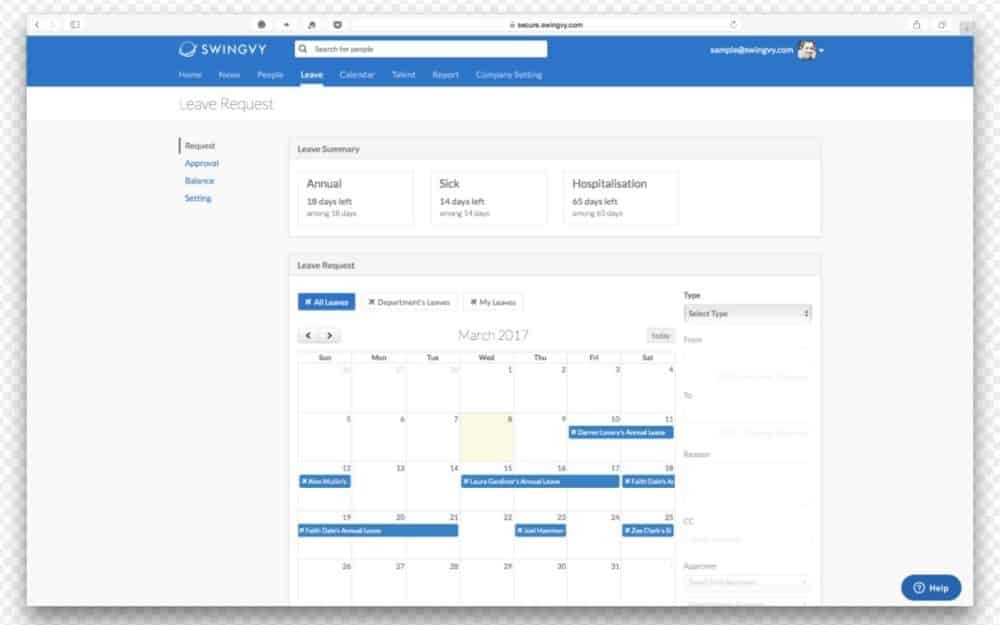 Overview
Swingvy manages onboarding, employee data and files, leaves, reports and documents that your entire team will enjoy using. That means less paper, less wasted time, and happier people.
• Employee Database
• Custom Profile
• Performance Review
• Leave Management
• Announcement
• Org Chart
• Calendar
• Custom Permission
• Custom HR Report
• Onboarding
• HR Software – RM 0.0 per employee per month
• Payroll – RM 10 per employee per month
Small (<50 employees), Medium (50 to 1000 Enterprise (>1001 employees)
What is best?
• Employee Database
• Custom Profile
• Performance Review
• Leave Management
• Announcement
• Org Chart
• Calendar
What are the benefits?
•Simple and intuitive HR software focusing on people
•ONE HUB of HR information
•View, analyse, manage and approve all holidays and absences centrally
•Company calendar gives you a bird's eye view of what's happening
Swingvy is a modern HR platform for small and mid-sized businesses which automates every administrative work such as employee onboarding, core HR, leave application, payroll and benefits administration without hassle by seamlessly connecting all HR information.
Swingvy offers features such as employee directory, employee profiles, company org chart, Custom HR report, leave management, leave report, performance management, mobile app (iOS / Android), customer support, as well as an employee database which is a centralized, system of record for the user's employee data, social newsfeed to share and stay tuned for everything going on in their company, custom profiles for customized employee profiles, time off management, company calendar to track key events, birthdays and time off, roles and permissions to give the right role and permission to access the data the users need, workflows with one click approvals for salary changes and promotions, onboarding which eliminates paperwork and automate onboarding process and goals and performance which manage goals and monitor performance and integration with Swingvy payroll which includes automated payroll, automatic onboarding and proration, statutory form generation, bank integration, mobile pay slip, end of year form generation and payroll report.
Swingvy is making significant strides to be able to let users contact their colleagues, complete tasks and access their HR systems while outside of the office is imperative to efficiency by building the most robust mobile HR application which provides a an employee database to search and contact their colleagues and where everyone gets the latest contact information without any manual update, a leave management to check, apply and confirm and access to the company calendar to check who's birthday is coming, who's going on leave, and who's just onboard the team.
You may like to read: Free and Open Source Human Resource ( HR) Software, How to Select the Best Human Resource Software for Your Small Business and Human Resource Software for Small Business