Review
BreatheHR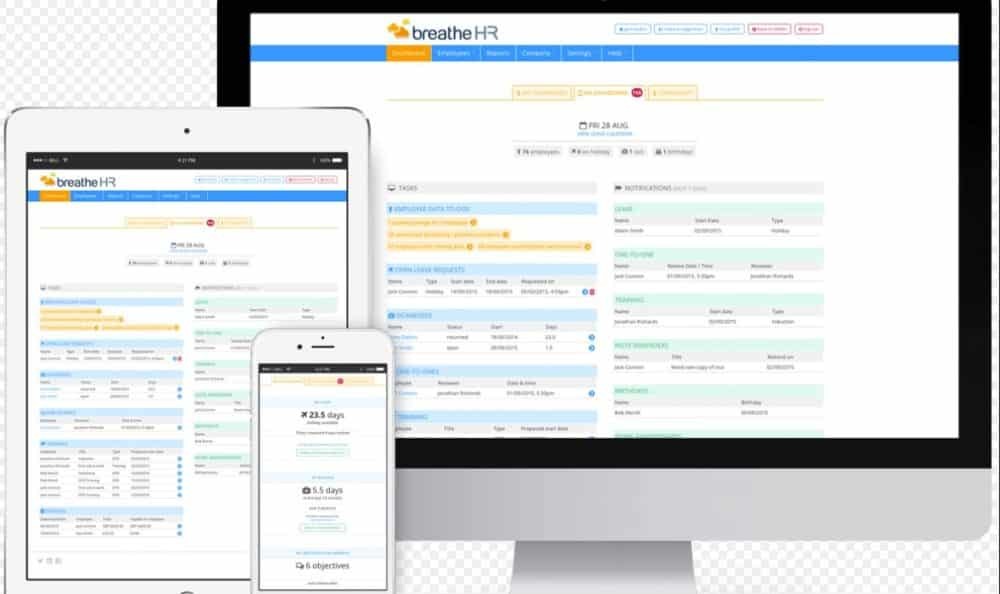 Overview
breatheHR software takes the hard work out of managing your employees and centralises all your employee information in one easy to use system.
• Centralize Information
• Documents
• Holidays
• Sickness
• Managing absence
• Performance
• Mobile
• Recruitment
• Expenses
• Reporting
• Time Log
• Tasks
• £9 per month, Annual price £97 to £199 per month, Annual price £2149 (1 to 250 employees)
Small (<50 employees), Medium (50 to 1000 Enterprise (>1001 employees)
What is best?
• Centralize Information
• Documents
• Holidays
• Sickness
• Managing absence
• Performance
• Mobile
• Recruitment
What are the benefits?
• HR system where you can easily and safely access all your HR data from anywhere there is an internet connection
• Manage your recruitment processes from start to finish.
• Easily manage and monitor employee sick leave and absences
BreatheHR is an online HR system for growing businesses which lets users centralize all their staff information in a simple to use HR system so nothing gets lost and offers an employee self-service to enable businesses to automate their time consuming HR admin tasks such as holiday booking, absence management and appraisals.
BreatheHR offers features such as holiday booking and team calendar, custom fields, manage employee reviews and objectives, record and track employee sickness, store employee records, employee self-service, mobile app for holiday booking on the go, shared documents and templates, API, ready to run reports and exports, export to payroll function, expenses management, finance user permissions as well as create an employee library for key documents, allow employees to easily track and request time off, enable managers and HR to spot trends in employee absences, run reports to help make important decisions, track budgeting for projects, teams, and clients, remind managers and employees when important tasks are due and motivate employees with timely reviews and peer encouragement.
BreatheHR offers streamlined employee profiles for users to stay organized and through the application, employees can manage many of their own HR functions where employee information include documents, performance reviews, and absences, all in one place and where users can also store ID documents, pay information, education data and contracts. Breathe HR also has an employee dashboard which allows workers to see at a glance how much vacation time they have remaining, deliverables coming due, expense reports, an employee directory and where users can send important information directly to employees and also create reports to identify patterns and share them with managers.
You may like to read: Free and Open Source Human Resource ( HR) Software, How to Select the Best Human Resource Software for Your Small Business and Human Resource Software for Small Business