Review
Avanti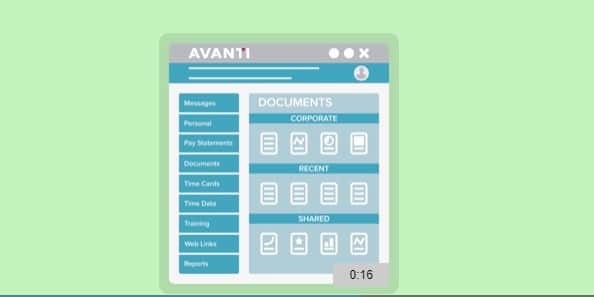 Overview
Avanti lets you get on with doing what you do best, rather than spend needless time and effort on trying to make multiple systems work together. Customizations from several different tools trying to "speak" to each other only complicates things
• Payroll
• HR
• Time and attendance
• Web self-services
• Scalable
• Intuitive
Small (<50 employees), Medium (50 to 1000 Enterprise (>1001 employees)
What is best?
• Payroll
• HR
• Time and attendance
• Web self-services
• Scalable
• Intuitive
What are the benefits?
•Accomplish all your paperless payroll functions with a single system.
•Helps you manage the complete employee journey in one place.
•Easy and flexible way to schedule and track time, configure online time entry
Avanti provides all your people management all from one single suite, including Payroll, Human Resources, Time & Attendance, and Self-Service; optimized for Canadian businesses.
Avanti software is a fully integrated solution for mid-sized or large companies which helps Canadian businesses manage human resources, payroll, and time and attendance from one convenient database, offers companies the option to have an on-premise solution or a managed hosted solution in the Cloud and offers solutions tailored to fit the needs and business processes of each company, whether there are hundreds or thousands of employees.
Avanti software offers features such as integrated payroll, HR, time and attendance, recruiting, onboarding, benefits administration, performance reviews, position management, training and development, document management, time off and entitlement management, health and safety tracking, consigned property management, future dated rates, automatic retro pay calculation, GL integration, electronic roes, easy ad hoc and standard reporting, employee or manager self-service, mobile access, definable workflows and alerts and definable security and access.
Avanti's self-service is a centralized communication hub that can be accessed from any computer or mobile device that has internet access where employees can find answers to questions about company policies, look up historical payroll statements, change personal information, and review T4s without ever having to contact HR or payroll and where mangers can create employee appraisals, view employee information, and review reports in order to make smart business decisions, all from the device of their choice while on the go. Avanti software can also automatically calculate overtime, shift premiums, and statutory holidays so that there is no need to waste time tracking and attendance and to make sure that each employee's time is calculated correctly every time.
You may like to read: Free and Open Source Human Resource ( HR) Software, How to Select the Best Human Resource Software for Your Small Business and Human Resource Software for Small Business