Top 42 Human Resource Software for Small Business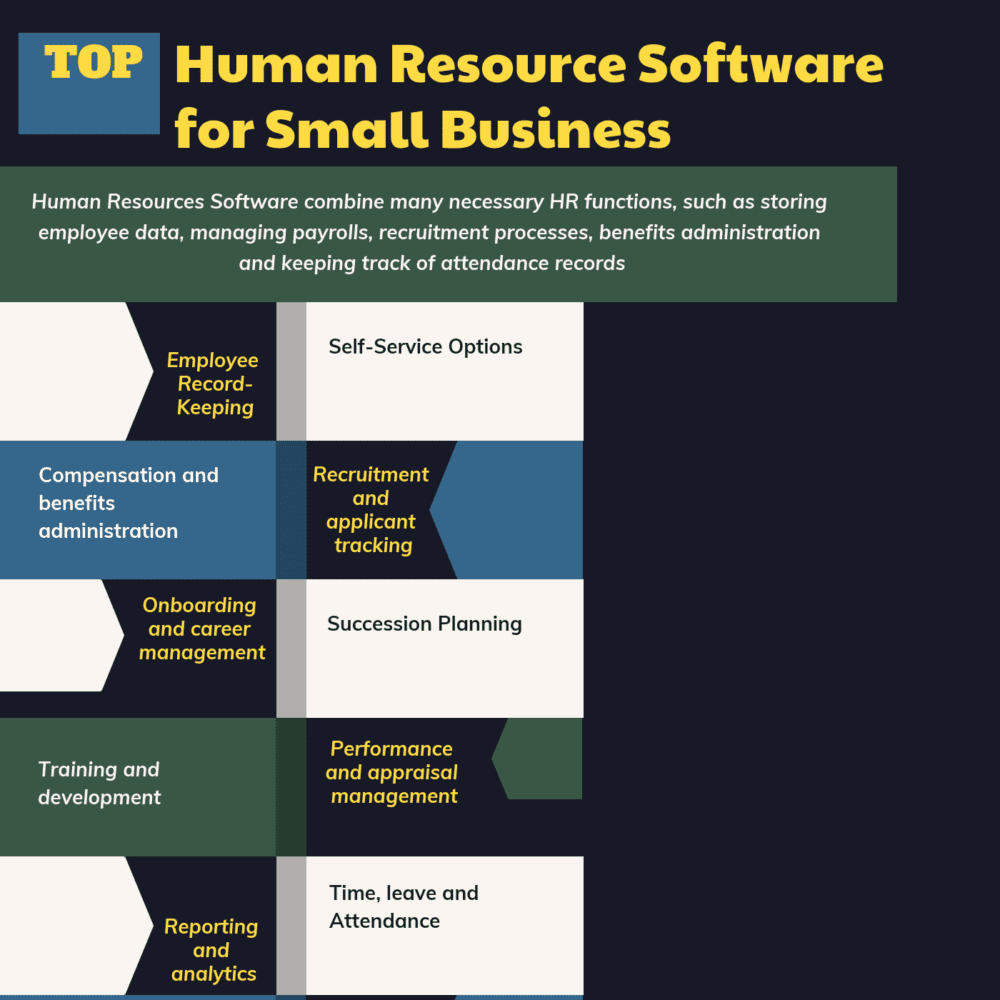 In an increasingly competitive and fast-changing world, improved HR and payroll functions is a vital component of every business. HR functions across different sectors are characterized by big data, mobility, integration, gamification, social media, and cloud computing, and thus need for an agile, flexible and customizable way to manage people is crucial regardless of the business size.
HR managers are expected to understand and incorporate employees in all age groups including millennials and build a strategy that helps them unleash their full potential and do more responsibilities to increase the businesses ROI. HR department needs to stay organized and handle everyday HR tasks like recordkeeping, payroll, and employee performance management among others.
Every business needs better hiring as well as talent management practices. Small Businesses face several challenges that include lack of dedicated HR staff and instead assign HR responsibilities to a single in-house administrator, a cross-functional manager where a single person is supposed to handle all HR functions such as hiring, payroll and benefits, time tracking, grievances, and disciplinary action, promotion, performance management, regulatory compliance, training, among others. Small businesses need the use of the right HR software to help perform all those roles effectively.
Human Resource(HR) software, also called Human Resources Management Systems(HRMS) or HRIS (Human Resources Information Systems) is a system designed to streamline, automate functions such as administrative tasks, record-keeping, compliance, give HR coordinators solutions to find and retain the best talent as well as optimize an organization's HR processes from a single database.
The HR tool should automate tasks that are otherwise time-consuming and redundant, such as scheduling and approving employee time-off requests, entering and copying data on spreadsheets, reconciling employee's payroll, handling tax, remittances, ROEs, and manual T4s. The HR Software replaces manual method that is prone to errors to help accomplish administrative tasks through spreadsheets, files, and folders.
What are the Best Human Resource Software for Small Business: BambooHR, CakeHR, SAP SuccessFactors, WebHR, Avanti, Swingvy, Hibob, Workday, Namely, Deskera HRMS, Solaforce HR, Oracle Global HR Cloud, CascadeGo, Access HR, BreatheHR, Hrnext, Paycor, GoCo, People, Natural HR, Easy HR, BrightHR, Kinhr, CIPHR, Knit, Altamira, People-Trak HR, Fingercheck, HR Cloud, Cezanne HR, APS, SimpleHR, EffortlessHR, ZYGGOS, Push Operations, Rise People, HRM Care, HR Partner, Unatrix, RuleHR, kiwiHR, Youmanage HR are some of the examples for best Human Resource Software for Small Business.
You may like to read: Free and Open Source Human Resource ( HR) Software, How to Select the Best Human Resource Software for Your Small Business

What are Human Resource Software for Small Business?
Human Resource Software combines the systems and processes to ensure the easy management of a business employees and data. The use of Human Resources Software is to combine many necessary HR functions, such as storing employee data, managing payrolls, recruitment processes, benefits administration and keeping track of attendance records.
It ensures Human Resources processes are manageable and easy to access. Human Resource Software merges human resources and its basic HR activities and processes with the information technology field. Human Resource Systems provide a means of acquiring, storing, analyzing and distributing information to various stakeholders.
HR enables improvement in traditional processes and enhance strategic decision making. There are different kinds of Human Resource Software solutions. There's traditional, on-premises software, which is installed and utilized on individual computers. Currently, however, cloud-based software is more popular and often preferred. This is mainly due to its advanced features and accessibility, software on the cloud can be mobile compatible, which means employees can access important information not only from their desktops, but from anywhere at any time via their laptops, smartphones, and tablets.
Small and medium businesses use human resource software to improve the management of employee data by streamlining and automating human resource and administrative processes through a centralized location. The software also allows human resource departments to focus on less time-consuming activities and more on staff retention, budgeting, and other strategic activities.
Businesses also use the software to record, update and access applicant data and employee records. Human Resource Software combines the systems and processes to ensure the easy management of a business employees and data. The use of Human Resources Software is to combine many necessary HR functions, such as storing employee data, managing payrolls, recruitment processes, benefits administration and keeping track of attendance records.
You may like to read: Free and Open Source Human Resource ( HR) Software, How to Select the Best Human Resource Software for Your Small Business
Employee Record-Keeping: Right HR software must help keep copies of vital records for the employees in a single database.
Self-Service Options: Ideal HR software for small businesses should allow employees to log in and do things like update their details, request time off, among others.
Compensation and benefits administration: HRMS should help employees enroll for benefits and manage their options from within the software. It should help compensate employees based on their performance.
Recruitment and applicant tracking: Another feature of a good HRMS is that it should enable the user to use it to track job applicants and manage the entire recruitment, shortlisting and interviewing process. Good HR software should help the user oversee the talent pool and enable them to sift through and sort applications and resumes to pick qualified candidates. It should also leverages the use of social media networking, tracks and manages candidates, and reach multiple job boards to attract the right talent for the right position at the right time.
Onboarding and career management: Good HR for small businesses should offer new employees with training and resources they need and help manage careers.
Succession Planning: Perfect HRMS should help plan the businesses future staffing needs and reduce their dependence on crucial employees by having a succession plan in place for specific essential roles.
Training and development: HRMS should allow the HR to plan the employees' training and development needs, and even integrate training into an app.
Performance and appraisal management: Ideal HR for small businesses should help keep track of employees' performance, set new goals and objectives, and have access to their growth and development.
Reporting and analytics: HR for small businesses should help analyze and report the employee data and create customized reports on things like attendance, turnover, and employee satisfaction, among others.
Time, leave and Attendance: Good HR for small businesses should help manage employees' vacation requests with a schedule to make sure they have adequate cover as well as offer more detailed time tracking for shift workers.
Communication and collaboration: HRMS should help communicate important company news to the employees, and allow them to communicate with each other through blogs, forums, message boards, news feeds and internal messaging among others.
Mobile access and cloud-based: Good HR for small businesses should be cloud-enabled to assist employees to access the system from anywhere or through a smartphone app so that they can check in and upload information while on the move.
Incorporating HR technology into the business processes can aid in digital transformation journey and grow the business sustainably, avoid staffing crises and improve profitability in the long run.
Top Human Resource Software for Small Business
BambooHR, CakeHR, SAP SuccessFactors, WebHR, Avanti, Swingvy, Hibob, Workday, Namely, Deskera HRMS, Solaforce HR, Oracle Global HR Cloud, CascadeGo, Access HR, BreatheHR, Hrnext, Paycor, GoCo, People, Natural HR, Easy HR, BrightHR, Kinhr, CIPHR, Knit, Altamira, People-Trak HR, Fingercheck, HR Cloud, Cezanne HR, APS, SimpleHR, EffortlessHR, ZYGGOS, Push Operations, Rise People, HRM Care, HR Partner, Unatrix, RuleHR, kiwiHR, Youmanage HR are some of the Top Human Resource Software for Small Business.
Human Resource Software for Small Business
PAT Index™
1
BambooHR is an online human resources (HR) software service for small and mid-sized businesses which offers a single system to consolidate all employee and human resources related data, manages a number of human resources activity. BambooHRcan be used to build a centralized database of employee profiles that can be accessed by anyone in the company with the access permissions they define where each profile can store personal information and a photo, as well as details on benefits, salary, time off, documents and training where the users can also add custom fields to record important information unique to their company. BambooHR…
Overview
• Applicant Tracking System (ATS)
• Employee Self-Onboarding
• Time-Off Tracking
• Employee Database and Records
• Performance Management Software
• HR Reporting
• Custom Workflows
• Electronic Signatures
• Bamboo Payroll
2
CakeHR
CakeHR is a complete HR solution that solves modern HR challenges. CakeHR handles requests and approvals digitally, then tracks them in shared calendars & reports. Keep everyone in the loop by using a shared company calendar.Multiple users can access the same calendar data from any device to schedule their team meetings, manage project and resource planning. Ideal application for offices who rely on a shared calendar. Every employee can access their account to see their balances, request time off, see who is away & quickly access important company information. Control who approves time off requests or even set up replacement…
Overview
• Timesheets: A fast, easy way for employees to track overtime
• Leave management: Handle time off approvals digitally
• Shift scheduling: Flexible & functional shift planning module
• Expenses: Submit & manage company expenses from mobile app
• Full employee, manager and HR self-service: roles-based security and robust online access 24/7 for everyone
• Single sign-on in addition to CakeHR''s own secure password capabilities
• Starter - $4 / month / user
3
SAP SuccessFactors
Sap SucessFactors HR solutions are flexible and extensible, and it supports local and global compliance needs. These solutions must be able to work based not on a solution provider's rigid requirements, but on the users organization's business drivers. Often, organizations have to replace their entire solution in order to implement a new core HR system. But SuccessFactors is different is a complete, cloud technology-based core HR system of record that combines HR transactions, processes and data with social collaboration features and mobile functionality. It is standards-based, flexible technology, so you can deploy it in your organization at your pace. It…
Overview
• Core Human Resources and Payroll
• Learning and Development
• Performance and Compensation
• Recruiting and Onboarding
• Applicant tracking software
• Time and Attendance management
• Workforce planning and Analytics
4
WebHR
WebHR is a cloud-based HR Information System that covers end-to-end HR responsibilities from employee recruitment (including job posting and applicant tracking functions) to employee turnover (including resignation submission and benefits management). WebHR is compatible with both Windows and Mac operating systems, and like other modern HRIS software, it also has a mobile app supporting better communication and accessibility. It allows admins to manage and control access permissions and approval limits and responsibilities for different levels. Time-off applications and approvals can be done through the system, as well as other activities like travel, budget requests, expense claims and even corrective action.…
Overview
• Social HR Software
• Employee Self-Service
• Dynamic Dashboards
• Applicant Tracking Systems
• Time & Attendance
• Payroll
• HR Calendar
• Documents Management
Price per employee per month:
• Monthly Billing $3
• Yearly Billing $2
• Add-on Performance Module - $1
• Add-on esignature - $0.10
• Add-on forms - $0.20
5
Avanti
Avanti provides all your people management all from one single suite, including Payroll, Human Resources, Time & Attendance, and Self-Service; optimized for Canadian businesses. Avanti software is a fully integrated solution for mid-sized or large companies which helps Canadian businesses manage human resources, payroll, and time and attendance from one convenient database, offers companies the option to have an on-premise solution or a managed hosted solution in the Cloud and offers solutions tailored to fit the needs and business processes of each company, whether there are hundreds or thousands of employees. Avanti software offers features such as integrated payroll, HR,…
Overview
• Payroll
• HR
• Time and attendance
• Web self-services
• Scalable
• Intuitive
6
Swingvy
Swingvy is a modern HR platform for small and mid-sized businesses which automates every administrative work such as employee onboarding, core HR, leave application, payroll and benefits administration without hassle by seamlessly connecting all HR information. Swingvy offers features such as employee directory, employee profiles, company org chart, Custom HR report, leave management, leave report, performance management, mobile app (iOS / Android), customer support, as well as an employee database which is a centralized, system of record for the user's employee data, social newsfeed to share and stay tuned for everything going on in their company, custom profiles for customized…
Overview
• Employee Database
• Custom Profile
• Performance Review
• Leave Management
• Announcement
• Org Chart
• Calendar
• Custom Permission
• Custom HR Report
• Onboarding
• HR Software – RM 0.0 per employee per month
• Payroll – RM 10 per employee per month
7
Hibob
Hibob is a cloud-based HR and benefits platform that transforms the way modern businesses understand, interact and manage their talent and focuses on control, insight and engage. Hibob offers features such as engagement, onboarding, document management, automatic reporting, applicant tracking, absence and time management, company culture and workflows. Hibob's employee holiday and absence tracking lets users manage all users' employee absence data in one central place, easy and visible holiday planning, policies assigned and enforced by individual or group, automatic approvals and track the team with absence status reports made easy. Hibob also offers a time log where employees check…
Overview
• Benefits
• Reports
• Auto Enrolment
• Docs
• Time Off
• Onboarding
• Free - 14 Days trial, all users
• Monthly plan – £ 5, per user
• Annual plan – £ 50+2 months free, per user
8
Workday
Workday Human Capital Management (HCM) is built as a single system with a single source of data, single security model, and single user experience. Workday HCM software provides complete visibility of your workforce and it helps you to plan, recruit, and nurture talent, and provide the training your employees need to lead on a single platform. Human resource management software helps you generate regionally employment opportunities automatically. Workforce planning software lets you create plans in spreadsheets using key dimensions such as organization, job profile, worker type, key skill, and location. It helps you implement talent strategies by combining financial data…
Overview
• Human resource management
• Workforce planning
• Audit and internal controls
• Recruiting
• Talent management
• Learning & development
• Compensation and benefits
• Payroll management
• Leave management
9
Namely
Namely is an HR Platform that consolidates various HR Processes and Employee management modules into a single software. It supports a paperless environment as it allows users to collect, maintain and update employee information into a centralized database. It has a mobile app for mobile access and better connectivity and is compatible with Android, iPhones, and iPads. Namely supports better visibility and communication within the company both through its newsfeed and network feature. Its interface is like a corporate social media outlet similar to Facebook, Linked-in or Twitter, and supports a transparent 3600 feedback environment. It also gives both employees…
Overview
• Modern HR:
• Payroll
• Timekeeping
• Simplified Employee Benefits
• Talent Management
• Managed Services
10
Deskera HRMS
Deskera HRMS is a cloud-based human resources management system for small and midsize businesses which covers recruiting management, personnel administration, timesheet management, payroll and performance appraisal. Deskera HRMS offers features such as employee lifecycle management, expense reporting, payroll management, payroll template creation, pay slips, employee self-service, recruitment management, job postings, applicant self-service, resume management, candidate pool searching, interviewer assignment, interview management, applicant status tracking, recruitment agency management, appraisal cycle configuration, goal management, competency management, one-click appraisal initiation, performance rating assignment, appraisal reviews, appraisal reports, timesheet management, timesheet approvals, personnel administration and audit trail. The Deskera HRMS' recruitment management capabilities enable…
Overview
• Payroll Management
• Recruitment Management
• Performance Appraisal
• Timesheet Management
• Employee Self Service
• Personnel Administration
11
Solaforce HR
Solaforce HCM solution is a multipurpose tool for many different departments to use in supporting the company's development. It empowers your employees to achieve better results through advanced planning, organization, talent, and compensation management. Salesforce HCM provides a set of modules that combine employment, development and performance management together with analysis, planning and reporting to an all-in-one next generation human resource management solution. Salesforce helps you to manage and store employees' personal information in one place. With it, you can update any information regarding employees, be it education history, work reviews, current assignments etc. It allows you to track your…
Overview
• Performance Management
• Recruiting
• Collaboration
• Rewarding
• Analytics
• Planning
• Personnel development
• Admin
• Cloud platform
12
Oracle Global HR Cloud
Oracle Cloud HR helps you to deploy user-friendly HR processes and benefits programs, enhance performance, and engage your workforce, using one easy-to-use global system. Oracle cloud HR Employee feature helps you to manage worker lifecycle, from hiring to termination, according to legislation and common global practices. It has a centralized system for managing employee information including personal information, benefit enrollments, and job positions. Oracle HR Absence management feature helps you define absence plans, work-hour patterns, and entitlements according to company rules and external regulations. Oracle HR benefits management feature lets you leverage on a highly configurable global benefits solution that…
Overview
• Human Resources
• Absence management
• Benefits Management
• Business insight
• Performance Management
• Payroll Integrations
• Talent Development
• Career management
• Expense management
13
CascadeGo
CascadesGo, formerly called Octopus, is an HR solution online that consolidates various HR and administrative tasks and processes into a single hub. The software has modules that cover the areas of recruitment, payroll, performance, expenses, timekeeping, and training, which are all easily accessible online and through its mobile app. With its self-service feature, the task of and time for maintaining the employee directory is taken away from HR and given to employees who are empowered with the access to ensure their information is accurate on file. This gives HR the time to focus on other impactful activities. Apart from basic…
Overview
• Employee Directory
• Reports
• Holidays
• Sickness
• Employee Engagement
• Company Handbook
14
Access HR
Access HR software offers HR solutions which support every aspect of the users' HR, talent management, employee interactions and payroll, from recruitment to training and onboarding to performance and absence management, as well as a flexible range of payroll solutions, Access HR will help users to unite, integrate and optimize all of their people processes, talent management, payment and reward and track, monitor and analyze the success of their employees. Access HR offers features such as performance management and appraisals, talent acquisition and applicant tracking, payroll, reporting and analytics, self-service and mobile, learning and development, onboarding, document management and holiday…
Overview
• HR and talent management
• Payroll
• Applicant tracking
• HR analytics
• For Growing Businesses
• Time & Attendance
• Self service
• Performance management
15
BreatheHR
BreatheHR is an online HR system for growing businesses which lets users centralize all their staff information in a simple to use HR system so nothing gets lost and offers an employee self-service to enable businesses to automate their time consuming HR admin tasks such as holiday booking, absence management and appraisals. BreatheHR offers features such as holiday booking and team calendar, custom fields, manage employee reviews and objectives, record and track employee sickness, store employee records, employee self-service, mobile app for holiday booking on the go, shared documents and templates, API, ready to run reports and exports, export to…
Overview
• Centralize Information
• Documents
• Holidays
• Sickness
• Managing absence
• Performance
• Mobile
• Recruitment
• Expenses
• Reporting
• Time Log
• Tasks
• £9 per month, Annual price £97 to £199 per month, Annual price £2149 (1 to 250 employees)
16
Hrnext
HRnext is a simple, affordable and a comprehensive and SaaS based Human Capital Management System for small and midsize companies which is fully integrated with payroll and timekeeping systems and requires no hardware or software installation. HRnext includes software such as employee central, applicants and onboarding, payroll, reporting and compliance, absence and leave and organization structure. The HRnext HRIS is fully integrated in real time with a state-of-the-art payroll processing platform that is accessible via the same sign-on. HRnext leverages the expertise of the payroll service providers to streamline and simplify the administration of payroll and payroll taxes. HRnext's applicant…
Overview
• Total workforce management
• Applicant tracking system
• HR dashboard
17
Paycor
Paycor is a platform for small and medium-sized organizations which offers cloud based solutions to manage the user's HR & Payroll technology. Paycor offers features such as applicant tracking, electronic onboarding solution, employee self-service, next-generation perform HR, workflows, email alerts, powerful payroll tax compliance software, user-inspired design software, intuitive time and labor management, advanced mobile functionality and workforce insights. Paycor's applicant tracking is a mobile ready, fully-featured applicant tracking system for small and medium-size businesses which will help users streamline the recruiting process to land the top talent and get immediate visibility into recruiting activity to quickly see where candidates…
Overview
• Recruiting, Hiring & Onboarding
• HR & Benefits Administration
• Payroll & Tax Compliance
• Time & Attendance Tracking
• Reporting & Analytics
18
GoCo
GoCo is an all-in-one HR, benefits and payroll platform designed for the users' small business which simplifies hiring, team performance and time-off, provides 100% online benefit management supported by the best benefit advisors in the nation and keeps the users' HR, benefits and payroll perfectly in sync where any changes made on GoCo will show up on their payroll, automatically. GoCo offers features such as customizable onboarding experience, request & track time-off with their own personal accounts, view headcount, compensation, benefit cost and other reports, bank-level encryption, customized reports, largest benefit selection with major insurance carriers, expert benefit support, health,…
Overview
• Modern HR
• Benefits
• Payroll
• Compliance
• Security
19
People
People is a software for human resource management system that allows users to document, track, follow-up, resolve, report and even automate employee information, performance, administrative tasks, payroll , processes and other key company activities and deliverables within its platform. People software's interface is organized into different modules that are user-friendly. It serves as a centralized access and control tool for various functions in managing employee data, performance, compensation and benefits. Because controls are streamlined, managers and HR personnel can follow through these tasks efficiently and accurately. To add to this, People's RippleTM Workflow feature allows users to automate and schedule…
Overview
• HR Essentials
• ATS
• Performance Management
• Ripple Workflow
• Follow Me TM
• Missions
• Mobile App
• Continuous Feature Development
• Integrations
Price per employee per month:
• Starter - $1.30
• Team - $1.95
• Professional - $3.25
• Enterprise - $ 4.60
• Elite - $ 6.55
20
Natural HR
NaturalHR is a web-based HRIS platform used to collect, secure, analyze and support employees and employee information as well as empower employees through self-service and improved visibility. It is ISO 27001 accredited and features customizable permissions and approval workflows to different levels/roles in the company. NaturalHR reporting feature includes standard 70 reports along with user permissions to customize reports for their need. Data collected and inputted in the software tracks employee information, movement, time offs, training participation/completion, recruitment, performance history and progress, financial movements, and organization roles is translated into useful and meaningful reports that correlate data, provide some foresight…
Overview
• HR Analytics
• HR Database
• HR Reporting
• Access Levels
• Asset Management and Tracking
• Performance Management
• Recruitment
• Social Media
• Total Reward (Benefits)
• 100 Employees Basic Solution - £1,800 per annum plus £540 one off implementation fee
• 250 Employees Advanced Solution - £9,000 per annum plus £2,160 one off implementation fee
• 500 Employees Enterprise Solution - £30,800 per annum plus £5,650 one off implementation fee
21
Easy HR
EasyHR is a fully hosted Online service, and delivers true Power of Choice by offering both Cloud and on premises solutions via server, rich client, browser client, mobile, and integrated surround services. EasyHR is one of the fastest growing business applications from SLS and the fastest growing HRM solution EasyHR is a user-friendly and simple cloud-based HRMS that allows the company to define, simplify, automate and provide visibility of different process workflows and data for both HR and operational functions. The modules of EasyHR covers essential HR functions from ensuring complete employee information to managing key HR performance indicators like…
Overview
• Employee Self Service
• Payroll and Compliance
• Leave and Attendance
• Recruitment Management
• Training Management
• Claims and Expense Tracking
• Travel Management
• Performance Review
• Helpdesk
• Asset Management
• Rewards and Recognition
• Central Administration
• Up to 50 employees - ₹ 5000 /month
• Up to 100 employees - ₹ 10000 /month
• Up to 200 employees - ₹ 20000 /month
• Up to 500 employees - ₹ 50000 /month
22
BrightHR
BrightHR is an HR support software that helps HR streamline employee data collection, storage and management. It is web-based and is available as a mobile app empowering users to maintain and act on requests easily anywhere. The software may be simple but it was awarded HR provider of the year in 2016 by SME Awards. BrightHR covers uncomplicated HR processes like Time-off requests and approvals and employee data management. But it also has a feature for workforce scheduling that allows HR to easily create shifts and rotating shift assignments and quickly assign and share these working schedules to the team.…
Overview
• Employee absence management
• Employee records
• Shift and rota planning
• Employment law advice
• EAP
• £3 / mo/ employee
• Add Employee Assistance - £3 / mo/ employee
• Add Expert employment law advice - £3 / mo/ employee
23
Kinhr
Kin HR software is the smart way to manage HR for the users small business which manages onboarding, employee data and files, time off, employee reviews and objectives in a web-based exchange that the users' entire team will enjoy using, with nothing to install, and which the users can start using immediately. Kin HR offers features such as document management, employee self-service, management knowledge management, performance management, recruitment management, task management, employee data base, workflow management, reporting, people management, attendance management, email integration, expense management, payroll management, project management, reimbursement management, time and attendance management, leave management, API, MIS reports,…
Overview
• Onboarding for New Hires
• Time-Off Policy Management and Request Tracking
• Company Directory and Calendar
• HR Task Management and Reminders
• Customized employee data tracking
• Company Job Descriptions & Employee Bios
• Employee Self-Service
• Employee Document Storage and Signature Tracking
• Compensation and Salary Tracking
• International currency and locations
• Quick & personalized support from the Kin team
• SSL data encryption and fully encrypted databases
• Daily data backups
• 99.9% uptime & 24/7 monitoring
• $ 5 per person per month
24
CIPHR
CIPHR is a fully scalable human resource management system which helps business manage their staff, and offers various applications in HR, payroll, and recruitment and provides a robust platform to effectively handle all HR and payroll requirements. CIPHR offers features such as absence management, active directory integration, activity dashboard, activity tracking, applicant tracking, applicant workflow, applications management, appraisal history, audit trail, automatic backup, automatic notifications, benefits management, business intelligence, charting, competency management, compliance management, customizable branding, customizable reporting, data visualization, document management, document storage, employee database, employee lifecycle, employee management, employee onboarding, employee portal, employee profile, employee self-service, expense claims,…
Overview
• Fully scalable HR SaaS solution
• Manage the whole employee lifecycle with one system
• Attract and retain the right talent
• Free up HR time to focus on business strategy
• The latest functionality with regular, hassle-free upgrades
• Access to exclusive features, such as CIPHR Mobile
• No install, upgrade, security or maintenance costs
• Predictable, scheduled payments for easier budgeting
• Provide support and services needed to keep HR wheels turning effectively with full complement of training, consultancy and support services
• Have a >97% SaaS Customer retention rate
25
Knit
Knit is an online payroll and HR software for small to medium-sized businesses which automates payroll and compliance, simplifies key HR processes and backed by friendly customer service. Knit offers features such as direct deposit, tax filings, year-end reporting, paid time off tracking, onboarding, payroll management and self-service portal. Knit is an all-in-one which takes the hassle out of tedious tasks and paperwork by automatically calculating, deducting and remitting all the user's payroll taxes. Knit will send direct deposits and digital pay stubs to the user's employees with a click of a button which saves time and let the user's…
Overview
• Employee self-onboarding
• Implementation / switch-over
• Unlimited payroll runs
• Paid time-off tracking
• ROE, yearend processing
• Personal employee portals
• Managed payroll runs
• Dedicated account manager
• Access to payroll specialist
• Free vendor payments
• Yearend payroll reconciliation
• Free - $0
• Fully Managed - $10 Per Employee Per Month
• Enterprise – Contact on site
26
Altamira
Altamira HR is delivered exclusively via the Internet as SaaS and features several modules that assist the HR office run its operations in a simple yet progressive manner. It is easy to use and also highly customizable and adaptable to your specific organizational needs. You can create new fields, define you own lists, choose form layouts, build your own email templates, design the perfect career site, and implement your own reports and workflows. Altamira HR automatically matches candidates to job requirements and ranks them according to the criteria you specify making it easy to track down the best candidates. Altamira…
Overview
• Employee management
• Learning & development management
• Performance management
• Leave management
• Integration
• Multi-language
27
People-Trak HR
People-Trak HRIS enables you to keep and manage all your employees' data in one centralized system. The advantage of centralized data is that it provides; easy lookup, easy reporting, and easy maintenance, offering flexibility and comprehensive tracking for the company's unique needs. People-Trak HRIS consists of personnel profiles and directories where personal and demographic information of every employee can be entered and stored for referencing. People-Trak HRIS enables the HR office to manage and track employee benefits, compensation, and handle time-off request and approvals all in one place. The HRIS also has a database with details of various jobs positions…
Overview
• Personnel Profiles & Directories
• Instant reports
• Automated alerts
• Leave management
• Payroll management
• Learning & Development
• Customizable Interface
28
Fingercheck
Fingercheck is a vibrant, cohesive, intuitive, human and approachable human resources platform which provides users ease of use, cloud-based solution and helps users look after their employees without strict managerial oversight. Users can avail of the Employee Time Clock Software, Fingercheck and the All-in-one HR Platform, Fingercheck 360. Fingercheck offers features such as fingerprint time clocks, facial recognition time clocks, mobile app (IOS & android), tablet app (IOS & android), web browser, text message, twitter, unlimited 7-level job costing, GPS tagging, geographic & job fencing by location, capture photograph at clock-in and clock-out, eliminate buddy punching, restrict IP address for…
Overview
• Hiring
• Onboarding
• Time Tracking
• HR Management
• Payroll
• Benefits & Insurance
• Mobile
• Employee Time Clock Software Fingercheck - $2/mo Per Employee + $20 Subscription fee
• All-in-one HR Platform Fingercheck 360 - $6/mo Per Employee + $35 Subscription fee
29
HR Cloud
HR Cloud is the all-in-one solution that takes care of the users' team's onboarding, employee records and culture in one place. HR Cloud offers features such as smart automation, completely customizable forms, streamline compliance verifications and products like workmates for engagement and people for HR. HR Cloud's Onboard delivers the level of personalization today's employees expect and welcomes new hires with a customized portal that includes messaging, videos, content, and documents specifically for them. HR Cloud's Onboard has a self-service platform and automated reminders which enables new employees to complete everything before their first day. HR Cloud's Onboard also makes…
Overview
• Stress-free compliance
• Breeze through intuitive, comprehensive setup.
• Customizable to fit your every need.
• Flexible tools
30
Cezanne HR
Cezanne is anHR Solutions software that supports various HR functions for medium and large businesses. The core component of this HR platform is its people management module that allows HR to have a centralized employee database. It also ensures legislative requirements are met and kept to date with its provided templates, forms and calendar reminder function. Data is organized and allows users to access and update employee information, keep historical data and align the HR data management structure to the company organization chart. This module also allows HR to work through multiple deployments according to defined privileges, cost centers, work…
Overview
• People Management
• Absence Management
• Performance Management
• Career and Succession Planning
• Time Tracking
• Desktop and Mobile Access
31
APS
APS is an HR Solutions software that integrates modules for workforce management, core HR Tasks, Payroll, Attendance and Recruitment into set solutions. Buyers have the option to choose between 3 solution sets to fit their needs. The APS Solutions automates data management, reporting and approval workflows for core HR, Payroll and Attendance functions. It tracks, keeps and allows easier updating of employee data from recruitment to retirement or resignation. It can produce comprehensive reports on: employee demographic, payroll, timekeeping and attendance, asset tracking, performance tracking, event tracking, and other customizable HR reports. Its payroll module also includes a Tax Filing…
Overview
• HR Core Functions
• Payroll
• Time & Attendance
• Recruiting and Onboarding
• Analytics & Reporting
• Custom training plan for deployment
• Dedicated support group
• Desktop and Mobile Access
32
SimpleHR
SimpleHR is a HRIS software that allows you to input and track employee information and performance data for easier data management and reporting. Its downloadable desktop version is licensed with two products: SimpleHR Express and SimpleHR 9, while its web version, SimpleHR Online, is licensed with two editions: Pro and Enterprise. This tool is ideal for small and medium businesses or a specific segment of large businesses. To get a better idea about its financial benefits or to build a business case, their website also offers an ROI calculator to interested customers. The program itself is easy to use and…
Overview
• Salary History and Benefits
• Performance Reviews and Training
• Vacations, Attendance and Sick Leaves
• Health and Safety Records
• HR Dashboard
• Automated Reminders
• Document Library
• Reports (over 50 standard reports)
• SimpleHR Express - $199
• Support SimpleHR 9.0 SimpleHR Express - $95
• SimpleHR 9.0 - 1 User System - $495
• SimpleHR 9.0 - 2 User System - $595
• SimpleHR 9.0 - 3 User System - $695
• SimpleHR 9.0 - 4 User System -$795
• SimpleHR 9.0 - 5 User System - $895
• SimpleHR 9.0 - 10 User System - $1395
• SimpleHR 9.0 - 15 User System - $1895
• SimpleHR 9.0 - 20 User System - $2395
• Support SimpleHR 9.0 - 1 User System - $95.00
• Support SimpleHR 9.0 - 2 User System - $125
• Support SimpleHR 9.0 - 3 User System - $150
• Support SimpleHR 9.0 - 4 User System - $175
• Support SimpleHR 9.0 - 5 User System - $200
• Support SimpleHR 9.0 - 10 User System - $325
• Support SimpleHR 9.0 - 15 User System - $450
• Support SimpleHR 9.0 - 20 User System - $575
• SimpleHR 8.0/9.0 Additional User - $100
• Upgrade to SimpleHR 9.0 - $296 USD
• New User Training - $299
• Advanced User Training - $399
• SimpleHR Pro Edition - $0.99 per employee/week
• Enterprise Edition - $1.49 per employee/week
33
EffortlessHR
EffortlessHR is an all-inclusive web-based HRIS providing a solution for automating various HR-related tasks, reports and processes. Its Employee Management Module allows users to store and access files from the cloud any time. It also comes with templates for reports and HR Forms compliant with legal requirements. The interface of the module is simple and straightforward allowing admins to view, add and remove or update employee information from the database as well as control access levels and permissions. The system also allows users to import files into the system to update data sets. It also comes with a calendar and…
Overview
• Online Employee and Personnel Management
• Employee Portal
• PTO Tracking and Leave Management
• Online Employee Timeclock
• Document Storage
• 14 Day Free Trial
• Basic - $39/mo or $336/yr
• Plus - $120/mo or $1200/yr
• Ultimate - $235/mo or $2350/yr
34
ZYGGOS
ZYGGOS is a full-service HR solution built for small business which offers a cloud-based payroll, helps users put together a complete benefits package including health, dental, vision, life and disability and national carriers that offer Pay-As-You-Go Workers' Compensation so there are no year-end surprises. ZYGGOS has 3 solutions such as PLUS, ENHANCED and ADVANCED. ZYGGOS PLUS offers features such as Payroll & Tax Filing, Web-based Access, Paperless Payroll, Full service Direct Deposit / Rapid Pay Card, New Hire Reporting, Employee Self-Service Center, Employee Benefits Onboarding & Management, Garnishment Payment Services, Workers' Compensation Pay as You Go, General Ledger Interface and…
Overview
• Payroll
• Benefits
• Workers' Compensation
• Fixed pricing. No nickel and dime.
• zyggos plus - starting at $8 per employee per month
• zyggos enhanced - starting at $15 per employee per month
• zyggos advanced - starting at $30 per employee per month
• customize your own package
35
Push Operations
Push Operations is a simple and intuitive platform which provides flexible payroll service, longer customer service hours and customized reports to make better decisions. Push Operations offers features such as employee self-serve for time off request, shift swap, and release, view sales forecast and labor budget while scheduling, easily schedule employees for multiple positions, create user's own clock setting rules based on company's culture, eliminate early starts by comparing clocked vs. scheduled times, ensure employees work ready with clock in/out camera feature, automate statutory holiday calculations, run payroll in 5 minutes, 24/7 support, easy streamline onboarding and off-boarding, track employee's…
Overview
• Schedule
• Time & Attendance
• Payroll
• HR
• Reports
36
Rise People
Rise People is an all-in-one HR software solution for everyone which builds a better workplace and extends value beyond the HR department. Rise People offers features such as centralized database, compliant and secure, document storage, accurate reporting, customizable, history & auditing, smart reminders, intuitive interface, custom workflows, controlled access and easy access for employees. Rise People has an intuitive single HR system of record to maintain all company and employee information and store digital paperwork to empower employees and managers to keep their own info up-to-date in their HR system. Rise People lets users simply tap into any information they…
Overview
• Intuitive single HR system
• Tap into any information required
• Track and manage time off
• Measure sentiment to get actionable insights
• Rise plays nicely with Slack
37
HRM Care
HRM Care is a cloud HR management application which provides the use of various technologies like cloud computing, SSL and various firewalls to ensure the users' data remains safe and secure to provide a dedicated safety to their organization in the application which no one else have the access rights apart from the users' company. HRM Care offers features such as employee creation, employee confirmation, promotion, de-promotion and transfer, employee documents, internal job vacancy update, applicant database, job title based recruitment process, screen, select and schedule, attendance management, leave management, shift allowance and overtime allowance, claims and reimbursements, loans and…
Overview
• Core HR
• Recruitment
• Workforce Administration
• Performance Management
• Talent Development
• Start Up - Free
• Silver – Rs. 150 per employee, Up to 25 employees
• Gold - Rs. 120 per employee, Up to 75 employees
• Platinum - Rs. 100 per employee, Up to 100 employees
38
HR Partner
HRPartner is an cloud HR management system for small and midsize businesses which provides and all in one Core HRIS + Applicant Tracking, frequent software updates and same-day responses to all support queries and offer live chat for instant interactions. HRPartner offers features such as time-off, vacation and absence management, applicant tracking and recruitment, employee onboarding and checklists, grievance notes, reports and charts, training records and role and access control. HRPartner lets users manage core employee records and update information and store company documents, handbooks, and procedures. HRPartner lets users keep track of employee performance, vacation time and time-off balances…
Overview
• Central Employee Database
• Company Document Storage
• Vacation/Absence Management
• Recruitment & Applicant Tracking
• Employee Onboarding
• Employee Self-Service (ESS)
• Performance Management
• Training Management
• Benefit Tracking
• Position History
• Advanced Access Control
• News & Polls
• Custom Fields
• $8 USD/Employee/Month (or $12/Employee With Timesheets Add-On)
39
Unatrix
Unatrix is a modern SaaS for E- recruitment and CRM solution for recruitment and staffing companies. It is generally a web-based applicant tracking solution for your business, no matter its size. Its designed mainly for recruiters and covers both recruitment and staffing processes. Generally, you can use Unatrix for recruitment, matching, job posting, multi-channel-posting, applicant tracking, manage clients, manage sales processes, plan projects and to plan assignments. Unatrix offers you multi-user capability in that it is scalable from 3 to unlimited users. It allows you as an employer to create job descriptions within the system, either from previously used templates…
Overview
• Recruitment where all steps in the recruitment process can be simply and clearly represented, so that you always have an overview.
• Job advertisements where details of your current job vacancies are published in the corporate design on your website homepage, external job-portals or social media platforms.
• CRM where as a consulting or recruiting service you can complete your process chain with key CRM functions.
• Requests where requests from your clients can rapidly be recorded in Unatrix.
• Projects where your service providers covering projects for their clients are able to process related data in a structured manner.
40
RuleHR
RuleHR is a software as a service (saas) and cloud model human resource and payroll management system which helps to revolutionize a workplace and the automation of repetitive and time consuming tasks associated with human resources management. RuleHR offers features such as recruitment management, personnel information management, attendance and time sheet management, leave process, personnel management, performance management, training management, insurance management, RuleHR dashboard, employee self-service, messaging alerts, graphical data, role based security, HR software calendars, 24/7 access from anywhere and increase accuracy and decrease risk. RuleHR Dashboard lets users see the state of the organization, division, department, or employee,…
Overview
• User Friendly
• Complete Recruitment Process
• Employee Profile
• Employees Self Service
• Employees Attendance
• Biometrics Interface
• Leaves Management and Approvals
• Free
• Silver - $29/ month, 25 employees
• Gold - $54/ month, 50 employees
• Platinum - $99/ month, 100 employees
41
kiwiHR
kiwiHR provides all relevant employee information centered in one secure system. Quickly create digital personal files and delegate completion and updates to your employees with more information such as date birth or emergency contacts. kiwiHR makes absences and attendance management refreshing, offering quick and easy vacation planning and smart time tracking. Allow your employees to record starting working time, end time and everything in between on the go from any device. Your employees will love the transparency and flexibility that kiwiHR offers and you will love not having to deal with old-school sticky notes. Say bye-bye to confusing Excel spreadsheets…
Overview
- Company dashboard
- Employee management
- Time off management
- Company calendar
- Calendar sync
- Public holidays
- Document management
- Time Tracking
- Data security
- Mobile ready
Asset management (coming soon)
kiwiHR offers its features all bundled in one affordable package.
- Price per employee per month 2,50 € / 3 $ when billed annually
- Price per employee per month 3,00 € / 3.50 $ when billed monthly
42
Youmanage HR
Youmanage HR is a compliance-based HR Software system driving efficiency for businesses worldwide. It is the only HR software that combines all of the tools, workflow processes and legislative guidance that is needed within your organisation. Youmanage equips your line managers to take greater accountability for day-to-day people management issues, reducing HR administration and support costs. When raising management standards you'll see the competence, motivation and productivity of your workforce skyrocket. The software is broken down into six individual modules – Core HR, Absence & Holidays, Self-Service, Disciplinary, Performance & Recruitment. Aside from core, all modules are optional and you…
Overview
•Employee Database
•Absence & Holiday Management
•Disciplinary & Grievance
•Recruitment (inc. E-Recruitment)
•Self-Service
•Performance Managament
•Compliance-led providing you with the tools you need to comply with data retention regulations.
Modular and based on your employee headcount. Annual Subscription.
What to Choose: Proprietary or Open Source HR Management Software for SMB?
From a buying perspective there are two options based on the source code availability: Open Source Software and Proprietary Software.
Open Source HR Management Software for SMB: Open Source HR Management Software for SMB is ideal when you have a development team available in your company and when you want to try out the product or build new features and functionality on top of it.
Proprietary HR Management Software for SMB: Proprietary HR Management Software for SMB is a good choice when you are looking for an established product, when your requirement is for SAAS product or when you need full-fledged support and when open source standards doesn't matter in your line of business.
You may want to review How to Select Cloud HR vs On-Premises HR Software for Your Business
How about Cloud and on Premise Software
Based on the installation type there are cloud-based and on-premises software systems, with both the systems having equal share of benefits. The cloud software is hosted and managed and maintained on a remote server. It is also referred to as software as a service (SaaS). On-premises software is normally installed and implemented on your company's premises and which need your own IT team to manage and maintain the on- premises system.
Selection of the installation type depends on the needs of your organization. A small company may find the cloud system more appropriate since the cost of installation is lower as opposed to having on-premises system.
You will find free or limited free versions in both the Open Source Software and Proprietary Software.
We recommend determining how the software fits to your business in terms of features, functionality, and business process with a free trial.