Review
kiwiHR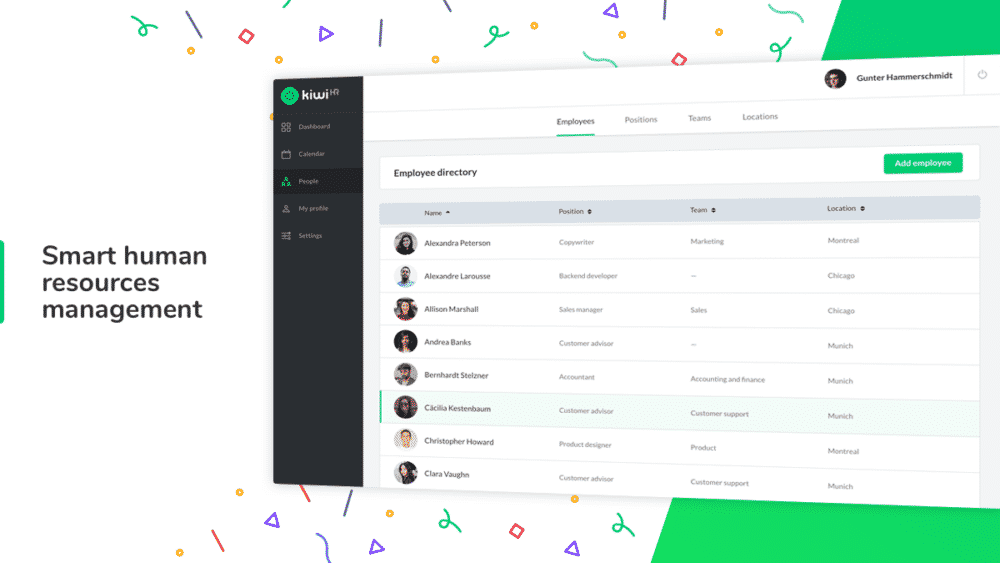 Overview
kiwiHR is where innovative companies manage and organize employees' absences and data. Simply a secure and modern HR tool for small and medium-sized enterprises.
Human Resources Software, HR Software,
- Company dashboard
- Employee management
- Time off management
- Company calendar
- Calendar sync
- Public holidays
- Document management
- Time Tracking
- Data security
- Mobile ready
Asset management (coming soon)
kiwiHR offers its features all bundled in one affordable package.
- Price per employee per month 2,50 € / 3 $ when billed annually
- Price per employee per month 3,00 € / 3.50 $ when billed monthly
Users who subscribe to kiwiHR by December, 31 of 2018 kiwiHR offers 50% off for the first 12 months of use.
Enhance your HR workflow during our offered 30-day free trial
- English, German
- French coming soon
What is best?
• Company dashboard
• Employee management
• Time off management
• Company calendar
• Calendar sync
• Public holidays
What are the benefits?
• Usability
•Responsive design
•Simple configuration
kiwiHR provides all relevant employee information centered in one secure system. Quickly create digital personal files and delegate completion and updates to your employees with more information such as date birth or emergency contacts. kiwiHR makes absences and attendance management refreshing, offering quick and easy vacation planning and smart time tracking.
Allow your employees to record starting working time, end time and everything in between on the go from any device. Your employees will love the transparency and flexibility that kiwiHR offers and you will love not having to deal with old-school sticky notes.
Say bye-bye to confusing Excel spreadsheets and take a big step towards digitization with kiwiHR.
The integrated calendar clearly shows the absences of your team on all devices. Public holidays are automatically taken into account according to region so you can manage team overseas. All data can easily be synced with Microsoft Outlook, iCal or Google Calendar, so you never forget your important appointments.
kiwiHR has been developing innovative hum management solutions since 2008 used by companies in more than 23 countries. kiwiHR is continuously working working on adding exciting features that will expand our capabilities. Look forward to an easy-to-use human resources management solution that you can use from any device to optimize your HR environment.
You may like to read: Free and Open Source Human Resource ( HR) Software, How to Select the Best Human Resource Software for Your Small Business and Human Resource Software for Small Business
kiwiHR Features
Employee Management
Time off management
Company calendar
Document management
Data security
Mobile ready
kiwiHR Pricing
Monthly
$1.50 $3 per employee / month (billed yearly)
No setup costs. Cancel anytime. 30 day free trial.
Employee management
Time off management
Company calendar
Document management