Actionable insights from text data using WordStat 7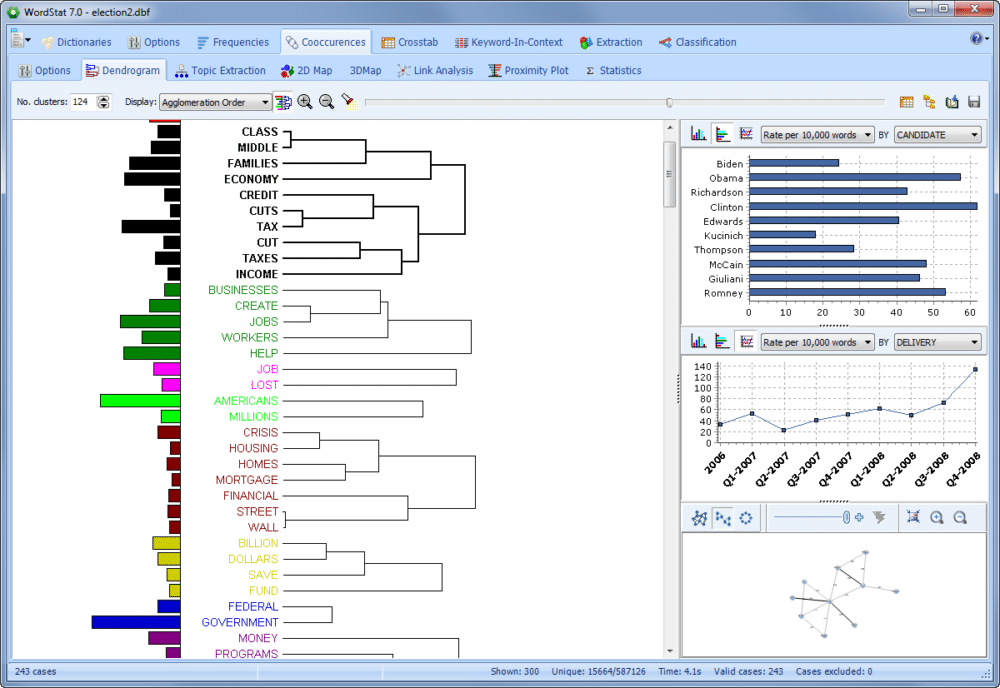 Actionable insights from text data using WordStat 7 : Provalis Research, newly released WordStat 7, allows users to get valuable and actionable insights from text data more quickly, relating unstructured and structured information. WordStat 7 provides greater assistance for the creation and validation of accurate text categorization dictionaries. WordStat 7 provides numerous improvements in areas such as topic modeling, link analysis, pattern based named entity extraction, dendrogram, keyword in context, cross tab analysis, automatic document classification and many more. Provalis Research, founded in 1989, is a world leading developer of text analytics platform with ground breaking qualitative, quantitative and mixed methods analysis software. Provalis Research tools are used by more than 3000 governments, international corporations, NGOs, universities, and independent research leaders worldwide.
WordStat 7 Content Analysis and Text Mining Software
Actionable insights from text data using WordStat 7
WordStat is a content analysis and text mining software that helps researchers quickly extract themes, trends and patterns from large collections of documents such as customer feedback, emails, open ended responses, interview transcripts, incident reports, patents, legal documents, blogs and websites. It can analyze documents in most human languages and the seamless integration with QDA Miner, which is a mixed methods qualitative data analysis software and SimStat, which is a statistical data-analysis tool gives unprecedented flexibility for analyzing text and relating unstructured content to structured information, such as numerical or categorical data and dates.
A new topic modeling tool allows to obtain a quick overview of the most salient topics in a large amount of text, and to immediately explore the relationship of those topics with other numerical, categorical or date variables.
WordStat 7 provides numerous improvements in data visualization. There is a new link analysis feature to create network graphs and explore the relationship between concepts. There are dashboard views for easier and faster comparisons with structured data, as well as several enhancements in the graphical display of text data.
WordStat already offers numerous tools to facilitate the handling of human languages, such as integrated thesaurus, language dictionaries and lemmatization routines. Version 7 extends those features by providing new stemming routines for eighteen languages, pattern based named entity extractions, and a smarter handling and classification of misspellings, providing even more assistance for the creation of categorization dictionaries. WordStat content analysis dictionaries can contain words, phrases, word patterns and proximity rules. Version 7 also allows even greater flexibility and enhanced precision with the support of more wildcard characters and more powerful proximity rules, as well as a greatly improved keyword in context table.
WordStat 7 also offers enhanced computer resource handling and several speed improvements, allowing one to analyze larger amounts of text data more quickly. Numerous new features have also been added for greater flexibility and enhanced productivity.
You may also like to review the Text Analysis, Text Mining, Text Analytics proprietary software list:
Top software for Text Analysis, Text Mining, Text Analytics
You may also like to review the Text Analysis, Text Mining, Text Analytics freeware/open source list:
Top Free Software for Text Analysis, Text Mining, Text Analytics
You may also like to review the Top Qualitative Data Analysis Software proprietary software list:
Top Qualitative Data Analysis Software
You may also like to review the Top Free Qualitative Data Analysis Software software list:
Top Free Qualitative Data Analysis Software