Review
Staff Squared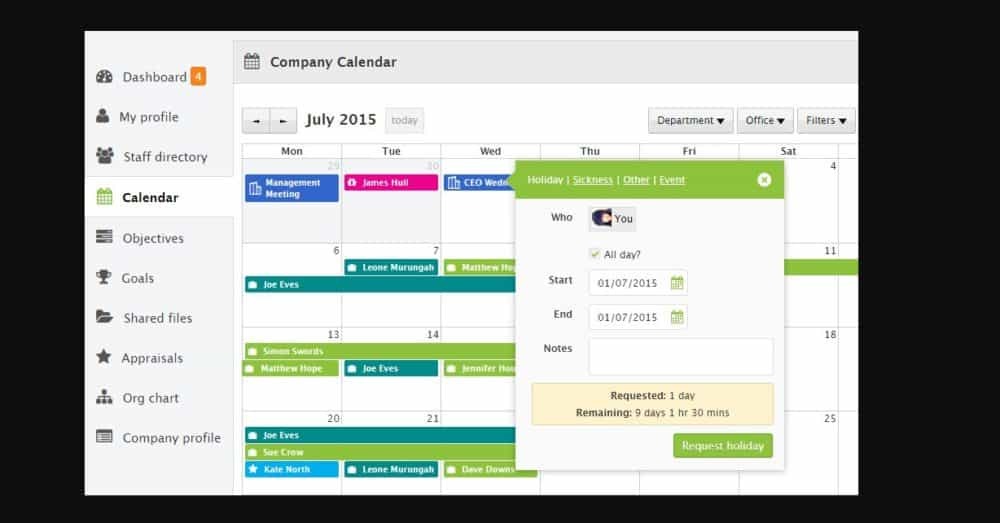 Overview
Staff Squared makes it easy to manage onboarding, employee data and files, and time off in a web based platform.
HR Software Free,HR Software SMB
• Absence Management
• Online Calendar
• Easy Time Tracking
• Centralize Information
• Expense Management
• Document Storage
• Staff Performance
• Reporting
• Mobile Apps
• Integration
• Registered with Data Protection Act and CyberEssentials
• Free Trial – 14 days
• £3 per person/month excluding VAT
Small (<50 employees), Medium (50 to 1000 Enterprise (>1001 employees)
What is best?
• Absence Management
• Online Calendar
• Easy Time Tracking
• Centralize Information
• Expense Management
• Document Storage
• Staff Performance
• Reporting
What are the benefits?
•Easily keep track of holidays, sick days, meetings, probations and all that good stuff
•Fast and simple real time and retrospective timesheet entry
•Timesheet approval process
•Track project time and financial budgets including client billing
•Set reminders so you'll never chase staff to fill in timesheets again
Staff Squared is an HRSolutions Platform that supports varied HR functions. It was developed by Atlas who initially created the application for their own company. Staff Squared can be integrated with Google Calendar or MS Outlook which allows employees to have one go-to application for calendar updates and reminders.
This also means updates and reminders for time-off is made available to the team. Its absence management feature allows the team to customize the approval workflow for time-offs. It also provides automated reporting that summarizes absences and time-offs daily. It can also be integrated with the team's slack channel so updates can be posted through this medium.
Staff Squared also includes a timekeeping module for easy time tracking and approval for timesheets. The software also integrates this data into reporting which summarizes both leaves taken and cost of such.
Staff Squared supports data management through its database module for keeping employee information. This allows the team to have one centralized database to keep and update important employee information. The module also features a reminder function that reminds employees and admins about when employee records should be updated (ie: probation, expiration of coverage etc...).
The module also allows easier tracking of changes in compensation, benefits and keeps an up-to-date org chart. Staff Squared helps automate expense management supporting a paperless environment, this includes uploading and storing receipts for submission, automatic calculations and even mobile access for applications and approvals.
Staff Squared's performance management module supports employee engagement by involving employees in goal setting and tracking progress towards their goal. It also has a calendar provided which can be integrated with your MS Outlook or Google Calendar to remind supervisors of due employee appraisals. Staff Squared stores data in a cloud but is registered with the Data Protection Act and Cyber Essentials. They have an encryption and dedicated infrastructure for data security, physical security and real time back-up to ensure data is not lost.
You may like to read: Free and Open Source Human Resource ( HR) Software, How to Select the Best Human Resource Software for Your Small Business and Human Resource Software for Small Business