Review
Odoo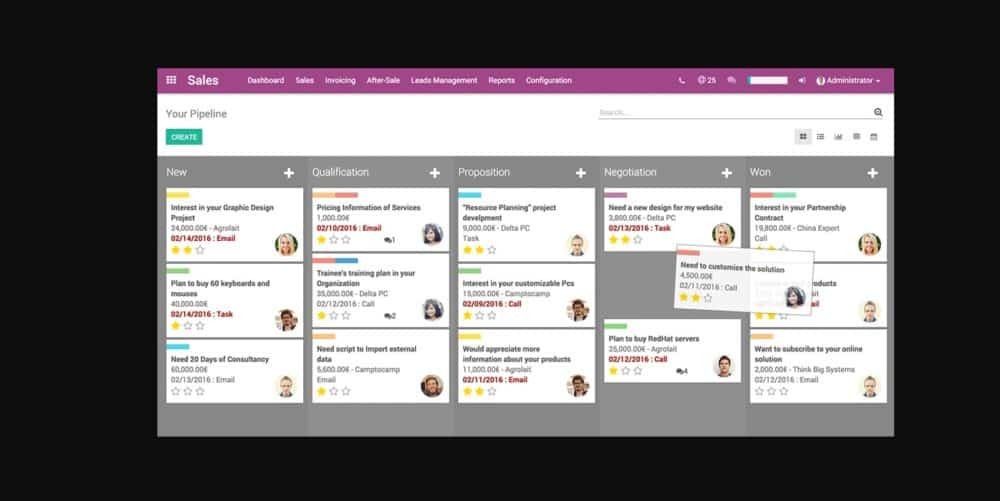 Overview
Odoo is a suite of open source business apps that cover all your company needs: CRM, eCommerce, accounting, inventory, point of sale, project management,
• Accounting
• Content management
• CRM
• E-Commerce and Event tickets
• Email marketing
• Enterprise website builder
• Full Marketing stack
• Lead automation
• Link business features
• Live chat
• Marketplace integrations
•Free Plan – Free for one app
•Online plan - $8.0/user/month (billed monthly)
•Enterprise - $8.0/user/month (billed annually)
Small (<50 employees), Medium (50 to 1000 Enterprise (>1001 employees)
What is best?
• Accounting
• Content management
• CRM
• E-Commerce and Event tickets
• Email marketing
• Enterprise website builder
• Full Marketing stack
Odoo is a complete open-source integrated business-apps suite that covers all your business needs. Odoo main apps includes Website Builder, e-Commerce, CRM, Accounting, Project Management, Warehouse Management, Manufacturing, Human Resources and Marketing.
It offers a unique value proposition giving you all you need within a top notch user experience. Its open source structure has enabled so many developers to build hundreds of apps in a few years. Odoo's framework is founded on a strong technical structure that provides top of the range usability that scales across all apps. With the enterprise website builder, you can build your website in a few steps and add other features as you grow.
It comes with a fully integrated marketing stack with Search Engine Optimization tools, call to action prompts, a tracking feature and mass mailing capability. Odoo's SEO tool integrates with Google to analyze the relevancy of your content in real time. The website is optimized by default, which is a plus considering you don/t have to mind about page redirects or speeds, Google schemas, or sitemaps.
You can easily choose your preferred call to action to customize forms and fine tune newsletter subscriptions to convert visitors into customers. The e-commerce app enables you to create custom designs for product pages and add product attributes such as color, size or style to keep product lines easy to navigate. This platform enables easy management of inventory and sales by use of automatic stock adjustments and reporting.
The customer portal allows customers to download invoices and delivery orders as well as tracking claims and orders from a single location. It also has live chat embedded, a guarantee for real time interaction with your customers. It features a translation tool with Gengo integration that provides professional standard translation. Odoo's framework is designed to be mobile-friendly and can be used on mobile phones and tablets. All these features work to enhance a fantastic user experience.
You may like to read: Top ERP Software, Free, Open Source ERP Software, Top ERP Software for SMB, Top Cloud ERP Software, ERP Software for Large Business.