Review
Collage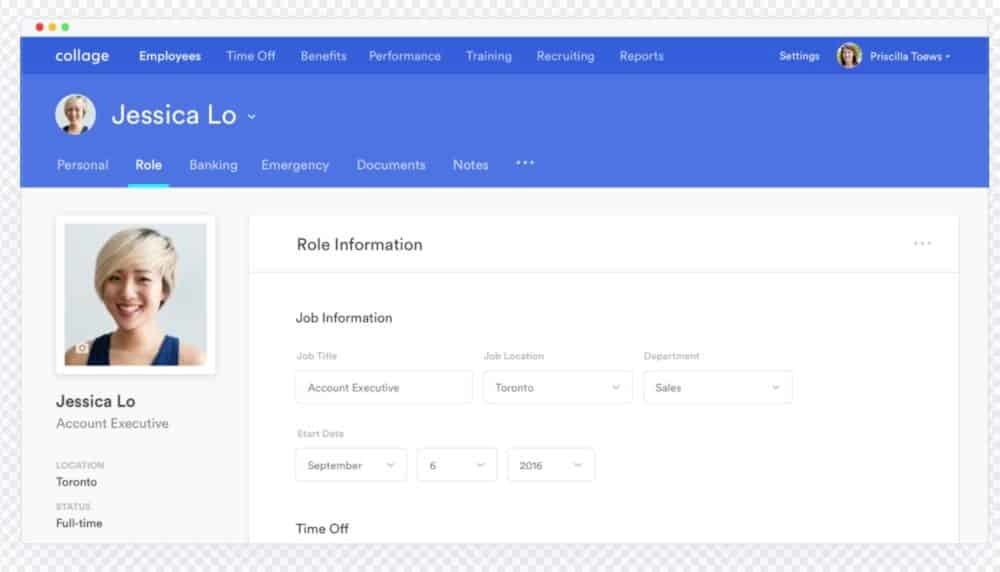 Overview
Collage is a free, all-in-one HR and benefits platform built for Canadian small and medium businesses. Collage eliminates time and money spent on tedious HR paperwork by digitally automating onboarding, employee records management, tax forms, time off management, and group benefits enrolment.
HR Software Free,HR Software SMB
• HR Reporting
• Applicant Tracking (ATS)
• Time Off Management
• Performance Management
• Employee Self-Onboarding
• Employee Management
Small (<50 employees), Medium (50 to 1000 Enterprise (>1001 employees)
What is best?
• HR Reporting
• Applicant Tracking (ATS)
• Time Off Management
• Performance Management
• Employee Self-Onboarding
What are the benefits?
•Automate and eliminate tedious HR administration
•Reduce your risk of non-compliance and eliminate costly errors
•Integrate new employees more effectively and make strategic decisions using HR data
Collage is a cloud-based HR and benefits platform and an organizational portal integrated with great features like applicant tracking (ATS), employee management, performance management which provides a central hub for all HR related tasks and documentation and is helpful to post jobs on careers and make the hiring process easy for both businesses and their employees.
Collage offers features such as Applicant tracking, Absence management, Activity logging, SSL security, Automatic backup, FISMA compliance, Data encryption, Security & encryption, Applications management, Collaborative workspace, Employee management, Employee onboarding, Employee profile, Employee reward programs, Employee self service, Data import/export, Document management, Document storage, Time off requests, Calendar sync with Google, Group calendars, Calendar management, iCalendar support, Team calendars, Performance management, Performance reports, Best practices repository, Digital signage, Digital signature, Electronic signature capture, Job application management, Jobs board, Reporting & statistics, Payroll integration, Customizable reporting, Employee lifecycle management, Data Im, Job Management, Lifecycle Management and Signature Capture.
Collage provides an employee directory where users can add employee profiles including personal, banking and tax information, as well as work related documents and contracts and also offers a self-service portal for employees to update their data and input information during the onboarding process. Collage assists users with building a personalized career page, posting job advertisements and tracking candidates where the ATS (applicant tracking service) allows users to track applicants' progress and keep resumes, references, and feedback all in one place. Collage's performance management tools also lets users structure one-to-one meetings with team members to assess performance, and check-in to meetings so that frequency of meetings can be monitored.
You may like to read: Free and Open Source Human Resource ( HR) Software, How to Select the Best Human Resource Software for Your Small Business and Human Resource Software for Small Business