Review
Mendix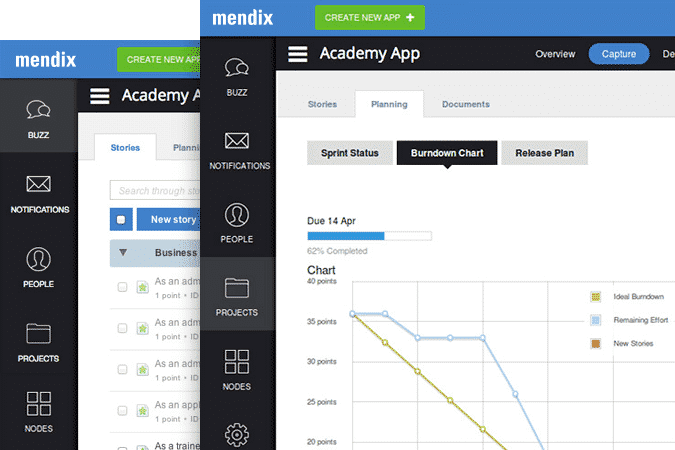 Overview
Mendix enables companies to rapidly digitize experiences, products and operations.
Smart apps
Mendix connector kit
Mendix web modeler
Native mobile experience
Mendix app test suite
App performance monitor
Pricing model: Freemium, Subscription
Free Trial: Available (No Credit Card required)
Free: €0
Pro: €1,250 /month (billed annually)
Enterprise: €1,675 /month (billed annually)
Small (<50 employees), Medium (50 to 1000 Enterprise (>1001 employees)
Mendix is a platform that started to improve the way people transform ideas into working business applications. The initial team, a computer scientist, a business analyst, and a tech-savvy business leader, built Mendix to help enterprises, regardless of industry or manpower, harness the agility of a technology company.Mendix is the Innovation Platform for the Digital Enterprise. Digital innovation is on every agenda. Trends like cloud, IoT, big data and machine learning are reshaping entire industries. The future of business applications, Smart Apps enable to put connected things, devices and algorithms to work and deliver new experiences for your customers, partners and employees.Mendix brings groundbreaking innovations for rapid development of Smart Apps. Leveraging Mendix's open platform ecosystem, we offer you the fastest and easiest way to build innovative applications using best-in-class IoT, big data and machine learning platforms and services. Mendix 7 takes integration to the next level. It connects third-party databases, applications, handles complex XML messages or leverage loT and algorithmic services. Developing Smart Apps requires rapid experimentation, frequent iteration and close collaboration between business and IT. The Mendix Web Modeler ignites the creativity required to bring new innovations to market by opening up the platform to a much wider audience.
Whether it's a business user quickly building a prototype or a developer sharing an application design with business stakeholders, the online modeler makes it easier than ever to share and collaborate on application models. All design artifacts defined in the new Web Modeler or the existing desktop modeler share the same repository and leverage Mendix's metadata-based Model API. Mendix's Web Modeler takes Business & IT collaboration to new heights, driving project success. Mendix 7 continues to build on Mendix's rich experience for Mobile App Development. Developed in partnership with Mansystems, the Mendix Application Test Suite is a full-blown test suite that allows you to embed functional testing in your application lifecycle. It's built in Mendix on top of Selenium. Automate cross-browser functional testing based on keywords linked to user stories. Record test scenarios and execute those efficiently through scheduling and parallel execution. Mendix Application Performance Monitor offers a rich set of tools to prevent performance issues early in development cycles, and quickly address them if they manifest in production.