Review
Kronos Workforce Central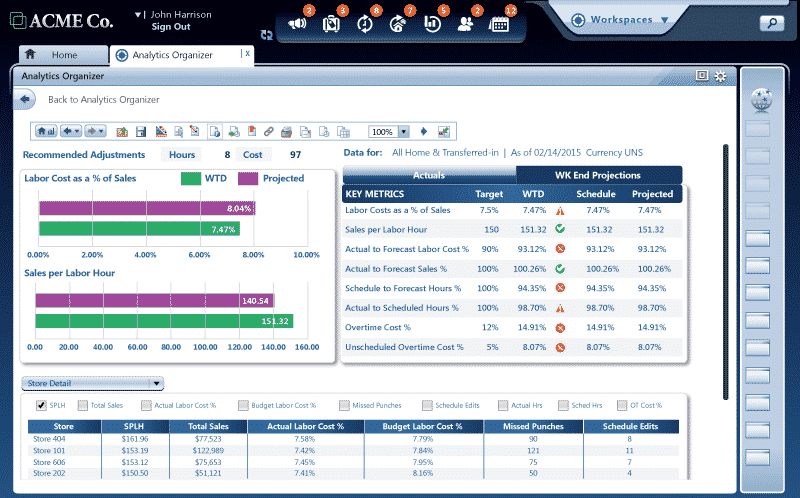 Overview
Workforce Central 8 addresses the top issues organizations face today in effectively managing their workforces, including the preference for mobile interaction and real-time insight, regaging and retaining employees with scheduling and self-service that satisfies their needs, and the need for an industry-specific, configurable workforce management solution
Workforce Management Software
• Automated solution to track your entire workforce.
• Automation that optimizes schedule generation
• Workforce Absence Manager
Small (<50 employees), Medium (50 to 1000 Enterprise (>1001 employees)
What is best?
• Automated solution to track your entire workforce.
• Automation that optimizes schedule generation
• Workforce Absence Manager
What are the benefits?
• Provide your team of recruiters with easy-to-use, automated tools to help source, screen, and select best-fit candidates
• Apply rigorous and reliable business intelligence to manage your workforce
• Gain visibility into goals and benchmark performance
Workforce Central 8 addresses the top issues organizations face today in effectively managing their workforces, including the preference for mobile interaction and real-time insight, regaging and retaining employees with scheduling and self-service that satisfies their needs, and the need for an industry-specific, configurable workforce management solution. It Leverages analytics to gain visibility into the workforce and improve operational excellence and manages complex regulatory compliance requirements with simpler, more accurate processes
Workforce Central 8 boasts an intuitive new interface with major improvements to primary screens. Advanced HTML5 core technology offers compatibility across a wide range of devices
In Workforce Central 8, significant enhancements have been made to enable stronger business outcomes for organizations in all industries, including more efficient overtime projection, powerful new scheduling rules for better fatigue management, increased visibility in self-service employee scheduling, and more efficient staffing management.
The costumers now find operational reporting that can be customized to meet specific needs, and dynamic analytics features that go beyond basic reporting and business intelligence to deliver deeper, more actionable insight into your workforce data for addressing your most critical business issues.
Workforce Central 8 has expanded capabilities to better meet the needs of customers worldwide that include new international scheduling rules and support for 13 languages.
The Workforce Central suite provides you with tools to make managing your workforce easier. Using real-time labor information, managers can track work status, costs, time and attendance, and more while helping to ensure compliance with pay rules and regulations, leave requests, and other employee-related information. Don't sacrifice functionality for ease of use. Workforce Central provides all these wide-ranging and feature-rich solutions in one integrated workforce management system.
You may like to read: How to Select the Best Human Resource Software for Your Business and Top Talent Management Software