Top 50 CRM Software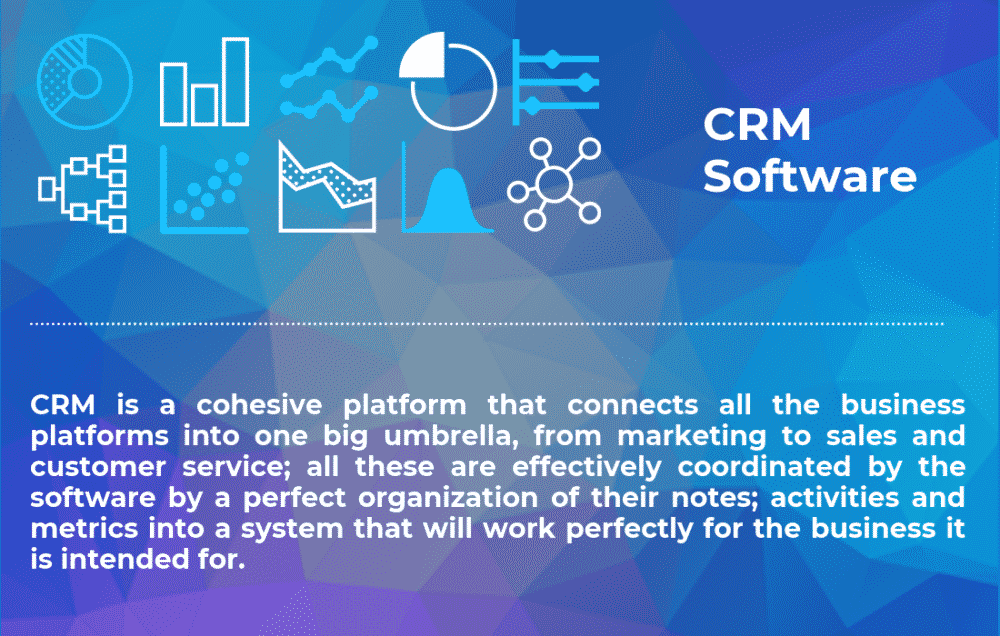 Customer Relationship Management refers to practices, strategies and technologies that companies use to manage and analyze customer interactions and data throughout the customer lifecycle. This is done with the goal of improving business relationships with customers, assisting in customer retention and driving sales growth.
CRM systems are designed to compile information on customers across different channels or points of contact between the customer and the company which could include the company's website, telephone, live chat, direct mail, marketing materials and social media.
CRM systems can also give customer-facing staff detailed information on customers' personal information, purchase history, buying preferences and concerns. CRM software consolidates customer information and documents into a single CRM database so business users can more easily access and manage it.
What are the Top CRM Software: Streak, Teamwork, Funnel CRM, Pipedrive, Salesflare, PipelineDeals, InTouchCRM, GreenRope, Capsule CRM, Agile CRM, Epicor CRM, amoCRM, Salesforce, Workbooks, Averiware, Salesboom CRM, 24SevenOffice CRM, Snapforce CRM, SuperOffice, ClinchPad, Microsoft Dynamics CRM, icomplete, Maximizer, Salesnet, NetSuite OneWorld, Insightly, Raynet, SAP Digital CRM, webCRM, TeamWox, Really Simple Systems CRM, Campaigner CRM, Keap, Nutshell, Nimble, CRMnext, TeamWave, Clevertim CRM, GoldMine, Solve CRM, InterAction, SalesNexus, LeadMaster's CRM, Tour de Force CRM, CloudSuite CRM, Pipeliner CRM, Pivotal CRM, Creatio CRM, Salesmate are some of the Top CRM Software.
You may like to read: How to Select the Best CRM Software for Your Business, Free, Open Source CRM Software  and Best Practices for CRM Implementation.
What are CRM Software?
CRM is a must for entrepreneurs of today and it stands for Customer Relationship Management. In the early days, there was a period where databases are stored on individual computers and business were managed using the that.
Technology has improved and CRM now is a cohesive platform that connects all the business platforms into one big umbrella, from marketing to sales and customer service; all these are effectively coordinated by the software by a perfect organization of their notes; activities and metrics into a system that will work perfectly for the business it is intended for.
This system works in conjunction with cloud computing and Saas wherever the user is internet enabled. It has the ability to grow and scale a business; no matter how small the business. The companies that use CRM has increased their sales revenue; an increase in their leads and much more importantly, a retention of their customers.
Some of the standard features offers which helps business to remain competitive are Sales, Marketing, Services, Contact Management,  Interaction tracking, Email integration, Document storage, Mobile access, Pipeline Management, Social media integration, Custom reporting, and Marketing automation.
You may like to read: Top CRM Software for Small Business
You may like to read: How to Select the Best CRM Software for Your Business, Free, Open Source CRM Software  and Best Practices for CRM Implementation.
What are the benefits of CRM Software?
Information is key to the growth of any business; CRM allows you to know more about your customers which you can then exploit to serve them better and thereby retain their loyalty. This is a tool to enhance the dissemination of valuable information among the workforce.
Any employee that speaks to the customer will be able to give the right and correct information because he has direct access to such. People hate entrepreneurs who waste time because every customer values their time. This software will enable every business that incorporates it into their business to respond quickly to all customer requests; inquiries and business deals.
It makes the flow in the business to be smooth. Sealing a deal in a business transaction involves a lot; it constitutes a lot of burden on the workforce. The introduction of this software will bring automation into everyday tasks. This relieves the staff of many burdens that they would have shouldered without the system. All the information in the business will be automated by this system.
Employees can now easily view emails; phone call details and calendar from one place that is easily accessible to them. Every business concern needs excellent analytical Data and Reporting if it must remain competitive in the business climate of today.
The CRM has a lot to offer the business of today if such business is to remain relevant in the today's business world that has gone completely digital in operations.
You may like to read: How to Select the Best CRM Software for Your Business, Free, Open Source CRM Software  and Best Practices for CRM Implementation.
Top CRM Software
Streak, Teamwork, Funnel CRM, Pipedrive, Salesflare, PipelineDeals, InTouchCRM, GreenRope, Capsule CRM, Agile CRM, Epicor CRM, amoCRM, Salesforce, Workbooks, Averiware, Salesboom CRM, 24SevenOffice CRM, Snapforce CRM, SuperOffice, ClinchPad, Microsoft Dynamics CRM, icomplete, Maximizer, Salesnet, NetSuite OneWorld, Insightly, Raynet, SAP Digital CRM, webCRM, TeamWox, Really Simple Systems CRM, Campaigner CRM, Keap, Nutshell, Nimble, CRMnext, TeamWave, Clevertim CRM, GoldMine, Solve CRM, InterAction, SalesNexus, LeadMaster's CRM, Tour de Force CRM, CloudSuite CRM, Pipeliner CRM, Pivotal CRM, Creatio CRM, Salesmate are some of the Top CRM Software.
You may like to read: How to Select the Best CRM Software for Your Business, Free, Open Source CRM Software  and Best Practices for CRM Implementation.
1
Streak is a spreadsheet style CRM provider that makes data management and everyday processing functions easier. Streak is supported by both Google chrome and safari. It has a user friendly simple collaboration feature that permits the sharing of data within seconds. Users link their google IDs through open id without having to share any personal information with streak. It also provides a multipurpose feature that allows for management of different functions within Gmail so that you can multitask. Streak works with Google apps and provides a secure connection to you various accounts. It is easy to install as no IT…
2
Teamwork is a project management app designed to increase productivity for professionals, managing employees and clients on one platform. The project category element allows users to categorize active projects with start and end dates. Important projects can be kept at the top of lists by using a starring system, as well as a snapshot view of team activities. The Teamwork project activity overview has the ability to inform and update on project announcements. Project templates can be moved, copied and archived highlighting milestones in a "Gantt" style chart. The document editor allows users to edit files in Teamwork Projects without…
3
Funnel CRM is a sales tool and CRM for growing businesses. Helping business owners and sales team solve the most frustrating problems like broken sales workflows, missing follow-ups, losing track of deals because of messy inboxes or not able to track leads and managing them under one app. It provides the following features: - a simple form for capturing leads, similar to a contact form many sites have, - a centralized place that would allow us to process these leads, that was not in our email inboxes, potentially lost or forgotten about among other emails - a way to communicate…
4
Pipedrive is a web-based Sales CRM and pipeline management solution that enables businesses to plan their sales activities and monitor deals. Built using activity-based selling methodology, Pipedrive streamlines every action involved in converting a potential deal into a successful sale. As a cloud-based application, the solution can be accessed from anywhere 24x7 using any web browser or dedicated mobile apps. Pipedrive provides sales personnel full visibility of different sales pipelines. A robust interface displays the progress stages for each deal with the complete details for next actionable items. The activity & goal feature allows users to track the pending activities…
5
Salesflare is a simple and powerful CRM that automates data to build better relationships and make more sales. A fast, visual and easy-to-use sales machine.Salesflare is designed to be simple to understand and powerful when used. Get all opportunities in one smart overview and know which one requires the attention today. Salesflare intelligently brings the opportunities to the surface for which action is due and shows the information users need to take that action. If not now, one can decide to follow up later or assign the opportunity to someone else. Salesflare automatically identifies which of the team's email and…
6
PipelineDeals makes organizing your company's customer relations in one place. By giving the right information at the right time, the user will be able to track and identify which leads to pursue to make sure it becomes beneficial for the company. Sending emails with PipelineDeals makes it possible to track whether your leads where able to view, click on a link and if they did download the attachment. Sending campaigns through emails is also offered by PipelineDeals and be able to send by groups and make personalizing your messages easily. Tracking sales with PipelineDeals makes all the important information in…
7
Intouch provides a powerful sales & marketing automation for growing service businesses. It can capture your contacts' details into one central all-knowing system, wherever they may be; online, in-person or on the phone. It follows up on people by using automation to ensure that every lead, contact and opportunity is followed-up automatically. It also has a well-planned growth system; automation and consistent follow-up are the keys to the growth and success of any small business. InTouch has many other features to help the users business grow, such as its sale's pipeline manages the user's sales process to progress prospects from…
8
GreenRope is a complete CRM software that provides everything your business needs for maximum growth and efficiency. Its complete CRM offers market automation, sales pipelines, and customer service solutions. The main features offered by this CRM software include GreenRope Sales, GreenRope Marketing, and GreenRope operations. The GreenRope Sales feature offers the tools you need to develop stronger relationships with your clients and leads, and close more deals. Some of the solutions under GreenRope Sales include contact management, opportunity tracking, pipeline visibility, predictive analytics, and social CRM. These solutions provide you with a 360° view of your customers enabling you to…
9
Capsule CRM is a simple CRM system aiming to keep your business organized, improve your customer relationship, and to make the most of sales opportunities, all the while minimising user input. The contact page gives you a complete overview of a contact so that you can keep track of the people, companies and other organizations that you do business with and with the option to share contacts with co-workers ensuring a single up-to-date view of the contact. Use Capsule to track bids, deals, proposals and other opportunities. You also have the option to generate reports and extracts from the pipeline…
10
Agile CRM's gamification feature set helps your sales team stay focused and improve their numbers every day by treating sales like a game. Features include custom leaderboards, real-time alerts, activity logs, email reports and advanced sales metrics. Agile CRM is a leading sales, marketing and service CRM for small businesses. Complete with everything from web popups and email templates to telephony integration and advanced sales and marketing automation,. Agile CRM lets users sell and market like fortune 500 with marketing automation, telephony, helpdesk, web engagement, social media integration, email campaigns and mobile marketing. Agile CRM is an all in one…
11
Epicor CRM system integrates applications such as marketing automation (MA), sales force automation (SFA), case management, and eCommerce applications. CRM software helps to reach new customers while retaining existing customer communities, improve responsiveness driving increased customer retention, support a highly mobile sales force, automate marketing and messaging activities, deliver tailor-made customer experiences, provide cross-functional business collaboration to increase customer service levels. Epicor CRM system provides a 360-degree view of the entire customer, supplier, or partner relationship regardless of position in the customer lifecycle. The Epicor CRM software maximizes your customer information and broaden the scope of your data to everyone…
12
amoCRM is a simple, easy to use Sales Management System to manage leads and monitor sales pipeline. amoCRM provides the database which will include all potential transactions and customers, the entire history of negotiations, tasks to be completed and reminders, and all necessary tools for analysis including a sales pipeline. The system requires no configuration, and can begin working immediately after registration. It's also accessible from any computer, or smartphone, with internet access. amoCRM helps to take the Lead From First Contact, all the Way to Loyal Customer Base and provides integration with Web-Sites via API, Web-Forms and Landing pages.…
13
Salesforce Cloud solution allows you to manage contacts and track opportunities from any desktop or device. Salesforce helps to understand customers better through their personal preferences, solve any problem faster with access to past customer interactions, and even identify new sales opportunities by analyzing your best customers' purchase histories. The certified experts, consultants, and innovative tools of Cloud Services help with prescriptive advice, best practices, and expertise at every stage of Salesforce journey. With Salesforce, information is in one place so it's easier to prioritize and make quick decisions based on the most up-to-date information.Track all your customer information and…
14
Workbooks.com delivers world-class CRM and business applications to the mid-market, at an affordable price and with functionality that transforms business. Unlike traditional CRM solutions, Workbooks.com extends beyond sales, marketing and customer support to include order management, order fulfilment, invoicing and supplier management. Workbooks CRM help small and midsized businesses to improve their business strategies and customer service. It is a contact management system. It does this by providing a user friendly interface that does not require complex IT systems. Workbooks provides joined up applications to increase workplace efficiency. It provides customer account portals thus improving customer interactions. It provides business…
15
Averiware is cloud based end to end suite of business solutions that combines Supply Chain Management, Accounting and Financial Reporting, eCommerce, Customer Relationship Management (CRM), Sales Force Automation, and Human Resources applications in a single integrated platform. Averiware's solution can be delivered via SaaS model or implemented on your organization server. Averiware can be rapidly deployed for a faster time-to-benefit and increased ROI. The Sales Force Automation module combines sales opportunity, customer data, order details, and inventory availability. Administrative, payroll, employee benefits, time management and reporting functionalities are few of the features of the HR module. The SCM module provides…
16
Salesboom CRM program helps it users manage their business to make it even more saleable, profitable and maintain a quality customer relationship for better business ventures. Salesboom offers one of the most user friendly applications where in everything that you need can be easily accessed.Salesboom is a cloud based CRM solution which requires no software downloads and even hardware requirements. With 99.8% uptime guarantee, you can make sure that managing your accounts will always be updated and available where ever you are. The customizable platform lets the user choose what information is needed to be displayed and be able to…
17
24sevenoffice is a fully integrated business system providing operations such as Billing, Accounting, CRM, Project Management, Email, Calendar, File Management and Document sharing and storage. In addition to searching and adding customers and contacts directly into the 24SevenOffice CRM, one can access all customer data across modules, such as sales ledgers, overviews, opportunities for credit check and full active overview with services such as e-mail correspondence, phone log, etc. Other features include budget analysis, sales opportunities, reports, calendars, document sharing and marketing. 24SevenOffice is integrated with banking and Nets and offers electronic billing. The system is scalable for 5-500 users,…
18
Snapforce CRM is available in 3 editions, all of which are cloud based. Deploying a cloud application eliminates hardware expenses and maximizes accessibility.It is offered in 3 Editions to serve Large, Medium and Small size businesses.Snapforce Call Center Software is a combination of Snapforce CRM and Telephony Software, resulting in a rich call center program. Snapforce Telephony Software uses the same proprietary VoIP technology as the Call Center Software to deliver an individual cloud telephone system package.Snapforce CRM gives both management and the sales agent deep insight into their sales pipeline. Custom dashboards allow for the delivery of vital sales…
19
SuperOffice is an CRM software for sales, marketing and customer service. SuperOffice CRM helps to find, catch and keep more customers. SuperOffice CRM integrates with all Office applications and supports all leading technology platforms. SuperOffice offers professional support using web-based services. SuperOffice is a simple and user-friendly CRM solution helps you become more productive. SuperOffice CRM integrates with all Office applications and supports all leading technology platforms. Super Office organize contacts, collaborate with your team and manage your business better. Features include Company & contact management, Calendar & activity management, Documents, emails & mailings.Provide powerful features help you to improve…
20
ClinchPad is a sales management software that offers an alternative to traditional CRM systems. It provides a new way of tracking leads and is broken down into simple categories for user interaction. It enables teams to visualise their sales pipeline, collaborate with team members, manage and organise contacts as well as categorise leads. The sales pipeline is represented by cards and stages in columns which can track an entire sales cycle, create multiple pipelines, track new contracts and filter leads. Users can benefit from quick actions such as adding and remaining leads, assigning a user to a lead or move…
21
Microsoft Dynamics CRM provide solutions for businesses to achieve more and deliver amazing experiences to their customers across marketing, sales and service in a way that makes collaboration between roles natural and easy. There is also new sales collaboration panel that helps break down the silos between sales and marketing to deliver personalized customer experiences. The capabilities for marketing, include interactive marketing calendar, integrated Lync webinars, graphical marketing workflow and email editing, as well as A/B testing and integrated offers. Languages and geographies are updated with the addition if Japanese and Russian. For sales, the capabilities include, introduction of product…
22
icomplete is a cloud-based CRM platform that can be custom built. icomplete's key strength lies in its customisation offering; where it can take the existing platform and adapt it to fit the needs and requirements of any small business. The in-built Business Services brings together marketing, communication and collaboration tools centrally in one place. It has features for contact management CRM, online file storage, automated workflow, pipeline tracking and custom reports. Other features include online calendaring and task management. Its marketing solution enabling small businesses to automate, track and manage the success of their different marketing methods. Its built-in sales…
23
Maximizer helps the user create personalized experiences for each and every customer, and build deep relationships that accelerate business growth. It can segment your customers and prospects to receive relevant information targeted to each audience. List management capabilities allow you to search and filter data, ensuring your campaigns move targets along the buyer's journey and prepare them for a sales conversation. Maximizer's Campaign Manager makes it easy to execute multi-phased email campaigns that automatically nurture relationships over time. Events like site downloads, purchases and service incidents can trigger specific automated email campaigns that offer appropriate and timely resources. One of…
24
Salesnet is a flexible, configurable business CRM solution that drives sales and marketing effectiveness while insuring the highest level of support and CRM Security. Salesnet customer relationship management is an online CRM software that delivers Customer Management, Marketing Automation, Sales Management, Project Management and more. Salesnet, is a software solution that makes CRM easy by providing a friendly user interface and training for the implementation of the software. It is simple and easy to use and increases sales and work efficiency. Salesnet understands that every marketing and sales process is different and so it provides solutions that are unique to…
25
NetSuite CRM+ delivers true customer lifecycle management, from marketing and opportunity management, to order management, customer upsell, cross-sell, renewal, and customer service. NetSuite can streamline lead-to-cash processes, elevates productivity across the organization with a 360-degree view of your customers, improves sales performance through forecasting, upsell and commission management and manage global sales and services organizations. Combining ecommerce, order management, inventory, CRM and financials, Suite Commerce enables businesses to deliver engaging and personalized online experiences on any device. NetSuite's CRM can integrate and automates sales processes, including opportunity management, quote and order management, sales forecasting, order management, fulfillment, and incentive compensation…
26
Insightly is a web-based customer relationship and project management solution for small to medium sized businesses. Insightly is designed to keep all the information needed to run a business in one place, accessible and searchable by all employees, wherever they are in the world. Its CRM tool has features for lead management, contact management, calendaring and events, file sharing, linking (direct relationships between contacts, organizations, opportunities, projects) and many more. See everything from background, email history, events, projects or opportunities. With the project overview screen you can see the recent activity on any project, and track project performance against milestones…
27
Raynet is a cloud-based CRM solution designed to streamline daily tasks, track sales activity, and consolidate information and data for small and midsize businesses. The app features a contacts and lead management tool, interaction tracking and calendar, deal management, data organization, smartphone integration and email tracking. The contact management function allows users to store customer data in one place with a customizable accounts/contact list and a sort and filter system to simplify searches, with the option to export contacts and add tags. The Raynet calendar is accessible using various apps and mobile devices with diary management, a tracking system to…
28
SAP is a simple and effective solution that allows users to track all their customer interactions in one place to give their team the insights they need to form powerful, personal connections that drive customer engagementIt allows them to increase communication within their team by using built-in collaboration tools, so they can shorten sales cycles and engage customers more responsively and effectively. Businesses can get started quickly and simply with in-product tutorials that walk them through every step, from importing contacts to creating powerful dashboards and reports. Every time a user's team members log on, they start the day with…
29
webCRM gives you one place to organise all information related to your customer. In webCRM you can send, save, schedule, and synchronize emails and meetings. WebCRM's mobile version allows you to create activities, make quotations and follow up on orders anywhere you like. With webCRM's Sales Pipeline Management you can quantify and track your sales opportunities, develop your pipeline and compare with budgets to make sure you build up your business. With webCRM, you can divide your newsletters and send relevant messages to various lead and customer groups. Manages the entire process of planning, invitation, collection of answers, and follows…
30
The enterprise management system designed for small and medium-sized companies. TeamWox will make companie's management process more transparent, improve productivity of your employees and reduce the costs.Users can install TeamWox, create accounts for their employees and move their company's activity to the system. You will quickly learn the program's features and find out how it can benefit their business.The unified client base, sales funnel, free VOIP telephony, electronic document flow, automated reports, integration with company websites, technical support module - all that can be found in TeamWox basic delivery. If a company employs less than 5 people, it does not…
31
Really Simple Systems Cloud CRM is aimed at small and medium sized organisations or departments of larger organizations who want a simple, easy to use online CRM sales, support and marketing system. The hosted CRM model is particularly suitable for companies with multiple locations and people who work remotely or at home. Really Simple Systems is an optimized system that allows businesses to access all important customer data to be used as leads. The one simple page shows everything that you will need when it comes to organizing your contacts, things that has to be done, pending transactions for every…
32
CampaignerCRM is a cloud based CRM software that makes your sales process more efficient and gets you sales, revenue and customer results. CampaignerCRM effectively combines sales process software, Web 2.0 sales productivity tools, and live Personal Sales Assistants into an easy-to-use solution. CampaignerCRM gives your team a clear, well-defined sales flow that identifies the necessary benchmarks and activities at every stage in the sales cycle. You can access all key selling tools, documents, and job aids to effectively maximize the sales engagement. The Pulse CRM Dashboard delivers real-time, easy to understand, reporting on sales activity and sales effectiveness giving you…
33
Infusionsoft is a sales and marketing software for small businesses. Infusionsoft's Lifecycle Marketing model provides a simple framework you can use to design a marketing plan that will help you attract customers, grow sales and deliver an experience that wows your customers. Infusionsoft has features for automating lead capture and follow-up. You can also trigger personalized communications based on email sends, opens, clicks, form submissions, and payment history. Its CRM tool imports and organizes the contacts (both online and offline) with tagging and segmentation. It also collects data about your leads' behaviors, score them based on marketing interactions, and prioritize…
34
Nutshell lets the user specify the actions, follow-ups, and timing that fit the users business. The user's personal dashboard will tell them which sales process steps need to be completed and by when. You can also sync Nutshell with your calendar so you never forget about an upcoming activity. Whether it's following up with a customer, or nurturing a lead. Nutshell has auto-fill rules so the user can fire off personalized emails to a prospect in seconds. Nutshell Intelligence finds customer information to save you time. Simply add an email address, and Nutshell will scour the internet for relevant contact…
35
Nimble tracks the complete history you and your contact share—on every channel. Take actions, send messages from within Nimble or without: use Gmail, Outlook, or Hootsuite widgets to take Nimble everywhere your workflow takes you.Nimble keeps you organized and on track. Set Stay in Touch Reminders and use the Mark as Important star system to keep important communications front and center.. With Nimble as your wingman, nothing falls through the cracks. Nimble automatically fills out the contact record from just a name and email. It's like magic—Less data entry for you. Nimble analyzes shared interests (topics, keywords) to tell you…
36
CRMNEXT is the top Cloud CRM software that ensures marketing strategies work effectively by using smart process automations to focus on improving sales. By using knowledge management software, cloud computing applications, customer relationship management case studies, social CRM tools and much more, CRMNEXT helps organizations to streamline brand communication by delivering consistent messages across departments. With CRMNEXT's Digital CRM software for marketing, employees can track the progress and performance of various campaigns and ascertain which marketing strategies work, ensuring sustainable success. CRMNEXT's marketing automation function also helps in creating custom documents and email templates, ensuring that user communication is consistent…
37
Teamwave provides Integrated CRM, Project Management & HR tools to small and medium businesses in various industries.TeamWave's CRM is built around a proven sales pipeline management methodology. Quickly see how many deals are in each stage, sort, and filter by their expected close date, make smart decisions and stay in control of a complex sales process. TeamWave enables cross-functional teams (employees, clients or vendors) to collaborate, organize and discuss everything they need to get a project done. See it, track it, discuss it, act on it.Organize important files & documents in projects, deals and employee directory. Upload, drag and drop…
38
Clevertim CRM is a web based CRM and lead management solution designed for small businesses to keep track of their customers, follow up, schedule activities, make it easy for employees - sales, marketing, HR, etc. to cooperate and share information. You will extract value out of it with minimal effort and you do not have complex IT systems to maintain and pay for. CleverTim is an online contact manager based with the data being stored in the cloud. This makes it easy for you to access your data wherever you are, in the office, at home, on the go via…
39
GoldMine is a Customer Relationship Management software package for small businesses worldwide. It's a Windows program that manages client and prospect contact details as well as interactions with these contacts, such as calls made to and by the contact, emails sent and received, and sales forecasts. GoldMine Web is a browser-based app that has the look and feel of a web client and doesn't require installation for the end user. GoldMine Web has a simple intuitive interface that makes adoption easier while enhancing the affordability and data security of a premise based installation. It is included with all new and…
40
Solve CRM offers customizable fields, category tags and activity templates so you can systematically capture specific information about the people you deal with, as well as tailor Solve to turn best practice into business processes. Solve CRM has the features every business needs the service is also inexpensive. Solve CRM comes pre-integrated with a growing list of amazing web-applications, offering the customers team an arsenal of business tools. Integrating apps provides enormous value to the customers' business by providing a single interface keeping staff focused and adding context to previously disparate information, leading to better decisions and actions. Solve CRM…
41
InterAction raises CRM to a new level with actionable, accurate relationship intelligence. Some of its key features are captures and tracks the key touch points of daily working life and aggregates the users firm's client data covering matters, profiles, notes and activities to form a more complete relationship picture Identifies cross-selling and client service opportunities; prepares contact lists for mailings and invitations; tracks development activities for events and campaigns ,identifies subtle interrelationships among clients and determines which others in the firm are familiar with your contacts and the nature of the relationships. LexisNexis InterAction is a solution to allow the…
42
Nexus is a powerful and effective tool that allows business owners to create completely automatic and journeys for each lead and customer.It allows users to know when leads are ready, at their desk and when they are on the go.It also helps a user to come up with great-looking and compelling HTML emails easily. The software's Multi-step campaigns of emails in sync with sales, triggered by customer behavior.Additionally, it allows for accountability which in turn enables businesses to measure and manage sales.Moreover, it lets businesses to select contacts by industry, title, revenue employees, location, profession, SIC code and or even…
43
LeadMaster CRM is an all-in-one CRM, sales and marketing tool for Call Center Industry, Education Industry, Healthcare Industry, Insurance Industry, Manufacturing Industry, Mortgage Industry, Real Estate and Small Business which can work together with users' sales team to deliver more sales for users' business where users' team will have all the information that they need at their fingertips such as past orders, contact information, proposal details and social information whenever users' team has any interaction with a lead or a customer making users' sales team more efficient than ever before. LeadMaster CRM offers features such as Lead Management, Sales Management,…
44
Tour de Force is a customer relationship manager for B2B (business-to-business) sales organizations. Tour de Force, Inc. main goal is to provide an organization with the B2B CRM Software needed to maximize the efficiency and effectiveness of their Sales, Marketing, and Customer Service/Support teams. Unlike other systems, Tour de Force's software solutions are highly configurable. Tour de Force was designed to provide the key functionality needed for companies in the B2B sales market with a focus on the Distribution and Manufacturing industries. Tour de Force currently integrates with over 40 ERP systems. This integration allows it to import accounts, contacts,…
45
Infor CRM is an award-winning, state-of-the-art technology solution that enables businesses to fully optimize the value of their most important corporate asset— customer data. Infor CRM's exceptional usability and versatile configuration capabilities allow rich, personalized user experiences, helping companies to ensure adoption and productivity. Infor CRM effectively addresses the need of every business to have a hub for commercial operations by enabling the creation of rich customer profiles, delivering total connectivity and integration, and empowering the mobile workforce. The application also provides robust data analytics and assessment of key performance indicators to allow business to attain a deeper understanding of…
46
Pipeliner is a sales automation solution with a robust built-in CRM infrastructure to ensure that stakeholders–from sales teams to board members–can follow and track the company's entire sales process. With this tool sales process can run on autopilot as Pipeliner will be organizing sales data to qualify leads. The software can effectively handle all complex sales activities of small and mid-sized businesses. Pipeliner CRM is instant intelligence, visualized – it is designed to empower sales professionals. The app uses a visual and intuitive interface to focus a sales team on productivity and effectiveness – providing a precise and empowering Navigator,…
47
Pivotal CRM is a fully featured cloud-hosted CRM designed to integrate, streamline and automate service and support requests with sales opportunities like up selling and cross-selling. Pivotal CRM is a complete service automation system that helps the user capture, manage, and quickly resolve customer service and support requests, without losing sight of up-selling and cross-selling opportunities. Flexible Pivotal CRM technology enables the user to rapidly and cost-effectively implement a system that automates even complex, unique service processes. It helps build, grow and drive a business forward with CRM that maps to the customers' needs. Pivotal Sales is a complete Sales…
48
Bpm'online offers three seamlessly integrated products for marketing, sales and service on one platform that can be used separately or in a bundle. Bpm'online offers three products on one platform to connect the dots between marketing, sales and service. The system delivers end-to-end processes to manage the complete customer journey – from lead to order to continued customer service excellence. The Marketing module provides users with functionalities that can map out customer journeys based on data about your target demographic as well as the purchasing patterns of potential clients. The Sales module is where users can plan the sales cycle…
49
Salesmate CRM is software which is perfect for small and medium sized businesses to match their sales process in minutes. Salesmate is natively built with tremendous flexibility in mind, as one size will not fit all customers. Salesmate's sales pipelines are highly customizable to fit your sales process stages. You can create as many stages and pipelines as you like. With the win probabilities, you can build your automatic sales forecasting model in seconds. With Salesmate, you can create up to 200 custom fields to capture any information you want. All form layouts are fully customizable, with variety of field…
You may like to read: How to Select the Best CRM Software for Your Business, Free, Open Source CRM Software  and Best Practices for CRM Implementation.