Top 18 CRM Software for Small Business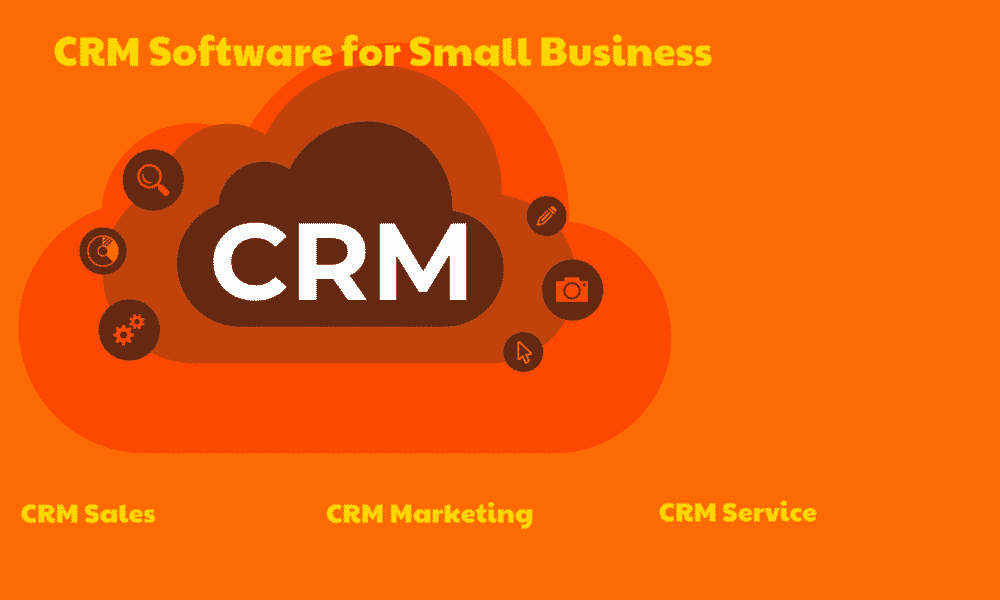 Customer relationship management in small businesses can be a daunting task especially if you don't have the right tools to perform the task. Most of the small businesses conduct their CRM activities manually which leads to a lot of inefficiency. The good news is that, there are some CRM software that have been developed to address the needs of small businesses. Thus, your small business need not suffer from manual processes any more.
Small Business Customer Relationship Management (CRM) software integrate and automate sales, marketing, and customer support functions of an organization.
Small business CRM Software have a dashboard that gives an overall view of the three functions on a single page for each customer that a company may have. The dashboard may provide client information, past sales, previous marketing efforts, and more, summarizing all of the relationships between the customer and the firm.
Customer Relationship Management for Small and medium business (SMB) is generally made up of three main components, which include sales force automation, marketing automation, and service automation.
Example of CRM Software for Small Business: Funnel CRM, Vtiger, Sugar CRM, Zoho CRM, Salesforce, Agile CRM, Microsoft Dynamics CRM, Salesnet, Tactile CRM, NetSuite OneWorld, Insightly, Infusionsoft, Nutshell, Nimble, Batchbook, InterAction, Maximizer, Solve CRM, Intouch are some of the Top CRM Small Business Software.
You may like to read: How to Select the Best CRM Software for Your Business, Free, Open Source CRM Software  and Best Practices for CRM Implementation.
What are CRM Software for Small Business?
CRM Software for Small Business can be looked at as a sales tool that is meant to convert customer contacts into buyers. Small businesses can easily collect contacts and generate leads but the problem arises when it comes to determining on what to do with the leads.
This is where the CRM system comes in to play. The system provides an organized and consistent process of converting leads into sales. This process can also be referred to as building customer relationship. Ideally, a good CRM system should assist small businesses in automating their lead lists, sales pipeline, follow ups, as well as sales forecasts.
Sales & Marketing: CRM Sales and Marketing software creates new tasks, manage appointment calendar and automate everything from telephony to follow-up emails. Helps with complete contact views, deal tracks, lead scoring, alerts and analytics.
Contact management: Organizations have different units such as sales, marketing, customer service, and customer communication. All these units have direct contact with different clients during their operations. It can be difficult to keep contacts of all the clients that staff from the different units interact with. Contact management feature helps to store the customer's information in an easy to use and searchable interface. It is much easier to build and maintain client relationship management when you have their information under one roof. It also helps businesses promote their brand with ease. The software can also handle new prospects, conduct direct marketing campaigns as well as classify clients based on their unique categories.
Interaction tracking: Helps to maintain a detailed record of all the conversation held with clients be it via phone, live chats, emails, or in person. The data collected from these interactions helps business to identifying the areas that needs improvement as well as understand what the customers really want. With such information, businesses can avoid spamming client's inbox with unnecessary adverts since you can customize communication to suit the customer's specific needs.
Lead management: Helps in recording information on possible leads to be analysed later. Once the information is analysed, it becomes easy for one to identify leads that have high chances of converting. Thus, sales team have an easier task of customizing their pitches leading to more efficiency and increased business. your sales team don't have to waste their time pursuing leads that are not relevant.
Workflow automation: This feature is particularly important if your staff are more engaged on repetitive tasks or the business highly relies on templatized tasks. The system enables one to standardize and automate business processes such as calendars, task lists, templates, and alerts.
Email campaigns: You can create, launch, and track email campaigns that enables one to highlight new products as well as promote your brand. The feature is more useful for businesses that mostly rely on customer retention such as online shops and restaurants.
You may like to read: Top CRM Software
Top CRM Software for Small Business
Funnel CRM, Vtiger, Sugar CRM, Zoho CRM, Salesforce, Agile CRM, Microsoft Dynamics CRM, Salesnet, Tactile CRM, NetSuite OneWorld, Insightly, Infusionsoft, Nutshell, Nimble, Batchbook, InterAction, Maximizer, Solve CRM, Intouch are some of the Top CRM Small Business Software.
You may like to read: How to Select the Best CRM Software for Your Business, Free, Open Source CRM Software  and Best Practices for CRM Implementation.
Top CRM Software for Small Business
PAT Index™
1
Funnel CRM
Funnel CRM is a sales tool and CRM for growing businesses. Helping business owners and sales team solve the most frustrating problems like broken sales workflows, missing follow-ups, losing track of deals because of messy inboxes or not able to track leads and managing them under one app. It provides the following features: - a simple form for capturing leads, similar to a contact form many sites have, - a centralized place that would allow us to process these leads, that was not in our email inboxes, potentially lost or forgotten about among other emails - a way to communicate…
Overview
• Gmail integration
• Deal Tracking
• Proposal creation and delivery via email
2
Vtiger
Vtiger provides to be always in the know with alerts that notify you (on-screen, SMS, or email), if a contact becomes active, idle, or meets various other conditions. Booking appointments with a specific sales representative, or just any available member of your team, just got a lot easier. Just share Vtiger's appointment page URL with a contact to let them see and choose from an available slot on a personal, or a team's calendar. Vtiger then creates the appointment and notifies attendees.Click into any opportunity to see important information like related contacts and organizations, forecast amount and expected close dates.…
Overview
• Streamlined Contacts
• Tracks Deals history and progress
• Sales forecasts
• E-mail Marketing
• Support Cases
• Case SLA
• Customer Portal
• Knowledge Base
• Project Management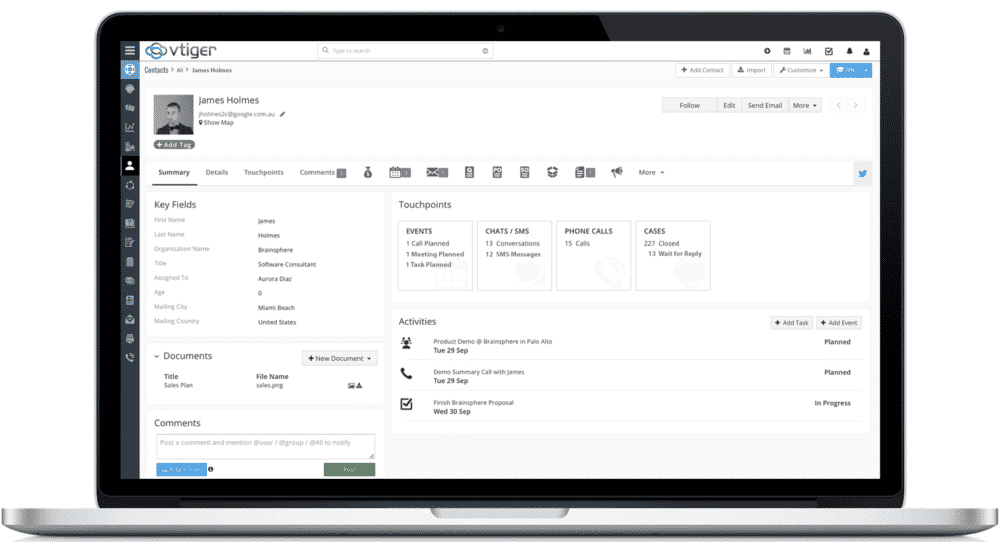 3
Sugar CRM
Sugar CRM helps in improving customer relationships. It is a Saas(software as a service) product. Sugar provides both mobile and social crm to its consumers. Sugar provides crm software in four editions: Sugar Enterprise, Sugar Professional, Sugar Ultimate and Sugar Corporate. Each of these services is provided by the same code tree. The products run on LAMP stacks and on PHP-capable platforms like windows or solaris. Sugar is used to automate and customize customer service and marketing processes. Sugar has revolutionized the typical CRM solutions, which users find too bothersome, by making the user interface more friendly and personalized to…
Overview
•Cloud or on-premise deployment
•Revenue Line Item Level Opportunity Tracking Forecasting
•Product Level Quotes
•Advanced Workflow
•Role-based Views
• Customization and Configuration
• Teams, Roles and Security
• Case Management and Bug Tracking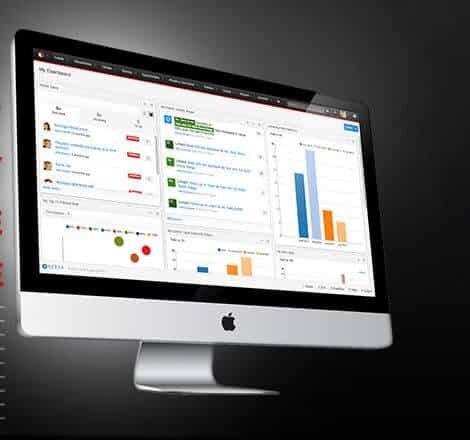 4
Zoho CRM
Zoho CRM, bring all your conversations into one place, and make the most of your interactions at a moment's notice. Meet your customers, no matter the medium. Connect via phone, live chat, email, social media, and in person.Use analytics and reports for detailed metrics about your team's performance and your customers' life cycle. Generate more sales with automation features, workflows, and advanced reporting. Zoho CRM's multichannel support means you can interact with them the way they want, from on the phone to live chat, or email and social media. Keep track of all the conversations in a single place while…
Overview
•Multichannel Communication
•Sales Performance
•Sales Productivity
•Extend/Customize
•Automation
•Enterprise Readiness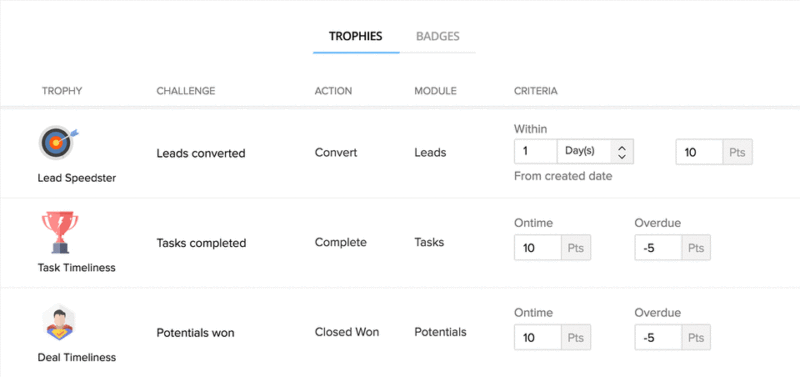 5
Salesforce
Salesforce Cloud solution allows you to manage contacts and track opportunities from any desktop or device. Salesforce helps to understand customers better through their personal preferences, solve any problem faster with access to past customer interactions, and even identify new sales opportunities by analyzing your best customers' purchase histories. The certified experts, consultants, and innovative tools of Cloud Services help with prescriptive advice, best practices, and expertise at every stage of Salesforce journey. With Salesforce, information is in one place so it's easier to prioritize and make quick decisions based on the most up-to-date information.Track all your customer information and interactions…
Overview
•Sales force automation and CRM
•Configure, price, quote (CPQ) and billing automation
•B2B prospecting and data cleansing
•CRM for banking, insurance, wealth management, and more
•CRM for managing patient relationships
•Fully customizable support and help desk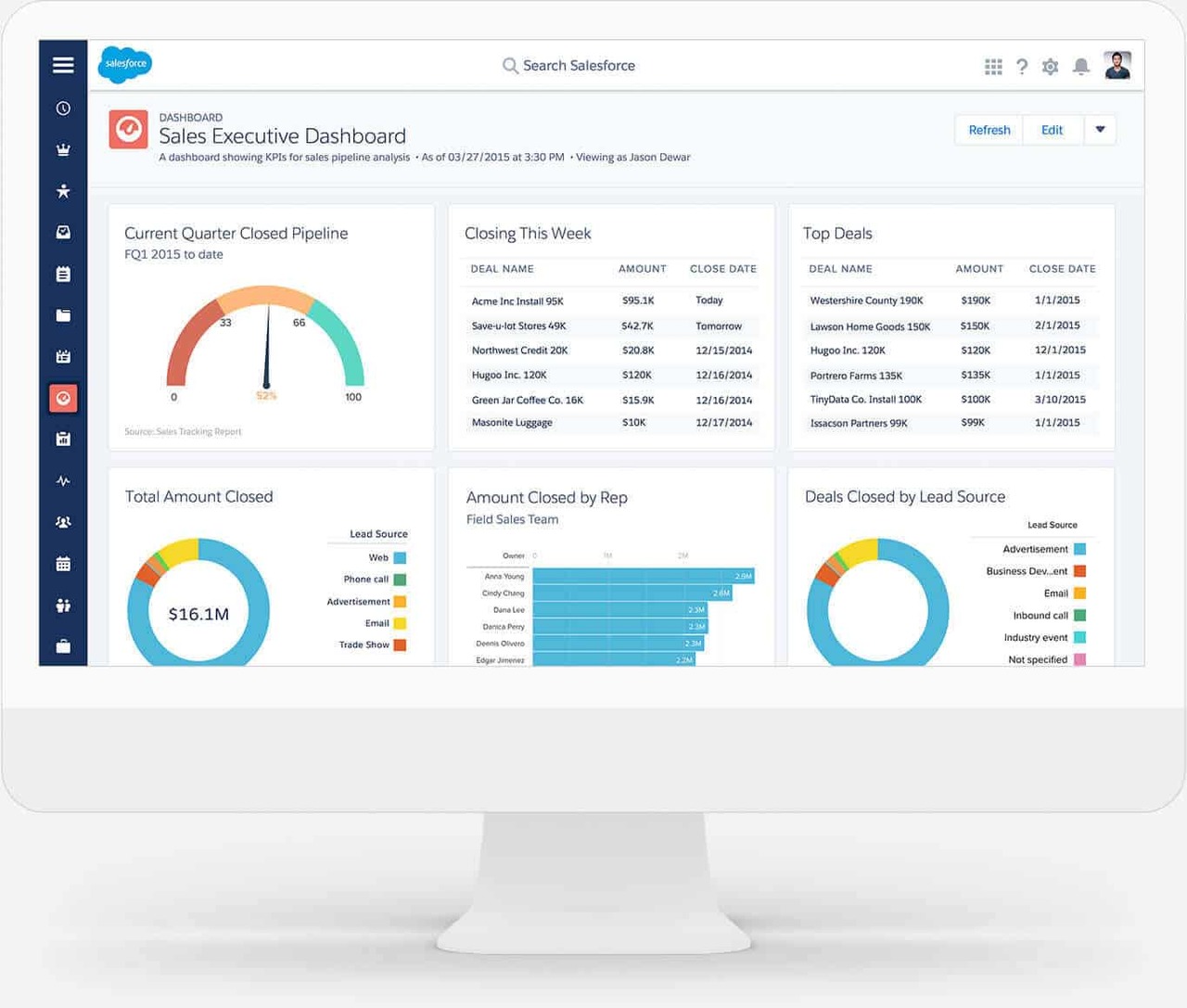 6
Agile CRM
Agile CRM's gamification feature set helps your sales team stay focused and improve their numbers every day by treating sales like a game. Features include custom leaderboards, real-time alerts, activity logs, email reports and advanced sales metrics. Agile CRM is a leading sales, marketing and service CRM for small businesses. Complete with everything from web popups and email templates to telephony integration and advanced sales and marketing automation,. Agile CRM lets users sell and market like fortune 500 with marketing automation, telephony, helpdesk, web engagement, social media integration, email campaigns and mobile marketing. Agile CRM is an all in one…
Overview
• Gamify sales with leaderboards, email reports and real-time alerts
•Gamify Sales
•Encourage Collaboration
•Custom Leaderboards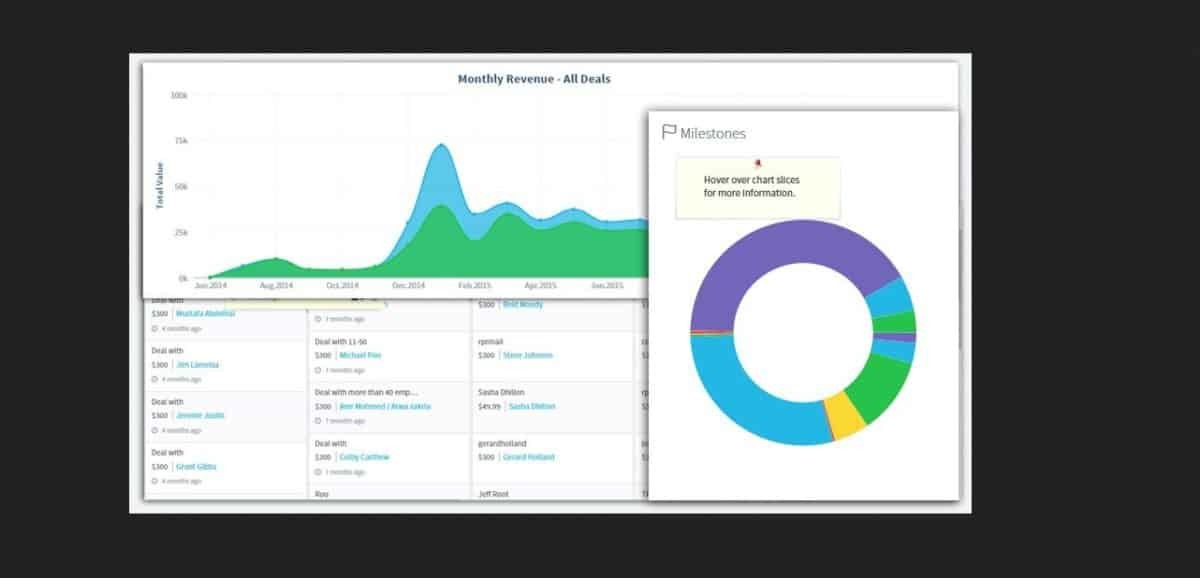 7
Microsoft Dynamics CRM
Microsoft Dynamics CRM provide solutions for businesses to achieve more and deliver amazing experiences to their customers across marketing, sales and service in a way that makes collaboration between roles natural and easy. There is also new sales collaboration panel that helps break down the silos between sales and marketing to deliver personalized customer experiences. The capabilities for marketing, include interactive marketing calendar, integrated Lync webinars, graphical marketing workflow and email editing, as well as A/B testing and integrated offers. Languages and geographies are updated with the addition if Japanese and Russian. For sales, the capabilities include, introduction of product…
Overview
•Sales
•Customer Service
•Field Service
•Marketing

8
Salesnet
Salesnet is a flexible, configurable business CRM solution that drives sales and marketing effectiveness while insuring the highest level of support and CRM Security. Salesnet customer relationship management is an online CRM software that delivers Customer Management, Marketing Automation, Sales Management, Project Management and more. Salesnet, is a software solution that makes CRM easy by providing a friendly user interface and training for the implementation of the software. It is simple and easy to use and increases sales and work efficiency. Salesnet understands that every marketing and sales process is different and so it provides solutions that are unique to…
Overview
•Sales Force Automation
•Marketing automation
•Leads, Opportunities, Contacts, Accounts
•Campaigns, Email, Mobile CRM, Documents
•Process Builder, XML Web Services API, Data Import
•Role-Based Security, IP Address Restriction, Field-Level Permissions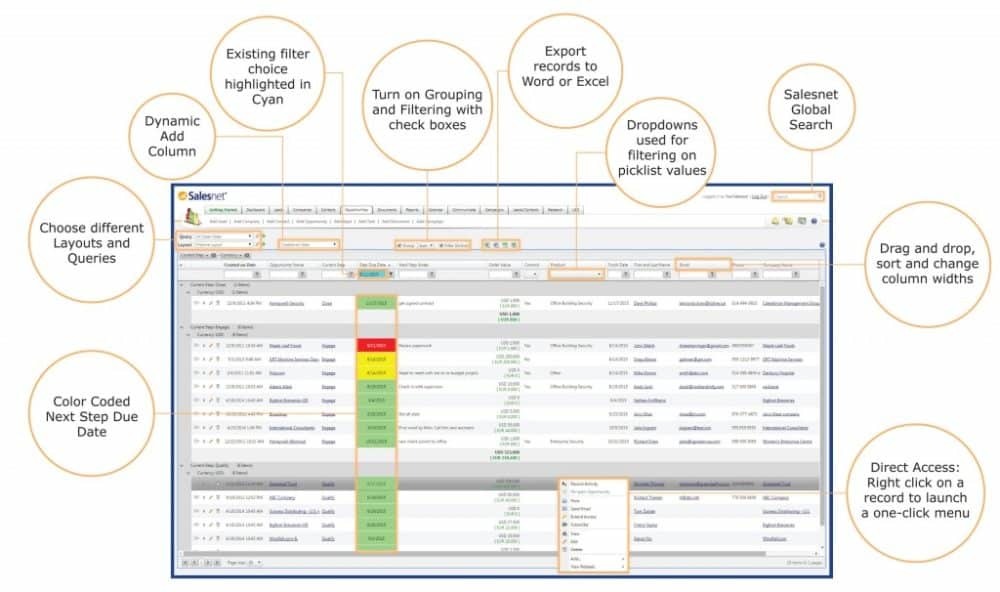 9
Tactile CRM
Tactile CRM is an easy to use web based contact and sales management system. It's great for managing sales pipeline, contacts, notes, emails and activities in one place.Tactile CRM lets you easily record every email, note, telephone call, meeting and activity, so that you can quickly see every interaction. Tactile CRM also lets you search contacts and set up activities to remind you of outstanding actions; assign organisations and activities to other users with email notification; share information on clients and contacts by using access control. Tactile also categorises your contacts, Import and Export data from Microsoft Outlook, Google, csv…
Overview
•Sales Pipeline & Opportunities
•Shared Address Book
•Seamless Email Integration
•Conversation & Contact Log
•Reminders & Calendar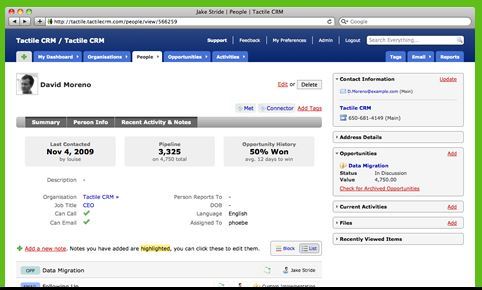 10
NetSuite OneWorld
NetSuite CRM+ delivers true customer lifecycle management, from marketing and opportunity management, to order management, customer upsell, cross-sell, renewal, and customer service. NetSuite can streamline lead-to-cash processes, elevates productivity across the organization with a 360-degree view of your customers, improves sales performance through forecasting, upsell and commission management and manage global sales and services organizations. Combining ecommerce, order management, inventory, CRM and financials, Suite Commerce enables businesses to deliver engaging and personalized online experiences on any device. NetSuite's CRM can integrate and automates sales processes, including opportunity management, quote and order management, sales forecasting, order management, fulfillment, and incentive compensation…
Overview
•Sales Force Automation
•Customer Service Management
•Marketing Automation
•Partner Relationship Management
•Mobile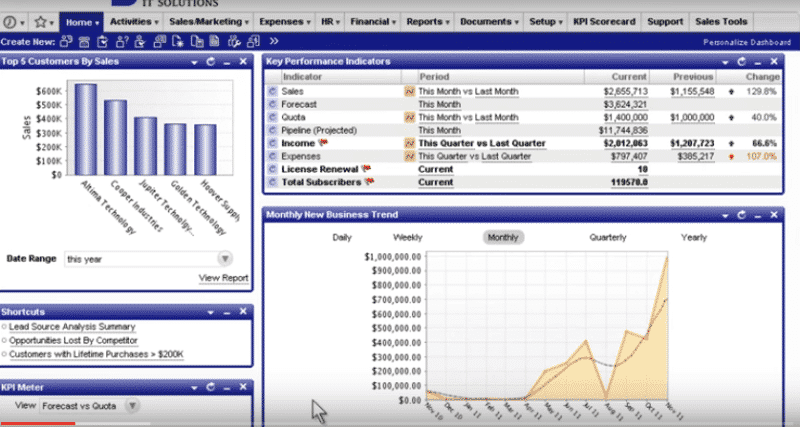 11
Insightly
Insightly is a web-based customer relationship and project management solution for small to medium sized businesses. Insightly is designed to keep all the information needed to run a business in one place, accessible and searchable by all employees, wherever they are in the world. Its CRM tool has features for lead management, contact management, calendaring and events, file sharing, linking (direct relationships between contacts, organizations, opportunities, projects) and many more. See everything from background, email history, events, projects or opportunities. With the project overview screen you can see the recent activity on any project, and track project performance against milestones…
Overview
•Build Relationships
•Accelerate Sales
•Deliver Projects
•Engineered for Enterprise
•Connect to Apps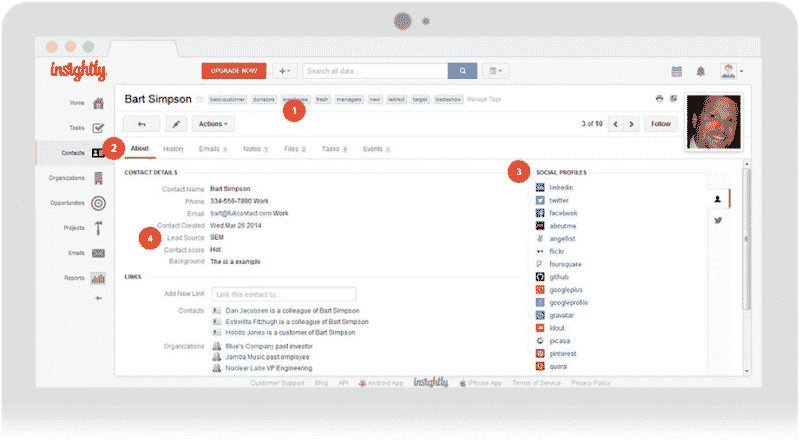 12
Infusionsoft
Infusionsoft is a sales and marketing software for small businesses. Infusionsoft's Lifecycle Marketing model provides a simple framework you can use to design a marketing plan that will help you attract customers, grow sales and deliver an experience that wows your customers. Infusionsoft has features for automating lead capture and follow-up. You can also trigger personalized communications based on email sends, opens, clicks, form submissions, and payment history. Its CRM tool imports and organizes the contacts (both online and offline) with tagging and segmentation. It also collects data about your leads' behaviors, score them based on marketing interactions, and prioritize…
Overview
•Capture more leads
•Improve conversion rates
•Master e-commerce
•Manage the sales process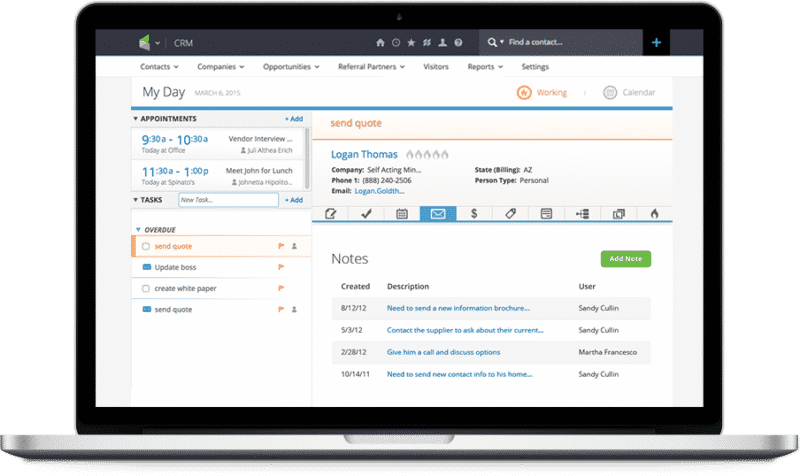 13
Nutshell
Nutshell lets the user specify the actions, follow-ups, and timing that fit the users business. The user's personal dashboard will tell them which sales process steps need to be completed and by when. You can also sync Nutshell with your calendar so you never forget about an upcoming activity. Whether it's following up with a customer, or nurturing a lead. Nutshell has auto-fill rules so the user can fire off personalized emails to a prospect in seconds. Nutshell Intelligence finds customer information to save you time. Simply add an email address, and Nutshell will scour the internet for relevant contact…
Overview
•Find every contact, customer, and conversation
• Automate your sales process
•View and track your leads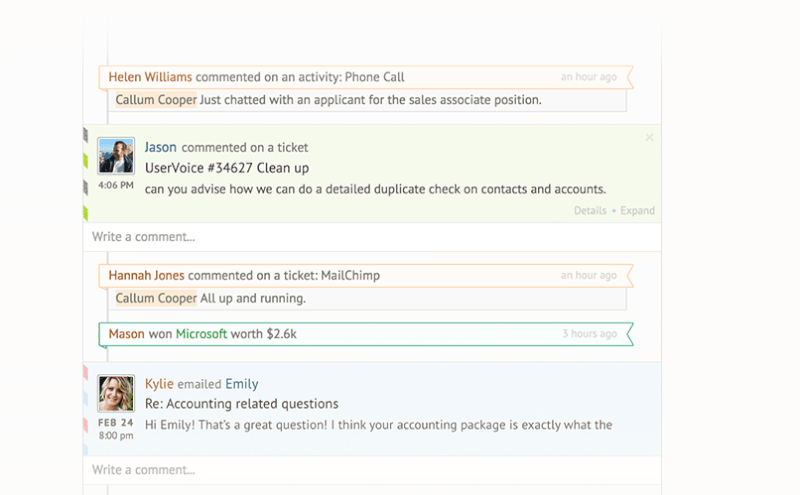 14
Nimble
Nimble tracks the complete history you and your contact share—on every channel. Take actions, send messages from within Nimble or without: use Gmail, Outlook, or Hootsuite widgets to take Nimble everywhere your workflow takes you.Nimble keeps you organized and on track. Set Stay in Touch Reminders and use the Mark as Important star system to keep important communications front and center.. With Nimble as your wingman, nothing falls through the cracks. Nimble automatically fills out the contact record from just a name and email. It's like magic—Less data entry for you. Nimble analyzes shared interests (topics, keywords) to tell you…
Overview
•Everything You Need in a CRM
•Less Data Entry Equals More Customers With Less Work
•Find People with Smart Social Search & Segmentation
•Smart Agenda & Activities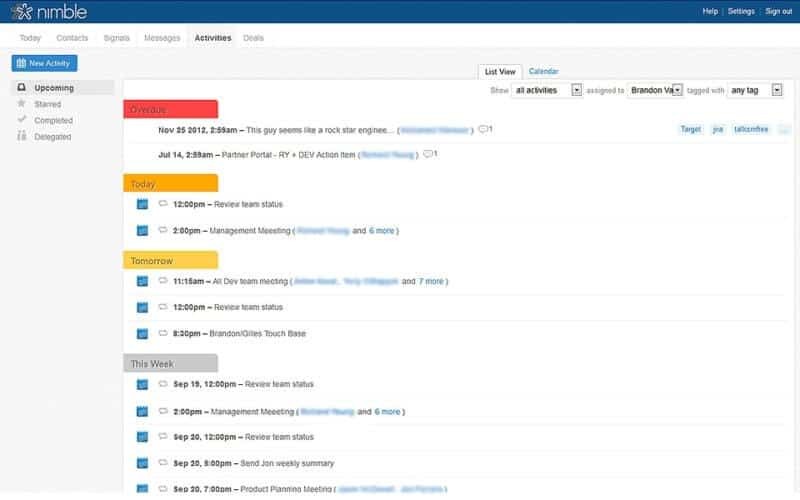 15
Batchbook
Batchbook is CRM software designed for small businesses and organizations providing cloud-accessible solution that is easy to adopt as an individual or a team. Feature set includes full contact details management, social integration, To-Do List, advanced searching, list building and reporting. Batchbook makes it easy to store contact details in one central location, which can be accessed by your whole team from any internet connected device. Build better customer relationships with your contacts by managing tasks, segmenting, creating lists, and recording important communications, custom details, and more about your contacts. With custom fields and advanced searching and list building capabilities,…
Overview
•Organize Every Contact Detail on One Screen
•Stay Mobile and Work From Anywhere
•Automations
•Deals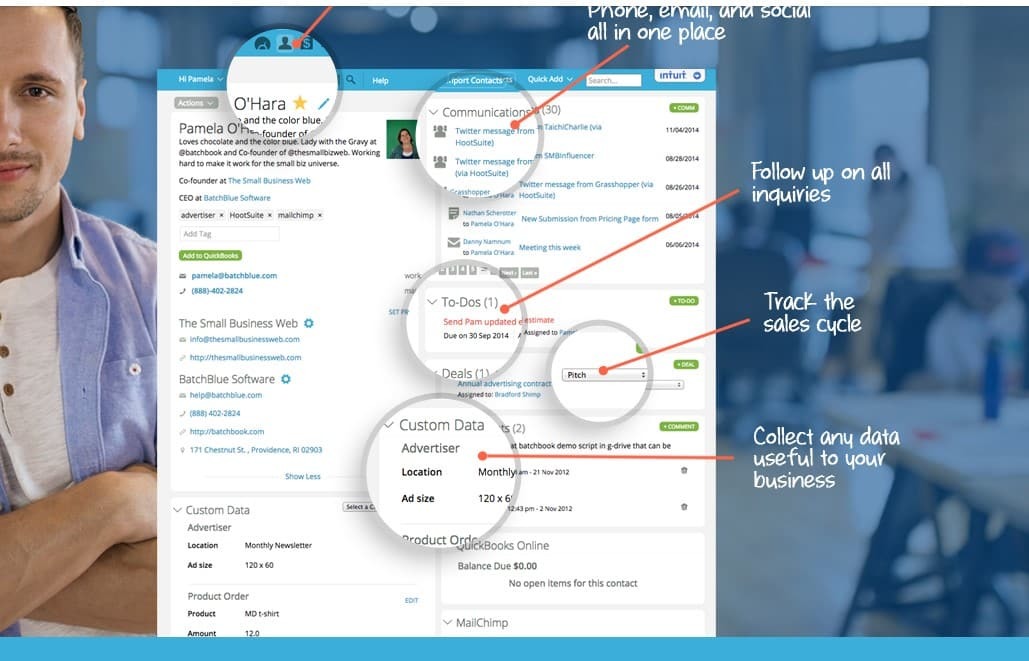 16
InterAction
InterAction raises CRM to a new level with actionable, accurate relationship intelligence. Some of its key features are captures and tracks the key touch points of daily working life and aggregates the users firm's client data covering matters, profiles, notes and activities to form a more complete relationship picture Identifies cross-selling and client service opportunities; prepares contact lists for mailings and invitations; tracks development activities for events and campaigns ,identifies subtle interrelationships among clients and determines which others in the firm are familiar with your contacts and the nature of the relationships. LexisNexis InterAction is a solution to allow the…
Overview
•Contact Management
•Relationship Intelligence
•Passive Data Capture
•Engagement Scoring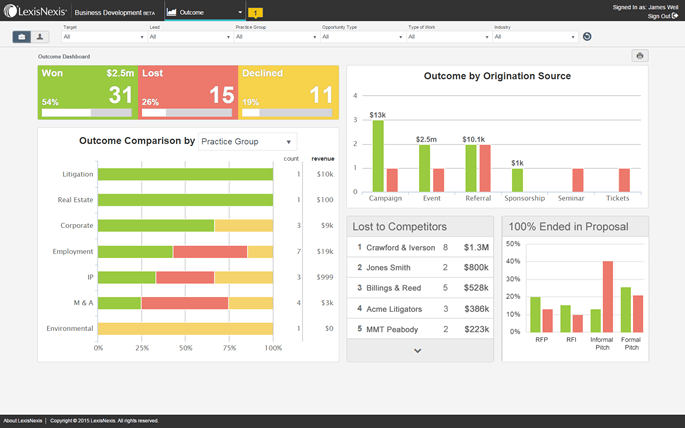 17
Maximizer
Maximizer helps the user create personalized experiences for each and every customer, and build deep relationships that accelerate business growth. It can segment your customers and prospects to receive relevant information targeted to each audience. List management capabilities allow you to search and filter data, ensuring your campaigns move targets along the buyer's journey and prepare them for a sales conversation. Maximizer's Campaign Manager makes it easy to execute multi-phased email campaigns that automatically nurture relationships over time. Events like site downloads, purchases and service incidents can trigger specific automated email campaigns that offer appropriate and timely resources. One of…
Overview
•Deep customer insight
•Maximum Productivity
•Unlimited contacts, leads, opportunities, and custom fields
•Outlook, Word, and Excel integration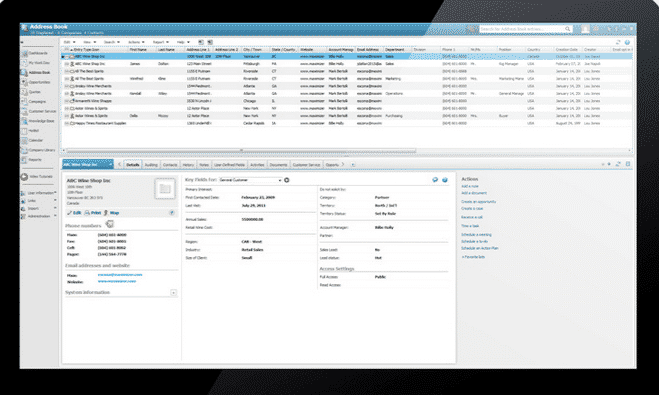 18
Solve CRM
Solve CRM offers customizable fields, category tags and activity templates so you can systematically capture specific information about the people you deal with, as well as tailor Solve to turn best practice into business processes. Solve CRM has the features every business needs the service is also inexpensive. Solve CRM comes pre-integrated with a growing list of amazing web-applications, offering the customers team an arsenal of business tools. Integrating apps provides enormous value to the customers' business by providing a single interface keeping staff focused and adding context to previously disparate information, leading to better decisions and actions. Solve CRM…
Overview
•Pre-integrated cloud apps
•G Suite integration
•Activity Templates
•Custom Fields & Category Tags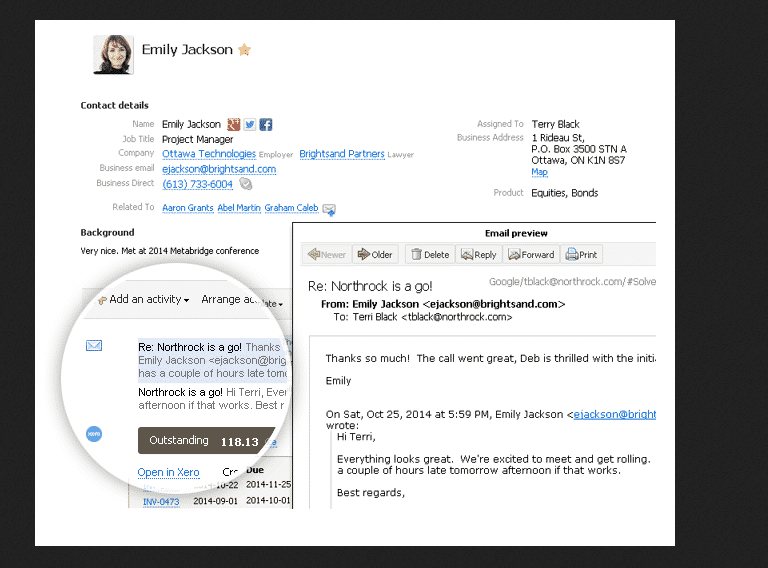 19
Intouch
Intouch provides a powerful sales & marketing automation for growing service businesses. It can capture your contacts' details into one central all-knowing system, wherever they may be; online, in-person or on the phone. It follows up on people by using automation to ensure that every lead, contact and opportunity is followed-up automatically. It also has a well-planned growth system; automation and consistent follow-up are the keys to the growth and success of any small business. InTouch has many other features to help the users business grow, such as its sale's pipeline manages the user's sales process to progress prospects from…
Overview
• Drag & Drop Email Editor
• Powerful Sales Pipeline & Lead Management
• Leads Table View
• Automated Campaigns
• Web Forms
• Text Messaging & Social Media Integration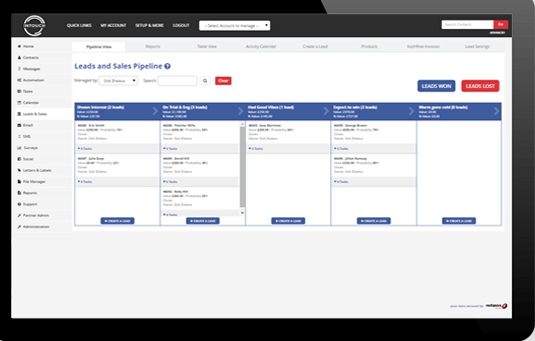 You may like to read: How to Select the Best CRM Software for Your Business, Free, Open Source CRM Software  and Best Practices for CRM Implementation.